What to Know in Washington: Trump Defense Team Argues Their Case
Donald Trump's lawyers begin their defense of the former president in his Senate impeachment trial today, after House Democrats spent two days portraying him as a lawless, unrepentant inciter of the Jan. 6 insurrection at the U.S. Capitol who shouldn't hold public office again.
Lawyers for the former president are expected to argue that he didn't provoke the violence and will show video footage of prominent Democrats using fiery language in political speeches to highlight what they say is a double standard being applied to him.
Trump attorney David Schoen said the defense might need only three or four hours today for an opening argument. A person familiar with the strategy said the lawyers decided to slim down their presentation based on what they heard yesterday as House managers concluded their case. Schoen said the trial "could be over Saturday."
"We're just putting on the evidence, the evidence speaks for itself," he said, calling the Democrats' impeachment effort "a politically partisan process."
The trial is all but certain to end with Trump's acquittal. A conviction would require 17 Senate Republicans to join with Democrats and independents in finding Trump guilty to reach the two-thirds majority necessary. Read more from Mark Niquette and Billy House.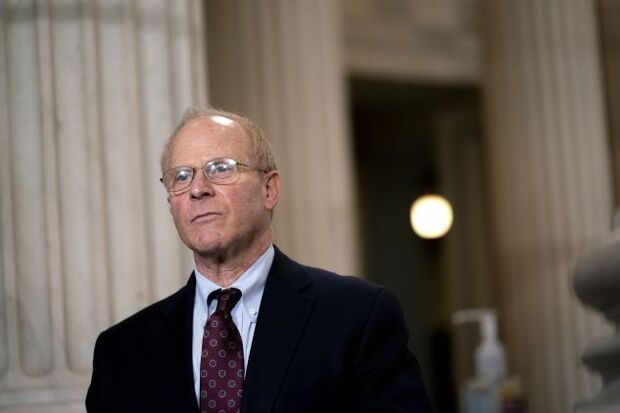 Democrats' Stimulus Takes Shape
Democrats Back $350 Billion for State, Local Governments: House Democrats are backing Biden's proposal for $350 billion in funding for state and local governments, according to draft stimulus legislation, Erik Wasson reports. House Oversight and Reform Committee Chair Carolyn Maloney (D-N.Y.)'s bill, slated for committee action today, sets up a new dedicated state and local fund in order to bypass the traditional appropriations process which is not eligible for budget reconciliation. States would receive $195 billion and that money would partly be distributed based on the share of unemployed workers. Local governments would receive $130 billion, partly based on population, with a carve-out for smaller communities.
Panel Approves $1,400 Stimulus Payments: The House Ways and Means Committee advanced legislation that would infuse households with hundreds of billions of dollars of cash through direct payments and tax credits, a key plank of Biden's Covid-19 aid package. The committee approved legislation providing $593.5 billion in benefits, most of which is made up of $1,400 stimulus payments, along with advance tax credits for children that'll be sent to households on a monthly basis. The measures passed by a 24-18 party-line vote. Laura Davison has more.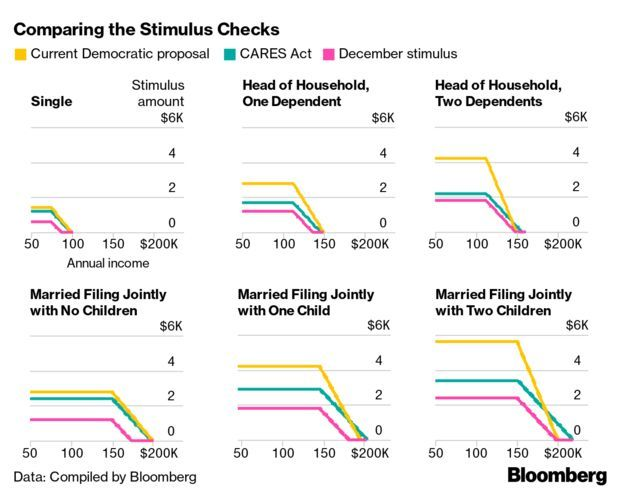 Energy and Commerce Panel Approves Bill: The House Energy and Commerce panel approved more than $46 billion for Covid-19 testing and $20 billion to expand vaccine distribution as part of House Democrats' $1.9 trillion coronavirus relief package, Alex Ruoff reports. The measure also includes funding to support research and the public health workforce. The legislation, approved by a vote of 31-25, will now advance to House floor with a vote possible during the week of Feb. 22.
The measure includes a proposed $5 billion in energy and water assistance during the pandemic for needy ratepayers, Kellie Lunney reports.
The plan includes language that would direct $7.6 billion toward the Emergency Connectivity Fund and would require the Federal Communications Commission to issue rules outlining eligibility qualifications for schools to get reimbursed for laptops, internet service and wi-fi hotspots for students and teachers at home due to the pandemic, Rebecca Kern reports.
House Advances Veterans' Health-Care Funding: The House Veterans' Affairs Committee approved a bill providing $13.5 billion for veterans health care services, Erik Wasson reports. Committee Chairman Mark Takano (D-Calif.) said the money would help Veterans Affairs deal with a surge in people seeking care after they held off during the pandemic. The vote was 17-12, along party lines. The measure contains $272 million to process backlogged benefit claims, $750 million for state home facilities such as nursing-home and adult care centers, $100 million for VA information-technology upgrades, and $400 million for retraining programs for veterans.
Financial Services Panel Approves Covid-19 Bill: The House Financial Services Committee voted 29-24 along party lines to advance its $75 billion coronavirus relief proposal last night, Jack Fitzpatrick reports. The bill includes $10 billion to use the Defense Production Act to produce masks and other Covid-19 equipment, $25 billion for rental assistance, $5 billion in assistance for the homeless, and $10 billion for direct assistance with mortgage payments, property tax payments and utility costs.
Around the Administration
Yellen to Join Fed's Powell at G7 Finance Meeting Today: Janet Yellen will attend her first international engagement as treasury secretary, joining Federal Reserve Chair Jerome Powell at a virtual meeting of G7 finance ministers and central bank governors today, Chelsea Mes reports. Also today, Yellen will meet with Biden and Vice President Kamala Harris for an economic briefing in the Oval Office, according to Treasury Department guidance. Earlier in the day, Biden and Harris will meet with governors and mayors to discuss the relief package moving through Congress, according to the White House.
Biden is scheduled to depart for Camp David at 5:30 p.m. and remain there for the weekend, according to the White House.
Biden to Accept Trump-era Asylum Seekers: The Biden administration slowly will begin to admit into the U.S. asylum seekers who were turned away by the Trump administration under the so-called Remain in Mexico policy, according to Department of Homeland Security officials. The estimated 25,000 migrants waiting at the southern border who have active cases under the Migrant Protection Protocols program, or MPP, will be the first processed into the U.S. Other asylum seekers, such as those who arrived once the U.S. stopped processing asylum applications at ports of entry because of the Covid-19 pandemic, must continue to wait. Read more from Shaun Courtney.
A group of more than 60 economists urged Biden to create a path to citizenship for undocumented immigrants in his forthcoming economic and infrastructure plan, arguing it would raise U.S. wages, productivity and tax revenue. The economists, including President Barack Obama's former top economist Jason Furman and David Kallick of the Fiscal Policy Institute, which champions liberal economic policies, made the proposal in a letter to the White House obtained by Bloomberg News. Legalizing millions of immigrants — especially those in jobs considered essential during the pandemic — would strengthen the economy while providing them with workplace protections, they argued. Read more from Jordan Fabian.
200 Million More Vaccine Doses Clinched: Biden announced that the U.S. has finished deals for 100 million additional vaccine doses each from Pfizer-BioNTech and Moderna, and that the companies would deliver new and existing orders faster than projected. While the orders had been previously announced, the delivery dates for the additional doses were moved up to the end of July, Biden said while visiting the National Institutes of Health yesterday. Robert Langreth and Josh Wingrove have more.
Injecting billions of new dollars into federal research programs and revealing how regulators allocate Covid-19 vaccines to states may get bipartisan support in Congress, just not for Democrats' pandemic stimulus package. Lawmakers this week on both sides of the aisle voiced support for giving the NIH $10 billion to make up for lost research due to the coronavirus and expand the research body's work as part of the nation's virus response. Read more from Alex Ruoff.
Trudeau's Trade Chief Spurns NAFTA Challenge on Keystone: Canadian Prime Minister Justin Trudeau is rejecting calls for a more combative response to U.S. protectionism, hoping a conciliatory approach will mend relations damaged during Trump's presidency. Trade Minister Mary Ng said in an interview this week she is focusing her efforts with the new Biden administration on mutual U.S.-Canada interests despite early policy hiccups that risk further fracturing ties between the two nations, whose commercial relationship is worth $725 billion a year. Read more from Kait Bolongaro.
Blinken, Guterres Discuss Pandemic, Climate Change in Call: Secretary of State Antony Blinken, in call with U.N. Secretary-General Antonio Guterres, "underscored the U.S. commitment to multilateral cooperation and praised the United Nations role as the indispensable anchor of the multilateral system," according to the State Department, Chelsea Mes reports. Blinken and Guterres also discussed Syria, Ethiopia, climate change and Covid-19 pandemic.
Biden Pulled Left in Judges Quest: Biden is facing challenges as he seeks to reshape the judiciary by injecting forms of diversity that sometimes compete with one another: professional, as well as racial, gender and sexual orientation. Biden is trying to balance calls from the left for bold action while seizing what could be a fleeting opportunity to get his nominees through a 50-50 Senate that Democrats control only because of Harris's tie-breaking vote. Read more from Greg Stohr and Jordan Fabian.
IRS Filing Season Begins: The U.S. federal tax-filing season that begins today will be among the most consequential in recent history, as households face potential surprises — both negative and positive — sorting through pandemic-related measures at a time of high unemployment and depressed consumer confidence. Laura Davison offers a preview of the annual tax season.
Publishing Note: Bloomberg Government's What to Know in Washington will not publish on the Monday Feb. 15 Presidents' Day holiday. We'll resume publication Tuesday, Feb. 16.
To contact the reporters on this story: Zachary Sherwood in Washington at zsherwood@bgov.com; Brandon Lee in Washington at blee@bgov.com
To contact the editors responsible for this story: Giuseppe Macri at gmacri@bgov.com; Loren Duggan at lduggan@bgov.com; Michaela Ross at mross@bgov.com