What to Know in Washington: Trump Deepens Battle of Wills in GOP
Donald Trump escalated his battle of wills with the Republican Party by declaring his candidacy for the White House in 2024 just as many GOP faithful are ready to abandon the former president.
Defying his party's growing desire to find a new standard-bearer, Trump gathered his staunchest supporters at his Mar-a-Lago resort in Florida Tuesday for a nationally televised announcement that revived many of the themes of grievance that marked his previous two campaigns. "Two years ago we were a great nation, and soon we will be a great nation again," Trump said.
Yet his bravado rang hollow a week after Republicans fell short of party expectations in US elections, missing a chance to retake the US Senate and win a significant majority in the House. Trump had sought to use the midterms to tighten his grip on the party ahead of his entry into the presidential race by issuing more than 280 endorsements.
That gambit backfired, as Trump's favorite candidates floundered in key races with voters rejecting nearly all of those who espoused his false 2020 stolen presidential election claims. Many Republicans blame him for the lackluster performance — leaving him vulnerable to the very 2024 primary challengers he had originally hoped to box out.
GOP leaders and donors are now signaling they're eager to fall in line behind Florida Gov. Ron DeSantis, a chief target of Trump's ire before Tuesday's speech. Even his own daughter, Ivanka, who served in his first administration, suggested she had no appetite for another round. "I do not plan to be involved in politics," she said in an Instagram post. "While I will always love and support my father, going forward I will do so outside the political arena."
The former president was lobbied by Republicans, including some of his own aides, to postpone his announcement until after the Dec. 6 Georgia US Senate run-off election featuring his handpicked candidate, Herschel Walker.
But Trump left himself little wiggle room by pantomiming the Tuesday announcement on the eve of the midterms, and an about-face would risk showing further political weakness. "For any other conventional politician, it would seem like this would take the wind out of their sails," said Republican strategist Sarah Longwell, publisher of the conservative website The Bulwark. "But he's never been a conventional politician." Read more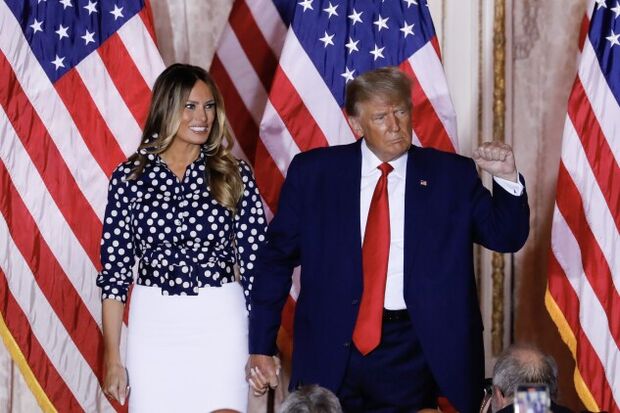 Happening on the Hill
CONGRESS' SCHEDULE
The House meets at noon with votes set on a bill to restrict pre-dispute nondisclosure agreements in cases of sexual assault or harassment and 11 other measures under expedited floor procedure.
Senators gather at 1:45 p.m. with a procedural vote set on a bill to provide federal recognition of same-sex marriages.
Sen. Rick Scott (R-Fla.) will challenge Mitch McConnell (R-Ky.) for the chamber's top Republican leadership post during a closed-door meeting Wednesday as allies of the two men trade blame for the party's disappointing performance in the midterm elections.
National Republican Congressional Committee Chair Tom Emmer was elected whip of the House Republican Conference for the 118th Congress on Tuesday if the GOP wins the House as expected.
The mine safety agency hopes to soon release a delayed rule aimed at limiting miners' exposure to a toxic mineral linked to lung disease, after facing pressure from congressional Democrats including Sen. Joe Manchin.
A pair of House Democrats are leading a year-end push to bolster maternal health as part of the next spending bill.
The Pentagon has found that it's $1.4 billion short of funds for the next major contract to buy F-35 fighter jets from Lockheed Martin, according to a new list of so-called unfunded priorities sent to Congress.
Sens. Chuck Grassley (R-Iowa) and John Thune (R-S.D.) will introduce a bill today that would require the Internal Revenue Service to provide Congress with a plan detailing how it will use the $80 billion in funding given by the Inflation Reduction Act.
Angry rail employees, itching to strike after working through a pandemic short-handed and with their pay frozen at 2019 levels, won't likely get far before Congress steps in to keep the railroads working, said the national leaders of the engineers and conductors unions.
Around the Administration
BIDEN'S AGENDA
The president departs Indonesia today and is set to arrive at Joint Base Andrew outside Washington around 11:40 p.m.
President Joe Biden told allies that the explosion Tuesday night in Poland was caused by Ukrainian air defenses, but was ultimately sparked by the Russian missile barrage on Ukraine, according to two officials familiar with the matter.
Poland's president said there are no indications the rocket that hit Polish territory Tuesday was an intentional attack on the NATO member by Russia, as leaders in the military alliance moved to de-escalate the incident. Read more
A majority of Group of 20 nations condemned Russia's war in Ukraine, according to a joint declaration issued Wednesday after a summit that showed Vladimir Putin's government becoming more isolated on the world stage. Read more
The Biden administration imposed sanctions on Iranian and Emirati entities in a bid to clamp down on a network that's building and shipping Iranian drones to Russia for use in the invasion of Ukraine. Read more
As they prepared for Biden to travel to Asia this week, White House aides figured the trip would at least offer an escape for a beleaguered president after what was expected to be a punishing midterm election for Democrats. Few imagined that the journey would instead cap arguably the best stretch of Biden's presidency.
On the sidelines of the trip, UK Prime Minister Rishi Sunak said he didn't discuss a prospective trade deal with the US when he met with Biden, suggesting Britain has given up for now on what was once touted as one of the great prizes of Brexit. Read more
The Biden administration is barred from using a pandemic-era border expulsion policy known as Title 42 after a federal court on Tuesday ruled the restriction is unlawful—a decision likely to snarl immigration politics and create uncertainty at the US-Mexico border.
The US did not experience attacks on election infrastructure that significantly affected the midterm elections, Biden's top homeland security aide said Tuesday.
The Biden administration is considering extending its pause on student loan repayments, now set to resume Jan. 1, in response to legal challenges to its student-debt forgiveness program, according to people familiar with the internal discussions.
WHAT ELSE TO KNOW TODAY
The highest-ranking Trump Organization executive to be charged in an alleged criminal tax fraud scheme told the jury that soon after he pleaded guilty, the firm knocked his title down. Read more
US Supreme Court Justice Sonia Sotomayor said the court risks undermining the country's faith in the legal system when it rushes to overturn its precedents. Read more
To contact the reporters on this story: Brandon Lee in Washington at blee@bgov.com; Michaela Ross in Washington at mross@bgov.com
To contact the editors responsible for this story: Giuseppe Macri at gmacri@bgov.com; Loren Duggan at lduggan@bgov.com