What to Know in Washington: Trump Calls for 'Law and Order'
President Donald Trump unleashed a tweetstorm yesterday about Portland, Ore., hours after a man was killed there during clashes between a large group of Trump supporters and Black Lives Matter demonstrators.
The string of messages enlivened criticism from Democrats, including presidential candidate Joe Biden, that Trump is looking to inflame unrest in U.S. cities because he believes it will help his re-election campaign.
The president retweeted a post that had used a profanity to describe Portland Mayor Ted Wheeler — commenting only to "Tone down the language, but TRUE!" — and others in which the original tweeters accused the mayor, a Democrat, of "war crimes" and of having blood on his hands.
Portland has been the site of protests, often violent, for months, following the killing of a Black man, George Floyd, by police in Minnesota in late May.
While labeling Black Lives Matter protesters in Washington as "agitators and thugs," Trump praised as "GREAT PATRIOTS" the hundreds of his supporters who rolled into the city in a convoy of cars and trucks on Saturday. He concluded a string of dozens of tweets with the slogan "LAW AND ORDER!!!"
Video posted on Twitter from Portland showed some of the caravan participants driving pickup trucks into protesters and shooting what appeared to be tear gas and paint balls.
The man shot to death on Saturday night was a supporter of a right-wing group that's frequently clashed with other demonstrators there. He was identified by the group Patriot Prayer as Aaron "Jay" Danielson, who also went by Jay Bishop. Trump tweeted "Rest in Peace Jay!"
In a lengthy statement, Biden said "it isn't a peaceful protest when you go out spoiling for a fight."
"I condemn violence of every kind by anyone, whether on the left or the right. And I challenge Donald Trump to do the same," Biden said in a statement yesterday. Biden said "the job of a president is to lower the temperature" and Trump's "failure to call on his supporters to stop seeking conflict shows just how weak he is."
Wheeler, the Portland mayor, hit back at Trump during a press conference. "It's you who have created the hate and the division," Wheeler said of the president. "You've tried to divide us more than any other figure in modern history. And now you want me to stop the violence that you helped create." Read more from Ros Krasny.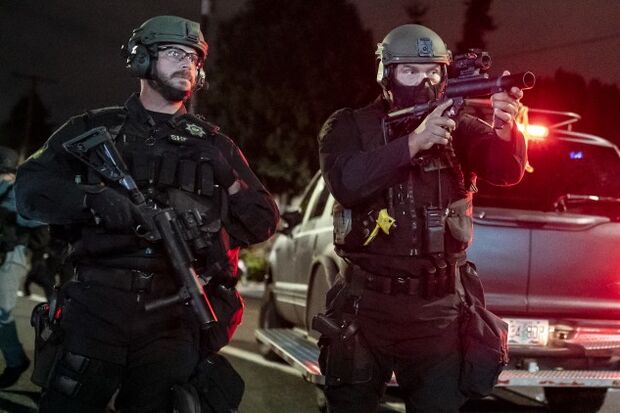 What to Watch This Week
White House: Trump will travel to Kenosha, Wis., tomorrow, days after the city was rocked by protests after police were filmed shooting a Black man, Jacob Blake, in the back multiple times at close range.
Trump will continue his trip despite Wisconsin Gov. Tony Evers (D) asking him to reconsider it, Axios and CNN report, citing a statement from White House spokesman Judd Deere. "The White House has been humbled by the outreach of individuals from Kenosha who have welcomed the President's visit and are longing for leadership to support local law enforcement and businesses that have been vandalized," the statement said.
Evers earlier said in a letter that Trump's visit would divert needed resources and "hinder our healing."
Congress: The House and Senate are not in session this week, and return the week of Sept. 8. The House meets for a pro forma session tomorrow at 12:30 p.m. The Senate meets for pro forma sessions tomorrow at 7 a.m. and Friday at 10 a.m.
Elections & Politics
Montana Race May Determine Control of the Senate: Gov. Steve Bullock's entry earlier this year upended the Montana Senate race. Since Bullock's entry in March, Sen. Steve Daines (R-Mont.) has been able to sway undecided voters since July and narrowly retaken the slim advantage the governor held in early polls, but most survey results so far have remained firmly within the margin of error. The Bullock-Daines election seems likely to be among America's most competitive on Nov. 3, and with Republicans nursing a fragile 53-47 majority in the Senate, Montana's might just be the unlikely seat that flips the upper chamber into Democratic hands. Read more from Greg Giroux.
Intel Chief Blames Briefing Move on Leaks: John Ratcliffe, the Director of National Intelligence, blamed a "pandemic" of leaks in defending his restriction on election-security briefings to Congress, a decision criticized by Democrats as doing Trump's bidding.
Ratcliffe, in what was billed as his first interview since he took office in May, said he would keep Congress informed and appeared to leave the door open to in-person briefings for House members specifically involved with intelligence. He ruled out addressing further "all-member briefings," saying they led to leaks. "We've implemented procedures where we'll primarily brief through written materials," Ratcliffe said on Fox News Channel's "Sunday Morning Futures." "But then we'll also provide briefings to the members that are entitled to it, as we have before."
Speaker Nancy Pelosi (D-Calif.) and House Intelligence Chairman Adam Schiff (D-Calif.) called the move by the Office of the Director of National Intelligence "a shocking abdication of its lawful responsibility" to keep Congress informed. Biden called it "a shameless partisan manipulation to protect the personal interests of President Trump." Read more from Tony Czuczka.
Trump's Gender Gap Risks Becoming Chasm: Republicans pulled out all the stops at their convention to persuade female voters that Trump cares about their interests, even pledging to put a woman on the moon. But polls show that Trump is losing ground as women's concerns about him intensify. The gender gap that Trump barely overcame to win in 2016 has grown wider. Polling this summer shows that female voters not only object to his persona, but also to his preference for a heavy, militaristic response to racial-justice protesters.
While Republicans traditionally face a gender gap in presidential elections, "the magnitude of that difference is larger this time with Trump," said Susan Carroll, a senior scholar at the Center for American Women and Politics at Rutgers University. "He definitely has quite a problem with women voters — and any Republican has some problem with women voters relative to men — but he has a much bigger problem." Read more from Jeffrey Taylor, Amanda Albright and Gregory Korte.
GOP Convention Gave a Peek at 2024: The Republican National Convention last week was the first big tryout for some potential 2024 contenders, even as it sidelined others. Trump made his case for a second term as other Republicans began to subtly — and not so subtly — lay the groundwork for their own bids four years from now. The Republican field runs along a spectrum from those who fully embrace Trump's pugilism and populism to those who would temper it with traditional conservatism or wrap it in a more optimistic sales pitch. Ryan Teague Beckwith and Steven T. Dennis take a look at the 2024 primary field so far and how the potential contenders are like — or unlike — Trump.
Trump and the Republican Party raised $76 million during the convention, narrowly topping the amount Democrats raised while giving their nomination to Biden. Biden's campaign said he raised $70 million during the Democratic National Convention which ran the week before the GOP event. Trump raised his money through his campaign, the Republican National Committee and two fundraising vehicles that benefit both, Trump Victory and Trump Make America Great Again. Read more from Bill Allison.
The Coronavirus Pandemic
Hahn Promises Vaccine Review Transparency: FDA Commissioner Stephen Hahn promised that the review of a potential Covid-19 vaccine in the U.S. will be transparent to the public, with any clearance by the agency driven by data alone. In an interview yesterday, Hahn responded to questions about the different ways the FDA could clear a vaccine for use: either under an emergency authorization, likely based on more limited data and for use in a narrow group, or a broader approval that could lead to wider use. "We've said all along we're not going to pre-judge what mechanism we're going to use to authorize or approve a vaccine," Hahn told Bloomberg News by phone. "We're going to let the data dictate that. The data will dictate what kind of decision is made on the vaccine." Read more from Drew Armstrong.
The FDA ousted its chief spokeswoman, said a person with knowledge of the move, days after the head of the agency exaggerated the benefits of an experimental coronavirus therapy and others in the Trump administration promoted the erroneous statements. The spokeswoman, Emily Miller, joined the agency this month. She came to the job with communications experience in past government positions, a stint at conservative media outlets, and work advocating for gun rights, but little to no health-care experience. Read more from Anna Edney and Heather Smith.
Colleges With Outbreaks Advised to Keep Students on Campus: A consensus is building among public health experts that it's better to keep university students on campus after a Covid-19 outbreak rather than send them home as many are doing. It's easier to isolate sick or exposed students and trace their contacts if they stay put, said Ravina Kullar, epidemiologist and spokesperson for Infectious Diseases Society of America. Sending students home risks exposing other people there as well as along the way, and makes contact tracing all but impossible. "There's just inevitably going to be an outbreak," she said. "Colleges need to take on the burden of having these students kept at their campus and taking care of them." Read more from Olivia Raimonde.
Burden on Companies That Use Payroll Tax Option: Trump's move to defer payroll taxes through year-end likely will face resistance from companies after IRS guidelines left employers on the hook to pay back the levy early next year. Trump directed the Treasury to allow the taxes to be deferred as a boost to a U.S. economy stalled by the coronavirus pandemic, saying it would give wage-earners more money to spend immediately. But it would hit workers with a bigger tax bill next year. The IRS said employers that signed on to the option have to pay the money back by April 2021, most likely by doubling withholding for payroll taxes. Read more from Laura Davison and Allyson Versprille.
Small Businesses Feel Pandemic Pain: Small businesses are often described as the heart of the U.S. economy. They employ about half of the country's private workforce — and they've been hit especially hard by the pandemic. But the impact varies widely from region to region, depending on things like the severity of lockdowns and the local mix of industries. The latest Small Business Pulse Survey by the Census Bureau, based on responses collected Aug. 9-15, offers a glimpse of how small U.S. firms see their prospects, five months into the worst economic slump in generations. Most said there's still a way to go before business gets back to normal — if it ever does. Read more from Alex Tanzi.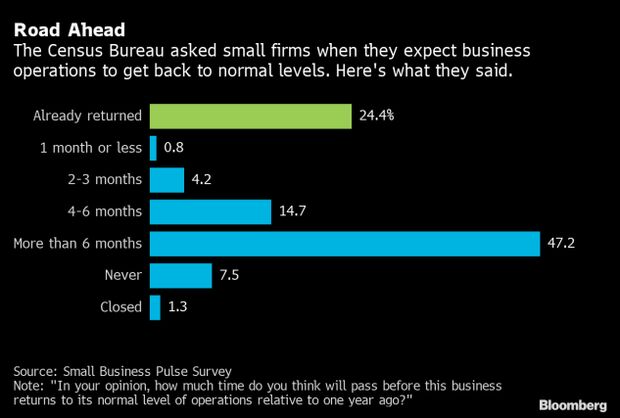 Airlines Stumble Ahead With Covid Plans: United and Delta airlines have recently begun boarding flights from the rear to the front in a bid to minimize close contacts between passengers that could spread Covid-19. Yet new research shows it may do just the opposite: U.S. scientists have found boarding planes starting with the back rows increases the time spent by people clustering in aisles to load bags in overhead bins before taking their seats.
Boarding procedure is just one example of how airlines are struggling to make flying safe during the pandemic, and lure back passengers. Carriers are also instituting inconsistent policies on leaving middle seats vacant that aren't backed by science. There are huge gaps in data and research, and the Trump administration has declined to set health-related rules for airlines. Read more from Alan Levin.
Around the Administration
Trump Toured Hurricane Damage in Louisiana, Texas: Trump on Saturday surveyed damage in Louisiana and Texas from Hurricane Laura, which slammed into the Gulf Coast as a Category Four storm two days earlier. Josh Wingrove and Jennifer Jacobs recap the trip.
U.S. to Remove Plutonium Waste From South Carolina: The Trump administration is settling a long-running dispute with South Carolina over cleaning up weapons-grade plutonium stashed in the state. The agreement is set to be announced today by Energy Secretary Dan Brouillette and South Carolina Attorney General Alan Wilson, said two people familiar with the matter who asked not to be identified because the deal hasn't been formally unveiled. Read more from Jennifer A. Dlouhy and Ari Natter.
Moderna's Patents Probed by DARPA: Moderna's patents that were filed or awarded are being probed by the Department of Defense's research arm, the Defense Advanced Research Projects Agency, the Financial Times reported, saying the company failed to disclose government funding as required by federal law. Read more from Chiara Vasarri.
Defense & Foreign Affairs
Trump Hails Abe as Japan's Greatest Prime Minister: Trump praised Japan's outgoing leader, Shinzo Abe, as the greatest prime minister in Japan's history, according to a White House readout of their call. The White House said the two spoke "at length" last night Washington time, where Trump told Abe that he had done a fantastic job and that the U.S.-Japan relationship is better than it has ever been.
Abe said Friday that he would step down to undergo treatment for ulcerative colitis, a chronic digestive condition that also forced him to step down as premier in 2007. Abe has said he will step down when a leader is selected, likely later in September. Read more from Derek Wallbank and Josh Wingrove.
Trump Announces Cut to Steel Quota From Brazil: Trump is cutting the cap on allowable steel shipments from Brazil, citing a slump in the U.S. market. In a proclamation issued late Friday, Trump amended a previous decision under the so-called Section 232 national security powers to lower the cap on allowable imports. The limits were set in 2018 as part of a deal between the nations to avoid tariffs that Trump applied to other countries.
Trump cited a slumping American steel market, which has only accelerated amid shutdowns spurred by the coronavirus pandemic. Read more from Josh Wingrove and Shawn Donnan.
ByteDance to Need China OK for TikTok Sale: ByteDance will be required to seek Chinese government approval to sell the U.S. operations of its short-video TikTok app under new restrictions Beijing imposed on the export of artificial intelligence technologies, according to a person familiar with the matter.
AI interface technologies such as speech and text recognition, and those that analyze data to make personalized content recommendations, were added to a revised list of export-control products published on the Ministry of Commerce's website late Friday. Government permits will be required for overseas transfers to "safeguard national economic security," it said. Read more.
Google, Facebook Dump Hong Kong Cable: Google and Facebook dropped plans for an undersea cable between the U.S. and Hong Kong after the Trump administration said Beijing might use the link to collect information on Americans. But the companies quickly submitted a revised proposal that includes links to Taiwan and the Philippines, as envisioned in the application that was withdrawn on Thursday.
The new filing didn't include Hong Kong-based Pacific Light Data Communication, a partner in the original plan and a concern for U.S. security agencies that cited its links to mainland China's Dr. Peng Telecom & Media Group. Read more from Todd Shields.
Editor's Note: Friday's Bloomberg Government afternoon newsletter was updated to correct the spelling of Emmett Till's name.
To contact the reporter on this story: Zachary Sherwood in Washington at zsherwood@bgov.com
To contact the editors responsible for this story: Giuseppe Macri at gmacri@bgov.com; Loren Duggan at lduggan@bgov.com; Michaela Ross at mross@bgov.com