What to Know in Washington: Trump, Biden to Pennsylvania on 9/11
Donald Trump and Joe Biden will signal today that their paths to the White House run through Pennsylvania, as both commemorate the anniversary of the Sept. 11 attacks near the town of Shanksville, where one of the hijacked planes crashed in 2001.
The president and his challenger are planning to visit at different times, avoiding a face-to-face encounter.
Both candidates see a need to spend time in Pennsylvania with just eight weeks before Election Day — though neither side says politics is behind the visit.
Biden leads Trump in national polls but his advantage is narrower in Pennsylvania. The state helped decide the presidency for Trump in 2016, ending a two-decade-long winning streak in Pennsylvania by Democratic presidential candidates.
The Democratic challenger leads the president nationally by 7.5 percentage points and in Pennsylvania by 4.3 percentage points, according to RealClearPolitics' average of polls. Trump's 2016 victory in Pennsylvania came by fewer than 45,000 votes out of almost 6.2 million cast.
Today's visit is the president's third trip to Pennsylvania in three weeks. Biden will participate in a CNN town hall in his birthplace of Scranton next week, after also spending Labor Day in Harrisburg.
Trump will deliver remarks this morning at the Flight 93 National Memorial "to honor and remember the lives lost," according to White House spokesman Judd Deere. He will be accompanied by first lady Melania Trump.
Biden is scheduled to visit the memorial site this afternoon but is not expected to speak there. Biden earlier today will attend a ceremony at the World Trade Center site in New York, in which Vice President Mike Pence will also participate. Biden also plans to pause campaign advertising on Sept. 11, following precedents set in earlier presidential campaigns. The Trump campaign didn't respond to a question about whether it also planned to halt ads today. Read more from Jordan Fabian, Jennifer Epstein and Daniel Flatley.
BGOV Congressional Election Webinar: Bloomberg Government hosts an election webinar today at 11 a.m. Join Bloomberg Government senior reporters Greg Giroux and Emily Wilkins for a look ahead to the congressional races and the surrounding implications. Register here.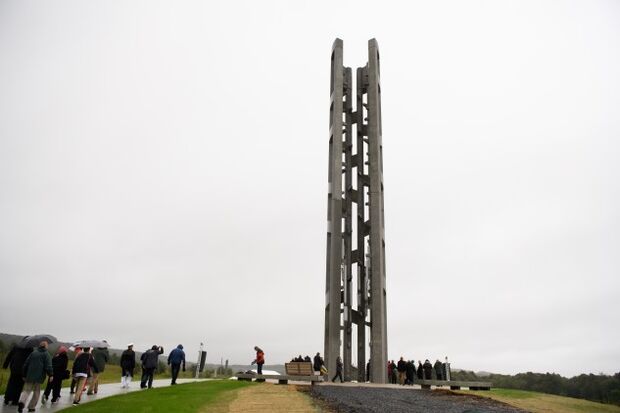 More Elections & Politics
Trump Tries to Lure Michigan Voters With Auto Claims: Trump made inflated claims at a campaign rally yesterday that he revived the auto industry in the U.S. and Michigan, at one point suggesting he forced Japanese carmakers to build factories in the state. They are not. "We brought you a lot of car plants, Michigan," Trump said at an airport rally attended by thousands of people in Freeland. "It's been a long time since you had all these plants being built."
One new Fiat Chrysler Automobiles plant is under construction in Detroit, and two others are planned in the state, one by Navya SAS, a French shuttle bus maker, and another by Waymo, an Alphabet subsidiary working on autonomous cars. Auto industry jobs declined under Trump because of the Covid-19 pandemic from 956,000 in January 2017, when Trump took office, to about 905,000 people in the sector as of August. Before virus-related shutdowns cut vehicle sales, employment had risen to 994,000, according to the Bureau of Labor Statistics. Read more from Josh Wingrove, Justin Sink and David Welch.
Biden Hopes to Avoid Trump's 'Bait' at Debates: Biden said yesterday he hopes he can avoid being baited into a "brawl" by Trump when they debate this fall. "I hope I don't take the bait because he's going to say awful things about me, my family, etcetera," Biden said at a virtual fundraiser. "I hope I don't get baited into getting into a brawl with this guy because that's the only place he's comfortable." The former vice president said he expected to be able to keep his cool because "I'm used to dealing with bullies."
Biden said he hopes to use the three debates as an opportunity to hold Trump "accountable." The forums are scheduled for Sept. 29, Oct. 15 and Oct. 22, though the Trump campaign has proposed holding a fourth event, which the Biden campaign has rejected. Read more from Jennifer Epstein.
Ballot Battle in Wisconsin Gets Twist From Court: Jockeying for the presidency in Wisconsin intensified as the swing state's highest court issued an order that could delay the mailing of absentee ballots. The Wisconsin Supreme Court ordered the state's Elections Commission to prevent the forms from being sent out to voters before it rules on the Green Party's lawsuit to get on the ballot, filed by presidential candidate Howie Hawkins and his running mate, Angela Walker. Their ticket could take crucial votes from Biden in hotly contested Wisconsin and help Trump. Read more from Erik Larson and Amanda Albright.
A federal appeals court said Texas can limit access to mail-in ballots for the November election, even after some residents argued forcing them to cast ballots in person during a pandemic put them at risk of getting sick. Texas officials argued only disabled, absentee or senior-citizen voters were entitled to use mail-in ballots, not able-bodied younger people. The U.S. Court of Appeals in New Orleans agreed on Thursday, saying the limits don't amount to age discrimination. Read more from Laurel Brubaker Calkins.
Kanye West Blocked From Ballot in Ohio: West won't be on the Nov. 3 ballot in Ohio as an independent presidential candidate after the state Supreme Court yesterday denied the rapper's request to overturn a decision disqualifying him. West's candidacy was rejected on grounds that information and a signature on a nominating petition and statement of candidacy for his running mate, Michelle Tidball, didn't match the paperwork used to gather voter signatures. Read more from Mark Niquette.
Happening on the Hill
Legislation Would Protect FAA Whistleblowers: A newly unveiled bill seeks to boost protections of whistleblowers at the Federal Aviation Administration. The Senate legislation is as a result of the Commerce, Science, and Transportation Committee's interviews with 50 agency whistleblowers, some who accused the agency of being too cozy with operators and manufacturers regarding airplane crashes, the committee said in a press statement. Read more from Alan Levin.
DeJoy Asked to Detail Share Holdings: Four Democratic lawmakers in a letter said Postmaster General Louis DeJoy has conflicts of interest stemming from holdings in postal contractor XPO Logistics. They asked DeJoy to say whether he was involved in certain policy changes, Todd Shields reports. The letter, which asked for a reply by Sept. 24, was signed by Reps. Katie Porter (D-Calif.) and Raja Krishnamoorthi (D-Ill.), and Sens. Elizabeth Warren (D-Mass.) and Amy Klobuchar (D-Minn.), according to a tweet by Porter.
Sens. Gary Peters (D-Mich.), Klobuchar and others introduced legislation aimed to ensure USPS leadership is nonpartisan, according to a release.
IRS Asked to Extend Filing Deadline for Stimulus: House Ways and Means Committee Chairman Richard Neal (D-Mass.) is calling on the IRS to extend a deadline for filing taxes and immediately notify those that didn't pay taxes but are eligible for virus relief payments. "For months, the IRS has had all the information it needs to contact these individuals yet chose not to do so. Further delay is inexcusable," Neal wrote to IRS Commissioner Charles Rettig. Read more from Colin Wilhelm.
Grassley Says Iowa Needs Steel Tariff Relief: Sens. Chuck Grassley and Joni Ernst, both Republicans from Iowa, called on Commerce Secretary Wilbur Ross to lift Section 232 tariffs for steel "needed to rebuild Iowa" following a devastating derecho wind storm in August. Iowans need relief after the storm, which affected million of acres in the U.S.'s top corn-producing state and damaged farm equipment, Grassley said in a tweet, Kim Chipman reports.
The Coronavirus Pandemic
Higher Bar Set for Fast Vaccine Approval: Drugmakers seeking an emergency authorization for a coronavirus vaccine will have to meet a higher standard of efficacy than normally would be required for such clearance, the director of the Food and Drug Administration's office handling vaccines said yesterday. Usually, an emergency use authorization would require a company to show the product may be effective. Peter Marks, director of the FDA's biologics office, said the FDA will require more robust data about how well a Covid-19 vaccine works before granting an emergency waiver, which he called "EUA+." Anna Edney has more.
Trump's Payroll Tax Pause Fizzles: A month after Trump moved to shore up workers' incomes by giving employers the option of deferring payroll taxes, the effort has failed to energize a U.S. economy still reeling from the coronavirus. No major private employer has stepped forward with plans to forgo withholding the levy from workers' paychecks — as Trump's action allowed from Sept. 1 through year-end. Costco, with 163,000 U.S. employees at latest count, isn't participating, and neither is United Parcel Service nor FedEx. That leaves the federal government largely on its own in proceeding with its workers. Read more from Laura Davison and Steve Matthews.
Economic Rebound Becomes More Fragile: After heating up this summer, an early fall chill may start to settle over America's economic rebound. Applications for regular state jobless benefits continue to number more than 800,000 every week and chances in Congress diminished for additional support for the jobless and businesses yesterday. And funds for the temporary supplemental jobless benefit payments authorized by Trump in August is running out. Reade Pickert and Jarrell Dillard have more.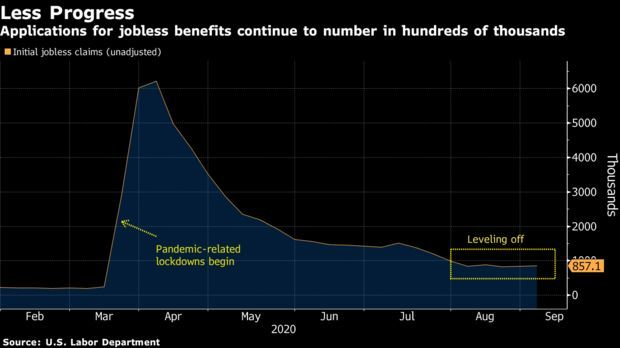 Smithfield Fine in Deadly Covid Outbreak Labeled 'Paltry': U.S. regulators issued their first sanction against a meatpacker connected with a deadly Covid-19 outbreak: a $13,494 fine against Smithfield Foods that drew criticism as inadequate from two senators, a former safety official and a major national union. Nearly 1,300 workers at Smithfield's Sioux Falls, S.D., plant tested positive for the virus, 43 were hospitalized and four died between March 22 and June 16, according to inspection documents. The U.S. Occupational Safety and Health Administration said in a statement the fine was the maximum allowed by law. Smithfield is owned by the Hong Kong-based WH Group. Read more from Mike Dorning and Michael Hirtzer.
Trump Applauds JPMorgan's Push to Restaff Offices: JPMorgan Chase is requiring its most senior sales and trading employees to return to their offices by Sept. 21, the strongest move yet by a U.S. bank to restaff its workplaces. Trump approved the move in a tweet this morning. "Congratulations to JPMorgan Chase for ordering everyone BACK TO OFFICE on September 21st. Will always be better than working from home!" Read more from Michelle F. Davis.
What Else to Know Today
Pompeo Says Taliban Commitments Key to Withdrawal: Secretary of State Michael Pompeo said American troop levels in Afghanistan would depend on the Taliban upholding its commitments with the U.S. regardless of the outcome of domestic peace talks set to start tomorrow in Doha, Qatar. "There are a series of commitments that the Taliban have made, we have every expectation that they will follow through on them," Pompeo told reporters on his way to Doha, where he will oversee the start of talks between the two sides. "Our commitment to reduce our forces to zero is conditioned on them executing their obligations under the agreement." He declined to say whether the Trump administration would wait for an accord before withdrawing all U.S. forces. Read more from Nick Wadhams.
Trump Barred From Shunning Migrants in Census: Trump's policy to exclude undocumented immigrants from census data violates the law, a panel of federal judges ruled, blocking it from taking effect. Three judges in New York ruled Congress didn't give the president authority for the policy. Census results are used to determine representation in the House and to allocate federal funding. Read more from Bob Van Voris.
Trump Says He Won't Push Deadline for TikTok: Trump said he won't extend his Sept. 15 deadline for ByteDance to sell the U.S. operations of its popular TikTok social media app. "We'll either close up TikTok in this country for security reasons, or it will be sold," Trump told reporters. "There will be no extension of the TikTok deadline." Administration officials had been considering whether to give more time to TikTok's Chinese owner to arrange a sale of the app's U.S. arm to an American buyer, according to people familiar with the matter. Read more from Josh Wingrove, Jordan Fabian, and Saleha Mohsin.
Separately, users of WeChat seeking to block Trump's executive order that would ban the use of the Chinese-owned messaging app in the U.S. won't be able to see the evidence supporting the order yet. A U.S. judge in San Francisco yesterday denied the request by the U.S. WeChat Users Alliance for an expedited peek at the rationale behind Trump's Aug. 6 executive order. Edvard Pettersson has more.
Trump Threatened WTO Chief With U.S. Withdrawal: Trump threatened to withdraw the country from the World Trade Organization during a contentious phone call with the group's then-leader, according to a new book by journalist Bob Woodward. Trump demanded that Roberto Azevedo, who was the WTO's director-general, designate the U.S. a "developing nation" like China and India in order to get more favorable trading terms, Trump told Woodward in a Jan. 22 interview. Read more from Jordan Fabian.
Trump-Brokered Deal Puts Squeeze on Serbia: A U.S.-brokered agreement with Serbia and Kosovo ran into difficulty a week after it was signed, as Serb President Aleksandar Vucic raised questions over its implementation. While the core of the accord signed in Washington Sept. 4 is on "economic normalization" between the Balkan neighbors, it includes provisions committing Serbia to move its embassy in Israel and on 5G networks that could harm Serbia's close ties with China. Read more from Jasmina Kuzmanovic and Alan Crawford.
To contact the reporters on this story: Zachary Sherwood in Washington at zsherwood@bgov.com; Brandon Lee in Washington at blee@bgov.com
To contact the editors responsible for this story: Giuseppe Macri at gmacri@bgov.com; Loren Duggan at lduggan@bgov.com; Michaela Ross at mross@bgov.com