What to Know in Washington: Trump at Odds With Voters on Race
President Donald Trump's latest salvos about Confederate flags and statues and his attacks on racial-justice protesters may provide affirmation to his core supporters, but the rhetoric is increasingly out of step with the way most Americans think in 2020.
In the last two days, Trump has condemned Nascar's decision to ban the Confederate flag from its raceways and criticized its only Black driver, Bubba Wallace. Trump also defended the NFL teams Washington Redskins and Cleveland Indians, which are considering changing their names and mascots, and called Black Lives Matter "a symbol of hate."
His tweets on these subjects are liked by tens of thousands of his followers and he insists a "silent majority" supports these views.
Trump isn't trying to appeal to a majority, silent or otherwise, but instead recreate the narrow margins that brought him victory in 2016. But a striking number of polls indicate that Americans will be much less receptive to these arguments than they were just four years ago, adding to signs of re-election trouble.
A majority of Americans support removing Confederate statues from public places, believe police are more likely to use force against Black suspects and support the Black Lives Matter movement.
On each measure, that is a reversal from the majority of public opinion in 2016. Lydia Saad, a senior editor at Gallup, said voters view Trump's stances on those issues much differently than they did in 2016, when his message swept him into the White House. "He may be running the same campaign, but it's not going to play out the same way," she said.
Trump's job approval has consistently remained around 40%, but his re-election chances against Democratic nominee Joe Biden have been steadily slipping since June, with voters unhappy with his response to the coronavirus pandemic and the nationwide protests against police brutality.
Biden now has the support of 49.6% of voters to Trump's 40.9% in the RealClearPolitics average of polls. Read more from Ryan Teague Beckwith.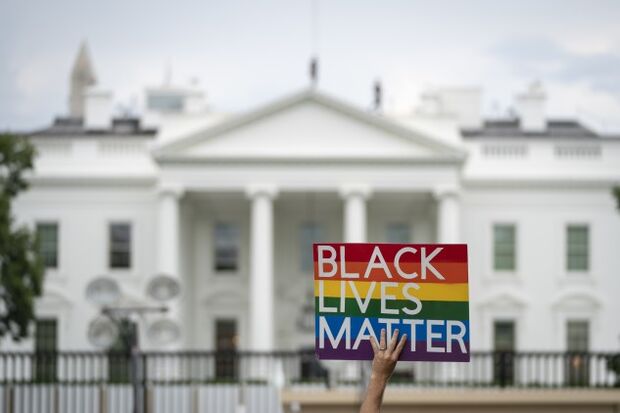 What to Watch Today
Appropriations Markups: The House Appropriations Commerce-Justice-Science, Transportation-HUD, Financial Services, and Defense subcommittees are scheduled to mark up their fiscal 2021 appropriations bills today.
Today's Hearings:
Pandemic Response
U.S. Plans a Testing Surge: The federal government is ramping up coronavirus testing in Louisiana, Texas and Florida, three states seeing a surge in Covid-19 infections, as health officials attempt to get a firm grasp on how the fast-moving pandemic is evolving. Eight temporary testing sites will each perform as many as 5,000 free tests a day, the Department of Health and Human Services said. Four sites opened yesterday in Baton Rouge, La., while one in Edinburg, Texas, and three in Jacksonville, Fla., will open today. The sites will remain open for up to12 days.
Increased testing could help health experts get a clearer picture of how the coronavirus is moving through the population, as officials weigh how far to go in reopening the economy — or in rolling back steps already taken to revive business. Read more from David R. Baker, Michelle Fay Cortez and Shira Stein.
Tri-State Area Adds Three States to Quarantine: New York, New Jersey, and Connecticut added three more states to their 14-day quarantine requirement, bringing the total to 19 states. The travel advisories will now include Delaware, Kansas, and Oklahoma, and applies to any person arriving from a state with a positive test rate higher than 10 per 100,000 residents or a state with a 10% or higher positivity rate, each over a seven-day rolling average. Keshia Clukey and Elise Young have more.
Minority Workers Hit Hardest at Meat Plants : Coronavirus infections surged at U.S. meat plants in May from the previous month, with the brunt of the virus' spread hitting ethnic and minority groups, the Centers for Disease Control and Prevention said. The figures, obtained from 239 facilities in 23 states, showed a disproportionate burden of illness and death among racial and ethnic minority groups, the CDC said. Among 9,919 cases in 21 states that provided information on worker race and ethnicity, 87% occurred among these populations. Michael Hirtzer has more.
Coronavirus & the Economy
Coke, Delta, Hyatt, Others Back Restaurant Relief: Major companies including Coca-Cola, Delta Air Lines and Hyatt Hotels are backing a bipartisan congressional proposal for a $120 billion grant program to help independent restaurants survive Covid-19. "This important legislation will immediately infuse desperately needed capital into local economies and will help small independent restaurants and the broader restaurant community rebuild after months of closure and what will be months of reduced revenue as a result of social distancing," said seven companies, which also included American Express, in a letter today to the two senators who introduced the proposal.
The bill, sponsored by Senate Commerce, Science and Transportation Chairman Roger Wicker (R-Miss.) and Sen. Kyrsten Sinema (D-Ariz.), would create a $120 billion "Restaurant Revitalization Fund" overseen by the Treasury Department to provide grants to independent food service or drinking establishments through Dec. 31. Read more from Ben Brody.
Loan Extension Unlikely to Spur Big Lending: Congress' last-minute extension of a pandemic relief loan program to August is unlikely to increase banks' appetite to lend the remaining money. Lawmakers extended the popular but embattled Paycheck Protection Program, which expired June 30, before leaving for a two-week July recess. But interest in the program had already waned after an explosion of interest in March when Congress first approved $349 billion in emergency lending. The program, which offers loan forgiveness if funds are used for specific purposes, is meant to bolster businesses struggling in the pandemic-induced recession. "Some small banks will be involved in it, but it'll just continue to be at a much slower pace than you saw originally," Keefe, Bruyette & Woods bank analyst Catherine Mealor said. Read more from David Hood.
Clarida Says Fed Can Do More and 'Will Do' More If Needed: Federal Reserve Vice Chairman Richard Clarida said the central bank would likely turn to additional forward guidance and asset purchases if it needed to do more to support the U.S. economic recovery. In terms of extra tools, he cited "additional forms of forward guidance that the Fed has used in the past and we would consider using in the future" as well as noting current Fed purchases of Treasuries and mortgages to support market functioning. Read more from Tarina Saraiva and Steve Matthews.
Elections & Politics
Democrat Amy Kennedy Wins Primary to Face Van Drew in November: New Jersey Democrats picked educator Amy Kennedy to challenge party-switching Rep. Jeff Van Drew (R) in November. Kennedy was declared the winner by the Associated Press on Tuesday night over Montclair State University professor Brigid Callahan Harrison and former House staffer Will Cunningham in the race to take on Van Drew to represent New Jersey's 2nd District.
Sen. Cory Booker (D) easily won the Democratic primary for Senate, the AP reported, and House Energy and Commerce Chairman Frank Pallone (D) won his 6th district race against a progressive challenger. Read more from Erik Wasson and Greg Giroux.
Union Wants Senator Removed Over BLM Stance: The Women's National Basketball Association's union wants Sen. Kelly Loeffler (R-Ga.), co-owner of the Atlanta Dream, "out" following a report by The Atlanta Journal-Constitution that Loeffler opposes the WNBA's plans to honor the Black Lives Matter movement. "E-N-O-U-G-H! O-U-T!" the union said on Twitter yesterday. Loeffler urged WNBA Commissioner Cathy Engelbert to scrap plans for players to wear "Black Lives Matter" and "Say Her Name" labeled warmup jerseys and instead put an American flag on uniforms and clothing, the Journal reported.
Kanye West Says He No Longer Supports Trump: Kanye West no longer supports Trump, Forbes reported, citing an interview with the rapper who says he plans to run for president. West intends to run for election under the banner of "the Birthday Party." "I would run as a Republican if Trump wasn't there. I will run as an independent if Trump is there," West told Forbes, Melissa Cheok reports. West has taken almost no concrete steps toward a presidential bid.
Defense & Foreign Affairs
Mexico's AMLO Flies Coach to Washington to Seal Trump Bet: Mexican President Andres Manuel Lopez Obrador is now ready to take the biggest gamble in his 19-month presidency by cozying up to Trump despite domestic criticism in Mexico and against the counsel of some of his top advisers. The decision to travel now in the midst of an unchecked pandemic is even more remarkable given Lopez Obrador's historic reluctance to leave the country — it will be his first trip abroad in three years. And true to his 'man of the people' image, he is flying coach.
Lopez Obrador will meet Trump at the White House today. Read more from Eric Martin and Nacha Cattan.
TikTok Draws FTC, DOJ Scrutiny: TikTok, the short-video app owned by China's ByteDance, is the subject of an inquiry by the Federal Trade Commission and Justice Department over its data practices, according to a children's privacy advocate Campaign for a Commercial-Free Childhood who says he was interviewed by the agencies. Trump said earlier yesterday that his administration is considering banning TikTok to retaliate against China over its handling of the coronavirus. Read more from Ben Brody and Daniel Stoller.
TikTok played up its U.S. ties and said it doesn't feed user data to China, pushing back against remarks by Trump and Secretary of State Mike Pompeo. Pompeo said the government is considering a ban of the app. "TikTok is led by an American CEO, with hundreds of employees and key leaders across safety, security, product, and public policy here in the U.S.," a company spokesperson said. Read more from Shelly Banjo.
U.S. Sets Visa Restrictions on Chinese Officials: The U.S. has imposed travel restrictions on Chinese officials it's determined to be "substantially involved" in restricting access to Tibet, Pompeo said. "Beijing has continued systematically to obstruct travel to the Tibetan Autonomous Region and other Tibetan areas by U.S. diplomats and other officials, journalists, and tourists, while PRC officials and other citizens enjoy far greater access to the United States," Pompeo said yesterday in a statement. Read more from Glen Carey.
Trump Aides Weigh Proposals to Undermine Hong Kong's Dollar Peg: Some top advisers to Trump want the U.S. to undermine the Hong Kong dollar's peg to the U.S. dollar as the administration considers options to punish China for recent moves to chip away at the former British colony's political freedoms, according to people familiar with the matter. Read more from Nick Wadhams, Jenny Leonard, Jennifer Jacobs and Saleha Mohsin.
U.S. Hasn't Sought Meeting With North Korea: The U.S. hasn't requested a meeting with North Korea, the State Department's point person for talks with Pyongyang said, reaffirming the Trump administration's commitment to eliminating nuclear weapons from the Korean Peninsula. U.S. Deputy Secretary of State Stephen Biegun — making his first visit to South Korea in about seven months — met top South Korean officials today in Seoul in a bid to restart sputtering negotiations. Kwon Jong Gun, one of North Korea's top diplomats, said earlier this week that Pyongyang had no intention to "sit face to face" with the U.S. Read more from Jeong-Ho Lee.
South Texas Officials Sue to Block Trump's 'Racist' Border Wall: South Texas elected officials claim in a new court challenge that Trump's border wall is a politically motivated attack on Mexican Americans, a protected class under the U.S. Constitution. Zapata County officials asked a federal judge to halt federal seizures of private border land, block construction activities, and reinstate the more than 27 laws waived by Trump officials to speed the wall-building effort. Read more from Laurel Calkins.
NASA Boosts Boeing Software Scrutiny: NASA is planning to use lessons from SpaceX's approach to software development after a failed test flight by a Boeing craft showed the flaws of more traditional procedures, NASA officials said. After completing an independent review of the Boeing Starliner's truncated mission to the International Space Station in December, NASA said yesterday it'll boost oversight of the manufacturer's repairs. Read more from Justin Bachman.
What Else to Know Today
DeVos Sued Over Rule Boosting Aid to Private Schools: California Attorney General Xavier Becerra and five other Democratic attorneys general filed a lawsuit yesterday to block an Education Department rule that boosts coronavirus relief money to private schools, Andrew Kreighbaum reports.
Education Secretary Betsy DeVos published the rule last week after several states said they would ignore guidance for public schools to share more relief money for private schools in their districts. Becerra said the rule would cost public schools in the state tens of millions of dollars in pandemic aid.
Pushback on ICE's Rules for Foreign Students: Democrats, civil rights groups and at least one state attorney general pushed back on Immigration and Customs Enforcement's move to bar international students in the U.S. whose universities had moved classes online due to the coronavirus pandemic. House Homeland Security Chairman Bennie Thompson (D-Miss.) in a statement called the effort "cruel" and said it would do lasting economic damage. Massachusetts Attorney General Maura Healey said on Twitter she planned to sue to block the order.
The American Civil Liberties Union in an interview said it would consider legal action. The group is actively lobbying lawmakers and the agency to stop the order from taking effect, while also speaking with universities about how to meet the policy so they can protect their students, Andrea Flores, deputy director of immigration policy at the ACLU, said in a phone interview, Shaun Courtney reports.
"It's just incredibly cruel to go after students who bring such benefits to our university systems and are expanding their own opportunities. To go after them at this time, just further reveals this is not about public health. This is not about our economic recovery. This is about targeting people just because they're immigrants," Flores said.
CFPB Taps Regulatory Chief Pahl: The Consumer Financial Protection Bureau yesterday tapped Tom Pahl to serve as its new second-in-command. Pahl, who rejoined the agency in 2018 to oversee its Research, Markets and Regulations unit, has been promoted to deputy director. The position had been filled on an acting basis by Leonard Chanin, the deputy to Federal Deposit Insurance Corp. Chairman Jelena McWilliams. Read more from Evan Weinberger.
Chief Justice Roberts Was Hospitalized After Head Injury: Chief Justice John Roberts was hospitalized overnight last month for an injury he suffered to his forehead after falling while walking for exercise, a U.S. Supreme Court spokeswoman said. Roberts' doctors believe the fall was due to lightheadedness caused by dehydration and have ruled out a seizure. Roberts, 65, has suffered from at least two seizures in the past. Read more from Greg Stohr.
With assistance from Shaun Courtney and Andrew Kreighbaum
To contact the reporters on this story: Zachary Sherwood in Washington at zsherwood@bgov.com; Brandon Lee in Washington at blee@bgov.com
To contact the editors responsible for this story: Michaela Ross at mross@bgov.com; Loren Duggan at lduggan@bgov.com; Giuseppe Macri at gmacri@bgov.com