What to Know in Washington: Trump Alums Gather for His DC Return
Trump's speech today could preview second bid for White House
Former president to lose control of $100 million PAC if he runs
There was a whiff of nostalgia in the air as Donald Trump's old guard got ready for their boss's return to a capital he once presided over.
The stage was set by the former president's senior aides, a volley away from the White House, in a ballroom at a luxury Washington hotel. The main event: a keynote speech on Tuesday afternoon for the America First Policy Institute, which could be the moment Trump announces he's running for president again in 2024.
To his supporters, it's not really about the if, but the when.
A lot will depend on the mood and the man's own unpredictable temperament. Are the crowds big enough? Inside on Monday, there were about 600 people, including Trump administration alums who exchanged hugs, handshakes and deep laughs.
Trump has not been back to Washington for 18 months — after he fled to Florida following a 2020 defeat he refused to accept and the backlash from a mob storming the Capitol building in his name. Mario Parker and Diego Areas Munhoz preview the former president's return.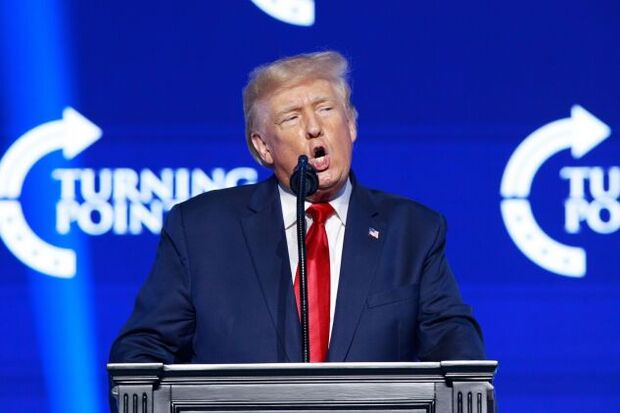 As Trump considers when to announce his candidacy for president in 2024, he faces a costly quandary. As head of the Save America political action committee, he controls $103 million, making him the Republican Party kingmaker. Once he declares a run — moving from kingmaker to possible king — federal law puts the money beyond his reach.
The former president has been indicating for months that he will make another White House bid. He's said he's made his decision but can't disclose it — at least not until after November's midterm elections — because of those campaign finance restrictions. Read more from Bill Allison and Mark Niquette.
Former Vice President Mike Pence was forced to postpone a high-profile speech in Washington on Monday because of travel problems. The speech was notable because it would have taken place a day before former Trump's return to Washington for the first time since he left office. Pence has also hinted he may run for president in 2024. Mark Niquette has more.
SEC Enriches Fraudsters, Lawyers as Secrecy Shrouds Tips Program
Shrouding securities law-breakers in secrecy wasn't the goal financial regulatory hawk Elizabeth Warren set out for the Securities and Exchange Commission's whistleblower program, designed to head-off another Bernie Madoff-level billion-dollar scandal.
Ushered into law via the Dodd-Frank financial reform act of 2010 and championed as a victory in the aftermath of the 2008 investment banking meltdown on Wall Street, the program is entering its second decade with a record of inconsistency following its own rules, exercising secrecy beyond its legal mandate, favoring some lawyers who were formerly agency officials, and being long overdue for congressional oversight.
Lawmakers including Sens. Warren (D-Mass) and Chuck Grassley (R-Iowa) envisioned the program would ensure tips about financial wrongdoing like Madoff's $64.8 billion Ponzi scheme weren't ignored. By that measure, it's been successful: the SEC has gotten roughly 60,000 tips since 2012, and paid out more than $1.3 billion in awards.
But the secrecy surrounding whistleblowers' identities, companies involved in fraud, firms receiving payouts or even the office's annual budget make it nearly impossible for Congress and the public to gauge what crimes are uncovered, the criteria used to take on cases and whether individual payments that can top $100 million are justified.
Bloomberg Law's John Holland offers a deep dive of the SEC's practices in this exclusive investigative report .
Happening on the Hill
CONGRESS' SCHEDULE:
The House meets at noon to take up more than two dozen bills under expedited procedure.
The Senate at 11 a.m. will vote to limit debate on semiconductor legislation.
The Senate delayed a procedural vote on a bill to boost the domestic semiconductor industry after flight disruptions caused by storms on the East Coast prevented some senators from returning to Washington on Monday. Majority Leader Chuck Schumer (D-Calif.) said the vote would be held Tuesday with passage of the long-delayed legislation still on track for later this week. Read more from Laura Litvan.
A global agreement to overhaul the taxation of multinational firms has run into the buzzsaw known as the US Senate. The 2021 agreement between over 130 countries, considered a diplomatic victory for Biden and Treasury Secretary Janet Yellen, calls for countries to establish a 15% global minimum tax and work out a new method for reallocating the profits of the world's largest corporations more fairly among countries. Read more from Colin Wilhelm.
A senior US Republican lawmaker accused China of a broad campaign to obtain confidential information from the Federal Reserve, including recruiting central bank staffers and detaining a Fed employee visiting Shanghai. The report Sen. Rob Portman (R-Ohio) said the Fed's own investigations had identified several employees with connections to Chinese talent recruiters, as well as efforts to gain insight into monetary policy and access to internal data. Craig Torres has the details.
Crypto owners wouldn't have to report small transactions under a bipartisan bill sponsored by Sens. Pat Toomey (R-Pa.) and Democrat Kyrsten Sinema (D-Ariz.) that's aimed at simplifying the use of virtual currencies. The legislation would exempt crypto owners from reporting personal transactions under $50 or when there is less than $50 in gain. Under current law crypto is treated as an asset, rather than as cash. That means investors have to report every transaction and owe capital gains taxes if the digital asset has gained value. Laura Davison highlights the bill.
Speaker Nancy Pelosi's staff and security officials aren't ruling out plans for her to visit Taiwan in early August on a trip that has already stoked more US-China tensions. No final decision has been made about stopping in Taiwan during a trip to Asia next month, according to a person familiar with the details, but if it happens it would come within days of an expected call between Biden and Chinese leader Xi Jinping. Read more from Billy House and Iain Marlow.
Politics & Influence
The Voter Reference Foundation can't be prosecuted for publishing voter information available under New Mexico election law online, according to a preliminary injunction issued by a federal judge who says that the nonprofit is using the data for a governmental purpose. Read more from Samantha Hawkins.
Harvard urged the US Supreme Court to preserve affirmative action in college admissions, calling it necessary to ensure a diverse student body. The Ivy League school filed its brief Monday in one of the most highly anticipated of the court's upcoming cases. Read more from Greg Stohr.
Around the Administration
BIDEN'S SCHEDULE:
Biden at 2 p.m. will hold a virtual meeting with Korea's SK Group to discuss their investments in US manufacturing.
At 5 p.m. Biden will virtually join the House Bipartisan Disabilities Caucus' celebration of the 32nd Anniversary of the American Disabilities Act.
US rail will get a $1.75 billion boost in federal spending targeted at increasing access for disabled riders as stations across the US remain inaccessible to many. The White House announced a new program on Tuesday, funded by the infrastructure law (Public Law 117-58), to help US agencies retrofit subway or rail stations for those who need ramps or elevators. Read more from Lillianna Byington.
US authorities enforcing federal immigration laws will spend the foreseeable future doing their jobs without clear guidance on who's worth arresting. A federal court scrapped the Biden administration's immigration enforcement priorities, and the Supreme Court last week declined to revive the guidelines, at least for now. Read more from Ellen M. Glimer.
The Justice Department is ramping up its hiring of antitrust trial lawyers as the Biden administration moves to deliver on its promise to take alleged competition violators to court. The antitrust division is filling "many vacancies" in San Francisco, Washington, New York and Chicago, according to a federal jobs site. Read more from Sam Skolnik.
More than 40 percent of parents said they definitely won't vaccinate their children under 5 against Covid, in the latest findings that indicate parents are less swayed by the highly contagious BA.5 variant and more by their own children's experiences with the disease. Read more from Jeannie Baumann.
WHAT ELSE TO KNOW TODAY
To contact the reporters on this story: Michaela Ross in Washington at mross@bgov.com; Brandon Lee in Washington at blee@bgov.com
To contact the editors responsible for this story: Giuseppe Macri at gmacri@bgov.com; Loren Duggan at lduggan@bgov.com