What to Know in Washington: Trump Aims Executive Order at Tech
Donald Trump has been raging against Twitter since the social media platform that helped vault him to the presidency slapped fact-check links on a pair of his tweets.
Now, he's poised to take action today that could bring a flurry of lawsuits down on Twitter, Facebook and other technology giants by having the government narrow liability protections that they enjoy for third parties' posts, according to a draft of an executive order obtained by Bloomberg.
The companies' protections against lawsuits apply when they act "in good faith" in taking down or limiting the visibility of inappropriate tweets, videos and other social media posts, but the law doesn't define bad faith. The draft order would push the Federal Communications Commission to issue rules clarifying the issue, potentially allowing users to sue over takedowns if they were inconsistent with companies' terms of service, did not provide enough notice or meet other suggested criteria.
The White House declined to comment early this morning.
The draft order would also convene, through the Justice Department, a working group of state attorneys general to look into deceptive practices and review executive ad spending on the platforms.
The move could set off a legal battle between Washington and Silicon Valley.
Trump has no legal authority to shut down the service, as he threatened to do yesterday morning, but doing so would mean silencing his loudest megaphone — as well as what his campaign calls "keyboard warriors" who both amplify his voice and provide him memes and other free content to broadcast to his 80 million followers.
The social media platform has become even more important for Trump as the coronavirus pandemic prevents him from holding his trademark rallies, and he seeks a free outlet to attack his likely Democratic challenger, Joe Biden. Read more from Ben Brody, Mario Parker and Eric Newcomer.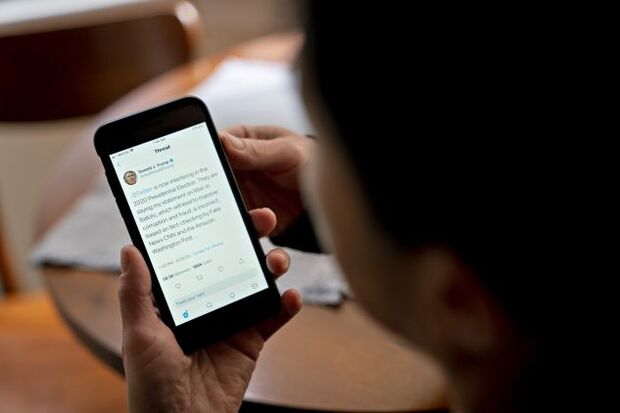 Twitter's Fact-Checking Stance Sets Hard Precedent: Twitter has entered new territory at a particularly risky time. After flagging Trump's tweets about mail-in ballots as being unsubstantiated, the company, which has 166 million daily users on its platform, has created a standard that might be impossible to enforce. It doesn't have an internal team of dedicated fact-checkers, and instead such reviews fall to the company's trust and safety organization. Kurt Wagner has more.
Aid Talks & Implementation
Small Business Loans: The House is scheduled today to consider two bills related to coronavirus aid. A measure from Rep. Dean Phillips (D-Minn.) and 35 bipartisan cosponsors would give businesses more time and flexibility to make qualifying expenditures for loan forgiveness under the Paycheck Protection Program, and allow businesses with forgiven loans to defer payroll taxes.
The House is slated to consider a modified version of the bill that would require businesses seeking loan forgiveness to spend at least 60% of covered funds on payroll expenses. Some restaurants said the current 75% rule doesn't give them enough flexibility to cover nonpayroll costs such as rent and utility payments, especially while employees are laid off. The introduced bill would have scrapped the requirement altogether.
A second measure from Phillips would require the SBA to issue a report on entities that received more than $2 million in small business aid under the CARES Act and the measure that replenished the PPP.
The Senate put off action on a bipartisan proposal to extend the PPP and make other changes to the initiative before leaving last week for a weeklong recess.
Black Universities Urge Funding to Trace Virus: Historically black colleges and medical groups run by Pacific Islanders asked lawmakers yesterday for funds to stem the spread of Covid-19 in minority communities. Researchers and college administrators asked for billions of dollars to fund programs to expand Covid-19 testing and contact tracing programs they say can be targeted to Americans hit hardest by the pandemic. They argued that they're uniquely positioned as organizations that represent these populations to address the problem. Read more from Alex Ruoff.
Senators Say Schools Need Aid Guidance: The Education Department should provide more instructions to colleges handling financial aid appeals because of the coronavirus, a bipartisan group of senators said yesterday. And the department should ask about loss of family income from the pandemic in the application for federal student aid, lawmakers said in a letter to Education Department Secretary Betsy DeVos. Andrew Kreighbaum has more.
Democrats Push for $50 Billion for Childcare: House and Senate Democrats announced legislation yesterday for a federal stabilization fund for childcare centers at risk of closure because of the coronavirus pandemic. The proposal would award grants to childcare centers that reopen as workers return to jobs outside their homes. The bill would prioritize childcare centers for underserved communities and require that they offer relief on tuition for families struggling with payments, Andrew Kreighbaum reports.
USDA Faces Accusations It Fumbled Rollout of Food Box Program: The Agriculture Department is blundering its attempt to carry out a new food box program for farmers and hungry Americans struggling during the coronavirus pandemic, congressional critics say. "This process failed to protect taxpayers, the hungry, and producers with food going to waste," Rep. Lloyd Doggett (D-Texas) said in a statement Tuesday. Doggett joins several other Democrats in questioning Secretary Sonny Perdue over a federal program that puts surplus dairy, meat, and produce into boxes for food banks and other nonprofits as part of Congress' coronavirus relief measures. Read more from Megan U. Boyanton.
Also on Lawmakers' Radars
FISA Vote Delayed in House After Trump Threatens to Veto It: House Democrats put off plans to vote on renewing authorities used in federal tracking of suspected terrorists and spies late last night in the face of a veto threat from Trump and a solid wall of GOP opposition. House Majority Leader Steny Hoyer (D-Md.) announced shortly after 9:30 p.m. that the chamber no longer planned to vote on the measure last night. Aides to Hoyer and Speaker Nancy Pelosi (D-Calif.) didn't immediately respond to emailed questions about why the vote was put off. The measure is listed for possible consideration today on Hoyer's daily floor schedule.
The Senate already passed the bill with an overwhelming bipartisan vote. But it faced opposition from Republicans in the House as well as from some progressive Democrats who argued it didn't do enough to protect civil liberties. Read more from Billy House.
Democrats Urge FTC To Probe TikTok: The Federal Trade Commission should investigate Bytedance's TikTok for allegedly collecting childrens' information without parental permission, House Democratic lawmakers said today. Such a practice would be a violation of the company's 2019 consent decree with the FTC, the lawmakers told commission Chairman Joseph Simons in a letter. Read more from Daniel R. Stoller.
Hurricane Season Preparedness: Lawmakers, led by Senate Minority Leader Chuck Schumer (D-N.Y.), want to know how prepared FEMA will be to respond to hurricane season, given the coronavirus and other ongoing disaster recovery operations. Puerto Rico and the Virgin Islands are still recovering from Hurricanes Irma and Maria during the 2017 hurricane season, which laid waste to the electrical grid and infrastructure. They also now face the pandemic, which lawmakers worry will complicate the Federal Emergency Management Agency's recovery efforts. Read the letter here.
House Oversight Introduces Census Extension Measure: House Oversight and Reform Committee Democrats introduced legislation requested by the Trump administration to delay by four months the reporting of U.S. Census Bureau population totals to Trump until April 30, 2021, and to states for redistricting purposes until July 31, 2021. Read about the Trump administration's request here.
China Tensions
House Passes Uighur Bill in Rebuke to China: The House voted yesterday to authorize sanctions against Chinese officials for human rights abuses against Muslim minorities, as Congress and the White House ratchet up pressure on the government in Beijing amid rising tensions between the world's two biggest economies. The 413-1 vote comes on the same day the Trump administration said Hong Kong is no longer politically autonomous from China, a move that may have far-reaching consequences on the former British colony's special trading status with the U.S.
The vote was the first conducted under a new House rule allowing members to cast proxy votes for other lawmakers who stayed home because of coronavirus concerns. The legislation, which already passed the Senate, now goes to the president, who hasn't said whether he will sign it into law. Read more from Daniel Flatley.
China Approves Hong Kong Security Legislation: Chinese lawmakers approved a proposal for sweeping new national security legislation in Hong Kong, defying a threat by Trump to respond to a measure that democracy advocates say will curb essential freedoms in the city. The National People's Congress, China's rubber-stamp legislature, approved the draft decision by a vote of 2,878-1 today at its annual session in Beijing, with six abstentions. Chinese officials could now take months to sort the details of laws banning subversion, secession, terrorism and foreign interference before they're given to Hong Kong's Beijing-backed administration to promulgate. Iain Marlow has more.
Premier Li Says China Doesn't Want Cold War: China's Premier Li Keqiang struck a conciliatory tone with the U.S., saying the two sides should cooperate and respect each other's interests as tensions escalate on many fronts. "We have all along rejected a cold war mentality. Decoupling between the two economies will do neither side any good and will also be harmful to the world," Li told reporters during his annual news briefing on the sidelines of National People's Congress meetings in Beijing today. Read more.
China Blocks U.S. Call For UN Security Council Hong Kong Meeting: China blocked a Trump administration effort to hold a United Nations Security Council meeting on the Beijing government's proposed national security law on Hong Kong, as relations between the two powers continued to deteriorate. The U.S. effort to put the Hong Kong issue on the council's agenda came as the Trump administration said yesterday it could no longer certify Hong Kong's political autonomy from China, a decision that could trigger sanctions and have far-reaching consequences on the former British colony's special trading status with the the U.S., David Wainer reports.
Bill Seeks to Block Chinese Students in U.S.: A Republican proposal released yesterday would block Chinese nationals from getting student visas for graduate or post-graduate studies in STEM fields. The bill, titled the SECURE CAMPUS Act, is sponsored by Sens. Tom Cotton (R-Ark.), Marsha Blackburn (R-Tenn.), and Rep. David Kustoff (R-Tenn.).
The bill includes waivers for visa applicants from Taiwan and Hong Kong, as well as certain minority religious and ethnic groups. It would also require universities or labs that receive federal funding to attest that they will not knowingly employ participants in Chinese talent recruitment programs. Any participants in foreign talent recruitment programs would have to register under the Foreign Agents Registration Act, Andrew Kreighbaum reports.
U.S.-China Confrontation Risk Is Highest in the South China Sea: China and the U.S. are now at greater risk of careening into physical confrontation. And nowhere are their warships and fighter jets coming as close to each other, with as much frequency, as the South China Sea. A military conflict would probably be devastating for both. There are no signs either side actually wants one. Still, in times of high tension, miscalculations can have unintended consequences. Read more from Philip J. Heijmans.
U.S. Ends Iran Sanction Waivers Allowing Work on Nuclear Sites: The U.S. has ended waivers that allowed Russian, Chinese and European companies to work at sensitive Iranian nuclear sites as the Trump administration keeps up its "maximum pressure" campaign against the regime in Tehran. The administration ended the waivers covering all remaining nuclear projects under the Joint Comprehensive Plan of Action, the international agreement that Trump quit in 2018, Secretary of State Mike Pompeo said in a statement on yesterday. Read more from Glen Carey.
TSMC Makes a Key Washington Hire: Taiwan Semiconductor Manufacturing Co., a major chipmaker to Apple and Huawei, has hired a new lobbyist in Washington to help stave off the impact of deteriorating U.S.-Chinese relations on its business. Former U.S. Chamber of Commerce executive Nicholas Montella joined the Taiwanese company in May as its director of government relations, just months after Intel's former top lobbyist Peter Cleveland became TSMC's vice president for global policy. The company confirmed the appointment of Montella, who previously focused on Japan, Korea and APEC policy, according to his LinkedIn profile. Read more from Debby Wu.
U.S. to Join G-7 Pact on A.I. Software, Citing Threat From China: The U.S. plans to join an international organization that will advise companies and governments on the responsible development of artificial intelligence, becoming the last of the Group of Seven countries to sign on. The group, called the Global Partnership on AI, will study and provide recommendations to encourage the creation of AI technologies that respect privacy and civil liberties, said Michael Kratsios, the chief technology officer of the U.S. Read more from Max Chafkin.
Elections & Politics
Biden Aims to Select a Running Mate by Aug. 1: Presumptive Democratic nominee Joe Biden hopes to select his running mate by Aug. 1, he told donors at a fundraiser last night. Biden said the commission he appointed to oversee the search process has interviewed a list of potential candidates, and is now making "the basic cut about whether or not they really want it." Read more from Tyler Pager.
Guilfoyle's Influence Rises as Trump Re-Election Race Tightens: Former Fox News personality Kimberly Guilfoyle has built her own power center within Trump's re-election campaign, helping to bolster fundraising amid the coronavirus pandemic even as the president frets about his standing with voters. Guilfoyle has dated the president's son Donald Trump Jr. for two years. But since taking a role in mid January as national chairwoman of the Trump Victory Finance Committee — where she draws a salary of $15,000 a month — she's amassed a team and operates with the authority of a member of the Trump family. She operates mostly independently of campaign manager Brad Parscale and Jared Kushner, the de facto head of the president's re-election campaign. Read more from Jennifer Jacobs.
IRS Rule Change Could Aid Foreign Election Meddling: Transparency advocates are looking for a legislative fix after the IRS approved a rule they say opens the door to allow politically active nonprofits to take foreign money to influence U.S. elections, without being detected. Others hailed the move, which was announced Tuesday, saying it would prevent accidental disclosure of information always meant to be confidential. Read more from Kenneth P. Doyle.
What Else to Know Today
CDC Unveils Guidelines for Office Buildings: Employers could bring workers back to office buildings more safely with steps including improving ventilation, spacing workers apart and reducing shared objects like communal coffee pots, according to guidelines from the Centers for Disease Control and Prevention. The recommendations issued yesterday show how office life may change. Read the CDC recommendations here.
The Challenge of Making Enough Vaccines: Billions will be clamoring for a coronavirus vaccine once one is ready, putting pressure on drugmakers and federal regulators to boost a production process that will likely take months, even years, to meet global demand. Roughly a half dozen vaccine candidates are being readied for human testing in the U.S. by year's end. But regulatory and logistical hurdles will affect the timeline for when average Americans can get the shot, according to health-care regulatory lawyers. Read more from Valerie Bauman.
Trump Announces OMB Deputy Director Nomination: Trump announced he plans to nominate Derek Kan as deputy director at the White House Office of Management and Budget. Kan is currently executive associate director at OMB and has previously served as undersecretary of policy at the Transportation Department, a member of Amtrak's board of directors, and general manager for Lyft in Southern California, according to the White House. The administration yesterday also announced its intent to nominate Lucas Polakowski to be assistant secretary of defense for nuclear, chemical, and biological defense programs.
Former Texas Congressman, Vietnam POW Dies: Former Rep. Sam Johnson (R-Texas) died yesterday at age 89. He served nearly 28 years in Congress and was held captive almost seven years during the Vietnam War, the Washington Post reports. Johnson was the oldest member of Congress when he retired in 2019. He was considered one of the most conservative members of the House and helped found the Conservative Action Team, which later became the influential Republican Study Committee.
NASA Postpones Historic SpaceX Launch: NASA postponed the first crewed mission by SpaceX, citing inclement weather at Kennedy Space Center in Cape Canaveral, Fla. The launch window will move to May 30, the U.S. space agency said yesterday. Dana Hull and Julie Johnsson have more.
Ex-Spy Chief Clapper Hits Back at Trump's Criticism of Agencies: Former Director of National Intelligence James Clapper, a frequent target of Trump's ridicule, said there's a difference between criticism of intelligence agencies and the pattern of disparagement coming from the president. Read more from Glen Carey.
Oil-Gas Sector Wants Return to EPA Enforcement After Virus: The nation's oil and gas sector favors snapping back to the EPA's pre-coronavirus regulatory regime once the pandemic subsides, its largest trade group said yesterday. The American Petroleum Institute discussed the EPA's temporary relief measures during a webinar addressing the state of the industry. Read more from Stephen Lee.
Iran Warns U.S. to Watch Out for New Boats in Gulf: Iran's Islamic Revolutionary Guard Corps unveiled scores of new and upgraded defensive speedboats with a warning to the U.S. that it won't shy away from challenging American naval power, Golnar Motevalli reports.
To contact the reporters on this story: Zachary Sherwood in Washington at zsherwood@bgov.com; Brandon Lee in Washington at blee@bgov.com
To contact the editors responsible for this story: Giuseppe Macri at gmacri@bgov.com; Loren Duggan at lduggan@bgov.com; Michaela Ross at mross@bgov.com