What to Know in Washington: Trial Starts With Constitution Fight
The Senate begins Donald Trump's second impeachment trial today with a fight over whether the proceeding is constitutional, as a number of conservative lawyers reject the defense team's claim that a former president can't be convicted of a crime by Congress.
Republican senators have advanced the constitutional question as the main justification for acquittal. Most of them have avoided directly defending Trump's actions leading up to and on the day his supporters stormed the U.S. Capitol Jan. 6.
The Senate will face the issue head on as the first step in the process, with four hours of debate scheduled today on the constitutional question, followed by a simple majority vote, under rules negotiated between Senate Majority Leader Chuck Schumer (D-N.Y.) and Minority Leader Mitch McConnell (R-Ky.).
Assuming the constitutional question will fail if all 50 Democrats vote that it is appropriate to try Trump, then House impeachment managers and Trump's defense team each will begin up to 16 hours of presentations on their cases tomorrow. At least 17 Republicans would have to vote to convict Trump to reach the needed two-thirds majority. Read more from Mike Dorning and Mark Niquette.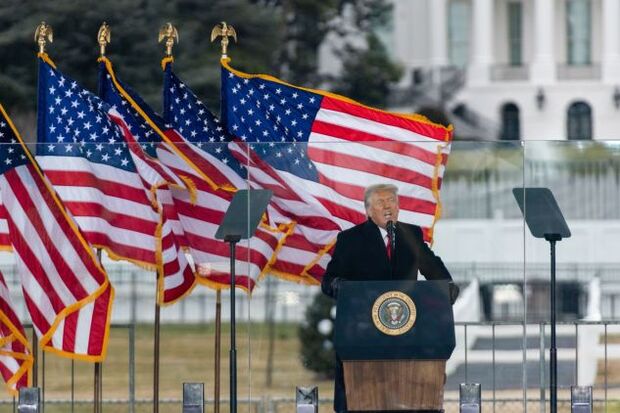 Arizona Leads Ballot Clampdown for GOP Reckoning: Arizona, which just beat its all-time election turnout by more than 759,000 ballots, is on the leading edge of Republican-controlled legislatures pursuing new restrictions on voting. The state's GOP lawmakers say they're trying to restore confidence in the election system after Trump lacked a valid path to contest a race he lost by a fraction of a percentage point. Their proposals, some of which could be voted on as soon as today, include making recounts easier, forcing absentee voters to go to a notary before heading to the mailbox, and a use-it-or-lose it bill to cancel the automatic early ballots sent to voters who sit out two elections in a row. Read more from Jennifer Kay and Brenna Goth.
Georgia Probing Trump Phone Call: Georgia officials launched an investigation into Trump's telephone call to Secretary of State Brad Raffensperger in which the then-president pressured the elections official to overturn the November election results. The Secretary of State's office said yesterday such investigations are routine in response to complaints. "The investigations are fact-finding and administrative in nature," a spokesman said. Read more from Greg Korte.
Manafort Ruled Can't Face N.Y. Charges After Pardon: Former Trump campaign chairman Paul Manafort can't be prosecuted by New York for the same offenses for which he received Trump's pardon, the state's highest court ruled. The Feb. 4 decision by the New York Court of Appeal ends Manhattan District Attorney Cyrus Vance Jr.'s attempt to "pardon-proof" the case against Manafort. Read more from David Voreacos and Chris Dolmetsch.
Also Happening on the Hill
Biden Warms to Fast-Track Stimulus: President Joe Biden and White House officials are siding with liberal Democrats stung by past efforts to reach compromise with Republicans and refusing to heed GOP appeals to scale back the administration's $1.9 trillion stimulus.
Biden entered talks last week with a group of Republican senators who proposed a bill just one-third the size of his pandemic-relief package. They were the first lawmakers he invited to the White House as president, raising concern on the left he might seriously entertain their counter-proposal. But yesterday, following a lobbying effort by Democratic lawmakers and activists who sought to keep Biden committed to his own plan, White House Press Secretary Jen Psaki said the stimulus will probably advance under the reconciliation procedure that requires only simple majority support in the Senate. Read more from Mario Parker and Nancy Cook.
House Democrats are proposing to limit the next round of relief payments to households earning less than $200,000, after criticism that Biden's package would benefit the rich. Draft text offered by the House Ways and Means Committee calls for $1,400 payments for single people earning $75,000 or married couples earning $150,000. The checks completely phase out for individuals making $100,000 or joint taxpayers making $200,000. The payments scale down more quickly than prior rounds, where top levels were determined by the scope of the payment and number of children in the household. Read more from Laura Davison.
Democrats want to give K-12 schools almost $130 billion and colleges almost $40 billion for pandemic relief under a draft of their stimulus legislation. The text from the House Education and Labor Committee is the first version of a measure to be incorporated into the $1.9 trillion coronavirus stimulus. The panel will consider the measure today. Read more from Andrew Kreighbaum.
Child-Poverty Crisis Spurs Congressional Effort: Support is rising among policy makers to address America's child-poverty crisis, which is getting worse as the pandemic drags on. More than 8 million Americans — including many children — fell into poverty during the second half of last year, exacerbating the racial and income inequalities that are holding back the U.S. economy. As lawmakers debate another round of stimulus, they are ramping up their calls to expand tax breaks for families with children and distribute aid monthly in an effort to help more of America's most vulnerable citizens. Read more from Catarina Saraiva and Laura Davison.
House Panel Invites Vaccine Makers: House Energy and Commerce Chair Frank Pallone (D-N.J.) and Oversight Subcommittee Chair Diana DeGette (D-Colo.) said the subcommittee has asked officials from five Covid-19 vaccine manufacturers to testify on Feb. 23 for a remote hearing. The five vaccine makers are AstraZeneca, Johnson & Johnson, Moderna, Novavax, and Pfizer. Read a statement here.
Biden Nominee for OMB Offers to Work With GOP After Tweet Row: Biden's nominee to head the Office of Management and Budget pledged to work with both parties in remarks prepared for her confirmation hearing today after drawing sharp criticism from Republicans for sniping at them on social media. Neera Tanden plans to underscore her experience in the Obama and Clinton administrations and her background as the daughter of a single mother, an immigrant from India, who relied on food stamps for part of Tanden's childhood. Read more from John Harney.
Around the Administration
'Anarchist Jurisdiction' Label Sticks So Far With Biden: New York City, Seattle and Portland are among cities that may still be cut out of eligibility for federal grants under Trump's vow to punish them for protest-related violence, even with a new president in the White House. At least two federal grant announcements published since Biden took office include a reference to the previous administration's "anarchist jurisdictions" label. Those two instances amount to one more than during the Trump administration, according to a Bloomberg Government analysis. The Trump administration crafted the marker last year to punish cities that saw large-scale demonstrations against police brutality beginning in May. Read more from Courtney Rozen.
Senate Confirms McDonough to Lead VA: The Senate confirmed Denis McDonough as the head of Veterans Affairs yesterday, making the former Obama chief of staff the second non-veteran to lead the beleaguered department. The VA, which has often faced scandals under both Republican and Democratic administrations, is the second largest federal agency. The 87-7 vote makes McDonough only the seventh of Biden's Cabinet-level nominees confirmed. Jarrell Dillard has more.
Sunstein Joins DHS to Shape Immigration Rules: Former Obama administration official Cass Sunstein yesterday joined the Homeland Security Department, where Biden is moving quickly to roll back Trump-era immigration policy priorities. Sunstein is a senior counselor who will be responsible for ensuring rules offered by the department and its agencies are consistent with the law, an administration official said. Read more from Jennifer Epstein.
Biden to Ask Trump-Appointed U.S. Attorneys for Resignations: Biden's Justice Department is preparing to ask most U.S. attorneys appointed by Trump to resign their positions while asking two officials working on politically sensitive cases to stay on. The department plans to make the request to Trump nominees as early as today, a department official said on condition of anonymity to preview the move. Replacing top prosecutors is a standard process of a new administration that seeks to put its own stamp on U.S. attorneys' offices across the country. The timeline for the officials to depart is weeks. Read more from Jennifer Epstein.
Push to Reopen Schools Within 100 Days Looks Doubtful: Biden pledged in early December to reopen most U.S. school buildings within his first 100 days as president. Soon after, however, he narrowed that goal to a majority of elementary and middle—rather than all K-12—schools. And on Jan. 28, Anthony Fauci, Biden's chief medical adviser, warned that meeting even that lower target "may not happen." But even if Biden meets the goal, reopenings will remain bumpy thanks to fears of continuing Covid-19 transmission and clashes with teacher unions. Read more from Rachel Cohen.
Doctors, Left Out of Vaccine Push, Cry Foul: Physicians are feeling left out of the Covid-19 vaccination campaign as the Biden administration moves to offer shots in retail pharmacies, while doing nothing to boost vaccine opportunities at doctors' offices and medical practices. Beginning Feb. 11, the White House will launch a national program that will eventually allow 40,000 retail pharmacies to provide Covid-19 vaccines. Read more from Tony Pugh.
U.S. Carriers Conduct Exercises in South China Sea:Two U.S. carriers conducted a military exercise in the South China Sea, signaling that Biden and his administration are taking a strong stance to oppose China's territorial claims in the disputed waters. The dual carrier operations by the Theodore Roosevelt Carrier Strike Group and the Nimitz Carrier Strike Group today conducted a "multitude of exercises aimed at increasing interoperability between assets as well as command and control capabilities," the U.S. Navy said in a statement. Read more from Kari Lindberg.
To contact the reporters on this story: Zachary Sherwood in Washington at zsherwood@bgov.com; Brandon Lee in Washington at blee@bgov.com
To contact the editors responsible for this story: Giuseppe Macri at gmacri@bgov.com; Loren Duggan at lduggan@bgov.com; Michaela Ross at mross@bgov.com