What to Know in Washington: Tough Primaries in Five States Today
Georgia and Texas incumbents at risk in primaries
Democrats consider antitrust angle on baby formula
There are numerous story lines to watch for in the primary elections Tuesday, including the sure ouster of a Georgia Democratic congresswoman and a potential loss by the only House Democrat who opposes abortion rights.
Reps. Lucy McBath and Carolyn Bourdeaux became suburban Atlanta rivals after Georgia Republican legislators redrew the congressional map to their partisan advantage. In Texas, Rep. Henry Cuellar is being challenged in a runoff by Jessica Cisneros, an immigration lawyer who's running as an abortion-rights supporter just as Democratic leaders warn that Roe v. Wade may soon be overturned.
Elsewhere, Rep. Marjorie Taylor Greene, whose incendiary rhetoric and embrace of conspiracy theories has drawn national criticism, is trying to win a majority of Republican primary voters in her Georgia district and avoid a runoff election. Alabama Republicans are weighing who should succeed retiring six-term Sen. Richard Shelby (R). And Arkansas and southern Minnesota also are holding primaries Tuesday. Here's what to know about the key races, as outlined by Greg Giroux.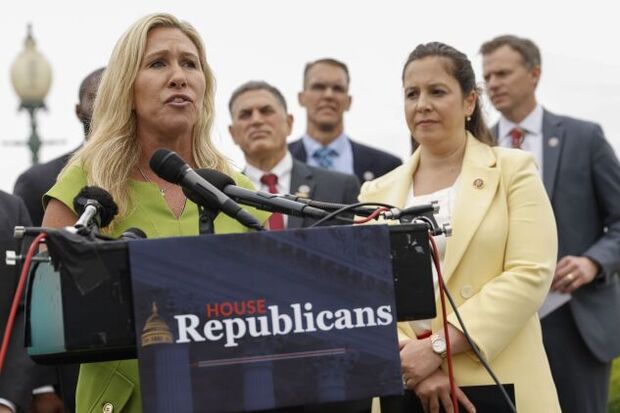 And for more on other races, including Georgia Republican Governor Brian Kemp's incumbent bid to ward off Donald Trump-backed challenger and former Georgia GOP Sen. David Perdue, see Tuesday's primary preview from Margaret Newkirk.
Former Bridgewater CEO David McCormick sued county election boards in Pennsylvania seeking an order to compel them to count some absentee and mail-in ballots that were rejected in his too-close-to-call Republican US Senate primary with celebrity physician Mehmet Oz. Read more from Mark Niquette.
Happening on the Hill
CONGRESSIONAL AGENDA:
The Senate meets at 10 a.m. with votes planned on nominations.
Democratic lawmakers have turned their latest antitrust focus to the infant formula industry amid a nationwide shortage triggered in part by the closure of a key Abbott Laboratories plant. "Longer term, we absolutely have to focus on consolidation in the food industry," said Sen. Debbie Stabenow (D-Mich.), who helped lead legislation signed over the weekend (H.R. 7791) aiming to ease the shortage for Special Supplemental Nutrition Program for Women, Infants, and Children, or WIC, users. "We need more baby formula manufacturers competing in this space."
The formula industry is largely dominated by just four companies: Abbott, Mead Johnson, Gerber, and Perrigo. States usually each exclusively contract with one baby formula maker to provide for WIC, although the newly enacted legislation gives low-income parents the opportunity to use their government benefits to purchase more types of formula during emergencies. The sole-contract bidding model means formula makers offer their product at a lower rate and that WIC can stretch to serve more consumers, Stabenow said. "So, we want to take a look at all that makes sure we can maintain the ability to negotiate the best price, and have more competition and more manufacturers for baby formula."
Sen. Cory Booker (D-N.J.) led multiple Democratic senators in a letter earlier this month, asking the Agriculture Department to address the "alarming level of corporate concentration." Among other suggestions, the senators raised the possibility of revisiting the sole-source model with WIC on a more permanent basis, Maeve Sheehey reports.
Senators urged Abbott to extend WIC rebates across all infant formulas through the rest of the year without unnecessary directives. Lauren Dezenski has more.
More Elections & Politics
The House Ethics Committee said Monday it is investigating whether Rep. Madison Cawthorn (R-N.C.) may have improperly promoted a cryptocurrency in which he had a undisclosed financial interest. The announcement from the bipartisan ethics panel said the investigation also will include looking into whether "Cawthorn engaged in an improper relationship with an individual employed on his congressional staff." Read more from Billy House.
Manhattan District Attorney Alvin Bragg denied selectively targeting the Trump Organization and its longtime chief financial officer for prosecution, urging a judge to reject their request to have tax-fraud charges against them dismissed. In a court filing on Monday, prosecutors from Bragg's office said the case against former President Donald Trump's family real estate business and CFO Allen Weisselberg was based on facts that frequently give rise to criminal cases in New York state court, Greg Farrell reports.
Trump's contempt-of-court saga in New York continues—even after he paid a $110,000 fine for failing to turn over records in an investigation of his business by the state attorney general. Joel Rosenblatt has the story.
Five Republican candidates vying for a Michigan Aug. 2 gubernatorial primary should be disqualified from the race due to a lack of signatures, according to a report issued by the state Bureau of Elections Monday. State investigators found circulators submitted at least 68,000 invalid signatures across 10 sets of nominating petitions, disqualifying half of the candidates running for the GOP nomination, the report said. Read more from Alex Ebert.
It's unconstitutional for Florida to stop social media platforms from banning politicians, a federal appeals court said Monday. The state's Republicans crafted a law last year to ensure politicians could remain active on social media platforms such as Twitter and Facebook after those companies suspended Trump's accounts, Jennifer Kay reports.
Nonprofits that incite or participate in insurrections would lose their California tax exempt status under a bill the state Senate passed Monday. Bill author Sen. Scott Wiener (D) said the bill is a response to the Jan. 6 insurrection at the US Capitol. Laura Mahoney has more.
Around the Administration
BIDEN'S SCHEDULE:
President Joe Biden departed Tokyo earlier today and is scheduled to touch down in Anchorage at 12:15 p.m. At 1:45 p.m. Biden plans to depart for Washington, D.C..
Trade Representative Katherine Tai said that the US must be "strategic" when it comes to a decision on whether to remove tariffs on China, a day after Biden mentioned he would review Trump-era levies as consumer prices surge. "With respect to the tariffs, our approach as with everything in this relationship, is to be strategic," Tai told Bloomberg. "We have to keep our eye on the ball in terms of how to effectively realign the US-China trade and economic relationship." Eric Martin and Matt Shirley have more.
Biden and Indian Prime Minister Narendra Modi discussed efforts to combat the rise in energy and food prices caused by Russia's invasion of Ukraine, according to the White House. In a statement following the leaders' bilateral meeting in Tokyo on Tuesday, the White House said Biden "condemned Russia's unjustifiable war against Ukraine," notably not saying whether Modi did the same, Jenny Leonard, Nancy Cook and Jennifer Jacobs report.
The US is joining Japan, India and Australia in a new program aimed at curbing illegal fishing as concern grows about the practice by Chinese vessels. The five-year initiative announced Tuesday aims to promote better tracking of dark shipping and fishing—in which vessels turn off transponders—in the Indo-Pacific region. It will "offer a near-real-time, integrated and cost-effective maritime domain awareness picture," according to a joint statement. Jennifer Jacobs and Philip J. Heijmans have more.
Biden on Tuesday welcomed Anthony Albanese to the regional leaders summit in Tokyo, joking that he'd understand if the newly elected Australian prime minister dozed off during the session. "You got sworn in, got on the plane: If you fall asleep while you're here, it's OK. Because I don't know how you're doing it," he said and chuckled. "It is really quite extraordinary. Just getting off the campaign trail as well." Read more from Jordan Fabian and Nancy Cook.
Biden said leaders are navigating "a dark hour in our shared history" due to Russia's war in Ukraine, adding President Vladimir Putin's invasion appears to be aimed at obliterating the culture of his neighbor. See the latest in the Bloomberg News Ukraine Update.
US health officials sought to reassure the public that the risk of monkeypox is low and the country is prepared to handle its spread, though they acknowledged more cases are likely. While monkeypox doesn't appear to be a major threat to the general public, health authorities say there's a stockpile of vaccines and antivirals which are ready to use if needed. Treatment guides for those who would benefit most are also being developed. Fiona Rutherford, Riley Griffin, and Madison Muller have more.
The FBI designated 61 shootings last year as being carried out by an active shooter, the highest number in the last five years. Almost 250 people were hit by active shooters in 2021 and 103 died. The number of active shooting incidents last year represents a 50% increase from 2020 and almost double the number in 2017, Chris Strohm reports.
Texas Attorney General Ken Paxton (R) filed a motion Monday asking a federal court for a preliminary injunction to stop the Biden administration from implementing a new rule that would change how immigrants seek asylum at the border, before it goes into effect. The interim final rule would authorize US Citizenship and Immigration Services to adjudicate the asylum claims of individuals who receive a determination that they're at risk of persecution in their country of origin after being placed into expedited removal, Janet Miranda reports.
With assistance from Maeve Sheehey
To contact the reporters on this story: Michaela Ross in Washington at mross@bgov.com; Brandon Lee in Washington at blee@bgov.com
To contact the editors responsible for this story: Giuseppe Macri at gmacri@bgov.com; Andrew Small at asmall@bgov.com