What to Know in Washington: Tax Breaks Targeted in Biden Budget
Bloomberg Government subscribers get the stories like this first. Act now and gain unlimited access to everything you need to know. Learn more.
President Joe Biden is calling for an end to valuable tax breaks for private equity fund managers, oil companies, along with investors in crypto and real estate, in his upcoming budget proposal.
The White House plans to target a series of high-profile tax breaks worth tens of billions of dollars for wealthy investors and corporations in the president's budget request to Congress that will be made public Thursday, according to a summary of the proposal. Eliminating these would upend the economics of many real estate and investment-fund deals — forcing Wall Street to reinvent the way that many transactions have been done for decades — if they were to become law.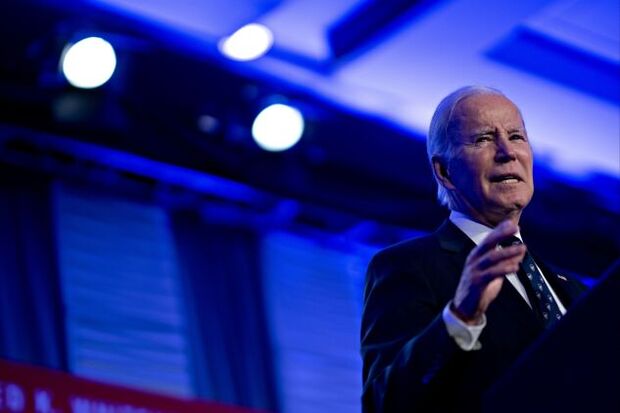 The Republican-controlled House will block any bill to eliminate the tax preferences, but the administration's documents foreshadow the issues Biden will likely put at the center of his economic platform should he run for a second term in 2024.
"The budget cuts wasteful spending on Big Pharma, Big Oil and other special interests, cracks down on systemic fraud and identity theft, and makes programs more efficient and cost-effective — saving taxpayers hundreds of billions of dollars," according to the summary document.
Biden is proposing eliminating the carried-interest tax break, which allows private equity managers and venture capitalists to pay lower rates on their earnings from the investments they make.
The Biden plan also ends a longstanding tax break for real estate investors who can avoid paying capital gains taxes on their profits if they continue to invest the proceeds in other properties.
The administration is also calling to end a break that allows crypto investors to sell their assets at a loss — generating big tax savings — and then immediately repurchase those currencies.
In addition, all special tax preferences for oil and gas companies would be terminated, saving $31 billion. Laura Davison previews the highlights in Biden's budget.
Biden is also proposing a series of new tax increases on billionaires, rich investors and corporations in his proposal for how Congress should prioritize taxes and spending.
Biden's budget request calls for a 25% minimum tax on billionaires, according to a White House official familiar with the proposal who declined to be named because the plan is not yet public. The plan would also nearly double the capital gains tax rate for investment to 39.6% from 20% and raise income levies on corporations and wealthy Americans.
The proposal, largely a reprise of Biden's multi-trillion dollar Build Back Better economic package, has little chance of passing Congress, particularly now that Republicans control the House. Biden was unable to pass similar tax increases when Democrats enjoyed control of both chambers of Congress, instead settling for slimmed down legislation focusing on energy and health policy known as the Inflation Reduction Act.
But the White House's proposal foreshadows both Democrats' strategy ahead of high-stakes negotiations over the debt ceiling and government spending later this year, as well as the economic platform underpinning an expected Biden reelection campaign. Davison and Justin Sink have more details.
Join Bloomberg Government's budget experts on Friday for a deep dive into Biden's budget request for fiscal 2024 and what it means with a divided Congress. Learn more .
Also Happening on the Hill
CONGRESS' SCHEDULE
The House meets at noon to vote on an online censorship bill and a measure to block a federal rule expanding environmental protection for bodies of water.
The Senate gathers at 10 a.m. to consider IRS and judicial nominations.
Congressional Republicans are set Thursday to advance a sweeping plan to speed environmental reviews for energy projects, part of a comprehensive package coming to the floor later this month that's seen as their opening bid in talks on a bipartisan deal with Senate Democrats.
One thing that won't be in the bill set for a vote by the House Natural Resources Committee: A plan to speed approval of Equitrans Midstream's $6.6 billion natural gas pipeline that's repeatedly been stalled over environmental approvals. The House's move to exclude special treatment for the pipeline is a blow to Sen. Joe Manchin (D-W.Va.).
The Democratic-led Senate overwhelmingly voted to overturn a District of Columbia law that pares back penalties for some violent crimes, the latest sign of the party's defensive position on crime and a blow to Washington statehood and home rule advocates.
The House rejected an effort to force the US to withdraw 900 troops from Syria in a vote that showcased unusual alliances as most members teamed up to rebuff a bipartisan coalition led by Rep. Matt Gaetz (Fla.), a Republican who has been a vocal critic of Speaker Kevin McCarthy (R-Calif.).
A group of Democrats are renewing their push to expand Medicaid coverage of home health services.
The head of the US Border Patrol will appear before the House Homeland Security Committee during a field hearing in Texas next week, as GOP lawmakers continue their aggressive oversight of the Biden administration's border policies.
Personal identifiable information of hundreds of members of Congress and staff were stolen in a significant data breach, according to a letter from the chief administrative officer of the House.
Norfolk Southern's leader plans to tell lawmakers on Thursday he's sorry for the train wreck that spilled toxic chemicals in Ohio last month and the company is "determined to make it right."
Northwestern University Professor Janice Eberly is the frontrunner in the White House search for a successor to Lael Brainard as vice chair of the Federal Reserve, people familiar with the matter said.
Debate over joint employer and independent contractor regulation took center stage during Republican questioning in a Senate hearing Wednesday, foreshadowing the regulatory fight ahead as Democrats seek changes to labor policy.
The top Democrat and Republican on a Senate Judiciary subcommittee agreed that the legal shield for internet companies, Section 230 of the Communications Decency Act, should be reformed, finding common ground over child safety on the internet at a Wednesday hearing.
Noncompete agreements are necessary to prevent China from stealing important US trade secrets, members of the House intellectual property subcommittee said in a hearing on Wednesday.
A group representing 150,000 truckers is calling on the Senate to oppose Biden's pick for Labor Secretary over a California labor rule it says has stifled drivers' independence.
Documents with classified markings were found mingled in material donated to libraries or universities by as many as 80 former members of Congress, the leaders of the House Intelligence Committee said Wednesday.
Senate Minority Leader Mitch McConnell (R-Ky.) was taken to a hospital on Wednesday night after a fall at a Washington-area hotel, his spokesman said in a brief statement.
Elections, Politics & Influence
Florida Governor Ron DeSantis will meet with Iowa Republican legislators in Des Moines on Friday amid rising expectations that he will run for president in 2024, according to people familiar with the matter.
Workplace diversity and inclusion efforts adopted in the wake of George Floyd's murder and ensuing protests are fading as sweeping layoffs blunt companies' bold commitments to boost underrepresented groups in their C-suites and ranks.
TikTok is lawyering up internally as it copes with mounting scrutiny from US legislators and regulators keen on curtailing Chinese influence.
Around the Administration
BIDEN'S AGENDA
Biden at 2:30 p.m. in Philadelphia releases his fiscal year 2024 budget and delivers remarks.
Biden has been touting his new alternative minimum tax on the nation's most profitable companies, even using his State of the Union address to declare: "Now, because of the law I signed, billion-dollar companies have to pay a minimum of 15%. God love them." But some big oil-and-gas companies like Occidental Petroleum and Marathon Oil likely won't be subject to the new tax this year, even though they currently pay less than 15%.
Energy executives and Biden administration officials in Houston had a simple message for Europe and other regions griping that US climate spending will starve them of investment: Stop complaining and put up the cash to enact measures of your own.
Energy Secretary Jennifer Granholm praised oil executives for boosting output and lauded the industry's "creative visionaries" in an attempt to ease tensions between the Biden administration and fossil-fuel producers.
JetBlue Airways's $3.8 billion acquisition of Spirit Airlines is facing a regulatory crossfire after the Department of Transportation invoked its seldom-used authority to investigate airline mergers.
The new US foreign arms transfer policy adds human rights concerns to final decisionmaking on each request to sell or provide tools of war abroad, even as participants lament how long the foreign military sales process takes.
To contact the reporters on this story: Brandon Lee in Washington at blee@bgov.com; Michaela Ross in Washington at mross@bgov.com
To contact the editor responsible for this story: Giuseppe Macri at gmacri@bgov.com
Stay informed with more news like this – from the largest team of reporters on Capitol Hill – subscribe to Bloomberg Government today. Learn more.