What to Know in Washington: Talks on Biden Policing Bill Drag On
Bloomberg Government subscribers get the stories like this first. Act now and gain unlimited access to everything you need to know. Learn more.
President Joe Biden is set to meet privately today with the family of George Floyd one year after his death, with negotiators working on policing legislation in Congress still stuck on how to hold law enforcement officers accountable for excessive use of force.
The three central players in the discussions — Sen. Cory Booker (D-N.J.), Sen. Tim Scott (R-S.C.) and Rep. Karen Bass (D-Calif.) — all say they are making progress, though an agreement could yet be weeks away.
Biden surprised lawmakers when he urged them in his April 28 address to Congress to finish work on the legislation by the anniversary of Floyd's death at the hands of a White Minneapolis police officer, according to an aide familiar with the negotiations. But with the talks at a crucial juncture, the White House hasn't applied pressure to meet a hard deadline.
Civil rights groups are more interested in what they would consider a substantive bill rather than meeting a symbolic deadline, Marc Morial, president of the National Urban League, said yesterday. "While I would like to have had something by the anniversary, deadlines are less important than substance," Morial said.
The protests and rage that followed Floyd's death have ebbed since last summer. But the conviction of former Minneapolis police officer Derek Chauvin last month on second-degree murder and lesser charges for cutting off Floyd's air supply as he lay handcuffed and begging for mercy gave new impetus to the search for compromise after efforts to pass policing legislation collapsed in the Senate in June 2020, when Democrats blocked a GOP-only bill drafted by Scott.
Members of Floyd's family, including his young daughter Gianna, will visit the White House at 1:30 p.m. today. The meeting will be private because Biden wants to have an open conversation with them, White House press secretary Jen Psaki said yesterday. Read more from Laura Litvan and Mario Parker.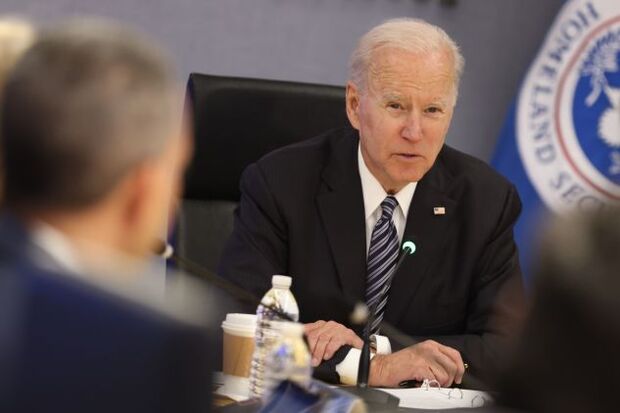 Happening on the Hill
Today's Agenda:
The Senate is scheduled to vote on confirmation of two of Biden's nominees that have drawn opposition from Republicans — Chiquita Brooks-LaSure to serve as administrator of the Centers for Medicare and Medicaid Services and Kristen M. Clarke to be an assistant attorney general for the Justice Department.
Click here for a complete list of today's hearings and markups.
Centrists Drafting Drug Price Bill Alternatives: Moderate House Democrats are assembling alternatives to their party's signature drug pricing legislation because they're skeptical a bill to empower the government to negotiate with drugmakers can become law. Two Democrats say they're preparing drug pricing bills aimed at garnering more support than one led by House leaders that would peg prices of drugs in the U.S. to those in foreign countries. Read more from Alex Ruoff.
Republicans Plan New Infrastructure Offer: Senate Republicans are planning to make a new overture to Biden on infrastructure spending, and said they'll continue trying this week to strike a bipartisan deal after rejecting the White House's latest counteroffer of $1.7 trillion as too costly. "We're not going to walk away," said Sen. Shelley Moore Capito (R-W.Va.), the lead Republican negotiator.
Sen. Roger Wicker (R-Miss.) said that the GOP would be willing to spend $1 trillion over eight years — a figure well above what they said past. He said Republicans are "fleshing out the numbers" and hopes to have "a sensible offer" by the end of the week. Read more from Erik Wasson and Steven T. Dennis.
Sanders Proposes Chipmakers Give U.S. Equity for Aid: Sen. Bernie Sanders (I-Vt.) said he wants semiconductor companies including Intel and Texas Instruments to give the federal government an equity interest in exchange for federal grants and aid that would be included in a sweeping bill intended to help the U.S. compete with China. The broad China competition bill "provides $53.5 billion in financial assistance to the semiconductor industry with virtually no strings attached," he said in a statement. "If we are going to reward these companies with a taxpayer assistance, the very least we can and should be doing is to put strong conditions on that taxpayer assistance." Read more from Daniel Flatley.
NIH Head Pitches Single Vaccine for 10 Diseases: Scientists funded by the $6.5 billion NIH research center that Biden wants to establish could pursue a single shot to protect against the top 10 infectious diseases and an mRNA vaccine to shield against common cancers. "ARPA-H represents the kind of transformative idea for biomedical research that only comes along once in a long while," NIH Director Francis Collins will tell House appropriators at a hearing today. Read more from Jeannie Baumann.
Biden Budget to Resist Everglades Push: The White House's fiscal 2022 budget proposal won't include $725 million for Everglades restoration, despite bipartisan support from Florida's congressional delegation for that amount, according to an administration official. The funding recommendation is likely to be similar to that of prior years, the commanding general of the Army Corps of Engineers said at a House Appropriations subcommittee hearing yesterday. Kellie Lunney has more.
Around the Administration
Blinken Promises to Skirt Hamas in Reconstruction Efforts: Secretary of State Antony Blinken kicked off a Middle East diplomatic mission with a pledge to help reconstruction efforts in Gaza, left battered after a destructive 11-day conflict with Israel. Standing next to Israeli Prime Minister Benjamin Netanyahu in Jerusalem, Blinken said he will specify an aid package to the Palestinians later today. The U.S. will ensure that Hamas — the militant Islamic movement that governs the Gaza Strip that is also designated a terrorist group by the U.S., European Union and others — "does not benefit" from international efforts to rebuild the isolated enclave, Blinken said.
Blinken is scheduled today to visit the West Bank city of Ramallah to speak with Palestinian Authority President Mahmoud Abbas. Blinken will travel to Cairo and Amman tomorrow to meet with Egyptian President Abdel Fattah Al Sisi and Jordan's Foreign Minister Ayman Safadi before heading back to Washington. Read more from Nick Wadhams.
Iran Atomic Talks Enter Decisive Round: World powers convene today in Vienna for a fifth round of negotiations to revive a landmark agreement that will reinstate caps on Iran's nuclear program in exchange for the country's return to oil markets and the global economy. Iran's President Hassan Rouhani won backing from his Chinese counterpart Xi Jinpingon yesterday, with the two leaders agreeing to deepen trade and energy links once a return to the 2015 accord is finalized. Read more from Jonathan Tirone and Arsalan Shahla.
U.S., EU Vow to Pressure Belarus: Backed by the U.S., European Union leaders moved to impose new sanctions on Belarus over the forced landing of a Ryanair jet and the arrest of a dissident journalist. "This is an attack on democracy, this is an attack on freedom of expression and this is an attack on European sovereignty," Ursula von der Leyen, head of the European Commission, told reporters. She mentioned additional sanctions "on individuals that are involved in the hijacking but this time also on businesses and entities that are financing this regime."
Calling the incident "a direct affront to international norms," Biden welcomed the EU decision. In a statement, he said he's asked advisers "to develop appropriate options to hold accountable those responsible." National Security Adviser Jake Sullivan spoke by phone with exiled Belarusian opposition leader Sviatlana Tsikhanouskaya yesterday. Read more from John Follain, Milda Seputyte and Alberto Nardelli.
U.S. Plans Appeal to Keep Barr's Mueller Legal Advice Secret: The Justice Department said it would appeal a court order that it make public internal legal advice that former attorney general William Barr said he used to clear then-president Donald Trump of obstruction of justice during the Russia probe. The agency late yesterday told U.S. District Judge Amy Berman Jackson in Washington that it would challenge part of a May 3 court order. In the order, Jackson criticized Barr's characterization of the confidential memorandum by the Justice Department's Office of Legal Counsel and ruled that it should be made public. Read more from Erik Larson.
SEC Climate Disclosure Push Brings Lobbying Flood: More than 20 companies, business groups, and other organizations have met with the SEC this year as the agency considers mandatory disclosures on climate risks and other environmental, social, and governance matters. Uber, Walmart, and the World Economic Forum support corporate ESG disclosures and are among those that have spoken directly with the Securities and Exchange Commission in recent months, according to a Bloomberg Law review of agency records. Walmart and Uber are already releasing information about their greenhouse gas emissions and sustainability goals. Read more from Andrew Ramonas.
With assistance from Brandon Lee
To contact the reporter on this story: Giuseppe Macri in Washington at gmacri@bgov.com
To contact the editors responsible for this story: Giuseppe Macri at gmacri@bgov.com; Loren Duggan at lduggan@bgov.com; Michaela Ross at mross@bgov.com
Stay informed with more news like this – from the largest team of reporters on Capitol Hill – subscribe to Bloomberg Government today. Learn more.