What to Know in Washington: Taliban Overrun Kabul, Defying Biden
Bloomberg Government subscribers get the stories like this first. Act now and gain unlimited access to everything you need to know. Learn more.
Just last month President Joe Biden defended his Afghanistan pullout by saying that "the likelihood there's going to be the Taliban overrunning everything and owning the whole country is highly unlikely."
The images of Taliban fighters inside the presidential palace in Kabul yesterday, after a series of provincial capitals fell in rapid succession and the nation's president fled, showed just how wrong Biden's prediction has been.
Instead of an American-trained Afghan military staving off Taliban militants for months or longer, the U.S.'s longest war is ending with a hasty evacuation of diplomats from Kabul's airport. Their sudden departure is raising difficult questions about Biden's approach to the conflict, and creating a spiraling political calamity for a president who had promised to be a sure-handed steward of U.S. foreign policy. Even some close allies couldn't hide their frustration.
"Nobody wants Afghanistan, once again, to be a breeding ground for terror," U.K. Prime Minister Boris Johnson said yesterday. "It's fair to say the U.S. decision to pull out has accelerated things."
For Biden, the collapse was a punishing blow that may only worsen with time. The president had spent the early months of his administration basking in the glow of a ramped-up vaccination drive and budget and infrastructure deals meant to heal a struggling American economy. The scenes out of Kabul will undermine those accomplishments. Read more from Nick Wadhams.
Read live updates of the situation unfolding in Afghanistan from Bloomberg News here.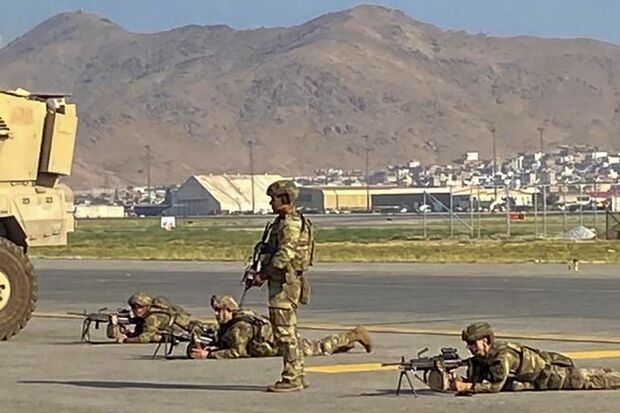 Taliban Retakes Afghanistan After Decades in Shadows: The militant group took over the country's presidential palace and said yesterday it plans to soon declare a new "Islamic Emirate of Afghanistan." Hours earlier, American-backed President Ashraf Ghani fled the country.
"We have never expected to reach such a victory — we should show humbleness in front of Allah," the Taliban's deputy leader, Mullah Abdul Ghani Baradar, said in a video message congratulating his fighters and the nation on Twitter today. "Now is the time when we will be tested on how we serve and secure our people, and ensure their good life and future to the best of our ability."
Hamid Karzai, Afghanistan's president from 2004 to 2014, said yesterday that he and others would form a coordinating council to manage a peaceful transfer of power. The mechanism of such handover was unclear given the Taliban's occupation of all major cities and the government's collapse. In many cases the militants encountered little or no resistance from Afghan's U.S.-trained military. Read more from Eltaf Najafizada and Jennifer Jacobs.
Chaotic Scenes Grip Afghan Airport, Reports of Deaths: Desperate scenes played out at Kabul's international airport today as thousands rushed to exit the country, with Reuters reporting at least five people were killed as people tried to forcibly enter planes leaving the country. Citing witnesses, Reuters said it wasn't clear whether the victims died of gunshots or in a stampede at Hamid Karzai International Airport.
In a joint statement yesterday, the Pentagon and State Department said the U.S. will expand its presence over the next 48 hours at Kabul's international airport to nearly 6,000 troops to evacuate thousands of American citizens, as well as locally employed staff and their families.
All Kabul embassy personnel have been safely evacuated to the airport and the U.S. military has secured its perimeter, State Department spokesperson Ned Price said in a statement late yesterday. Read more from Eltaf Najafizada.
In briefings with House and Senate lawmakers yesterday, Biden's chief diplomatic and military officials faced criticism and questions about the impact of his decision to continue withdrawing troops from Afghanistan, a process set into motion by former President Donald Trump. Some lawmakers said the U.S. shouldn't have withdrawn, despite a lack of public support for the war. Others lamented that 20 years of U.S. involvement and bloodshed is ending with the Taliban's victory.
Sen.

Chris Murphy

(D-Conn.) asked the administration officials what it would have taken to remain in Afghanistan, two people familiar with the call said. Defense Secretary

Lloyd Austin

responded the Taliban would have launched attacks on U.S. troops, requiring a substantial increase in U.S. forces. He said that the security situation deteriorated quickly with "extremely rapid gains" by the Taliban as they met little resistance from Afghan forces, the people said.
House Minority Leader

Kevin McCarthy

(R-Calif.) accused the administration of mishandling the U.S. exit strategy in a briefing that included Gen. Mark Milley, the chairman of the Joint Chiefs of Staff. "You say you had this plan," McCarthy told the briefers. "No one would plan out this outcome, what we are watching right now. The ramifications of this for America will go on for decades and it won't just be in Afghanistan."
Rep.

Liz Cheney

(R-Wyo.), a daughter of former Vice President Dick Cheney, whose administration began the U.S. involvement in Afghanistan, said both Biden and Trump bear responsibility. "As we get to the 20th anniversary of 9/11, we are surrendering Afghanistan to the terrorist organization that housed al Qaeda," said Cheney, a Republican on the House Armed Services Committee, on ABC yesterday.
Secretary of State Antony Blinken said on a call with House members that the U.S. is prioritizing evacuation of groups including U.S. citizens, local staffers and Afghan special-visa holders. Women's advocates also are a priority group, Blinken told the lawmakers, according to a briefing participant. He said the Biden administration, which has set an Aug. 31 deadline for completing the withdrawal, is still discussing ways to streamline the visa process for people who helped the U.S. and are now potential targets of the Taliban. Read more from Jennifer Jacobs and Daniel Flatley.
Republican Says Fed Must Protect Afghan Assets: A Republican lawmaker urged the Federal Reserve to make sure that official assets held by Afghanistan in the U.S. don't fall into the hands of the Taliban. Rep. Andy Barr (R-Ky.) made that request in a letter to New York Fed President John Williams. "Access to these accounts would bolster the Taliban's rise," Barr, the ranking Republican on the House Financial Services Committee's national security panel, said in a statement, Annmarie Hordern reports.
Happening on the Hill
Pelosi Floats Procedural Deal to Moderates: House Speaker Nancy Pelosi (D-Calif.) floated a potential compromise to moderate Democrats who are threatening to withhold crucial support from a $3.5 trillion budget blueprint, prompting a rebuff as the group said they stand by their demand of an immediate vote on a separate, bipartisan infrastructure package.
Pelosi's proposal, in a letter to rank-and-file Democrats, involves allowing a procedural vote next week on the $550 billion infrastructure bill to mollify their demands, as well as an already planned vote to advance the more expansive Senate budget framework.
Pelosi's offer fell short of satisfying the group of at least nine moderates, who said "we should vote first on the Bipartisan Infrastructure Framework without delay and then move to immediate consideration of the budget resolution," in a statement last night. The effort threatens to unravel plans for moving Biden's agenda through Congress.
House Democrats scheduled a caucus call for tomorrow at noon as they seek to resolve differences over the path forward and the sequencing of Biden's two-track approach, Billy House and Emily Wilkins report.
Messaging around the infrastructure bill is proving to be a tripwire for some Democrats as they attempt to sell the bill in their districts during the recess. Part of the challenge stems from the two-track process Democrats are using, tying the passage of the bipartisan infrastructure package that's loaded with popular transportation projects to the larger, partisan reconciliation bill that would fund an array of social and domestic programs. Read more from Emily Wilkins.
Democrats' Debt Dare Risks Shutdown: Democrats are betting Republicans will blink and agree to raise the debt ceiling before it expires, a risky wager after a weeks-long standoff that threatens the health of the financial markets and continued U.S. government operations. Democrats last week passed up the chance to muscle a debt-ceiling hike through the Senate on a party-line vote, opting instead to go through the normal legislative process—perhaps attached to a stopgap government-funding bill—that will require the acquiescence of 10 Republican senators. It's a strategy that strikes some political watchers on the left as ill-advised or even insane. Read more from Steven T. Dennis.
Lawmaker's Stock Sale Puts Thousands in China Account: Rep. Joseph Morelle (D-N.Y.) and his wife ended up with as much as $250,000 in an account with the Bank of China last year after their broker deposited the proceeds of a stock sale. Morelle, who's served in Congress since 2018, disclosed the account at the state-owned Chinese bank in a required congressional financial disclosure form. A statement indicated he was not immediately aware of it when the pair divested holdings. Billy House has more.
Around the Administration
Today's Agenda: Biden has no public events scheduled.
Biden to Unveil Major Increase in Food-Stamp Benefits: The Biden administration will announce the biggest long-term increase in food stamp benefits in the program's history, giving Americans more cash to buy groceries and adding billions of dollars in U.S. expenditures. Average benefits in October will rise by over 25% from pre-pandemic levels for the 42 million people in the program, meaning average monthly benefits will rise $36 per person from $121, a U.S. official said, and congressional approval isn't needed.
Still, advocates have said the federal subsidy is inadequate. The Agriculture Department is increasing the payments by revising the list of foods used to estimate the cost of a nutritious diet. Biden has been seeking to increase government assistance to low- and middle-income Americans amid a pandemic in which many lost their jobs. Republicans have said Biden's economic plan is fueling inflation and serves as a disincentive for people to work. Read more from Mike Dorning.
Haiti Quake Death Toll Nears 1,300: The U.S. deployed search and rescue teams to help find survivors among the debris of collapsed buildings in Haiti as the death toll soars from Saturday's massive earthquake. At least 1,297 people were killed after the 7.2-magnitude quake struck off Haiti's coast, according to the nation's civil protection agency. The quake was followed by a series of aftershocks, and Tropical Storm Grace is forecast to hit the crisis-prone nation today. Read more from Jim Wyss and Ezra Fieser.
U.S. Can Be Quick to Offer Boosters, Fauci Says: Anthony Fauci, Biden's chief medical adviser, said the U.S. will be "absolutely prepared" to distribute a booster shot of the coronavirus vaccine quickly to a wider population if needed. He gave no timeline but said health officials are evaluating vulnerable groups "on a daily and weekly basis." The New York Times reports that the U.S. has begun drawing up plans to offer the booster shots to some Americans as early as the fall. Read more from Ian Fisher.
New variants like delta, which are more transmissible and been shown to evade vaccines or protections through previous infections in some cases, are moving the bar for herd immunity near impossibly high levels. This month, the Infectious Diseases Society of America estimated that delta had pushed the threshold for herd immunity to well over 80% and possibly close to 90%. Read more from Michelle Fay Cortez.
White House, States Get Say Over Broadband Funds in Bill: A Senate push as part of its infrastructure bill to provide $42.5 billion in new broadband subsidies envisions handing control over the funds to the Commerce Department and the states, rather than the independent Federal Communications Commission. In a departure from the past, the Commerce Department would distribute the funds through grants to eligible states under the measure. Local authorities would then competitively award that money to broadband service and infrastructure providers. Read more from Maria Curi.
Foreign Automakers Criticize Biden Embrace of Union Plants: Honda, Toyota and other automakers are voicing their unease with signs the Biden administration wants to give their unionized rivals in Detroit a leg up in the race to win over electric vehicle buyers. The White House invited GM, Ford, and United Auto Workers executives last week after requesting the industry to boost EVs to be half of all sales by 2030, raising eyebrows over why others with strong EV models were snubbed, Brett Haensel reports.
Biden Said Has Picked Top Derivatives Regulator: Biden plans to nominate Rostin Behnam to head the U.S. Commodity Futures Trading Commission, which oversees much of the $582 trillion global derivatives market such as cryptocurrency trading, according to people with knowledge of the matter. The White House recently selected Behnam, who's been leading the agency on an interim basis since January 2021, the people who weren't authorized to speak publicly said. Read more from Ben Bain and Robert Schmidt.
Payday Lenders Prepare After Pandemic Borrowing: Payday lenders who became unintended casualties of the pandemic are eagerly awaiting the end to most government relief programs, but those who follow the industry say some high-cost loans may never fully rebound. Congressional passage over the past 18 months of enhanced unemployment benefits, federal stimulus payments, a moratorium on evictions, and student loan and mortgage forbearance lowered the need for high-cost credit. Read more from Evan Weinberger.
Social Platforms Feel Policy Pressure: Tech companies including TikTok, Alphabet, and Facebook are tightening privacy controls for teenagers as social media platforms feel policy pressure over protections for younger users. Tech companies are likely acting in response to new design standards for children's privacy in the U.K. and a legislative proposal targeting teen privacy in the U.S., according to Josh Golin, executive director of children's advocacy group Fairplay. Read more from Andrea Vittorio.
To contact the reporters on this story: Michaela Ross in Washington at mross@bgov.com; Brandon Lee in Washington at blee@bgov.com
To contact the editor responsible for this story: Giuseppe Macri at gmacri@bgov.com
Stay informed with more news like this – from the largest team of reporters on Capitol Hill – subscribe to Bloomberg Government today. Learn more.