What to Know in Washington: Stopgap Talks Slow as Deadline Nears
Two quickly approaching deadlines are top of mind for congressional leaders today after talks to craft a continuing resolution to fund the government past Friday stalled yesterday, and as Senate leaders continue negotiating a debt ceiling solution—despite fresh warnings from Treasury Secretary Janet Yellen and the Congressional Budget Office. Across the street from the Capitol, the most consequential challenge in decades to Roe v. Wade begins at the Supreme Court.
Here's what Bloomberg Government is tracking for Wednesday.
Congress' Agenda:
The House meets at 10 a.m., as leaders look to find a path forward on a stopgap spending measure. The chamber could also consider a collection of broadly bipartisan bills under expedited procedure.
Senators convene at noon to continue debate on the annual defense policy bill, which has stalled amid procedural hurdles.
A Facebook whistleblower will appear before a House committee to testify on legislation to overhaul technology platforms' legal liability shield. Click here for a complete list of today's hearings and markups.
Biden's Schedule:
President Joe Biden will speak at 12:35 p.m. on efforts to strengthen supply chains during the holiday season.
Biden also plans to give remarks at 2:30 p.m. along with Health and Human Services Secretary Xavier Becerra to commemorate World AIDS Day, and launch a national HIV/AIDS strategy.
The president, First Lady Jill Biden, Vice President Kamala Harris, and Second Gentleman Douglas Emhoff will hold a Menorah Lighting at 5:30 p.m. in celebration of Hanukkah.
Stopgap Spending Bill Stalls as Deadline Nears
Talks to fund the government and avert a weekend shutdown stalled yesterday as House lawmakers waited for their Senate counterparts to decide on the length of the stopgap, Democrats said. Lawmakers will have to act quickly to pass a stopgap and avoid a shutdown after midnight Friday night, Jack Fitzpatrick reports.
House Majority Leader Steny Hoyer (D-Md.) told reporters yesterday the House could vote as early as today on a continuing resolution. But later in the day, he said talks with the Senate are holding up the bill. Possible consideration of a continuing resolution is listed on Hoyer's House floor schedule for today.
Even if the House passes a stopgap measure today, the Senate will have limited time to pass the measure before Friday night's deadline. Advancement in the Senate will need cooperation from Republicans, who may not lend assistance as Democrats rush to expedite a vote.
Senate Majority Leader Chuck Schumer (D-N.Y.) said in floor remarks yesterday that Democrats are "ready to pass this legislation and to get it done as quickly as possible." But, he acknowledged he'll need help from the GOP, adding that "to avoid a needless shutdown, Republicans will have to cooperate and approve the government funding legislation without delay. If Republicans choose obstruction, there will be a shutdown entirely because of their own dysfunction."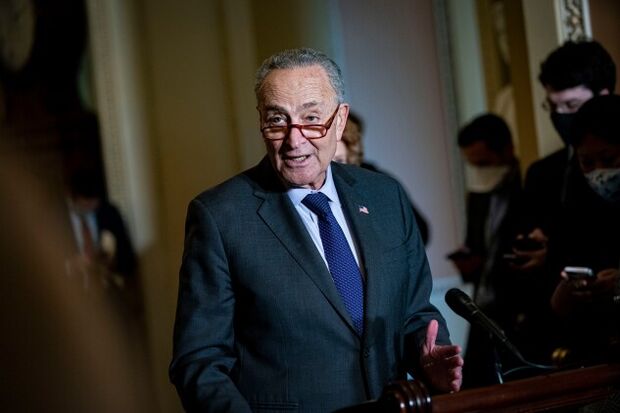 Another deadline quickly approaching is Dec. 15, when Treasury Secretary Janet Yellen and the Congressional Budget Office say the U.S. will likely run out of money to pay its obligations. Schumer and Minority Leader Mitch McConnell (R-Ky.) said yesterday they are still working on a solution for raising the federal debt ceiling. "What we need to do is come up with an agreement that doesn't risk the full faith and credit of the United States," Schumer told reporters. "It's never been risked before, in a way that both parties can support. And that's we're trying to achieve."
McConnell said, "The government will not default," and added that the two leaders have had "useful discussions." But there was no public signal that either had budged from previous positions that have left action on raising the debt limit in a partisan limbo. The talks between the Senate's top two leaders are aimed at finding a smoother path to addressing the debt limit following an October clash in the chamber that rattled markets before a short-term hike was approved. Read more from Laura Litvan and Christopher Condon.
The U.S. may be able to delay hitting the debt ceiling by changing the timing of a required highway funding transfer, federal agencies indicated. The U.S. risks defaulting on its debt obligations around mid-December, timing based in part on a scheduled $118 billion transfer from the Treasury to the Highway Trust Fund on Dec. 15. But the Treasury Department could defer part or all of that transfer, the CBO said yesterday. It said transferring only amounts needed for immediate use would push the debt limit back by weeks, to "sometime in January," Lillianna Byington reports.
ALSO HAPPENING ON THE HILL:
Abortion Showdown Begins at Supreme Court
The most consequential abortion case in a generation comes before the Supreme Court today, as the justices weigh Mississippi's ban on abortion after 15 weeks of pregnancy and consider gutting the landmark Roe v. Wade ruling.
Even if the court doesn't explicitly overturn Roe v Wade, the 1973 ruling that legalized abortion nationwide, a decision upholding Mississippi's law would have a far-reaching impact. It would give states new license to curb abortion access, guaranteeing tighter restrictions in much of the country. The argument, which starts at 10 a.m., centers on a law that is far harsher than anything the court has previously upheld and all but impossible to square with Roe and other abortion precedents.
With a 6-3 conservative majority on the court, abortion opponents have a chance to achieve their long-sought goal of reversing Roe and putting the issue back under state control. Mississippi contends that Roe and the 1992 Planned Parenthood v. Casey ruling are "egregiously wrong" decisions that have proven unworkable and only inflamed the debate on abortion. "Nothing in constitutional text, structure, history, or tradition supports a right to abortion," Mississippi Attorney General Lynn Fitch wrote.
The 7-2 Roe decision said abortion protections were covered by the "right to privacy," a doctrine the court established in earlier cases, though the Constitution doesn't expressly use those words. The court re-affirmed Roe in Casey, while modifying the legal test. Casey said states can't impose an "undue burden" on abortion access until fetal viability, a point the court suggested was around 23 or 24 weeks at the time. Read more from Greg Stohr.
In the years since Roe v. Wade, opponents have successfully passed laws limiting abortion access, including barring U.S. funding and restrictions on clinics. They convinced the Supreme Court to abandon Roe's trimester framework and limit so-called partial birth abortion. "The idea was that you would introduce more and more restrictions and get the Supreme Court to say that some or all of them were okay," said Mary Ziegler, a professor at Florida State University College of Law. "By the time you actually got around to telling the court to reverse Roe, there would be very little of the abortion right left." Jordan S. Rubin has more.
Vaccine Debate Clouds Omicron Threat
A rift among drugmakers over just how well Covid-19 vaccines will work against the omicron variant served yesterday as a reflection of how an information vacuum around the new pathogen is creating fresh anxiety about the pandemic. Pharma executives and other experts lined up to say there's little evidence so far that the newly discovered variant will erode the protective power of Covid-19 shots.
The University of Oxford, which helped develop the widely used vaccine sold by AstraZeneca, said there's no indication that existing shots won't provide some protection from the newly discovered variant. Additionally, the head of BioNTech, Pfizer's vaccine partner, told the Wall Street Journal that the current crop of shots is likely to shield against severe disease in people infected with the variant. Those remarks followed comments from Moderna CEO Stephane Bancel, who said the surprising number of mutations in omicron suggested new shots would be needed to keep it from infecting people.
The apparently quick discovery of omicron has cheered some public-health experts who say that it gives time for scientists and policy makers to study it and prepare appropriate countermeasures. But it also has created a knowledge gap while omicron remains under the microscope, making markets especially sensitive to any new commentary that suggests the variant could be a threat to global growth. Read more from Robert Langreth.
What Else We're Reading
To contact the reporters on this story: Zachary Sherwood in Washington at zsherwood@bgov.com; Brandon Lee in Washington at blee@bgov.com
To contact the editors responsible for this story: Giuseppe Macri at gmacri@bgov.com; Loren Duggan at lduggan@bgov.com