What to Know in Washington: Stopgap Cuts on Omnibus Wish List
Lawmakers hope to attach a growing list of proposals — from overhauling the nation's pandemic response to extending aid to migrants — to a year-end government spending bill.
The legislation represent areas where Republicans and Democrats have been divided so far this year, but sponsors are optimistic they'll find agreement this December, when the stopgap bill to fund the government expires.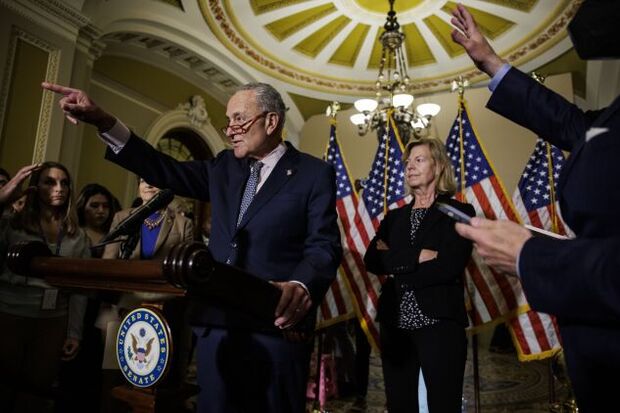 "The only real option is do your best to get something you think is essential on this big bill at the end of the year," said Sen. Roy Blunt (R-Mo.). "It's not a good thing at all — but the alternative is you don't solve any problems at all."
Lawmakers have teed up a bill to fund the government through Dec. 16, giving them less than three months to reach a longer-term agreement on spending levels for federal agencies. The legislation on a path to clear Congress on Friday is largely free of policy riders after Republican leaders pushed for a "clean" spending bill.
Alex Ruoff lays out the list of proposals that might ride on the upcoming omnibus spending bill. Read more.
Happening on the Hill
CONGRESS' SCHEDULE
The House will meet at 9 a.m. and plans to vote on stopgap funding legislation, as well as a bill to authorize payments for victims of state-sponsored terrorism.
The Senate is on recess until after the midterm elections.
The Senate by voice vote confirms President Joe Biden's nominees for key Department of Agriculture roles for farm credit and food safety
A union representing hundreds of thousands of government employees is throwing its weight behind embattled Federal Communications Commission nominee Gigi Sohn.
The US Senate has passed legislation that would invalidate nondisclosure and nondisparagement agreements signed before a worker alleges sexual harassment and sexual assault.
A House Republican bill introduced Thursday would impose a cap on federal discretionary spending for the next 10 years, in a preview of how conservatives aim to place stricter limits on government spending if they win control of the chamber in November's midterm elections.
The US judiciary would get $112.5 million in stopgap spending to "harden" federal courts against potential threats, money it initially sought after the Capitol riot.
The House passed a bill 423-0 Thursday that would require federal contractors to be referred for suspension and debarment following a valid claim they participated in human trafficking.
The House on Thursday passed a bill to improve the security of the federal government's cloud services, but division over a separate cybersecurity bill imperils its chances in the Senate.
Federal Reserve Chair Jerome Powell has deflected requests from a top critic, Senator Elizabeth Warren, for details of financial transactions by central bank officials, risking an escalation of tensions with lawmakers over disclosure issues.
Foreign Interests Lobbying Spotlighted in Senate-Passed Bill
The Senate passed a bill (S. 4254) by voice vote Thursday to require lobbyists to disclose foreign interests participating "in the direction, planning, supervision, or control" of their activities. It covers advocates who register under the Lobbying Disclosure Act, rather than the more stringent Foreign Agents Registration Act.
"The legislation will have a significant impact on the lobbying activity of foreign interests," said Craig Holman of the nonprofit Public Citizen, who's worked for years to increase transparency. It will require advocates for foreign interests using a "commercial exemption" to register as lobbyists, rather than foreign agents, be clearly identified.
"This will help government agencies, Congress and the public identify the true foreign sources attempting to influence public policies," Holman said. The bill hasn't been considered in the House but could be brought up in a lame-duck session after midterm elections.
Elections, Politics & Probes
In North Carolina, where a neck-and-neck Senate race could help determine which party controls that chamber of Congress, inflation and abortion rights are colliding in voters' minds and on the campaign trail. The state has seen a boom in finance and high-tech jobs in recent years as companies like Apple and Toyota have moved in, changing the demographics and moving North Carolina from a reliably Republican state to a critical swing state.
North Carolinians are feeling the same inflation pangs as the US average, unlike the out-of-whack price increases in other states with key Senate races. That gives Democrats room to campaign on the erosion of abortion rights, an issue that is driving some Republican voters to cross party lines, making the state even more competitive in the race to replace US Senator Richard Burr.
Republican Sen. Ron Johnson now leads Democrat Mandela Barnes 48%-44% among registered Wisconsin voters, according to a Fox News poll. Barnes previously led Johnson by 4 ppts in an August Fox News poll.
Virginia "Ginni" Thomas, a conservative activist and the wife of Supreme Court Justice Clarence Thomas, reiterated Thursday to the House panel investigating last year's assault on the US Capitol her belief there was "something wrong" with the 2020 election results.
A federal judge in Florida has extended the timeline for the review of documents seized from former President Donald Trump's Mar-a-Lago home, delaying the fight over whether any materials are privileged by another two weeks.
New York Attorney General Letitia James said in a court filing she wants to go to trial in the state's fraud lawsuit against Donald J. Trump and the Trump Organization by the end of next year.
In May 2016, as Trump began racking up GOP primary victories, his friend Tom Barrack sent an email to an official in the United Arab Emirates. "Trump is the man," Barrack said, suggesting "HH" could pack his bags. Federal prosecutors allege "HH" meant "His Highness," in this case, UAE ruler Sheikh Mohammed bin Zayed Al Nahyan, and that Barrack acted as an unregistered UAE agent in trying to influence the Trump campaign and White House.
Latest on Ian's Destruction
Ian, one of the most powerful storms in US history, carved a trail of ruin across southern Florida — downing bridges, inundating roads and shattering homes — and regained strength, threatening South Carolina with seven-foot (2 meter) waves.
Ian, now a hurricane again, is threatening to carve a new path of destruction through South Carolina Friday when it roars ashore north of Charleston.
Major ports and rail facilities across the US Southeast have halted operations as one of the strongest hurricanes to ever hit the country heads north, causing disruptions along the way and resulting in another blow for already-strained supply chains.
Hurricane Fiona battered Puerto Rico earlier this month, knocking out power to nearly half of the island's 3.3 million residents. Full power hasn't been restored as of Thursday.
Florida Governor Ron DeSantis raised his national profile in his first term by pursuing partisan policies and attacking rivals with the kind of discourse favored by Trump. But as he leads Floridians in the aftermath of Hurricane Ian, the nation is seeing a much different governor.
Around the Administration
PRESIDENT'S SCHEDULE
Biden at 10 a.m. will attend the investiture ceremony for Supreme Court Justice Ketanji Brown Jackson.
At 11:30 a.m., the president is scheduled to deliver a speech on Hurricane Ian response efforts.
At noon, Biden will host a reception to celebrate the Jewish New Year, and at 4 p.m. he will host a Hispanic Heritage Month reception and give a speech.
At 2:45 p.m. Press Secretary Karine Jean-Pierre will give a briefing.
Kamala Harris's whirlwind tour of Japan and South Korea this week amounts to a microcosm for the state of her vice presidency: an ambitious, historic and increasingly confident effort still beset by the occasional high-profile gaffe.
The Solomon Islands has joined 13 other Pacific nations in signing a wide-reaching US-led partnership agreement, after early indications it would refuse.
Capping the growth rate of health-care prices could reduce the amount commercial insurers pay for hospitals and physician services by more than 5% over 10 years, the Congressional Budget Office said Thursday.
An advocacy group representing dual citizens snared by American tax laws because they were born in the US or to American parents vowed to appeal Thursday after a US court dismissed their lawsuit.
Russian oligarch Oleg Deripaskaviolated sanctions in a bid to ensure two of his children were born in the US and would have citizenship there, the Justice Department says.
Regulators told Standard General to produce more documents about its proposed $5.4 billion purchase of broadcaster Tegna.
The Treasury Department is seeking feedback on creating a national cyber insurance program to counter catastrophic cyber attacks, concerned that private insurance may not be sufficient.
With assistance from Kenneth P. Doyle
To contact the reporters on this story: Brandon Lee in Washington at blee@bgov.com; Michaela Ross in Washington at mross@bgov.com
To contact the editor responsible for this story: Giuseppe Macri at gmacri@bgov.com