What to Know in Washington: Stimulus Vote to Test GOP Unity
Senate leaders will be trying to hold their parties together for a vote tomorrow to advance a slimmed-down stimulus bill Democrats have already rejected, with both sides jockeying for advantage in public perceptions two months before the election.
A far bigger task looms for Senate Majority Leader Mitch McConnell (R-Ky.), who crafted a White House-backed proposal that may not go far enough to help vulnerable incumbents in his caucus. That was the price of securing the votes of fiscal hawks worried about adding to a deficit already forecast at $3.3 trillion this year.
Senate Minority Leader Chuck Schumer's (D-N.Y.) job is to maintain solidarity among his caucus in favor of what he terms a comprehensive response to the Covid-19 crisis, which has left more than 13 million Americans still unemployed. White House Chief of Staff Mark Meadows yesterday claimed a "groundswell" of support among rank-and-file Democrats for a deal.
Sen. John Cornyn (R-Texas) said "I think our conference will be unified," with at least 51 Senate Republicans likely to support the bill. That's not enough for passage, however, as it needs the support of 60 members to advance under filibuster rules. Democrats can defeat it should they stay unified.
As it is, the go-small strategy has already put Republican senators including Susan Collins (Maine) in a tight spot. Behind in opinion polls, she's running on her ability to get things done in a sclerotic Washington, including the Paycheck Protection Program she co-authored, which was tapped by numerous small businesses in her state. While the skinny bill includes $258 billion for another round of checks for smaller employers, it doesn't include the bipartisan proposal Collins and several other Republicans and Democrats put forward. That item offered $500 billion to help state and local governments avoid cutting jobs or tax increases, given slumping revenues. Read more from Steven T. Dennis, Laura Litvan and Erik Wasson.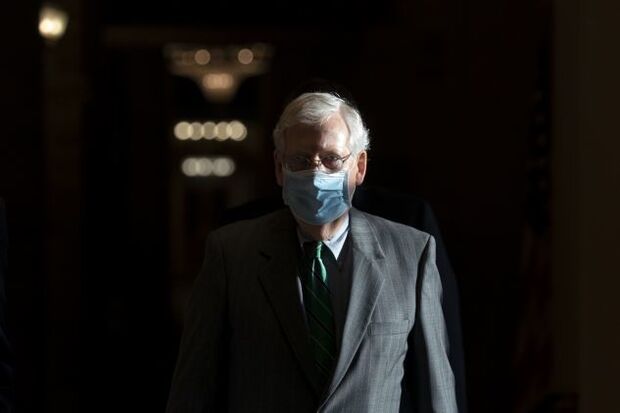 Elections & Politics
Biden Plan Sets Tax Penalties on Offshore Profits: Democratic presidential nominee Joe Biden is proposing a 10% tax penalty on companies that move operations overseas and a 10% tax credit for companies that create jobs in the U.S. in a policy rollout today. Biden, who is launching a renewed focus on economic issues with a speech in Michigan, also will promise to reverse Trump administration policies that his campaign said amount to "loopholes" that allow offshoring to take place. The former vice president will also pledge to take executive action during his first week in office to direct the federal government to buy American goods and support American supply chains in their procurement processes, his campaign said. Read more from Jennifer Epstein.
Biden Campaign Warns Against Politicizing Vaccine: The Biden campaign is working to sow doubt about the Trump administration's ability to keep politics out of a coronavirus vaccine rollout, arguing the president routinely overstates progress and likes to punish political opponents. "The concern they have is that Donald Trump could end up moving this process in a way that undermines the credibility of the vaccine and that will set our country back," said Jake Sullivan, a senior policy adviser to the campaign. Read more from Tyler Pager.
Trump's Small-Donor Zeal Fails to Reach Other Candidates: Small-dollar donors provided more than half of Trump's $1 billion campaign war chest, but their largess has not extended to other Republican candidates, raising alarms for down-ballot races and the party's prospects in future elections. Some 1.5 million Trump supporters have dropped money this election cycle on red MAGA caps and #BuildTheWall t-shirts, yet other GOP candidates, including some in key Senate races, aren't seeing the same level of enthusiasm. Down-ballot Republicans are even trailing Democrats in small-dollar contributions. Read more from Bill Allison.
Biden Leads Trump by 9 Points in Pennsylvania: Support for Biden is at 53%, compared to 44% for Trump, among likely voters in Pennsylvania, according to an NBC News/Marist poll. Forty-five percent of likely voters say they approve of the job the president is doing, while 52% disapprove, Nour Al Ali reports.
Trump Says It'd Be 'Insult' If Harris Is First Woman President: Trump said it would be an "insult" if vice presidential nominee Sen. Kamala Harris (D-Calif.) became the first woman to be elected president, repeatedly mocking her at a North Carolina rally. "Kamala," he said, theatrically stretching out and mispronouncing her name three times in a row. Read more from Jennifer Jacobs.
It's Too Late to Expand Mail-In Voting: For all of Trump's attacks on Democrats for trying to expand universal mail-in voting, the rules for how voters will get and cast ballots for the Nov. 3 election are pretty much set. States such as Pennsylvania and New York are still tinkering with deadlines and procedures, but most significant changes would require state laws to be passed, some states are already starting to send out ballots, and the companies that provide election services are already at capacity.
What this means is voters — especially Democratic voters who are looking for every avenue to make sure their mail-in votes get tallied — must play by the existing rules. State officials have little leeway at this point to expand the reach of mail-in votes or change the deadlines for submitting ballots, short of getting court orders. Read more from Mark Niquette.
Montana Gov. Steve Bullock (D) yesterday sued the U.S. Postal Service and Postmaster General Louis DeJoy for "removing and destroying mail-sorting machines across the country without warning." The lawsuit, filed in the U.S. District Court for the District of Montana, seeks a court order declaring recent Postal Service actions unlawful, an injunction barring DeJoy and the service from further implementing them, and a requirement that the policies be reversed. Read more from Tripp Baltz.
A federal judge said Texas couldn't discard mail-in ballots without giving voters a chance to respond. U.S. District Judge Orlando Garcia in San Antonio said it's unconstitutional to reject a voter's signature and discard their ballot without giving them notice and a chance to cure or appeal that decision. Read more from Ryan Teague Beckwith.
Related: House Oversight Panel to Investigate DeJoy Over Donations (Washington Post)
Messner to Face Shaheen in New Hampshire: Bryant "Corky" Messner won the Republican primary for U.S. Senate yesterday and will take on Sen. Jeanne Shaheen (D-N.H.), who is running for a third term, the Associated Press reports. Matt Mowers, a former State Department official under Trump, won the primary and will face Rep. Chris Pappas (D-N.H.), AP reports.
New Hampshire's race to choose a Democratic Party nominee for governor was too close to call early today. Incomplete returns showed state Senate Majority Leader Dan Feltes ahead of Executive Council member Andru Volinsky by less than 4,000 votes out of more than 130,000 votes tallied, the Associated Press reported. About 9% of the precincts remained to be counted. Read more from Adrianne Appel.
Rep. Jim Langevin (D-R.I.) survived a primary challenge from Dylan Conley, and will face former state lawmaker Robert Lancia in November, AP reports.
TikTok Works With U.S. On Foreign Election Meddling: TikTok's chief lobbyist, Michael Beckerman, said the app, which is owned by Beijing-based ByteDance, is working with the U.S. government to prevent foreign adversaries from using the video service to meddle in the upcoming presidential election. Read more from Naomi Nix and Emily Chang.
Speaker Nancy Pelosi (D-Calif.) accused Trump of welcoming Russian interference in the 2020 presidential election. "That is most unfortunate and in many cases not even legal," Pelosi said in an interview on Bloomberg Television. Read more from Ryan Teague Beckwith.
Defense & Foreign Affairs
Trump to Announce Troop Reductions in Iraq: Trump plans to announce further U.S. troop reductions in Iraq today, an administration official said late last night. It was not immediately clear how many military personnel would be affected and when their withdrawal might begin. About 5,200 U.S. troops remain in the country. After sending more American forces to the Middle East in his first three years, Trump has made a number of moves in recent months to begin fulfilling a 2016 promise to get the U.S. out of what he called "endless wars." Read more from Jennifer Jacobs.
U.S.-China Big Data Showdown Will Have Long Impact: TikTok, WeChat and Huawei are just the beginning. What comes next has the potential to reshape the global economy for decades to come. Trump's moves to prevent some of China's top companies from accessing the private data of Americans—restrictions set to take effect this month—are part of a broader effort to create "clean networks" the Communist Party can't touch. And that initiative is already impacting corporate deal-making and geopolitics. Read more.
Separately, Sen. Tom Cotton (R-Ark.) said Disney is "addicted to Chinese cash" and has toed the line of China's Communist Party on Hong Kong to "the CCP's illegal land claims in the South China Sea and Tibet." His criticism comes after Disney's big bet on "Mulan" is facing fresh criticism for filming in Xinjiang—where Uighur minorities are being subjugated—and for thanking government agencies there in the film credits, Jameelah Robinson reports.
Navy Calls Off Search for Missing Sailor: The U.S. Navy called off efforts to find a sailor missing from one of its aircraft carriers, the USS Nimitz, in the northern Arabian Sea. Ian McKnight, an information systems technician second class, is believed to have gone overboard on Sunday, the U.S. Fifth Fleet said in a statement. Read more from Verity Ratcliffe.
U.S. Sanctions Former Lebanese Ministers: The U.S. sanctioned two former Lebanese government ministers for providing material support to Hezbollah, the Iran-backed group, and engaging in corruption, the first such move against high-level individuals in the country. Read more from Dana Khraiche.
What Else to Know Today
Deutsche Bank Hires Barr Friend: Deutsche Bank, whose global operation is under the microscope of U.S. lawmakers and criminal investigators, has enlisted an old friend of Attorney General William Barr to help the bank navigate the political waters in Washington. The decision came from Frankfurt, where the bank's supervisory board led by chairman Paul Achleitner has retained Robert Kimmitt, according to people familiar with the matter. Kimmitt is a lawyer and former U.S. ambassador to Germany whose friendship with Barr dates to the 1980s. Read more from Greg Farrell, Steven Arons, Christian Berthelsen and Tom Schoenberg.
Tech's Legal Shield Curbed in New Bill: Three top Senate Republicans yesterday unveiled their latest attempt to prevent Facebook, Google and other tech companies from removing conservative speech. Sens. Roger Wicker (R-Miss.), who leads the Commerce, Science, and Transportation Committee, Lindsey Graham (R-S.C.), who leads the Judiciary Committee, and Marsha Blackburn (R-Tenn.), who is co-chair of the Senate Judiciary Tech Task Force, released a bill that would narrow the companies' discretion over what content they take down. Ben Brody and Rebecca Kern have more.
Rules With Quick Turnaround Could Open DOL to Challenges: Of all the big-ticket regulations the Labor Department planned to push through before the end of the year, three in particular worry the retirement and benefits industry because of their short comment periods, which could leave the agency vulnerable to legal challenges. The Employee Benefits Security Administration released three major proposals this summer that were deemed "significant" or "economically significant" and impact fiduciary responsibilities and benefits plans focused on environmental, social, and corporate governance funds—all of which come with a short, 30-day comment window. Read more from Jaclyn Diaz.
Astra Pauses Covid Vaccine Trial After Unexplained Illness: AstraZeneca stopped giving shots of its experimental coronavirus vaccine after a person participating in one of the company's studies got sick, a potential adverse reaction that could delay or derail efforts to speed an immunization against Covid-19 for the world. Read more from Michelle Fay Cortez and Riley Griffin.
Rapid Covid-19 Testing Devices Now at Nursing Homes: The Trump administration has nearly reached its goal of providing rapid antigen Covid-19 testing devices to all of the nation's 15,400 nursing homes that participate in the Medicare and Medicaid program, with an official stating yesterday that 13,477 testing devices and more than 4.7 million tests have shipped to 13,343 facilities nationwide. Read more from Tony Pugh.
U.S. Seeks to Provide Trump Defense in Rape Suit: The Justice Department is seeking to take over the defense of Trump in a defamation lawsuit brought by advice columnist E. Jean Carroll, who claims Trump raped her two decades ago. In a court filing yesterday, the Justice Department said Trump was acting "within the scope" of his job as president when he said Carroll lied about the incident, prompting her lawsuit. Read more from Bob Van Voris.
To contact the reporters on this story: Zachary Sherwood in Washington at zsherwood@bgov.com; Brandon Lee in Washington at blee@bgov.com
To contact the editors responsible for this story: Giuseppe Macri at gmacri@bgov.com; Loren Duggan at lduggan@bgov.com; Michaela Ross at mross@bgov.com