What to Know in Washington: Stimulus Talks Near Edge of Collapse
Negotiations on a new coronavirus relief bill edged toward the brink of collapse after a meeting yesterday between White House officials and top congressional Democrats ended with each side accusing the other of being unwilling to compromise and the biggest issues far from resolved.
The four negotiators, Speaker Nancy Pelosi (D-Calif.), Senate Minority Leader Chuck Schumer (D-N.Y.), White House Chief of Staff Mark Meadows and Treasury Secretary Steven Mnuchin, emerged from a more than three-hour meeting with little to show and with no guarantee they would resume talks today.
Mnuchin and Meadows said that while talks made progress on a few areas of possible compromise, there still are disagreements on the topline numbers for a stimulus bill and on the biggest individual provisions, including aid to state and local governments that Democrats want.
"The differences are still significant," Meadows said.
Pelosi said Republicans are not facing up to the gravity of the economic calamity facing the U.S. Schumer said the meeting was "disappointing" because the White House wasn't willing to meet them in the middle.
"We are very far apart," Pelosi said. "It's most unfortunate."
The talks began under the pressure of expectations from financial markets and the threat from President Donald Trump that he'll act unilaterally to restore some of the stimulus measures that ran out during a stalemate in Congress.
Meadows and Mnuchin said they will consult with Trump and call Pelosi and Schumer today to determine if it makes sense to meet. Schumer made clear Democrats are willing to keep talking.
Today's release of the Labor Department's July jobs report may influence whether talks resume. While high-frequency data have indicated a slowdown in economic activity in recent weeks, the report is forecast to show another positive, though modest, gain in jobs. Still, the unemployment rate is expected to remain higher than it was at the peak of the deep recession that followed the financial crisis in 2008.
If the jobs report comes in better than expected, it could stiffen the resistance of the White House to spending anywhere close to $3.5 trillion Democrats have been demanding in the talks. A worse than expected report could hasten them to a conclusion. Read more from Erik Wasson, Steven T. Dennis and Laura Litvan.
Signs Are Pointing to a Far Less Rosy Jobs Report: After a surge in coronavirus cases across the U.S., all signs point to a slowdown in job gains last month — or worse. The report is forecast to show a 1.48 million increase in nonfarm payrolls in July, the median estimate in projections ranging from a 600,000 decline to a gain of 3.2 million. That's following a combined rise of 7.5 million in May and June, which just started to make up the 22 million drop over the first two months of the pandemic, Reade Pickert and Maeve Sheehey report.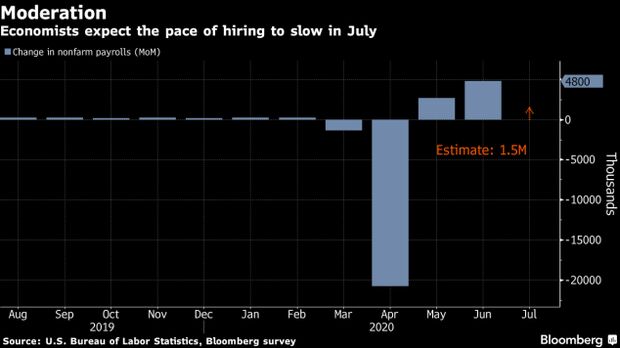 What to Watch Today
The House meets at 10 a.m. for a pro forma session.
The Senate will reconvene Monday at 3 p.m., with no votes currently planned.
No hearings are scheduled in the House or Senate as of this morning.
Hawaii State Democratic Sen. Kahele Favored to Succeed Gabbard: A Democratic House primary tomorrow in Hawaii is more of a coronation than a competition. State Sen. Kai Kahele is an overwhelming favorite to win a four-candidate election in the 2nd District, which includes most of Hawaii outside Honolulu. Rep. Tulsi Gabbard (D) is retiring.
None of Kahele's competitors in the primary reported raising $5,000, according to Federal Election Commission data as of July 19.
Kahele got a big head start when he announced in January 2019 he would run against Gabbard, who had just announced her candidacy for the 2020 Democratic presidential nomination. Gabbard, whose White House bid faltered, announced in October 2019 she wouldn't seek re-election to the House. Read more from Greg Giroux.
Also Happening on the Hill
Judge Denies GOP Bid to Stop House Proxy Voting: A federal judge rejected a bid by House Republicans to block proxy-voting procedures Democrats created for members who are quarantined or otherwise house-bound during the Covid-19 pandemic. U.S. District Judge Rudolph Contreras said that House lawmakers may continue to vote by proxy because the U.S. Constitution protects members of Congress from civil suits contesting "legislative acts." David Yaffe-Bellany has more.
Pipeline Bill Passed: The Senate last night by unanimous consent passed legislation (S. 2299), with a substitute amendment by Sen. Roger Wicker (R-Miss.), that would authorize appropriations through fiscal 2023 for some pipeline safety programs, among other provisions. The bill now moves to the House. The chamber also passed S. 4075, legislation to amend the Public Works and Economic Development Act of 1965, introduced by Shelley Moore Capito (R-W.Va.), chairwoman of the Senate Environment and Public Works Transportation and Infrastructure Subcommittee.
Oil Profit by U.K. Firm Stirs Scrutiny: A Senate Democrat is calling on federal regulators to conduct a deep analysis of whether oil markets are susceptible to manipulation following a Bloomberg News report that documented how a small London firm made as much as $500 million when the price of oil went negative in April. Senate Banking Committee ranking member Sherrod Brown (D-Ohio) said Vega Capital London's trading profits show "additional regulatory safeguards" are necessary. Ben Bain, Liam Vaughan, and Kit Chellel have more.
Rubio Wants More Time to Count Votes: Sen. Marco Rubio (R-Fla.), acting chairman of the Senate Intelligence Committee, is warning of potential chaos in the election because of the pandemic and wants to give states nearly two months to count ballots. Under Rubio's measure, states would have until Jan. 1 to certify electors to the Electoral College rather than Dec. 8. Read more from Ryan Teague Beckwith.
Senate Confirms SEC Nominees Peirce, Crenshaw: Hester Peirce and Caroline Crenshaw will serve as SEC commissioners until at least 2024 after receiving the Senate's endorsement. The Senate confirmed Peirce and Crenshaw for terms on the Securities and Exchange Commission by voice vote. Trump nominated them in June. Read more from Andrew Ramonas.
Peters Solicits Americans' Postal Delay Complaints: Americans who have had critical mail such as election ballots or medicine delayed or go missing should report it to Sen. Gary Peters (D-Mich.), the top Senate Democrat on the Homeland Security and Governmental Affairs Committee. Peters is investigating the reported service delays following recent changes, Shaun Courtney reports. "I've heard firsthand from constituents, postal workers and local officials in Michigan who have encountered problems with the timely and dependable service they count on to conduct business, get prescription medications and critical supplies, and even exercise their right to vote," Peters said in a press release.
Elections & Politics
Hagerty Wins Tennessee GOP Primary for Alexander's Seat: Bill Hagerty won the Tennessee Republican primary for the seat held by retiring Sen. Lamar Alexander (R-Tenn.), AP reports. Trump endorsed Hagerty, his former ambassador to Japan, in a 15-way Republican race. Hagerty, a former private equity executive who was Tennessee's economic and community development commissioner, faced competition from Manny Sethi, an orthopedic trauma surgeon and son of Indian immigrants.
Commission Turns Down Request for Fourth Debate: The Commission on Presidential Debates yesterday rejected the Trump campaign's request for an additional debate against Democrat Joe Biden in early September as well as its push to pick moderators for the three scheduled debates. Read more from Jennifer Epstein.
Trump Campaign Sees Jump After Virus Briefings: Trump's new campaign manager credited the revival of the president's daily briefings with narrowing the gap between him and Biden, saying that when the president speaks "it's a needle mover." Bill Stepien took over as the president's campaign manager in July. Since Stepien stepped in, Trump has changed his public approach to the pandemic. Mario Parker has more.
Trump Says Biden Is 'Against God': Trump said Biden was opposed to God and religion, turning to cultural issues during a speech on the economy. "He's going to do things that nobody ever would ever think would be possible because he's following the radical left agenda," Trump said during an Ohio event. "Take away your guns, destroy your Second Amendment, no religion, no anything. Hurt the Bible, hurt God. He's against God, he's against guns."
Biden slammed Trump's comments, calling the president an "insecure bully." "For President Trump to attack my faith is shameful. It's beneath the office he holds and it's beneath the dignity the American people so rightly expect and deserve from their leaders," Biden said in a statement. Ryan Teague Beckwith has more.
Biden Apologizes For Comments on Racial Diversity: Biden apologized late yesterday for comments he made earlier in the day that suggested that the African-American community was not diverse. "In no way did I mean to suggest the African-American community is a monolith — not by identity, not on issues, not at all," Biden said in an series of tweets. In an interview with Black and Latino journalists published early yesterday, Biden said that "unlike the African-American community, with notable exceptions, the Latino community is an incredibly diverse community with incredibly diverse attitudes about different things." Read more from Jennifer Epstein.
Kanye West Plays Spoiler: Rapper Kanye West all but confirmed he is running a spoiler campaign for the presidency to draw votes from Biden, amid reports that GOP operatives are helping him get on the ballot. "I'm not going to argue with you. Jesus is King," West told a Forbes reporter after the reporter pointed out the artist cannot win since he won't be on enough ballots to garner the necessary 270 electoral votes. Read more from Ryan Teague Beckwith.
Virginia Drops Absentee Ballot Witness Requirement: Virginia has agreed to extend its suspension of its witness requirement for absentee ballots for the November general election due to the continued presence of Covid-19 in the state, according to a recent filing in federal court. Election officials and the League of Women Voters of Virginia agree that enforcing the requirement during the coronavirus pandemic would impose a serious burden on the right to vote, the parties told the U.S. District Court for the Western District of Virginia Wednesday. Read more from Porter Wells.
Defense & Foreign Affairs
Trump Widens China Tech Attack: Trump signed a pair of executive orders yesterday prohibiting U.S. residents from doing business with the Chinese-owned TikTok and WeChat apps beginning in 45 days, citing the national security risk of leaving Americans' personal data exposed. The bans mark a significant escalation by Trump in his confrontation with Beijing as the U.S. seeks to curb China's power in global technology.
The move coincides with Trump's push for the sale of TikTok, the popular video app owned by ByteDance, to an American company. It threatens penalties on any U.S. resident or company that conducts transactions with TikTok, WeChat or their owners after the orders take effect. "To protect our Nation, I took action to address the threat posed by one mobile application, TikTok. Further action is needed to address a similar threat posed by another mobile application, WeChat," Trump said in the order against WeChat, released minutes after the TikTok measure. Read more from Saleha Mohsin, Shelly Banjo, Nick Wadhams and Justin Sink.
U.S. Seeks Tighter Disclosures for China Listings: A high-powered U.S. panel recommended tightening the disclosure requirements for Chinese companies listed on American exchanges, following mounting concerns about the possible exposure of investors to fraud. The Working Group on Financial Markets said it will recommend the Securities and Exchange Commission bolster requirements governing the submission of audit papers from Chinese listings—both new and existing—to the main American accounting-standards agency. Read more from Saleha Mohsin and Jenny Leonard.
Trump to Reimpose Some Tariffs on Canada: The Trump administration will reimpose tariffs on some Canadian aluminum imports, striking a crucial trade partner only weeks after the president's landmark North American trade deal went into effect. Trump announced that he was removing Canada's exemption from 10% tariffs, effective Aug. 16. Read more from Joe Deaux, Josh Wingrove, Jenny Leonard, and Jennifer Jacobs.
Trump said yesterday the tariffs he imposed to help Whirlpool resulted in more jobs—but studies show those jobs came at a steep price for consumers. While the tariffs did help create jobs in the U.S., they cost Americans through higher prices, the U.S. government's own International Trade Commission said in 2019. Josh Wingrove and Shawn Donnan report.
U.S., India Plan Meetings: The U.S. and India will hold ministerial meetings and discussions later this year, according to a State Department read out issued after Secretary of State Michael Pompeo's phone call with Indian foreign minister Subrahmanyam Jaishankar, Archana Chaudhary reports.
What Else to Know Today
Roberts Court Draws Partisan Fire: Pretty much no one is happy with U.S. Chief Justice John Roberts. And that may suit him just fine. Vice President Mike Pence joined a chorus of right-wing criticisms of the Supreme Court's leader, telling CBN News on Wednesday that the Republican-appointed Roberts "has been a disappointment to conservatives." Those attacks come even as liberals say the real problem is Roberts's larger body of work and steady effort to bolster conservative legal causes.
Together, the dueling critiques are bolstering an image Roberts has long sought to foster — that of a court that decides cases independently, not based on ideological leanings or party preference. Read more from Greg Stohr.
Main Street Program Attracts Handful of Borrowers: The Federal Reserve's Main Street Lending Program had attracted just eight borrowers as of July 27, according to a report released yesterday by the central bank. Borrowers took out $10 million through the New Loan Facility and $70.9 million through the Priority Loan Facility, which provides potentially larger amounts to more leveraged companies. Read more from Catarina Saraiva.
Meanwhile, Chairman of the House Select Subcommittee on the Coronavirus Crisis James Clyburn (D-S.C.) asked Mnuchin and Fed Chairman Jerome Powell why the Main Street lending programs haven't issued more loans to small and medium businesses, Laura Davison reports.
DeWine Says Positive Test for Covid-19 Was False: Gov. Mike DeWine, a Republican who has aggressively pushed public-health measures for Ohio, said last night that an initial positive test for Covid-19 was apparently a false result. DeWine took an antigen test early in the day. But then the governor said later that a second test — using the PCR or nucleic acid method — came back negative, as did tests for his wife and staff members. Stephen Merelman has more.
Safety Agency Moves Ahead with 'Quorum of One': The new chairwoman of a federal agency that investigates major industrial accidents has an unusual problem: she's the only person on its five-member board, and Trump wants it shut down. Katherine Lemos said she plans to continue the U.S. Chemical Safety Board's work after securing a legal opinion that she can operate as a "quorum of one." In her first interview since taking office, Lemos vowed to get the roughly 35-person agency with a checkered-past "off the problem child list," while promising to be tough on chemical and petroleum industries it oversees. Read more from Ari Natter and Alan Levin.
EPA Finalizing 'Second Term' Trump Agenda Plans: The EPA is wrapping up its agenda for a second Trump administration term, as it gears up to release key air and water regulations including the rewrite of methane standards and revisions to the lead rule, Administrator Andrew Wheeler said yesterday. "We are, at this point, putting our final touches on our agenda for the second term," he said. Amena H. Saiyid has more.
CandyPAC Lead Onboarded from Lodging Association: The National Confectioners Association has hired Alyssa Clevenger away from the American Hotel & Lodging Association to oversee the group's political action committee, the CandyPAC. The CandyPAC has donated about $420,000 to political committees since January 2019, Megan R. Wilson reports.
Trump Fails to Stall Rape Accuser's Lawsuit: Trump can't stall a defamation lawsuit filed by a New York advice columnist who claims he raped her two decades ago, a judge ruled, allowing the two sides to start digging for evidence. E. Jean Carroll, who went public with her claims last year and sued Trump after he called her a liar, will now seek to depose the president as well as get a DNA test from him to compare with a sample on a dress the author said she wore at the time of the alleged attack. Read more from Erik Larson.
With assistance from Emily Wilkins, Megan R. Wilson, and Shaun Courtney
To contact the reporters on this story: Zachary Sherwood in Washington at zsherwood@bgov.com; Brandon Lee in Washington at blee@bgov.com
To contact the editors responsible for this story: Giuseppe Macri at gmacri@bgov.com; Loren Duggan at lduggan@bgov.com; Michaela Ross at mross@bgov.com