What to Know in Washington: Stimulus Talks Accelerate, Goal Set
Bloomberg Government subscribers get the stories like this first. Act now and gain unlimited access to everything you need to know. Learn more.
White House and Democratic negotiators driving toward a deal on a final massive virus relief package by the end of the week still must overcome a raw mix of election-year pressures, internal GOP splits and a profound lack of trust between the parties.
President Donald Trump's sinking poll ratings amid the virus's resurgence have Democrats sensing they have leverage with 90 days to go before the November election and Republicans bickering over additional aid spending on top of the almost $3 trillion Congress previously approved.
Speaker Nancy Pelosi (D-Calif.) and Senate Minority Leader Chuck Schumer (D-N.Y.) have been playing hardball, dismissing out of hand smaller-scale proposals floated last week by Trump's chief of staff, Mark Meadows, as well as a $1 trillion plan cobbled together by Senate Majority Leader Mitch McConnell (R-Ky.)
Both sides declared they were making progress yesterday as they started to exchange detailed offers and agreed on a goal of reaching a deal by the end of the week, teeing up possible votes next week. They are set to meet again today after Pelosi and Schumer meet with the postmaster general. Aid for the Postal Service and state governments to conduct vote-by-mail operations is a top Democratic priority opposed by Trump, who has blasted mail-in ballots for weeks.
Instead of McConnell or Treasury Secretary Steven Mnuchin, who has previously cut several deals with Democrats, Trump's lead negotiator for this round is Meadows, the former House Freedom Caucus chairman who has had more experience in government shutdown confrontations than in cutting major bipartisan deals.
Senate Appropriations Chairman Richard Shelby (R-Ala.) praised Meadows for being engaged with lawmakers but noted his inexperience in such talks. "This is his first deal," Shelby said.
Meadows initially proposed a stripped-down plan tying unemployment and school aid while negotiations continued, but Democrats are insisting on a bigger plan that they say meets the moment. In turn, he has floated potential executive actions Trump could take on his own if the talks break down. Read more from Steven T. Dennis.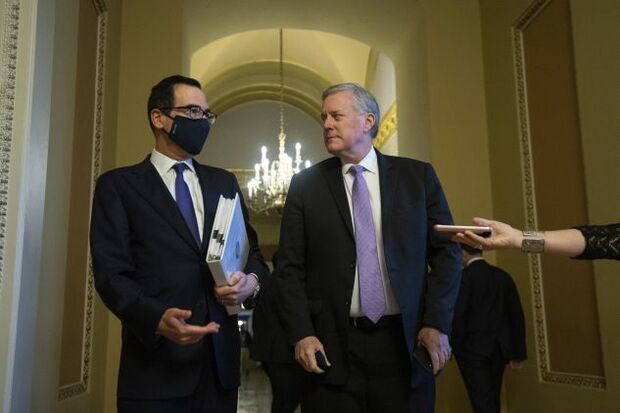 Cotton Seeks to Block China-Tied Firms From Aid: Sen. Tom Cotton (R-Ark.) has introduced an amendment to Senate Republican stimulus legislation prohibiting any relief funding from "supporting any entity that is under Chinese ownership, control, or influence," according to a statement from Cotton's office. "My amendment would ensure all coronavirus relief funds stay right here in the United States where they're needed the most," he said, Victoria Hodge reports.
U.S. Job Losses Set to Mount: One-fifth of small companies are planning to dismiss workers or have already done so after using up their federal Paycheck Protection Program loans, and nearly half of firms said they will need additional aid over the next year, according to a National Federation of Independent Business survey. Another poll led by Cornell University showed about one in four workers hired back thanks to PPP were told by their employer they may be fired again.
The predicament small business are facing is one of several reasons why the July employment report on Friday, projected to show a 1.5 million gain in payrolls, could be followed by losses in coming months. Half of U.S. states have put reopening on hold, slowing foot traffic anew. Data due this morning from ADP Research Institute will shed more light on the state of small-business employment in July. "What we're getting now is evidence that the recovery is leveling off," Mohamed El-Erian, chief economic adviser at Allianz and a Bloomberg columnist, said on Bloomberg Television last week. "If we don't get fiscal action, then we will go backwards." Read more from Katia Dmitrieva and Olga Kharif.
Politics & Elections
Marshall Defeats Trump Ally Kobach in Kansas: Kansas Republicans backed Rep. Roger Marshall (R-Kan.) in a pivotal Senate primary yesterday over former Kansas Secretary of State Kris Kobach, a polarizing figure Washington Republicans worried could cost them the seat. Marshall was declared the winner by the Associated Press leading Kobach 37% to 26% in the 11-candidate contest with just under half of precincts reporting. Establishment Republicans, but not Trump, had rallied around Marshall in recent weeks amid concern Kobach would win the nomination but prove too toxic for a general election.
Marshall will face Barbara Bollier, a former Republican state legislator who switched parties in 2018 after backing Gov. Laura Kelly, the Democrat who beat Kobach two years ago despite Trump's endorsement and the state's broad base of Republican voters. Read more from Steven T. Dennis.
"Roger loves Kansas and will represent it incredibly well," Trump tweeted this morning. "He has my Complete and Total Endorsement."
MORE RESULTS FROM YESTERDAY'S PRIMARIES:
Meanwhile, The New York City Board of Elections confirmed results in two outstanding Democratic primary races, the New York Times reports. Incumbent Rep. Carolyn Maloney (D-N.Y.), who leads the House Oversight and Reform Committee, won the 12th district race. Councilman Ritchie Torres won the 15th district race. The primary was on June 23, but had not been finalized due to the number of mail-in ballots.
Washington Governor Waits for Opponent: More ballot-counting today will be needed to determine who will challenge incumbent Jay Inslee for governor of Washington. Inslee (D), seeking a third term, had a commanding lead with about 52% of the vote in the state's all-mail primary. The top two candidates will face off in the November general election. After the initial tally, Inslee's closest challenger, police chief Loren Culp (R), had 16.7%. In third place, with 7%, was Joshua Freed (R), former mayor of Seattle suburb Bothell. Read more from Paul Shukovsky.
Biden Plans $280 Million Ad Blitz in the Fall: Democratic nominee Joe Biden's presidential campaign will buy $280 million in advertising time in the fall, almost twice as much as the $151 million Trump has slated so far for the final three months before Election Day. The Democrat's campaign says the advance reservations of ad time will allow it to expand the battlefield to 15 states from the six it's competed in so far.
The spending comes as the Trump campaign is rebooting its own ad strategy, redoubling its negative attacks on Biden, who is leading by more than 7 percentage points in national polls, according to the RealClearPolitics average. He's also ahead in the six states most crucial to Trump's 2016 victory: Arizona, North Carolina, Wisconsin, Pennsylvania, Florida and Michigan. Read more from Gregory Korte.
Climate Hawks Urge Biden to Shun Moderates: Climate-change activists are pressuring Biden to distance himself from former Obama administration advisers they view as either too moderate or too cozy with the fossil fuel industry, a sign of disunity on the eve of the Democratic convention. Groups such as Data for Progress and the Revolving Door Project are building a case against some people advising the Democratic presidential nominee, such as former Energy Secretary Ernest Moniz and Obama environment aide Heather Zichal. Both have served on the boards of companies linked to fossil fuels since leaving government.
The effort reflects simmering tension between the party's moderate nominee and progressives whose votes he needs to win. Polls show a lack of enthusiasm for Biden among young voters, something that could be exacerbated by open divisions within the environmental movement. But if climate activists succeed in pulling him to the left it could cost him mainstream support. Read more from Ari Natter and Jennifer A. Dlouhy.
What Else to Know Today
Conservative Judicial Star Faces a Right-Wing Litmus Test: In less than a year and a half since being appointed to the federal appeals court in Washington, Judge Neomi Rao has consistently sided with the White House in politically charged cases, earning her a reputation as Trump's strongest supporter on the bench and fueling talk that he may name her to the Supreme Court if he gets the chance. If Rao were to get that nod, Democrats would be incensed. But her biggest obstacle may be emerging on the right. David Yaffe-Bellany has more.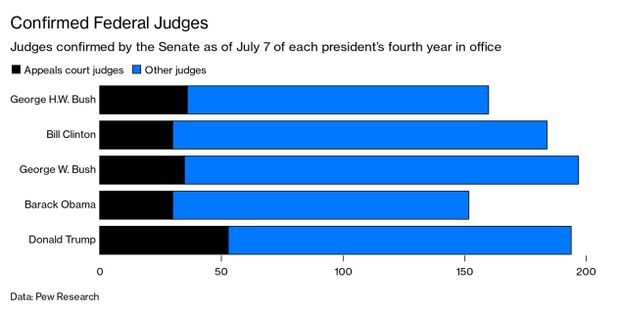 Democrats' Judicial Screening Panels Draw Ire: Top Democratic senators are facing criticism from the left for using screening commissions to vet judicial picks, in what could be the latest casualty of the partisan judicial confirmation wars. Thirty-seven of the Senate's 47 Democrats rely on judicial screening commissions, according to a recent study by liberal think tank People's Policy Project. The commissions have long been a first step in vetting picks that senators forward to the White House. Read more from Madison Alder.
High-Level Trip to Taiwan Challenges China: Health and Human Services Secretary Alex Azar will lead a delegation to Taiwan in the highest-level visit by a U.S. cabinet official since Washington cut ties with Taipei more than 40 years ago. Azar is scheduled to arrive in Taiwan "in the coming days" to discuss the global response to the Covid-19 pandemic, as well as supplies of medical equipment and technology, according to a statement from the Department of Health and Human Services. Azar said he would underscore "our shared belief that free and democratic societies are the best model for protecting and promoting health," according to the statement. Read more from Samson Ellis and Cindy Wang.
U.S., China Plan Trade Deal Review: Senior American and Chinese officials are planning to assess the nations' trade agreement this month against a backdrop of rising tensions between the countries, people briefed on the matter said. The discussion on Phase 1 of the deal, led by Trade Representative Robert Lighthizer and Chinese Vice Premier Liu He, would take place around Aug. 15, six months after the agreement took effect, as directed in the text of the accord, the people said. Read more from Jenny Leonard.
Trump Jr. Opposes Mine His Father Backed: Donald Trump Jr. on Twitter yesterday said he opposes a mining project in Alaska that his father's administration previously supported. Trump Jr. said he "100%" agreed with Vice President Mike Pence's former chief-of-staff Nick Ayers in opposing Pebble Mine, which has deposits of copper, gold, and other metals, saying the nearby Bristol Bay and surrounding fisheries are "too unique and fragile to take any chances with." Read more from Joe Deaux.
Trump Says Bomb May Have Caused Beirut Explosion: Trump said the U.S. military thinks a massive explosion at Lebanon's main port that rocked Beirut may have been caused by an attack. U.S. military officials "seem to think it was an attack. It was a bomb of some kind," Trump told reporters at the White House yesterday "Well, it would seem like it, based on the explosion. I met with some of our great generals and they just seem to feel that it was," Trump said. "This was not some kind of a manufacturing explosion type of event." Read more from Misyrlena Egkolfopoulou.
Army personnel and rescue workers continue to sift through mountains of rubble from the massive explosion, looking for survivors from the blast. Lebanese authorities appealed to other countries for emergency aid as concerns over food supply in the import-dependent nation mounted. Officials blamed highly explosive materials equivalent to 1,800 tons of TNT that had been stored at the port for years, without saying what triggered the blast. Dana Khraiche has the latest.
U.S. Continues Backing Guaido, Envoy Says: The rightful leader of Venezuela is opposition leader Juan Guaido, and he'll continue to have the support of the U.S. after Jan. 5, Special Envoy for Venezuela Elliott Abrams said to members of the Senate Foreign Relations Committee yesterday, Daniel Flatley and Jameelah Robinson report.
FBI Raids U.S. Firm With Ties to Ukrainian Oligarch: A U.S. company affiliated with the Ukrainian oligarch Igor Kolomoisky that's been accused of participating in an international fraud scheme was raided yesterday by the FBI in two locations. Read more from Stephanie Baker and Greg Farrell.
To contact the reporters on this story: Zachary Sherwood in Washington at zsherwood@bgov.com; Brandon Lee in Washington at blee@bgov.com
To contact the editors responsible for this story: Giuseppe Macri at gmacri@bgov.com; Loren Duggan at lduggan@bgov.com; Michaela Ross at mross@bgov.com
Stay informed with more news like this – from the largest team of reporters on Capitol Hill – subscribe to Bloomberg Government today. Learn more.