What to Know in Washington: Stimulus Plan Enters 3-Week Dash
Democrats begin the final push for their $1.9 trillion stimulus bill this week, dropping any pretense of bipartisanship to quickly pass the package before an earlier round of benefits runs out.
This will be the first real test for Democrats' full control of government since former President Donald Trump's impeachment trial, with implications for the rest of President Joe Biden's agenda and the pandemic-battered economy. The House plans to vote as soon as Friday on Democrats' stimulus package, setting up a Senate vote as soon as next week.
Resolving the final hurdles, especially disagreement among Senate Democrats about a provision phasing in a $15 per hour federal minimum wage, would clear the way for Biden to give his first address to a joint session of Congress in March outlining his next policy goals, including a multi-trillion dollar infrastructure bill.
In public, the focus will be on the House this week with a Budget Committee vote today and a floor vote on the bill as soon as Friday. The content of the bill is mostly locked in — the Budget Committee isn't even allowed to make substantive changes — and there's no sign of a rebellion by the few remaining Democratic deficit hawks imperiling the bill on the floor.
The real action will be behind closed doors in the Senate, where Democratic leaders are hammering out the changes needed to get all 50 Senate Democrats and independents on board. Read more from Erik Wasson and Laura Davison.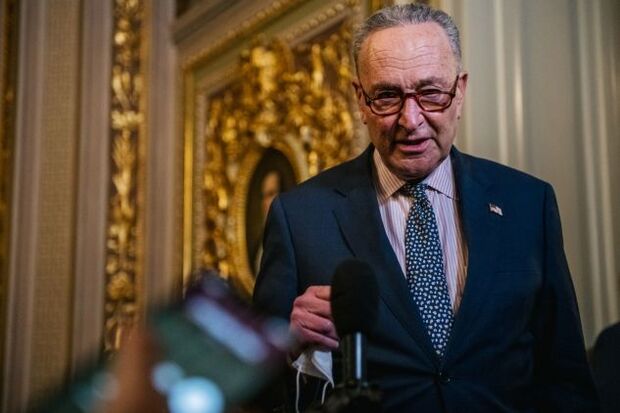 The stimulus effort hit a hurdle this weekend after the Congressional Budget Office said the bill slightly exceeds $1.9 trillion, which will force Democrats to make trims before that bill can pass the Senate. In order to comply with reconciliation rules, the aid package can't exceed $1.889 trillion to deficits over 10 years. Read more from Erik Wasson.
Next Package Takes Shape: The next phase of Biden's legislative agenda is already taking shape, with an economic-recovery package that will potentially far surpass the $1.9 trillion virus-relief plan in size, complexity and overall ambition. The White House and congressional Democrats have been busy plotting strategy for the proposal, which could be unveiled next month, kicking off a legislative process that may culminate by August.
The centerpiece will be possibly the biggest infrastructure-spending commitment since the New Deal, including roads, bridges, and rural broadband internet. Progressives are seeking much more, including an expansion of Obamacare and a public-sector jobs program, along with tax measures including an increase in the capital-gains levy. But stuffing it with too many controversial proposals could threaten its approval or force it to be broken up—and put in peril the Democrats' narrow majorities in 2022's midterm elections. Still, Democrats see a narrow opening to forge Biden's legacy: not just restoring the American economy to its pre-pandemic state, but reversing the trend of sluggish growth in recent years with the most far-reaching measures in decades. Read more from Christopher Condon and Erik Wasson.
Biden's Nominees Face Lawmakers
Garland Vows to Prosecute 'Heinous' Jan. 6 Assault: Merrick Garland, Biden's nominee for attorney general, pledged to take the lead in prosecuting participants in the violent mob that laid siege to the Capitol. "If confirmed, I will supervise the prosecution of white supremacists and others who stormed the Capitol on Jan. 6," Garland said in opening remarks prepared for a confirmation hearing today before the Senate Judiciary Committee. Chris Strohm has more.
Haaland Draws GOP Ire Over Opposition to Fracking: Interior Secretary-designate Deb Haaland's (D-N.M.) opposition to fracking, early endorsement of the Green New Deal and participation in protests against an oil pipeline in South Dakota have made her one of Biden's most controversial cabinet nominees. Haaland will face questions about those and other positions during a confirmation hearing tomorrow, with some Republicans already warning she's unlikely to get their support. Read more from Jennifer A. Dlouhy.
Becerra to Clash With Religious Right: Xavier Becerra will be a lightning rod for the religious right if he's confirmed to lead the Department of Health and Human Services. Faith-based advocacy groups are bracing for Biden's HHS to reverse course on controversial steps the Trump administration took to protect, and expand, religious liberties. Under Becerra, the office is expected to walk back rules barring federally funded providers from referring women for abortions. The Senate Health, Education, Labor and Pensions Committee holds a confirmation hearing on Becerra tomorrow, while the Finance Committee holds its hearing on Wednesday. Read more from Lydia Wheeler.
Biden Stands Behind Tanden: Biden said he won't pull his nomination of Neera Tanden for budget director after Sen. Joe Manchin (D-W.Va.) announced he would oppose her. "I think we're going to find the votes to get her confirmed," Biden said at Joint Base Andrews on Friday. Tanden likely cannot afford to lose any of the 50 Democrats and independents in the Senate amid what is anticipated to be strong Republican opposition over some of her caustic social-media postings. Sen. Susan Collins (R-Maine) issued a statement this morning saying she would vote against Tanden's confirmation. The Senate Budget Committee plans to vote on whether to advance Tanden on Wednesday. Read more from Jennifer Epstein and Erik Wasson.
Democrats Want Rosenworcel as FCC Nominee: House Democrats led by California Reps. Anna Eshoo and Jackie Speier are calling for the White House to nominate acting FCC Chairwoman Jessica Rosenworcel to permanently fill the role, Rebecca Kern reports. Eshoo, Speier, and 31 other Democratic congresswomen, in a letter today to White House Chief of Staff Ronald Klain are urging the Biden administration to formally nominate Rosenworcel to be chair, which would make her the first woman to ever permanently lead the Federal Communications Commission in its nearly 90-year history.
The Coronavirus Pandemic
Fauci 'Stunning' Toll of 500,000 U.S. Covid Deaths: The top U.S. infectious diseases specialist says the U.S. isn't out of the "stunning" coronavirus pandemic, even as cases fall sharply and vaccinations expand, though "normality" may be at hand by year-end. Anthony Fauci, director of the National Institute of Allergy and Infectious Diseases, spoke as the U.S. was on the verge of a milestone few imagined when the first coronavirus cases were diagnosed just a year ago: 500,000 deaths. Read more from Ros Krasny.
A month after U.S. vaccination campaigns ramped up to give Covid-19 shots to more than a million people a day, their second doses are coming due, straining rollouts in states and leaving some without complete immunizations. Read more from John Tozzi.
Biden Aides Continue to Drive for School Reopenings by April: Top Biden administration officials insisted yesterday that K-8 schools can safely reopen by April, even without requiring all teachers to be vaccinated first, as some states make educators a priority for Covid-19 shots. Read more from Laura Litvan.
Piecemeal Push to Find Covid Variants: U.S. efforts to detect dangerous, fast-moving Covid-19 mutations that are already bedeviling states remain slim and disconnected as the Biden administration seeks to speed up the process. Read more from Jill R. Shah.
Opioid Epidemic Worsens Amid Coronavirus: The opioid epidemic has been eclipsed in the public consciousness by Covid-19, but it hasn't abated. The coronavirus has only exacerbated the crisis, piling stress and grief on top of substance-abuse problems and jeopardizing hopes of recovering. People are "living in tents because they lost their spot in sober homes because they lost their job," said Charlotte Bismuth, a former New York assistant district attorney. "It's so much worse than it was when Covid began."
Drug overdoses of all kinds killed 84,000 people in the U.S. from August 2019 to July 2020. That is 23% more than in the previous 12-month span, and the highest number of overdose deaths ever seen in a single year. Opioids accounted for over 61,000, or 73%, of those deaths. Valerie Bauman and Ian Lopez have more.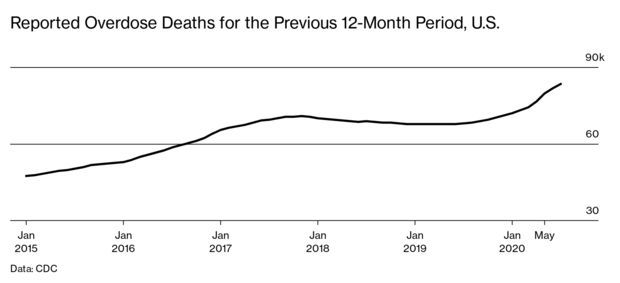 Around the Administration
Biden Deems Texas Major Disaster: Biden approved a major disaster declaration for Texas, which will expedite federal funding for a state wracked with widespread power outages after a rare arctic blast last week. Separately, the Environmental Protection Agency approved fuel waivers for the state to prevent gasoline shortages, following blackouts this week that killed dozens. The major disaster declaration also provides a range of federal assistance programs, including funds for emergency and permanent work, FEMA says. Read more from Ari Natter.
Rep.

Alexandria Ocasio-Cortez

(D-N.Y.) visited the Houston Food Bank on Saturday in support of her fundraising efforts for Texas storm aid, saying the winter disaster had pushed many to the brink. Read more from Jasmina Kelemen.
White House Will Give Small Firms Two-Week Exclusive PPP Access: The Biden administration will give exclusive access to the Paycheck Protection Program to the nation's smallest businesses for two weeks as part of a broader effort to steer federal aid to the most vulnerable parts of the economy. From Feb. 24 through March 9, only businesses with fewer than 20 employees will be able to apply for relief through the program, a senior administration official said. Read more from Mario Parker, Mark Niquette and Laura Davison.
Alabama Space Command Scrutiny: Defense Secretary Lloyd Austin will let stand an eleventh-hour Trump administration decision to locate the U.S. Space Command in Alabama, despite claims of political interference from other states vying for the headquarters. Austin supports a Jan. 13 announcement by the Air Force that it prefers to put the new command in Huntsville, moving it from its temporary home in Colorado Springs, Colo., by mid-decade, Pentagon spokesman John Kirby said in a statement. The Defense Department's inspector general said Friday it would review the military's basis for choosing the site. Read more from Travis J. Tritten.
U.S. Says 'Ball in Iran's Court' on Nuclear Deal: A standoff between Tehran and Washington deepened yesterday over reviving the nuclear deal, days before Iran is set to halt international inspections of its atomic activities. Iran repeated that it won't discuss the beleaguered accord with the White House until the U.S. officially rejoins the deal and ends Trump-era sanctions on Iran's economy. Read more from Arsalan Shahla and Golnar Motevalli.
The Biden administration is also in contact with Iran to demand the release of Americans held in the country, an issue that'll help determine future relations between the nations, U.S. National Security Adviser Jake Sullivan said. Read more from Tony Czuczka.
U.S. Singles Out Russian Ship for Nord Stream Penalty: The Biden administration singled out a Russian ship for violating U.S. prohibitions on constructing the Nord Stream 2 pipeline from Russia to Germany, clearing a path for a new round of sanctions as part of its effort to stop the nearly-completed project. In a report released late Friday, the U.S. cited the vessel, the Fortuna, and its owner, KVT-RUS. Read more from Nick Wadhams.
Trudeau, Biden to Meet Virtually Tomorrow: Canadian Prime Minister Justin Trudeau and Biden will meet virtually tomorrow, following up on a phone call the leaders held days after Biden's inauguration. The meeting will focus on ending the coronavirus pandemic, growing the middle class and fighting climate change, Trudeau said in a tweet. Read more from Cara Moffat and Kait Bolongaro.
To contact the reporters on this story: Zachary Sherwood in Washington at zsherwood@bgov.com; Brandon Lee in Washington at blee@bgov.com
To contact the editors responsible for this story: Giuseppe Macri at gmacri@bgov.com; Loren Duggan at lduggan@bgov.com; Michaela Ross at mross@bgov.com