What to Know in Washington: Stimulus Optimism is On the Rise
Prospects for a pandemic relief package before the end of the year grew substantially as senior Republicans warmed to the idea of using a $908 billion proposal from a bipartisan group of lawmakers as the basis for a deal.
The plan outlined by Republican and Democratic lawmakers in the House and Senate has emerged as the first real chance for a compromise that has eluded party leaders and the White House for months.
Senate Majority Leader Mitch McConnell (R-Ky.) hasn't publicly thrown his support behind the plan, after having won President Donald Trump's backing for his own, narrower proposal. That stance risks leaving him increasingly isolated as support shifts among Republicans eager to get some kind of agreement.
Speaker Nancy Pelosi (D-Calif.) and Senate Minority Leader Chuck Schumer (D-N.Y.) have already endorsed using the bipartisan proposal in negotiations. Several Republican senators, including Lindsey Graham (S.C.), a close ally of Trump, said yesterday that it contained elements for an agreement.
Graham said he pitched it to the president, whose support would be crucial to get more Republicans on board. "The president is of the mindset that we need relief sooner rather than later, and that the package that's being talked about is well in the ballpark of what he would support if it had the right policy provisions," said Graham, who was at the White House for an event yesterday. "If the president came out for it, you'd have a large number of Republicans and Democrats vote for it."
Trump earlier in the day backed McConnell's efforts, saying "they're getting very close to a deal," but made no direct mention of the bipartisan proposal.
That plan hasn't yet been turned into legislative text — that won't be finished until next week — and an agreement will hinge on details that have hung up a deal in the past. Those include magnitude of aid to state and local governments, which many Republicans have opposed, and a Covid-19 related liability shield for employers, which Democrats have called a poison pill. Read more from Erik Wasson, Laura Litvan and Billy House.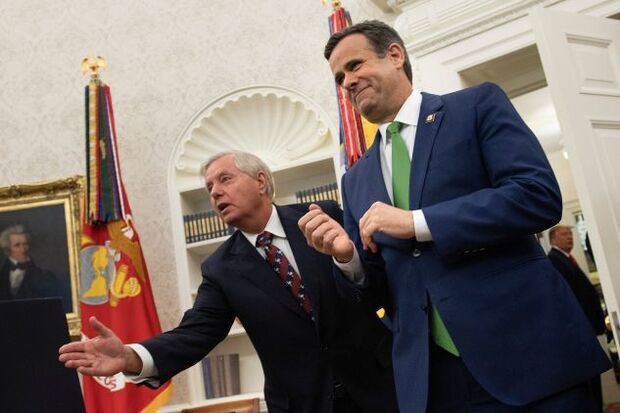 How the Plans Stack Up: The bipartisan $908 billion stimulus proposal differs from a smaller-scale GOP plan in ways going beyond size. Neither has been released in its entirety, but their draft outlines show the bipartisan version offers $35 billion for hospital aid, while McConnell's offering provides none. McConnell's bill however dedicates more for vaccines, at $31 billion compared with the bipartisan package's $16 billion. Read a full breakdown by Erik Wasson.
Also Happening on the Hill
Defense Bill Moves Toward Vote: Congress is poised next week to consider a $740.5 billion defense policy bill that would boost funding authorizations for submarines and fighter aircraft while seeking to curb racism and discrimination in the military. The House and Senate armed services committees yesterday filed the conference report to the fiscal 2021 defense authorization measure. The House could hold a floor vote as early as Tuesday, according to one senior aide who asked not be named because the schedule isn't official. The Senate is likely to follow suit shortly after.
The legislation is expected to pass despite veto threats from Trump, who's demanding that it include a provision abolishing a law that protects technology companies from liability over most user-generated content. Trump also opposes a provision in the measure to rename military bases that honor Confederate generals. Overall, the bill would authorize $732 billion in discretionary spending for national defense, including $69 billion for overseas contingency operations. Roxana Tiron and Travis J. Tritten take a look at what's in the final bill.
Scott to be First Black Agriculture Chair in House: Rep. David Scott (Ga.) will make history as the first Black chairman of the House Agriculture Committee, following a vote yesterday by the Democratic caucus. One of the panel's senior party members, Scott is set to take over for Chairman Collin Peterson (Minn.) who lost his re-election. Scott listed one of his main focuses as confronting inequities in agriculture, saying more supportive financing and opportunities for young and beginning producers, along with farmers of color, would be steps forward. Read more from Megan Boyanton.
House Democrats' decision yesterday to select Rep. Rosa DeLauro (D-Conn.) to lead the Appropriations Committee lends clarity to the musical chairs of the subcommittee chairmanships. Read more from Jack Fitzpatrick.
Bill Ending Per-Country Visa Caps Faces Uncertainty: While the Senate this week passed a long debated rule to end per country caps on employment-based green cards, the bill's path to implementation is uncertain at best. The Fairness for High-Skilled Immigrants Act may be one of the only immigration measures to make it through the chamber this year, as multiple prior attempts failed over the last 18 months. But the bill's final version carries amendments that may sink its chances for reconciliation with the House version, passed in July 2019. Read more from Genevieve Douglas.
Pentagon Delays Answers on Border Wall: The Pentagon's inspector general complained Defense Department attorneys are slow-walking an 11-month-old request to turn over executive branch emails on a $400 million border wall contract awarded to a construction company tied to the Trump administration. The slow review process has "significantly delayed our access to the requested information," acting Inspector General Sean O'Donnell wrote in his office's semiannual report to Congress. "Without the requested e-mails and other related information, we cannot complete our oversight work." Read more from Tony Capaccio.
IRS Pressed to Resolve Stimulus Check Issues: Two top House Ways and Means Democrats want the IRS to resolve outstanding issues with economic impact payments by the end of the year. Chairman Richard Neal (D-Mass.) and Bill Pascrell (D-N.J.), chairman of the Ways and Means Oversight Subcommittee, urged IRS Commissioner Chuck Rettig to keep open an EIP mailbox, used to submit inquiries from constituents, until the next filing season. Read more from Kaustuv Basu.
Super-PAC Spending Jumps in Georgia: Blackstone Group co-founder Stephen Schwarzman and Citadel founder Ken Griffin led the big donors pouring post-Election Day money into a super-PAC that supports Republican senators. The Senate Leadership Fund, which has ties to McConnell, raised $104.2 million between Oct. 15 and Nov. 23, according to its latest filing with the Federal Election Commission, including $71.1 million donated after the Nov. 3 general election. Two runoff elections in Georgia that will determine control of the Senate are driving the donations. Read more from Bill Allison.
The Biden Administration
Biden, Harris Vow to Keep DOJ Independent: Biden and Vice President-elect Kamala Harris declared the Justice Department in their administration would operate independently of the White House. "We will not tell the Justice Department how to do its job," Harris said in a joint interview with CNN yesterday, adding that the Biden White House would assume "that any decision coming out of the Justice Department, in particular the United States Department of Justice, should be based on facts, should be based on the law, should not be influenced by politics. Period." Biden chimed in, "I guarantee you that that's how it will be run." Read more from Ryan Teague Beckwith and Jennifer Jacobs.
Biden Says He Hopes Trump Will Attend Inauguration: Biden said he hoped Trump would come to his inauguration in January because the peaceful transfer of power in the U.S. sends a message of strength and stability to the rest of the world. Biden added in the interview with CNN it was unimportant to him personally whether Trump shows up or not, but that showcasing two formal rivals, standing together as one takes office is a key part of American democracy. "More than the impact on the domestic politics, I really worry about the image we're presenting to the rest of the world," he said in the joint interview with Harris. "The rest of the world looked at us, and you've heard me say this a number of times, they followed us not just for the example of our power, they followed us for the power of our example." Read more from Magan Crane.
Schumer Backs Nichols to Lead EPA: Schumer is urging Biden to nominate Mary Nichols to lead the Environmental Protection Agency, a sign of his confidence the California air pollution regulator may be confirmed by the tightly divided chamber. Schumer recently recommended Nichols to the Biden transition team, two people familiar with the conversations said. Jennifer Dlouhy and Steven T. Dennis have more.
HHS Secretary Hunt Hits Reset: Biden's hunt for a health secretary is poised for a reset after one governor publicly took herself out of the running and another was said to have tested the patience of the president-elect's advisers. The flurry of developments yesterday left no apparent front-runner for the position, which will carry particular weight for Biden as he pledges to curb the raging pandemic and smoothly distribute a vaccine. The top candidates to lead the Department of Health and Human Services were said to have included New Mexico Gov. Michelle Lujan Grisham, Rhode Island Gov. Gina Raimondo and Vivek Murthy, a co-chairman of Biden's coronavirus advisory board.
The Biden camp has picked Murthy for surgeon general, a role that would be expanded to include helping to manage the U.S. government response to the coronavirus, according to people familiar with the process. Lujan Grisham was offered the role of Interior secretary but turned it down and said she was more passionate about leading HHS, a person close to the transition said. Raimondo, meanwhile, announced she didn't want the job. Read more from Josh Wingrove, Jennifer Epstein and Alex Ruoff.
Biden Says He'll Ask for Mask-Wearing for 100 Days: Biden said he would ask all Americans to wear a mask to prevent the spread of the coronavirus for the first 100 days as president, as well as issue a "standing order" requiring face coverings in federal buildings and on interstate transportation. He said he would order masks "where the federal government has authority." Read more from Gregory Korte and Jordan Fabian.
Biden's Medicaid Push to Make States Get Creative: Food security, affordable housing, and other social needs could become a focus of the Biden administration as it works with states to shore up health coverage for low-income people. The new HHS will likely encourage states to expand Medicaid eligibility, while also using the program to offer non-medical benefits aimed at improving enrollees' overall health, according to policy analysts. Read more from Christopher Brown.
Iran Says It Won't Renegotiate Nuclear Deal: Iran will not renegotiate the nuclear accord it reached with world powers, its foreign minister said, drawing a line in the sand before Biden's inauguration. By walking out of an accord anchored in a United Nations resolution, the U.S. is not in a position to impose conditions, Mohammad Javad Zarif told a virtual Rome conference on foreign affairs. Read more from John Follain, Golnar Motevalli and Patrick Sykes.
The Coronavirus Pandemic
Pfizer Scaled Back Vaccine Output Targets: Pfizer scaled back its vaccine production targets earlier this year, after the drugmaker ran into difficulties securing all the materials it needs to produce the shots at a large scale. In news releases through September, Pfizer said it aimed to manufacture up to 100 million doses in 2020. But in several releases in November, the company, which is producing the vaccine candidate with Germany's BioNTech, cut that to an estimate of up to 50 million doses.
A Pfizer spokesperson said in a statement yesterday multiple factors slowed the company down, including the time it took to source large quantities of raw materials needed to produce the shots. But the company said it has finished bringing its manufacturing up to scale and it is now producing vaccines at a faster pace. "Scaling up a vaccine at this pace is unprecedented," company spokeswoman Amy Rose said. But "we have made significant progress." Read more from Robert Langreth.
Private Gathering Rules Fail to Curb Spread: Governors and mayors are cracking down on schools, restaurants, gyms, nursing homes, places of worship, and more. But enforcement is proving virtually useless in Americans' homes, where some leaders say hang-out culture is a major source of transmission. Even proponents of the strictest distancing rules acknowledge that rules against having visitors on private property carry little weight against constitutional rights. But that hasn't stopped Los Angeles Mayor Eric Garcetti (D) from threatening jail time this week for people who do. Elise Young and David R. Baker have more.
Facebook to Remove Vaccine Misinformation: With vaccines against Covid-19 on the verge of being rolled out around the world, Facebook said it will begin removing false claims about the immunizations that have been debunked by public health experts. The move announced yesterday adds to Facebook's policies of taking down misinformation about the deadly virus that could lead to imminent physical harm. Read more from Molly Schuetz.
What Else to Know Today
Trump, RNC Raise $207 Million Since Loss: Trump and the Republican National Committee raised $207.5 million since the November election, his campaign said in an emailed statement yesterday. The fundraising total includes money raised by the Trump campaign, the RNC, two joint committees and Trump's new political action committee, "Save America," it said. Trump has continued to raise money furiously in emailed pitches, maintaining his unsubstantiated claims of fraud in the November election. Read more from Mario Parker.
Farah Exits in Bow to Trump's Loss: Alyssa Farah resigned as White House communications director yesterday, in one of the first high-profile staff departures since Trump's defeat in the November election. Farah said in a statement she is leaving her post in order to "pursue new opportunities" but did not describe her next steps in detail. Her last day is today, according to a White House official. Read more from Jordan Fabian.
U.S. Tags More Chinese Firms as Military-Led: The Department of Defense expanded a list of Chinese companies it says are owned or controlled by the Chinese military, exposing them to increased scrutiny and possible sanctions by the U.S. The companies added to the list, sent in a report to Congress, are China National Offshore Oil Corp., Semiconductor Manufacturing International Corp., China Construction Technology Co., and China International Engineering Consulting Corp., according to a person familiar with the list. Read more from Tony Capaccio.
Secretary of State Michael Pompeo accused Hong Kong of using the courts to engage in "political persecution" after prominent activists were detained and a former opposition lawmaker fled to Europe. Pompeo said in a statement yesterday that the decisions to sentence activists including Joshua Wong to jail while denying bail to billionaire media mogul Jimmy Lai violated fundamental rights guaranteed by the treaty allowing the former British colony's return to China in 1997. He said the U.S. would work with its allies to defend such freedoms, something the incoming administration of Joe Biden has also pledged to do. Read more from Kari Lindberg.
U.S., Ecuador to Sign Precursor to Trade Deal: The U.S. and Ecuador will sign a preliminary pact to formalize negotiations for free-trade next week, Trade and Production Minister Ivan Ontaneda said yesterday. U.S. Trade Representative Robert Lighthizer will travel to Quito on Dec. 8 to sign on behalf of Trump's administration, with Ecuadorian President Lenin Moreno as a witness, Ontaneda said. He said Ecuador would like to see the full deal modeled on the USMCA. Read more from Stephan Kueffner.
Qatar Sees Movement on Ending Gulf Rift: Qatar's foreign minister said today there was movement to end a rift that's divided the Gulf Arab region for more than three years but he couldn't predict if a deal was imminent. "We are hopeful that things will move in the right direction right now," Mohammed Bin Abdulrahman Al Thani said in a virtual interview as part of the Mediterranean Dialogues conference. "We cannot predict whether it's going to be imminent and it's going to resolve the whole issue in one day." The comments are the first official word from a senior Gulf dignitary since reports emerged this week that a diplomatic push led by the U.S. and Kuwait was nearing success. Read more from Simone Foxman.
Editor's Note: Friday's What to Know in Washington corrected Citadel founder Ken Griffin's title.
To contact the reporters on this story: Zachary Sherwood in Washington at zsherwood@bgov.com; Brandon Lee in Washington at blee@bgov.com
To contact the editors responsible for this story: Giuseppe Macri at gmacri@bgov.com; Loren Duggan at lduggan@bgov.com; Michaela Ross at mross@bgov.com