What to Know in Washington: Stimulus Nears Election Endgame
After months of on-again, off-again talks on an increasingly needed fiscal-stimulus package, today is shaping up as a do-or-die moment for Treasury Secretary Steven Mnuchin and Speaker Nancy Pelosi (D-Calif.) to get a virus relief deal done in time for Election Day.
With Mnuchin phoning in from a Middle East trip, he and Pelosi will make one more effort to patch up differences between the White House and Democrats on a welter of issues that have prevented agreement since talks began in July.
"We'll see what tomorrow will bring," Pelosi said on MSNBC last night. "Let's make a judgment. We may not like this, we may not like that. But let's see on balance if we can go forward."
Her spokesman Drew Hammill said earlier on Twitter that "the Speaker continues to hope that, by the end of the day Tuesday, we will have clarity on whether we will be able to pass a bill before the election."
Neither Pelosi, in a call with House colleagues yesterday, nor President Donald Trump, in a campaign appearance in Arizona, telegraphed that a deal is looming. Pelosi again listed a divide in principles on how to deploy stimulus money, while Trump again charged the speaker with holding back from agreement to gain an electoral advantage.
Areas of division include the scale of assistance to state and local authorities, tax credits Democrats want for lower-income families, liability protections that Republicans are pushing but Democrats oppose, and a repeal of a credit for past business-tax losses that Republicans want to keep.
One potential, unintended beneficiary of the lack of any deal could be Senate Republicans who have opposed the $1.8 trillion-or-more size proposed by the White House. Voting against a bill would showcase a split in the GOP days before Nov. 3.
Senate Republicans today will attempt to proceed with one of two planned votes on smaller-scale stimulus efforts that both the Trump administration and the House Democratic majority oppose. Read more from Billy House and Erik Wasson.
Read more: State Relief Funds Have Raised $8.5 Billion For Small Businesses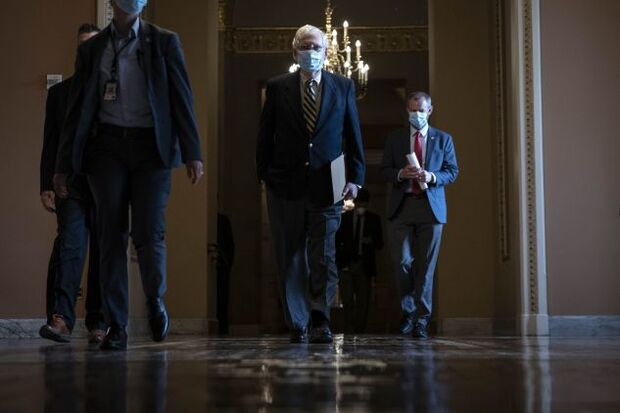 HHS Rejects States' Plea for Vaccine Help: States have enough money to distribute a future Covid-19 vaccine, HHS Secretary Alex Azar said yesterday, contradicting his own CDC head and state officials.
States "do not have a need for additional funding for the rollout of the vaccine program. They actually have received funding for this. They have plenty of resources to manage the vaccine distribution program," Azar said at a Milken Institute event.
State health officials stressed the need for more federal funds on a call earlier yesterday hosted by the Association of State and Territorial Health Officials. The federal government needs an additional $5.5 billion to $6 billion to distribute a Covid-19 vaccine once one is approved, Centers for Disease Control and Prevention Director Robert Redfield told a Senate panel in September. Read more from Shira Stein and Angelica LaVito.
What to Watch in Congress
Senate: The Senate is slated to meet at noon. The pending business will be the nomination of Michael Newman to be a federal district court judge for the Southern District of Ohio. No votes are set.
Senate Majority Leader Mitch McConnell (R-Ky.) said the Senate today will vote on a measure to provide more funding for the Paycheck Protection Program, but did not set a time for the vote.
McConnell also filed for cloture, or to limit debate, on a motion to concur with an amendment in relation to the House message to accompany S. 178, the vehicle for a $500 billion stimulus bill. McConnell said a vote on that stimulus package will occur tomorrow.
House: The House meets at 9 a.m. for a pro forma session.
Senate Panel Prepares Tech CEO Subpoenas: The Senate Judiciary Committee is preparing to subpoena Mark Zuckerberg and Jack Dorsey, panel chairman Sen. Lindsey Graham (R-S.C.) announced yesterday. GOP senators sought the Facebook and Twitter CEOs, who are also due to testify before the Senate Commerce Committee on Oct. 28, after the companies moved to curb the spread of a New York Post story on Democratic presidential nominee Joe Biden. Judiciary committee staff are discussing voluntary appearances, added Graham, but Zuckerberg and Dorsey will face a panel vote on the subpoenas if the two sides can't agree to the testimony. Read more from Ben Brody.
Senate Chair Wants Turkey Sanctions: Senate Foreign Relations Chairman Jim Risch (R-Idaho) said additional sanctions against Turkey for testing the Russian-made S400 missile system are at the top of his list after the presidential election. Risch and the panel's top Democrat, Sen. Bob Menendez (N.J.), have a bill that would require the president to impose sanctions on Turkey for using the system. Even if Republicans lose control of the Senate in the Nov. 3 election, the party retains control of the chamber in a "lame duck" session through the end of the year. Read more from Daniel Flatley.
Senate Declines to Nullify Trump Community Reinvestment Act Rule: The Senate yesterday in a 43 to 48 vote rejected a resolution of disapproval of the Office of the Comptroller of the Currency's update to Community Reinvestment Act regulations. The resolution, passed by the House in June, would have nullified a rule published by the bank regulator the same month that, among other things, would have set new procedures for determining if bank activities contributed to serving the credit needs of low-and moderate-income communities. Critics said the rule will lead to discrimination against lower income neighborhoods, often populated by people of color.
"In the middle of a pandemic disproportionately harming Black and brown communities, Trump's OCC unilaterally rewrote the CRA," Sherrod Brown (D-Ohio), the top Democrat on the Senate Banking, Housing and Urban Affairs Committee, said in prepared remarks. The OCC "ignored the thousands of civil rights groups and local nonprofits and banks who all told them their plan just wouldn't work for low- and moderate-income communities."
BGOV Bill Summary: H. J. Res. 90, Block Community Loans Rule
Elections & Politics
BGOV's Races to Watch Election Webinar: Join Bloomberg Government on Thursday at 1 p.m. for an election webinar on Nov. 3's biggest House and Senate races to watch. Bloomberg Government senior reporter Greg Giroux will discuss the current state of Congress, the evolving landscape in Washington, and more. Register here.
Can Biden Can Get NJ-NY Tunnel on Track? Amtrak supporters are counting on Joe Biden to deliver a long-sought victory on a rail tunnel between New York City and New Jersey that they say is pivotal to meeting passenger demand in the busy northeastern U.S. The tunnel, with an estimated cost of more than $11 billion, would carry Amtrak and New Jersey Transit commuter trains under the Hudson River as part of the Gateway Program. Supporters say the project has languished amid feuding between Trump and Democratic governors in New York and New Jersey — though the administration says it is working to complete an environmental review. Read more from Keith Laing.
Biden, Trump May Be Muted at Final Debate: Trump and Biden will have their microphones turned off during parts of the final presidential debate on Thursday, the Commission on Presidential Debates said last night. Each candidate will have an uninterrupted two minutes to speak at the beginning of each of the six 15-minute segments of the debate at Belmont University in Nashville. Both candidates' mics will then be turned on for "a period of open discussion" in the segment's remaining time, the commission said in a statement.
Bill Stepien, Trump's campaign manager, said in a statement that the president had agreed to the conditions, but he repeated an unfounded claim that the nonpartisan commission is biased in Biden's favor. Read more from Jennifer Epstein.
Related: Trump Campaign Urges Change in Debate Topics But Not Rules
Trump Fundraisers Spend 77 Cents to Bring in $1: Trump's campaign found it harder to raise money from small-dollar donors in the final months before the election, spending 77 cents of each dollar it received in the third quarter on future fundraising efforts, according to federal disclosures that highlighted the funding gap with Biden. Over the last three months, TMAGA paid $181 million of the $235.7 million it raised from small donors to vendors for more fundraising expenses, the organization's latest filing with the Federal Election Commission shows. Read more from Bill Allison and Misyrlena Egkolfopoulou.
In an unusual political statement from one of the world's largest oil producers, Exxon Mobil posted on Twitter last night to clarify that it never spoke with Trump about a contribution to his campaign. Exxon's tweet came hours after Trump boasted at a rally that he could call a company in need of some permits — the head of Exxon for example — and easily get a $25 million contribution. But he wouldn't do that, Trump said, because he'd be "totally compromised." Read more from Lynn Doan.
Georgia's Early Vote Soars 142%: The record-smashing crowds casting ballots early in battleground Georgia owe their size at least in part to people changing their minds about voting by mail after Trump and other Republicans spent months criticizing the method. In the first eight days of voting, nearly 1.7 million Georgians voted absentee or in-person, a 142% increase from the same period in the 2016 race, state data show. Of those, more than 980,000 voted in person. Read more from Margaret Newkirk.
Split High Court Rejects Pennsylvania GOP: An evenly divided U.S. Supreme Court allowed a three-day extension for the receipt of mail-in ballots in Pennsylvania, giving Democrats a boost in a state that could determine the presidential election. The justices, voting 4-4 and giving no explanation, rejected a Republican bid to reinstate the state's requirement that ballots arrive by 8 p.m. on Election Day, Nov. 3. Read more from Greg Stohr.
Texas Rule on Mail Ballot Signatures Upheld: A federal appeals court ruled that the state doesn't have to notify voters when local election officials reject mail ballots, in a setback for voting-rights activists. The verdict by the 5th U.S. Circuit Court of Appeals blocked a judge's order requiring Texas to give all voters the chance to confirm their identities if their ballot is rejected when their signatures don't match what's on file, Laurel Brubaker Calkins reports.
North Carolina Will Toss Certain Absentee Ballots: Absentee ballots in North Carolina that don't have the signature of a witness will be tossed, the state Board of Elections said yesterday. Officials in Raleigh said they were calling on local boards to start notifying voters about problems with their ballots, including missing signatures. Some issues can be resolved if a voter submits a certification, but other problems require the ballot to be destroyed, the board said in a memo. Read more from Andrew M. Ballard.
The Coronavirus Pandemic
Public Trust in a Covid Vaccine Dwindles: Governments and drugmakers have long faced skepticism, and even hostility, from a small but vocal group of anti-vaccination campaigners. In the battle against the coronavirus, they may also run into reluctance from a wider swath of the population—those who normally do take vaccines. Fading trust in governments, political interference and the dash to create a shot in record time are sowing new doubts. Temporary pauses to studies due to unexplained illnesses in volunteers add to the anxiety. Read more from James Paton and Sybilla Gross.
CDC Issues 'Strong' Call for Masks on Airplanes, Trains: The U.S. Centers for Disease Control and Prevention has issued a "strong recommendation" for mask-wearing by both passengers and operators on planes, trains, buses and taxis to prevent the spread of the novel coronavirus. Masks should cover a person's nose and mouth and be worn while traveling in and out of the U.S. as well as within the country, the agency said. Operators should require them for the entire time of travel and deny entry to anyone not wearing one. Read more from Emma Court.
What Else to Know Today
Justices Weigh Fight Over Medicaid Work Rules: The U.S. Supreme Court has to decide whether to give the federal government another shot at greenlighting Medicaid work rules that opponents say will be disastrous for low-income people already struggling during the pandemic. A federal appeals court struck down an Arkansas law that forced people to work, volunteer, or go to school to get Medicaid a month before Covid-19 shuttered businesses across the country. The high court is being asked to step into the dispute at a time when millions of people are flocking to Medicaid after losing their jobs and their employer-sponsored health-care coverage. Read more from Lydia Wheeler.
Patent Office Names Acting Policy Chief: The U.S. Patent and Trademark Office's deputy chief policy officer and senior counsel Mary Critharis will serve as acting chief policy officer and director for international affairs, the agency announced. Critharis started her career at the agency as a patent examiner in 1992 and later worked as an attorney adviser, assistant solicitor and senior patent counsel. Read more from Ian Lopez.
Harvard Fights U.S. Plan to Limit Foreign Student Stay: Harvard University is joining other colleges and higher-education groups in opposing another federal proposal aimed at foreign students, this one limiting the length of stay at U.S. schools to four years or less. The plan is "an inappropriate intrusion into academic matters," Harvard President Lawrence Bacow said in a letter to Sharon Hageman, acting regulatory unit chief of U.S. Immigration and Customs Enforcement. Read more from Janet Lorin.
US Chamber, Universities Sue Over H-1B Rules: Business groups and universities are suing to strike down a pair of rules from the Labor and Homeland Security departments that overhaul the H-1B high-skilled guest worker program. In their complaint, the U.S. Chamber of Commerce, the National Association of Manufacturers, and Cornell and Stanford Universities, among others, claim that "if left unchecked," the rules would "sever the employment relationship of hundreds of thousands of existing employees in the United States, and they would virtually foreclose the hiring of new individuals via the H-1B program." Read more from Genevieve Douglas
Asset Managers' Trade Group Taps Former Regulator: The Investment Company Institute, the leading trade group for the U.S. asset management industry, has tapped a former financial regulator as its new president. Eric Pan, who worked for both the Commodity Futures Trading Commission and the Securities and Exchange Commission before leaving government service last year, will start work at ICI on Nov. 9, the group said in a statement. He will replace Paul Schott Stevens, who is retiring after leading the Washington-based ICI since 2004. Read more from Ben Bain.
Antitrust Reviews of M&A Deals Near Pre-Pandemic Level: Mergers and acquisitions needing federal antitrust reviews are on the rebound following a steep decline at the start of the coronavirus pandemic, the head of the Justice Department's antitrust division said. "We have seen deal flow come down although I would say this past quarter it has come back with a vengeance as far as the number of transactions and the merger filings we are seeing," Makan Delrahim, the assistant attorney general for the DOJ's antitrust division, said yesterday. Read more from Victoria Graham.
DOJ Says Trump Rape-Accuser Suit Similar to Others That Failed: The U.S. Justice Department said there is legal precedent for its unusual request to substitute the government as a defendant in a defamation lawsuit filed by New York advice columnist E. Jean Carroll, who says she was raped by Trump. The department in September moved to substitute the U.S. for Trump in a suit. If the motion is granted, the case will be dismissed because the U.S. can't be sued for defamation. U.S. District Judge Lewis Kaplan in Manhattan will hear arguments on the government motion this week. Read more from Erik Larson.
Minister Says Sudan to Get U.S. Funding: Sudan will receive U.S. financial assistance when the African nation's long-standing designation as a state sponsor of terrorism is lifted, the finance minister said, hours after the Trump administration indicated the step is imminent. Read more from Mohammed Alamin.
To contact the reporters on this story: Zachary Sherwood in Washington at zsherwood@bgov.com; Brandon Lee in Washington at blee@bgov.com
To contact the editors responsible for this story: Giuseppe Macri at gmacri@bgov.com; Loren Duggan at lduggan@bgov.com; Michaela Ross at mross@bgov.com