What to Know in Washington: Stalemated Virus Relief Talks Resume
Bloomberg Government subscribers get the stories like this first. Act now and gain unlimited access to everything you need to know. Learn more.
Talks to break an impasse over a new virus relief package become increasingly urgent this week with millions of jobless Americans left without additional aid, and the Senate scheduled to leave for an extended break on Friday.
Republicans and Democrats remain far apart on some of the biggest sticking points, including extending supplemental unemployment insurance, despite claims of some progress on other issues following a weekend meeting between Speaker Nancy Pelosi (D-Calif.) , Senate Minority Leader Chuck Schumer (D-N.Y.), Treasury Secretary Steven Mnuchin and President Donald Trump's chief of staff, Mark Meadows.
"We'll be meeting again tomorrow," Meadows said yesterday on CBS's "Face the Nation." "But I'm not optimistic that there will be a solution in the very near term."
The two sides are attempting to close the gulf between the $3.5 trillion virus relief package that Democrats passed in the House in May, and the $1 trillion GOP plan that Senate Majority Leader Mitch McConnell (R-Ky.) unveiled last week.
Among the biggest differences is whether to extend the $600 a week in extra unemployment aid that was part of the $2.2 trillion stimulus passed in March. Republicans have proposed cutting that by as much as two-thirds and creating a formula that would replace about 70% of former wages. Democrats want to keep the previous level of support, at least for now.
Mnuchin said on ABC's "This Week" that the administration had proposed a one-week extension of the $600 as a bridge to a longer-term solution while talks continue, and that he was "surprised" Democrats didn't agree to that.
Pelosi, speaking separately on the same program, said Democrats are unified on keeping the supplemental aid at $600 and has said they wont agree to any short-term extension without more progress toward an agreement for a broader package. "We have to have this done," she said in a separate interview on MSNBC. "What are we going to do? Come back to the table in two or three months, again? No."
Republicans argue the $600 payment, on top of state unemployment benefits, creates a disincentive for some workers to return to jobs that would pay them less. "We know factually there are cases where people are overpaid," Meadows said. "There are cases where people are underpaid."
Pelosi said the GOP position amounted to "condescension" toward the unemployed "because they're saying, [people] really don't need it; they're just staying home because they make more money." She suggested the amount of the supplemental benefit could at some point be tied to the unemployment rate, which was 11% in June, but not as part of the current talks. Read more from Laura Litvan and Billy House.
Next Jobless Aid Bill Could Decide Path of Rebound: A jobless aid deal could at best maintain U.S. household income at full force, or at worst knock out much of the expected rebound in third-quarter consumer spending. The likeliest outcome is a $400-per-week extra federal unemployment benefit—a compromise between Democrat's proposal of maintaining $600 weekly aid and a Republican proposal of paying $200 per week for two months before states draft ways to match 70% of workers' prior earnings, according to Bloomberg Economics.
That would be enough to keep household income around pre-pandemic levels while also alleviating GOP concerns about the disincentive to work, Bloomberg economist Andrew Husby said. An agreement on a $400 add-on would also be consistent with Bloomberg Economics's base case for annualized third-quarter GDP growth at 17%. Read more from Yueqi Yang.
Undocumented Workers Losing Options: Undocumented workers in the U.S. are running out of options to help them survive the pandemic. Largely left out of federal relief programs, undocumented families have relied on money from philanthropic organizations and local governments to help buy food and to pay their bills. But now some of those funds are drying up, exacerbating the public health crisis and further threatening the nation's financial recovery. Read more from Olivia Rockeman and Catarina Saraiva.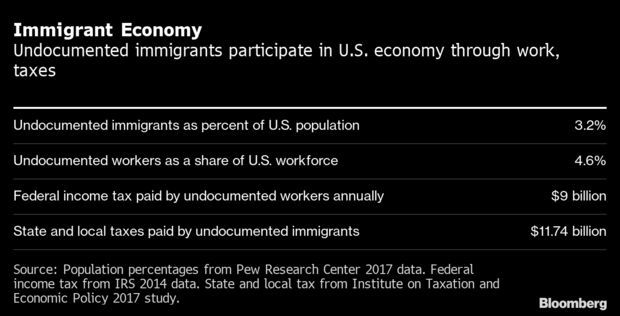 The Coronavirus Pandemic
Pelosi Says Birx Is Spreading Disinformation: Pelosi said she doesn't trust information from the coordinator of the White House's coronavirus task force, the latest political skirmish over the U.S. response to the pandemic. Trump has been spreading disinformation about the virus and Deborah Birx "is his appointee, so I don't have confidence there, no," Pelosi said on ABC's "This Week."
Pelosi was asked about a Politico report that she described Birx as a spreader of disinformation at a closed-door meeting Friday with White House officials. "Birx is the worst. Wow. What horrible hands you're in," she said at the meeting, the outlet reported. A New York Times article in July on the Trump administration's coronavirus response portrayed Birx as overly optimistic about the pandemic. Tony Czuczka has more.
Grijalva Tests Positive: Rep. Raul Grijalva (D-Ariz.) said he has tested positive with the coronavirus, a few days after a hearing where one Republican member in attendance later tested positive for Covid-19. Grijalva, who issued a statement saying he isn't exhibiting any symptoms, has been self-isolating at his home in Washington since Wednesday upon learning that Rep. Louie Gohmert (Texas) tested positive. Tom Schoenberg and Erik Wasson have more.
Health Providers for Poor Get More Time for Aid: Cash-strapped Medicaid providers hard hit by the Covid-19 crisis will have an additional month to seek federal relief money, the Health and Human Services Department said Friday. HHS in June allocated $15 billion to health-care providers that primarily serve low-income and uninsured patients and that hadn't yet received funding. But the original deadline for providers to apply for the relief, July 20, proved to be too difficult for most to meet, the agency said. Christopher Brown has more.
Democrats Call for Medicaid Contribution Bump: Key House Democrats said they're demanding another increase for the federal contribution to Medicaid as part of the next virus relief bill. Democratic Caucus Chairman Hakeem Jeffries (D-N.Y.) told reporters Friday enhancing the federal portion is necessary as millions of Americans have lost their jobs and will likely end up on the public health insurance program. Read more from Alex Ruoff.
Elections & Politics
Democrats Ply Biden With Alternatives to Harris: Democrats around Biden are angling to provide alternatives to Kamala Harris (D-Calif.) as his running mate, long seen as the frontrunner for the job, as his vice presidential selection process enters its final stage. Though Biden said on Tuesday that he would announce his pick this week, people familiar said they're planning for a rollout the following week, giving the new Democratic ticket only a few days to campaign together before the party's convention, which begins Aug. 17.
Biden allies have let it be known that Rep. Karen Bass (D-Calif.), who chairs the Congressional Black Caucus, is being seriously considered, and Bass is doing her own campaigning. In addition to Harris and Bass, former National Security Adviser Susan Rice stands near the top of the running list, while Sens. Elizabeth Warren (D-Mass.) and Tammy Duckworth (D-Ill.) remain in the mix. Read more from Jennifer Epstein and Tyler Pager.
Two of Trump's surrogates in Florida hammered Bass on Saturday over her past support for Cuba, saying it would offend the state's Hispanic voters. A report on Friday said that Bass had traveled to communist-run Cuba as part of a group as a high school student in the 1970s. Decades later she was part of two Obama-era trips to the island nation. Sen. Marco Rubio (R-Fla.) and Lt. Gov. Jeanette Nunez (R) said those trips amount to Bass being a sympathizer to the Castro regime. Read more from Mario Parker.
Bass denied being a Castro sympathizer yesterday. Asked on NBC News if she'd been naive about the communist regime in her youth, Bass replied: "Oh, I think as any 19 year-old would be, sure." But Bass said she's always saw a need to bridge the divide between the U.S. and Cuba. "That doesn't excuse the fact that I know the Castro regime has been a brutal regime to its people," Bass said. Read more from Stephen Cunningham.
Wall Street Is Torn on Biden: As Trump's poll numbers continue to sink, Wall Street is starting to envision Washington under Joe Biden — a scenario that many executives say they welcome. But to some pessimists, the upbeat view underestimates the rising influence of progressive Democrats who are demanding a clampdown on banks, hedge funds and private-equity firms.
Those with the rosier outlook point to Biden's mostly pro-business inner circle, his significant campaign contributions from the financial industry and his longtime support of credit card companies located in his home state of Delaware. Plus, a Biden victory would likely be driven by U.S. voters seeking change because they believe the country is a mess. Wall Street thinks it has a strong argument to make that reining in lenders would be a fatal mistake when unemployment is sky-high and the economy remains ravaged by the coronavirus pandemic. The enthusiasm, however, is tempered by fears over how much sway Biden will give progressives and their firebrand leaders. Read more from Robert Schmidt and Jesse Hamilton.
Democrat Says Trump Plans 'Emergency' to Stay in Office: Trump has no intention of "peacefully" transferring power if he loses the November election, according to House Majority Whip James Clyburn (D-S.C.). Trump, who floated the idea of delaying the vote last week over fraud concerns, neither plans to leave the White House nor hold "fair and unfettered elections," Clyburn said yesterday on CNN's "State of the Union." "I believe that he plans to install himself in some kind of emergency way to continue to hold onto office," Clyburn said. "And that's why the American people had better wake up." Read more from Stephen Cunningham.
U.S. to Act Against 'Array' of China Software
The Trump administration is set to announce measures shortly against "a broad array" of China-owned software seen as posing a risk to national security, said Secretary of State Mike Pompeo. The comments suggest a possible widening of U.S. measures beyond TikTok, the popular music-video social app owned by ByteDance, one of China's biggest tech companies. Trump told reporters Friday that he plans to ban TikTok from the U.S., but his decision hasn't been announced. Tony Czuczka has more.
Trump will meet with tech workers this morning at the White House and plans to sign an executive order on hiring American, according to the president's daily schedule.
ByteDance CEO 'Working Overtime' on TikTok: ByteDance is exploring all possibilities to resolve an intensifying confrontation with Washington, CEO Zhang Yiming said, stressing the world's largest startup has made no final decision on options like a sale of TikTok U.S. to Microsoft.
Beijing-based ByteDance has come under pressure from the White House and U.S. lawmakers to sell off its U.S. TikTok operations and now has a 45-day deadline on negotiations with Microsoft over such a deal. The company had tried to appease regulators — who worry about its data collection and potential connection to the Chinese government — by distancing its domestic operations from the popular video app, hiring nearly a thousand staff in the U.S. and appointing Walt Disney veteran Kevin Mayer as TikTok CEO. But Zhang said efforts so far to assuage Washington's concerns may have fallen short. Read more from Zheping Huang.
Around the Administration
Trump Eyes Order Cutting Drug Costs 'Soon': Trump said he plans to sign a "very inclusive" health-care plan "very soon" that will result in Americans paying significantly less for pharmaceutical drugs. "I want what's right for the people," Trump said at a press briefing Friday. "We're going to bring our drug prices down to levels that nobody ever thought possible."
Trump described a "favored nations" plan under which his administration would take the country that has the lowest drug prices as the yardstick for what people should be charged. While he provided few other details, Trump on July 24 announced his plan for executive orders to lower prescription drug prices under Medicare by linking them to rates paid in other countries and letting Americans buy medication imported from Canada. Read more from Olivia Raimonde and Jennifer Jacobs.
Trump Suggests Income Inequality Action: Trump suggested that he may be interested in pushing for policy that addresses the widening income gaps in the U.S., but didn't suggest a plan. Trump commented in a retweet about how much some prominent billionaires have increased their net worth amid the pandemic as tens of millions of Americans have lost their jobs. "I actually agree with this," he said. "Too much income disparity. Changes must be made, and soon!" Read more from Tom Schoenberg.
Great American Outdoors at the White House: Trump tomorrow is slated to sign the Great American Outdoors Act, according to the White House schedule. The bipartisan conservation legislation would permanently fund the Land and Water Conservation Fund and creates a five-year $9.5 billion trust fund to tackle the maintenance backlog in national parks and on public lands, Kellie Lunney reports.
Tata Withdraws, Handed Pentagon Post, CNN Reports: Anthony Tata, a retired Army brigadier general and Fox News commentator, has withdrawn from consideration for a top Pentagon position days after the Senate Armed Services Committee canceled a hearing on his nomination, CNN reported. Tata didn't have enough Senate support to be confirmed as undersecretary of defense for policy, according to some Senate Republicans who asked not to be identified. Committee Chairman James Inhofe (R-Okla.) said the panel didn't have enough information to hold the hearing as scheduled. Read more from Derek Wallbank.
DeVos Aide Should Resign, Durbin Says: Sen. Dick Durbin (D-Ill.) called for the resignation of a top Education Department official Friday, saying she improperly pressured a college accreditor to restore approval for two for-profit colleges that faced the loss of federal student aid, Andrew Kreighbuam reports. Diane Auer Jones is the department's principal deputy undersecretary for higher education policy. House Democrats said last week that that she was involved in efforts by Dream Center Education Holdings to restore accreditation for two Art Institute schools in Illinois and Colorado. Their report said officials at the accreditor believed she was trying to "strong-arm" the process to restore approval for the schools.
"Jones' and the Department's responses to me and other Members of Congress about the extent of her involvement in Dream Center's accreditation misrepresentation were false," Durbin said in a statement. "She must resign immediately."
U.K.'s Truss in Washington for Trade Deal: U.K. International Trade Secretary Liz Truss will meet with her U.S. counterpart Robert Lighthizer in Washington today as part of the third round of talks to reach a trade deal between the two countries. Prime Minister Boris Johnson put an agreement with the U.S. at the heart of his plans for the U.K. economy after Brexit, and Truss's decision to travel during the coronavirus pandemic reflects London's commitment to a deal. Read more from Thomas Penny.
U.S. Moves Forward on College Tax Status Probe: The Trump administration plans to move ahead with an investigation into tax exempt statuses of colleges and universities over political ideology, according to the Treasury Department's inspector general office. Trump previously called for a probe into the nonprofit status of private colleges, as well as their federal funding, in tweets this month that tied his complaint in part to their reluctance to fully re-open for the school year. Read more from Colin Wilhelm.
Revenue Dip at Mar-a-Lago: Trump's 2019 financial disclosure shows revenue fell slightly at some of his iconic resorts even before the coronavirus slammed hospitality businesses. Revenue at his Florida golf resort Mar-a-Lago dipped to $21.4 million from $22.7 million a year earlier, according to documents posted Friday. At his Washington hotel at the Old Post Office nearby the White House, revenue was $40.5 million, down from $40.8 million. Steven Dennis has more.
In the Courts
Term Limits Endorsed by Major Progressive Group: The Center for American Progress is the latest progressive group to back term limits for justices to curb what it describes as the Supreme Court's "outsized power."
"The idea of term limits for the Supreme Court is gaining momentum and continues to enjoy support by a variety of progressive—as well as conservative—legal experts," Maggie Jo Buchanan said. Buchanan authored CAP's report, released today, urging Congress to act.
The report comes as the Democratic Party plans language in its platform calling for "structural court reforms to increase transparency and accountability" within the federal judiciary. Read more from Kimberly Strawbridge Robinson.
Roberts Holds Line on Second-Guessing of Covid Orders: The Supreme Court hasn't shown much willingness during the Covid pandemic to second-guess emergency orders issued by public officials. In approximately two dozen emergency requests received by the justices challenging federal, state, or local orders, Bloomberg Law found that the conservative-majority court has favored Democratic and Republican-led governments in all of them, save a procedural defeat that the Trump administration eventually won. Decisions in cases arising during extraordinary times reflects the cautious ideology of Chief Justice John Roberts. Read more from Kimberly Strawbridge Robinson.
Ginsburg Released From Hospital: Justice Ruth Bader Ginsburg was released from a New York hospital on Friday after undergoing a non-surgical procedure earlier in the week, the Supreme Court said. "She is home and doing well," said Supreme Court spokeswoman Patricia McCabe in an email, Greg Stohr reports.
Justices Allow Wall Construction to Continue: An ideologically split Supreme Court let work continue on Trump's border wall, rejecting calls to block some of the construction in a clash over the use of Pentagon money for the project. The justices, voting 5-4 and giving no explanation, refused to revisit a year-old order in which they cleared work on the wall to start during the litigation. Read more from Greg Stohr.
Trump Win in Stormy Daniels Lawsuit Upheld: Adult film star Stormy Daniels can't pursue her claims that Trump defamed her in a tweet from April 2018, the Ninth Circuit ruled Friday. Daniels had publicly claimed a man threatened her in Las Vegas after she agreed to sell her story about her alleged affair with Trump. Trump retweeted a photo of the sketch she produced of the man, commenting he was "nonexistent." Daniels argued that the tweet was defamatory because it accused her of committing fraud. Read more from Porter Wells.
To contact the reporters on this story: Zachary Sherwood in Washington at zsherwood@bgov.com; Brandon Lee in Washington at blee@bgov.com
To contact the editors responsible for this story: Giuseppe Macri at gmacri@bgov.com; Loren Duggan at lduggan@bgov.com; Michaela Ross at mross@bgov.com
Stay informed with more news like this – from the largest team of reporters on Capitol Hill – subscribe to Bloomberg Government today. Learn more.