What to Know in Washington: Spike in Cases Could Hurt Trump
Record-setting levels of U.S. coronavirus cases are coming at the worst possible time politically for Donald Trump.
The president, who has spent months attacking mail-in voting, needs a dramatic turnout on Election Day to have any hope of overcoming his sagging poll numbers and the advantage Democrats have with mail-in voting. But the spiking case numbers and rising hospitalizations in key battleground states could deter some Republicans from voting, even though the party insists that Trump's supporters remain fiercely motivated to show up.
The surge in cases also puts Trump on the defensive and keeps the focus at the end of the race on his handling of the pandemic, which Democrat Joe Biden has made a central part of his campaign, with the president spending the past eight months downplaying the virus and insisting it would go away.
"To a certain extent, it's going to cost him some votes," said Ed Rollins, a Republican strategist who's chairman of the pro-Trump Great America political action committee. "Our vote will hopefully turn out, but I'd much rather have them in the box than waiting for them to come."
The Covid spikes will make it more difficult for Republicans to execute their voter turnout plans, especially with polls showing Trump trailing Biden, said Kevin Madden, a Republican strategist and senior adviser to Mitt Romney's 2012 presidential campaign.
The concern for Trump isn't just turnout but also the economic anxiety the pandemic has spawned, how it has affected older voters who are an important constituency for the president as well as working-class and rural voters who backed him in 2016 and may "have a bit of buyers' remorse," Madden said.
"If a voter walks into the polling place thinking about the coronavirus pandemic, they'll leave having cast a ballot for Joe Biden," said Ben Wikler, chairman of the Democratic Party of Wisconsin, a state recording record highs in hospitalizations and cases.
At the same time, there are risks for Biden too. Black voters, some of Biden's strongest supporters, also have been hard-hit by Covid cases in the weeks leading up to the election in the key swing state of North Carolina. Experts say that could depress turnout. But that state is an outlier: Nationwide, the largest Black communities have never had fewer virus cases relative to other counties. Read more from Mark Niquette and Jonathan Levin.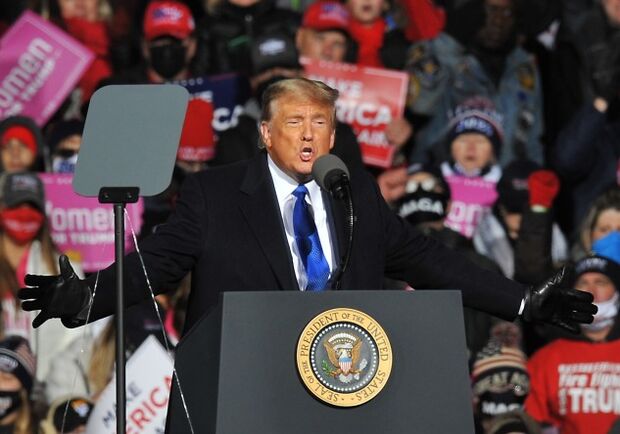 Supreme Court's Path to Help Trump Win Contested Race
The U.S. Supreme Court's conservatives started carving a path that could let Trump win a contested election, issuing a far-reaching set of opinions just as Amy Coney Barrett was getting Senate confirmation to provide what could be a crucial additional vote.
In a 5-3 decision released minutes before the Senate vote Monday night, the court rejected Democratic calls to reinstate a six-day extension for the receipt of mail ballots in Wisconsin, a hotly contested state that is experiencing a surge of Covid-19 cases. The Supreme Court as a whole gave no explanation for the decision.
The outcome was bad enough for Democrats, but an opinion by Trump-appointed Justice Brett Kavanaugh bordered on catastrophic. Kavanaugh suggested sympathy for Trump's unsubstantiated contentions that votes received after Election Day would be tainted by fraud, warning that "charges of a rigged election could explode" if late-arriving ballots change the perceived outcome. Most states "want to avoid the chaos and suspicions of impropriety that can ensue if thousands of absentee ballots flow in after election day and potentially flip the results of an election," Kavanaugh wrote. "And those states also want to be able to definitively announce the results of the election on election night, or as soon as possible thereafter."
Although Trump is trailing Biden in national polls, the race is tighter in Wisconsin and other swing states that will determine who wins, and are the focus of the two campaigns. Two other pivotal states, Pennsylvania and North Carolina, are awaiting Supreme Court action in cases raising similar issues. Read more from Greg Stohr.
No Right for Certain Mail-In Ballot Service, USPS Says: Delivery delays during an election can't be unlawful, because the Constitution doesn't guarantee states any particular level of service when it comes to mail ballots, the U.S. Postal Service told a federal judge. Postmaster General Louis DeJoy and Trump are seeking dismissal of a lawsuit brought by New York and other states that claim disruptive changes at the Postal Service over the summer are violating the Elections Clause of the Constitution by putting election mail at risk. Erik Larson has more.
Florida Aims to be National Model for Elections: Florida, known for its voting flubs and hanging chads since an excruciating recount in the 2000 presidential contest, has remade itself into a model of election efficiency for the Covid era of mail-in voting. Votes cast at early-voting sites or via the mail there are already being loaded into counting equipment and most will have been tabulated as Election Day begins on Nov. 3. Computers are primed to spit out results almost as soon as polls close at 7 p.m.
That means it's set to deliver results quickly — in contrast to other battlegrounds including Pennsylvania, Wisconsin and Michigan, where laws don't let officials tally the stacks of mailed ballots until Election Day, possibly setting up days of tense counting. Read more from Todd Shields.
U.S. Defends Election Readiness: The head of the Cybersecurity and Infrastructure Security Agency criticized the timing and drain on resources cause by a newly released watchdog report on the agency's preparedness for election cyberattacks and violence against election infrastructure, Shaun Courtney reports. "This investigation was poorly timed and pulled staff away from critical election security tasks and initiatives at a time when we could least afford it. We think, and as the report reflects, our partners agree our time was better spent working with them," CISA Director Chris Krebs said in a statement in response to the Homeland Security Department Office of Inspector General report released yesterday.
The agency should do more to plan for risks of targeted violence, terrorism and other threats to the physical security of election infrastructure, the watchdog said. CISA has done a better job planning for cyberattacks and other threats against election infrastructure this election cycle than in 2016 the report found, though there is still room for better coordination and preparation, it said.
Michigan Won't Stop Armed Pollwatchers: Pollwatching groups are allowed to openly carry firearms in Michigan on Election Day, a state court ruled yesterday, blocking a directive aimed at preventing voter intimidation, after a judge ruled Michigan Secretary of State Jocelyn Benson (D) didn't go through proper rulemaking procedures when Benson issued a directive banning the open carrying of firearms within 100 feet of polling places and absentee ballot drop boxes. Read more from Alex Ebert.
More Elections & Politics
BGOV Races to Watch—Election Webinar: Join Bloomberg Government tomorrow at 1 p.m. for an election webinar on Nov. 3's biggest House and Senate contests to watch. Bloomberg Government reporters Greg Giroux and Emily Wilkins will talk the current state of Congress, the changing landscape in Washington, and more. Register here.
Billionaires Pay Up To Get Voters' Attention on Ballot Questions: The super-rich are paying to get the attention of everyday Americans before they vote on new tax law, minimum wage, affirmative action, information-selling, and more. In some states, almost all of the money devoted to influencing the outcome of targeted ballot issues has come from a single donor. In Illinois, billionaires on opposing sides of a tax question have driven the cost of ballot-issue messaging above $100 million.
Citadel CEO Kenneth Griffin has put $53.8 million into a campaign to defeat a proposed constitutional amendment to change that state's flat tax to a graduated system. And he's not the biggest spender. That distinction belongs to the governor who supports the amendment: J.B. Pritzker (D), who has devoted $56.5 million of his own money to the "Vote Yes for Fairness" campaign ahead of the Nov. 3 election. Read more from Tiffany Stecker.
Voters Weigh Erasing Jim Crow Symbols: One of the most glaring reminders of slavery and Jim Crow oppression fell in Mississippi this summer, and now the state's voters must decide whether to embrace a flag bearing a magnolia blossom instead of a Confederate battle emblem. Mississippi's push to change the state flag came amid national conversations about race and racial justice. Its voters won't be alone Nov. 3 in contemplating whether policies written by White men afraid of losing power in past centuries reflect their communities today. Read more from Jennifer Kay.
States Weigh How Winners Chosen: Switching to an all-in-one primary for state-level offices in Florida is one of several big decisions Americans will make about how they choose their state leaders on Nov. 3. Two other states are considering giving second-choice candidates a chance. "We think voters are sick of voting for the lesser of two evils," said Greg Dennis, policy director of Voter Choice Massachusetts, a group advocating for ranked-choice voting in that state. Read more from Jennifer Kay.
Trump Tax Plan Could Cut Millionaires' Bills: Trump hasn't released a specific tax agenda if he were to be re-elected, but millionaires may reap big benefits if he simply gets an extension of the cuts he signed into law in 2017, according to a new analysis. Many of the tax cuts, such as decreases to individual tax and extra deductions for businesses owners, are set to expire at the end of 2025. If nothing is done, rates at every income level would return to those in effect before the law's enactment. For the top 0.1%, tax bills would grow by an average of $71,000 in 2026, the Urban-Brookings Tax Policy Center said. Read more from Laura Davison.
Trump Considers Executive Order on Fracking: Trump is considering issuing an executive order to require an economic analysis of fracking, according to several people familiar with the matter, as the president seeks to use what he portrays as Biden's mixed messages on energy to woo voters in the swing states of Pennsylvania and Ohio. The order would call for U.S. agencies to analyze the economic impact of fracking, according to the people, who spoke on the condition of anonymity to discuss nonpublic deliberations. The order would also require an evaluation of how fracking, which is used to coax oil and gas out of underground rock formations, could be expanded, they said, Jennifer Dlouhy and Ari Natter report.
Biden's View of Major U.S. Flashpoints With China: While Biden has spent much of the campaign criticizing Trump's policies toward China, his own platform sounds more like a change of tactics than a strategy overhaul. The former vice president — a long-time member of a foreign policy establishment that advocated engagement with Beijing — has shifted along with the rest of Washington toward a more confrontational tone during Trump's term, denouncing Xi Jinping as a "thug." Still, the Democratic nominee has faced few questions about how he would handle China more effectively than his Republican opponent.
What Biden has said so far points to a more multilateral approach that places greater emphasis on alliances and human rights and is less reliant on tariffs and arms sales. Here's where he stands on some of the biggest flash points between the world's two largest economies.
Early-Voter Turnout Surpasses 50% of 2016 Total: Americans have already cast half the total votes counted in 2016, as voters show intense enthusiasm and take precautions against Covid. One week out from Election Day, 69.5 million early votes have been cast, already 50.4% of the total turnout from 2016, according to the U.S. Elections Project, which tracks early voting. That includes 46.3 million votes cast by mail-in ballots and 23.1 million in-person votes. There were 47.2 million early votes cast in all in 2016. Read more from Mark Niquette.
Facebook Blocks Trump Ads Saying 'Vote Today': Facebook will block a handful of political ads from Trump's campaign for violating the company's rules around voting misinformation by suggesting it's time to go to the polls. The ads, which were uploaded Monday to the social-media platform, include messages like "Vote Today" and "Election day is today." Facebook's election policies ban ads that include misleading information about when and where you can vote. Read more from Kurt Wagner.
Facebook also took down two networks it says were trying to influence behavior around the U.S. election with fake accounts. The largest effort announced yesterday surrounds two Facebook pages and 22 Instagram accounts, spreading memes pre-election, some of which were borrowed from past efforts by Russia's Internet Research Agency. Sarah Frier has more.
What Else to Know Today
Commerce Hears Tech CEO Testimony: Republicans and Democrats agree dominant technology companies need to change their policies or lose a broad liability shield in place for almost three decades, but lawmakers remain divided over whether the culprit is conservative censorship or misinformation. The split will be on display today when the chief executive officers of Facebook, Twitter, and Google face off with lawmakers on the Senate Commerce, Science and Transportation Committee.
While Republicans have raised concerns about conservative censorship by the platforms, Democrats say those same platforms haven't done enough to stop misinformation and hate speech. Both parties agree the solution to the alleged misbehavior is changes to Section 230 of the Communications Decency Act, which insulates companies from liability for content generated by their users. Read more from Rebecca Kern.
Health Business Faces Endless Covid Fight: The health-care industry is grappling with a slow-paced recovery from the early days of the coronavirus pandemic, as many people continue to avoid doctors' offices and a new surge in infections spreads across the U.S. For drugmakers, the pandemic has squeezed demand for everything from childhood vaccines to smoking-cessation drugs and diabetes treatments. When the virus took root in the U.S. this spring, many doctors and patients put off routine and elective care, leading to fewer prescriptions for a range of medicines. Sales also slumped for drugs used to treat cancer or in surgeries. Read more from Emma Court, Robert Langreth, John Tozzi and Riley Griffin.
National Guard Sent to Philadelphia: Pennsylvania Governor Tom Wolf (D) deployed the National Guard to Philadelphia yesterday after demonstrators clashed with police following the fatal police shooting on Monday of a 27-year-old Black man, Walter Wallace Jr. He was fatally shot by police, who said he was armed with a knife. Wallace's family said they had called for an ambulance to get him help with a mental health crisis, not for police intervention, the Associated Press reported. Read more from Bloomberg News.
Child Sex-Trafficking Prosecutions Down 35% Under Trump: The number of federal child sex-trafficking prosecutions has fallen 35% to 180 under the Trump administration. That stands in contrast to the 62% jump during the Obama administration's first term and 34% increase in its second, according to Transactional Records Access Clearinghouse, an independent data-research organization at Syracuse University. About two-thirds of the time in the last fiscal year through Sept. 30, U.S. prosecutors cited a lack of evidence for turning down referrals they received, according to TRAC. Read more from Joe Schneider.
Wi-Fi Spectrum Battle Spotlights Struggle for Airwaves: Tech companies that deliver music, games and shopping to smartphones and other devices are battling in court for a necessary resource — spectrum for Wi-Fi. The companies, including Apple, Microsoft and Google are defending a Federal Communications Commission plan that would free up airwaves in the 6 GHz band to feed consumers' Wi-Fi cravings. Read more from Jon Reid.
EPA OKs Soybean, Cotton Farmers' Dicamba Use: Farmers can continue to use dicamba for five years, Environmental Protection Agency Administrator Andrew Wheeler said yesterday, offering certainty to cotton and soybean growers who are the most frequent users of the weedkiller make by Bayer, BASF, and Syngenta. The Environmental Protection Agency's decision, however, is likely to frustrate some farmers growing vegetables, fruit, and other crops—including soybeans that aren't genetically modified to tolerate the herbicide. The Center for Food Safety said it plans to challenge the EPA's re-registration. Read more from Pat Rizzuto and Justina A. Vasquez.
SEC Targets Fewer Companies On Anti-Bribery: SEC cases alleging corporate violations of a U.S. anti-bribery statute dropped to their lowest level in six years amid the coronavirus pandemic this year. The Securities and Exchange Commission filed and made public seven enforcement actions against companies under the Foreign Corrupt Practices Act in fiscal 2020, according to a Bloomberg Law review of agency records. The tally is about half the 15 cases brought in fiscal 2019, Andrew Ramonas reports.
U.S. Warns of North Korean Hackers: The U.S. government is warning of an advanced North Korean hacking group that has targeted the U.S., South Korea and Japan with cyber-intrusions to collect intelligence on issues pertaining to nuclear policy and sanctions. The hacking group, known as Kimsuky, "focuses its intelligence collection activities on foreign policy and national security issues related to the Korean peninsula," according to an advisory issued yesterday by the Homeland Security Department and the FBI. Read more from Alyza Sebenius.
Hong Kong Activists Arrested After Entering U.S. Consulate: Three pro-democracy activists were arrested by Hong Kong police after briefly entering the U.S. consulate in the city yesterday in an apparent bid to seek asylum, according to a person familiar with the incident. The person, who asked not to be identified discussing private information, didn't provide further details. Read more from Nick Wadhams, Felix Tam and Iain Marlow.
To contact the reporters on this story: Zachary Sherwood in Washington at zsherwood@bgov.com; Brandon Lee in Washington at blee@bgov.com
To contact the editors responsible for this story: Giuseppe Macri at gmacri@bgov.com; Loren Duggan at lduggan@bgov.com; Michaela Ross at mross@bgov.com