What to Know in Washington: Spending, Taxes Top 2022 Hill Agenda
Bloomberg Government subscribers get the stories like this first. Act now and gain unlimited access to everything you need to know. Learn more.
A new session of Congress opens as Democrats grapple to find a path forward for their agenda before the November midterm elections. Meanwhile, President Joe Biden today is set to announce plans to combat food price inflation by targeting the market power of meatpacking giants.
Here's what Bloomberg Government is tracking for Monday.
Congressional Agenda:
The Senate meets at noon with plans to vote on one of Biden's judicial nominees.
The House has no floor or committee work scheduled this week.
Biden's Agenda:
The president is scheduled to return to the White House from Wilmington, Del., shortly after 10 a.m.
Biden, Attorney General Merrick Garland and Agriculture Secretary Tom Vilsack will meet virtually at 1:30 p.m. with family and independent farmers and ranchers. The president will announce plans to combat the market power of the giant conglomerates that dominate meat and poultry processing, ratcheting up a months-long campaign that has blamed anti-competitive practices in the industry for contributing to surging food inflation. The officials will listen to complaints about consolidation in the industry, while launching a new portal to allow farmers and ranchers to report unfair trade practices by meatpackers. Read more from Mike Dorning.
Press Secretary Jen Psaki holds a briefing at 2 p.m.
Weather Update: A winter storm is threatening to hit Washington with snow, which could disrupt today's scheduled events. The Office of Personnel Management has announced federal offices are closed.
Spending, Tax Fights Loom for Congress
Democrats, with bare majorities in Congress on the line in the November midterm elections, are trying to advance President Joe Biden's social safety net promises this year while Republicans decry what they see as escalating costs. Taxes, climate initiatives, and how best to help American companies compete against China will figure prominently as both parties seek advantage in the session beginning today.
The packed 2022 agenda, ripe with questions of how much lawmakers can get done, threatens to mask the accomplishments of 2021. They include a major infrastructure bill, a $1.9 trillion Covid-19 aid package, and a new federal holiday honoring the freedom of all slaves in America. As midterms draw closer, Democrats will likely point to those laws in a bid to retain control of Congress. Read more from Loren Duggan, Danielle Parnass and Sarah Babbage on the 2022 agenda, as well as items passed last year.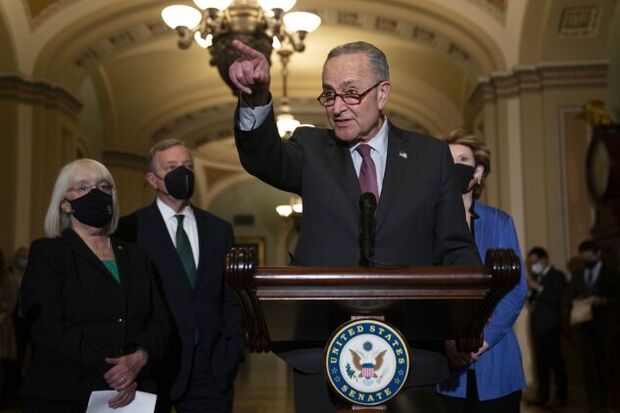 The 2022 agenda includes:
Full-year government funding: Appropriators have until Feb. 18 to maintain funding for the federal government, with a goal of paying for operations for the rest of the fiscal year that ends Sept. 30. They don't have agreement on how much to spend in total, although there's a consensus on defense funding under the fiscal 2022 National Defense Authorization Act (Public Law 117-81) signed by Biden on Dec. 27.
Competition with China: The Senate passed a sweeping, bipartisan measure (S. 1260) in June that would provide $52 billion for the semiconductor industry and reauthorize federal science and research programs in the face of rising Chinese presence in both sectors. The effort then stalled as the House debated its own approach to bolstering U.S. competitiveness.
Voting packages: The House has passed three different voting and ethics bills: a sweeping elections package (H.R. 1), one responding to changes to the Voting Rights Act (H.R. 4), and one on executive branch ethics and foreign election interference (H.R. 5314). Democrats' attempts to advance packages in the 50-50 Senate have been stymied by party-line votes, however.
Meanwhile, Senate Democrats begin the new year groping for a path forward on Biden's domestic economic agenda (H.R. 5376). Senate Majority Leader Chuck Schumer (D-N.Y.) is vowing to bring a revised version of the $2 trillion tax, climate and spending package to the floor for a vote as soon as this month, despite unresolved differences within his party that have stalled the legislation.
Schumer's strategy still faces a major roadblock from West Virginia Senator Joe Manchin (D), who stunned Biden and fellow Democrats in late December by saying he wouldn't support the House-passed bill and was walking away from negotiations.
To gain Manchin's support, Democrats will need to re-imagine their wide-ranging social policy bill that funds health care initiatives, climate programs and new supports for children and families. Revising the bill will require scaling back some elements and cutting other programs entirely. Read more from Erik Wasson and Laura Davison.
Biden faces more challenges getting judges confirmed as he turns to vacancies in states with GOP senators, while trying to further diversify the federal bench and facing what may be a closing window after the midterms. Biden and the Democratic-led Senate confirmed a diverse slate of 40 district and appellate judges in 2021, beating out the first-year totals for every president since Ronald Reagan. Such efforts have made judicial confirmations an important accomplishment for the Biden administration and a bright spot for progressives who hoped he'd focus on filling the judiciary with urgency.
The administration and Senate "stepped up to the plate and recognized that the third branch of government is as important as the first and second branches of government," said Rakim Brooks, president of progressive judicial advocacy group Alliance for Justice. The overwhelming majority of Biden's nominees so far were in states represented by two Democrats in the Senate. That trend could continue for awhile as the majority of current and expected vacancies are in blue states. But Biden will likely have to begin to address vacancies in states with Republican senators in 2022. Read more from Madison Alder.
Cheney Slams Trump Ahead of Jan. 6 Anniversary
Donald Trump's actions while his supporters stormed the U.S. Capitol show the former president is unfit for future office and could be held criminally responsible, said members of the House panel investigating the deadly riot. The House committee's last report is expected by the end of the year, potentially coinciding with elections this November.
Rep. Liz Cheney (R-Wyo.), the panel's vice chairwoman, told CBS that the committee is learning more about what transpired at the White House during the more than two hours from the start of the siege to Trump's eventual suggestion that his supporters depart the Capitol complex.
Chair Bennie Thompson (D-Miss.) said the panel is looking at whether Trump's actions were part of a broader plan, and whether they merit criminal referral to the U.S. Justice Department. Thompson, speaking on CNN, also warned that the threats to U.S. institutions haven't subsided. Read more from Anna Edgerton.
One in three Americans say violence against the government can at times be justified, a poll by the Washington Post and University of Maryland found, almost a year after the attack on the U.S. Capitol. The poll's findings were detailed on Saturday in a Washington Post piece, which said the share of respondents with that view was the highest in similar polls spanning two decades. Read more from Ian Fisher.
MORE HEADLINES:
Twitter yesterday said it permanently banned the personal account of Rep.

Marjorie Taylor Greene

(R-Ga.) for repeated violations of the platform's prohibition against spreading misinformation about Covid-19. The Georgia lawmaker was previously suspended for tweeting false claims about the Covid vaccine and health risks during the global pandemic. A Twitter spokesman said the company has "been clear that, per our strike system for this policy, we will permanently suspend accounts for repeated violations of the policy," Anna Edgerton reports.
Harry Reid (D), the former Senate majority leader who died Dec. 28, will lie in state in the U.S. Capitol Rotunda on Jan. 12, Speaker

Nancy Pelosi

(D-Calif.) and Schumer said in a joint statement, Derek Wallbank reports.
Around the Administration
Biden reaffirmed U.S. support for Ukraine's sovereignty yesterday in a call with President Volodymyr Zelenskiy. Biden said the U.S. and allies and partners "will respond decisively if Russia further invades Ukraine," a statement from Biden's press secretary, Jen Psaki, said. The two leaders expressed support for diplomatic efforts through a series of meetings starting next week with the Strategic Stability Dialogue, the NATO-Russia Council, and at the Organization for Security and Cooperation in Europe, Psaki said. Read more from Jenny Leonard.
Federal Deposit Insurance Corp. Chairman Jelena McWilliams, a key bank regulator appointed by Trump, will step down after clashing with officials installed by the Biden administration. McWilliams's resignation is effective Feb. 4, the FDIC said Friday. Her departure will remove an obstacle Biden and Democratic lawmakers have faced in seeking to toughen oversight of banks and other financial firms. McWilliams's term was set to expire in 2023. FDIC board member Martin Gruenberg, a Democrat, is now set to become acting chair. Read more from Jesse Westbrook.
Airlines warned of increased flight delays after AT&T and Verizon brushed aside a U.S. government request to postpone new 5G service that aviation interests say risks safety because it may interfere with aircraft electronics. The two wireless companies yesterday said the request from Transportation Secretary Pete Buttigieg and Steve Dickson, administrator of the Federal Aviation Administration, would be "to the detriment of" millions of mobile customers. The companies said they might offer a six-month pause near some airports. Read more from Todd Shields, Scott Moritz and Alan Levin.
Meanwhile, airlines greeted the New Year with more than 6,600 weekend cancellations in the U.S., closing out a bumpy holiday season as a winter storm swept eastward and carriers dealt with staff shortages caused by the rapid spread of the omicron variant. With more than 1,300 U.S. flights already dropped for today, it won't be much easier for travelers attempting to return home after the holiday season, Brendan Case reports.
Federal contractors no longer can inquire about an applicant's criminal history before extending a conditional job offer to work on a government contract, a new prohibition that stems from a Trump-era defense policy law. The restriction, tucked into the National Defense Authorization Act for Fiscal 2020, took effect Dec. 20. A proposed rule that could guide compliance is set to be released soon. Attorneys who represent companies that do business with the federal government said the "ban the box" law won't require major changes for many contractors. Paige Smith has more.
The U.S. Justice Department is pursuing accusations that companies and executives moved to fix wages or limit worker mobility as criminal rather than civil matters, an emerging strategy poised to test the legal bounds of antitrust enforcement in labor markets. The previously untested approach is gaining traction now that a Texas federal court, in November, denied an attempt to halt an indictment against an executive and a director of a physical therapy staffing-agency who are accused of colluding with competitors to suppress wages. Read more from Valerie Bauman, Siri Bulusu and Erin Mulvaney.
Defense Secretary Lloyd Austin says he tested positive for Covid-19, according to a statement yesterday. Austin said his symptoms are mild and that he plans to quarantine at home for the next five days. He will attend meetings virtually this week when possible. Read more from Michael Sin.
To contact the reporters on this story: Michaela Ross in Washington at mross@bgov.com; Brandon Lee in Washington at blee@bgov.com
To contact the editors responsible for this story: Zachary Sherwood at zsherwood@bgov.com; Loren Duggan at lduggan@bgov.com; Michaela Ross at mross@bgov.com
Stay informed with more news like this – from the largest team of reporters on Capitol Hill – subscribe to Bloomberg Government today. Learn more.