What to Know in Washington: Spending Plan Hung Up Over Border
Bloomberg Government subscribers get the stories like this first. Act now and gain unlimited access to everything you need to know. Learn more.
Plans in Congress to quickly advance a package of $45 billion in Ukraine aid in a broader spending package hours after an historic address by Ukraine President Volodymyr Zelenskiy were scuttled late Wednesday over a dispute about US border security.
Senate Majority Leader Chuck Schumer (D-N.Y.) filed cloture last night on an omnibus government funding package after senators failed to secure a unanimous agreement to speed up passage. Senators will reconvene at 8 a.m. today.
Schumer in a floor speech shortly before adjournment said, "It is my expectation that we will be able to lock in an agreement on the omnibus tomorrow morning. We are very close but we're not there yet."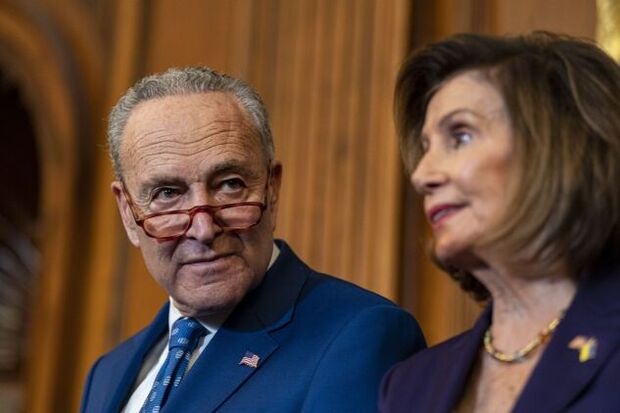 The Senate had been expected to vote on the assistance as part of a $1.7 trillion omnibus spending package late in the evening. Those plans were delayed after Democrats rejected a proposal by Republican Senator Mike Lee for an amendment extending pandemic-era asylum restrictions, known as Title 42, on the southern border of the US.
"This whole bill is hanging from a thread," Senator Chris Coons, a Delaware Democrat, said.
A Democratic aide said Lee's amendment would get votes from some Democrats and its adoption would wreck chances for passage of the full-year funding plan because it would make the legislation toxic for Democratic progressives in the House. That, in turn, would force Congress to pass a stopgap bill to keep the government running after Dec. 23, when current funding runs out.
"Democrats are worried that it would pass" the Senate, John Thune, the chamber's No. 2 Republican, said of Lee's amendment. Read more
The US Capitol Police could be charged with protecting ex-House speakers under omnibus legislation Congress could consider days before Speaker Nancy Pelosi — whose husband was attacked earlier this year — steps down from the position third-in-line to the presidency.
Lawmakers included 7,234 earmarks totaling $15.3 billion in the $1.7 trillion omnibus government funding package lawmakers aim to enact by Friday, with projects included for police equipment, highway infrastructure projects, and museums, among others.
Lawmakers stand to take home thousands of relatively small pots of money for local projects in the second consecutive year of a new earmarking system, revived after a decade-long ban of the practice.
Readers can download a central Excel document with all of the omnibus bill's earmarks here, converted from 10 PDF documents published by the House Appropriations Committee. Read more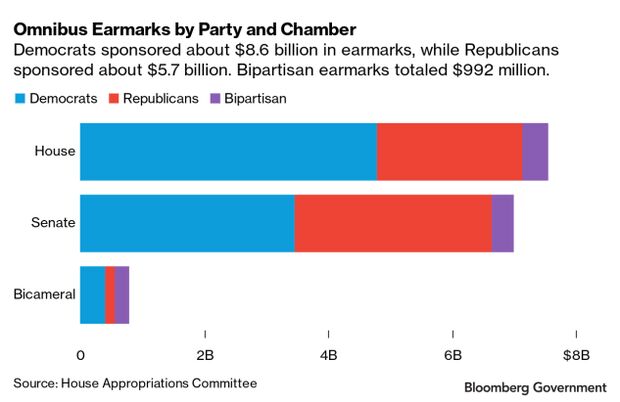 Ukrainian President Volodymyr Zelenskiy had just half a day in Washington, his first trip abroad since Russia invaded his country 300 days ago, and every moment had to count.
By the time news broke that he would visit the White House and address Congress before Christmas, the battle-worn leader was already on a 8,400-kilometer (5,200-mile) journey with a message that could only be delivered in person: Thank you, but please do more.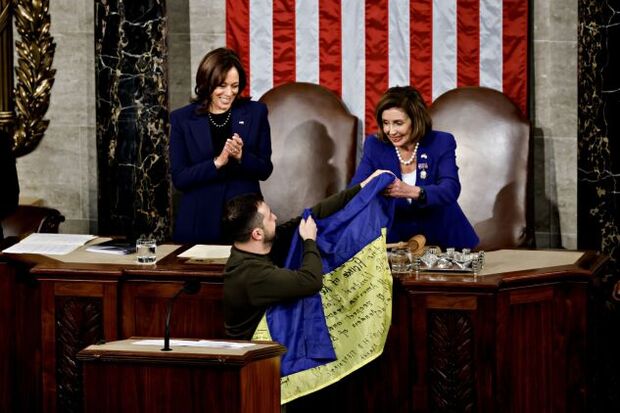 Wearing his standard military-green sweatshirt, the former television comedian deployed his wit and frankness with President Joe Biden and US lawmakers in a bid to keep their attention on a war headed into a merciless winter and unsure 2023.
Though the House is at an inflection point when it comes to backing more war aid to Ukraine, that reluctance was only palpable in the back of the chamber where Reps. Matt Gaetz (R-Fla.) and Lauren Boebert (R-Colo.) were sitting. They rarely stood up and spent a considerable time looking at their cellphones, Roxana Tiron reports. Read more
Happening on the Hill
CONGRESS' SCHEDULE
The House returns at 9 a.m. to debate two bills under a rule approved last night: a presidential tax return measure and a bill that would create a National Heritage Areas System, along with other bills under expedited procedure.
The Senate meets at 8 a.m. to consider Franklin Parker to be an assistant secretary of the Navy
The Senate confirmed Biden's choice to lead the White House's regulations office, positioning that team to have its first permanent leader in almost two years.
The Senate by unanimous consent confirmed Biden's nominee for Agriculture Department under secretary for trade and foreign agricultural affairs.
A Republican senator blocked separate attempts to confirm two of Biden's labor nominees through unanimous consent, likely delaying a final vote on the officials to sometime next year.
US Senator Pat Toomey and other Republican lawmakers introduced legislation that would more than halve the number of Federal Reserve regional banks and add more political oversight to the selection process for bank presidents.
House Financial Services Committee Chair Maxine Waters has urged the Federal Trade Commission to conduct a robust review of Intercontinental Exchange's proposed acquisition of Black Knight, according to her office.
The US Copyright Office published two letters to Congress, advising senators to amend a resource on online service providers and safe harbors to clarify certain terms and qualifiers for standard technical measures.
Elections, Politics & Probes
Virginia State Sen. Jennifer McClellan won the Democratic nomination to succeed late Rep. Don McEachin.
Dozens of allies and supporters of former President Donald Trump invoked their constitutional right to not answer questions posed by the House committee investigating the 2021 assault on the US Capitol, according to transcripts released Wednesday night.
The first batch witness testimony released by the committee came after the panel delayed until Thursday publication of its final report on the assault by Trump supporters trying to thwart the certification of Biden's victory in the 2020 presidential election.
The committee, which has pledged to release hundreds of transcripts, interviewed more than 1,000 witnesses and collected more than 1 million pieces of communications and other evidence, some of which investigators reveal in the questions. Read more
The House Jan. 6 committee is now sharing evidence with federal prosecutors, who for months were critical of the panel for refusing to send over witness interview transcripts and other information, a person familiar with the communications said Wednesday. Read more from Billy House and Chris Strohm.
Stefan Passantino has taken a leave of absence from law firm Michael Best & Friedrich following an allegation that he advised a Trump White House staffer to mislead the House committee investigating the Jan. 6 attack. Read more
Separately, a group of House Republicans released their long-promised counter-report to the House Select Committee. It breaks little new investigative ground, with its main finding that intelligence and law enforcement failures left the US Capitol complex vulnerable, and also partly blames Democratic leaders for security failures. Read more from Billy House.
A dormant process and a lack of manpower to vet the monster tax return of a businessman-turned-politician raises new questions about IRS' ability to audit presidential tax returns. Read more
Trump's personal and business financial losses have shielded him from paying much income tax since 2015, according to documents made public by the House Ways and Means Committee. Read more
A lawyer who was part of Trump's 2020 legal team may be evading a subpoena in a defamation case against Rudy Giuliani, according to attorneys for two Georgia election workers who sued the former New York City mayor.
Trump's attempt to use a Florida lawsuit to stall New York's $250 million civil fraud case against him was rejected a federal judge who called some of his arguments "plainly frivolous."
Around the Administration
PRESIDENT'S SCHEDULE
Biden has no public events scheduled
Top Biden administration officials on Wednesday committed to issuing a decision on whether to authorize ConocoPhillips' $8 billion Willow oil project in the National Petroleum Reserve-Alaska by the end of February, according to lawmakers from the state.
Richard Revesz will take over as the long-awaited head of the Biden administration's rulemaking review office, a confirmation that gives hope for rule-watchers looking ahead to more stringent environmental standards.
US authorities have alleged that fallen crypto titan Sam Bankman-Fried defrauded investors in his FTX empire, stealing billions of dollars over years for his own benefit.
A coalition of eBay, PayPal, Etsy, and others urged Treasury Secretary Janet Yellen Thursday to delay a tax reporting change that they say will create confusion among their platform users.
The war over reproductive rights is moving to a new front—access to contraceptives—with the opening salvo being fired by a Texas federal judge in a case involving a parent's right to know when their child seeks family planning services from a federally funded provider.
With assistance from Roxana Tiron
To contact the reporter on this story: Michaela Ross in Washington at mross@bgov.com
To contact the editor responsible for this story: Brandon Lee at blee@bgov.com
Stay informed with more news like this – from the largest team of reporters on Capitol Hill – subscribe to Bloomberg Government today. Learn more.