What to Know in Washington: Speaker McCarthy Confronts Next Test
Bloomberg Government subscribers get the stories like this first. Act now and gain unlimited access to everything you need to know. Learn more.
Newly elected House Speaker Kevin McCarthy (R-Calif.) confronts an immediate test to his leadership after a bruising four-day fight with Republican rebels in which he finally won the gavel but at great political cost.
McCarthy is ushering in Republican control of the House with his own power diminished and his party still riven by infighting over the deal he cut to secure his position.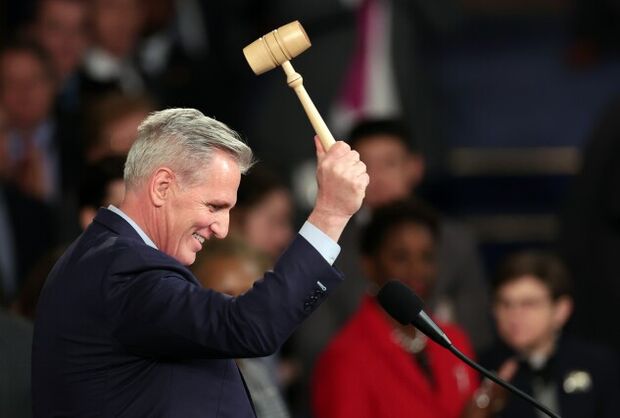 The divisions are bound to reverberate over the coming months as Congress confronts critical decisions on spending and an all-but-certain fight over raising the federal debt limit that risks triggering a market-rattling standoff.
A group of senior GOP lawmakers is set to meet behind closed doors at 10 a.m. Monday to dole out assignments for House committees, which are key to writing bills and will set the stage for multiple investigations of President Joe Biden and his administration Republicans have vowed to conduct. Billy House and Laura Litvan have more.
More on the vote for Speaker of the House

Happening on the Hill
CONGRESS' SCHEDULE:
Republicans risk long-term damage to their prospects for retaking the White House in 2024 after Republican lawmakers failed over many days to carry out the typically uneventful process of choosing a House speaker.
McCarthy's deal with ultraconservative Republicans to get their votes in the speaker election includes provisions that increase the possibility of a market-rattling showdown over the US debt ceiling later this year.
A conservative Republican at the center of the tortured effort to elect Speaker McCarthy says he'd welcome a hard-fought battle over the US debt ceiling, but said both parties should start negotiating terms for the increase now so it doesn't go down to the wire.
The deal McCarthy discussed to make him speaker of the House could make agreements on new defense spending impossible next year, at a time when the US is intent on backing Ukraine against the Russian invasion and growing more wary of China's stepped up aggression toward Taiwan.
Representative George Santos (R-N.Y.) who has acknowledged inventing significant parts of his life story, said his work in Congress "is not about my personal life" and vowed "to start delivering results."
Some colleges paying coaches millions are averting a 21% tax intended for those that don't pay income taxes, a top House Democrat contends, and he's looking for Republicans to help him close what critics call a big tax loophole.
Elections & Politics
President Joe Biden marked the anniversary of the Jan. 6 insurrection at the US Capitol by honoring police officers and election officials, while the institution faces new tumult from Republican infighting over electing a House speaker.
US President Joe Biden condemned the assault on Brazil's capital by supporters of defeated President Jair Bolsonaro, which echoed the Jan. 6, 2021 insurrection at the US Capitol.
A three-judge panel on Friday ordered South Carolina legislators to redraw the state's congressional district map, ruling that Black voters were illegally and intentionally moved out of one district to ensure it favored Republicans.
Ketanji Brown Jackson's new book deal adds to what has become a phenomenon at the US Supreme Court: Justices looking to craft their own images and perhaps score a hefty payday along the way.
Donald Trump is facing the first legal challenge to his eligibility to run for president in 2024 since declaring his candidacy, only weeks after a congressional committee investigating the US Capitol attack suggested he be disqualified from ever holding office again.
Around the Administration
BIDEN'S SCHEDULE
Biden will participate in a bilateral meeting with Mexican President Andres Manuel Lopez Obrador
The Bidens will join a trilateral dinner with Lopez-Obrador and Canadian Prime Minister Justin Trudeau
Mexican President Andres Manuel Lopez Obrador will welcome US President Joe Biden and Canadian President Justin Trudeau to Mexico City on Monday for a summit aimed in part at easing tensions over migration and drug smuggling.
Biden was confronted at the airport in El Paso on Sunday by Texas Governor Greg Abbott, who demanded in a hand-delivered letter that Biden act immediately to stop unauthorized immigration including by building more walls on the border.
China has rebuffed repeated US offers to share advanced vaccines as Beijing battles a fast-spreading wave of Covid-19, a rejection that's led to growing frustration among American officials concerned about a resurgence of the pandemic.
The Biden administration is delaying the replenishment of the nation's emergency oil reserve after deciding the offers it received were either too expensive or didn't meet the required specifications, according to people familiar with the matter.
Biden will travel to Atlanta next Sunday to speak at Ebenezer Baptist Church, home to a political ally in the US Senate and the place where Martin Luther King Jr. preached.
Biden to participate in bilateral meeting with Mexico President Andres Manuel Lopez Obrador on Monday and discuss supply chains, security, addressing fentanyl and migration, according to White House guidance.
Biden's choice of El Paso, Texas, as the site of his first presidential visit to the US-Mexico border puts a spotlight on a city that has struggled to deal with a four-fold surge in the number of migrants on its streets.
The mayors of New York City and Chicago denounced Colorado for busing migrants to the two cities — calling it inhumane and a strain on resources — as Biden's first presidential visit to the US-Mexico border highlights immigration issues.
The fate of the Federal Trade Commission's proposed bar of noncompete agreements hinges on the agency notching some early wins against a few companies to deter others from violating a ban.
To contact the reporter on this story: Michaela Ross in Washington at mross@bgov.com
To contact the editor responsible for this story: Andrew Small at asmall@bgov.com
Stay informed with more news like this – from the largest team of reporters on Capitol Hill – subscribe to Bloomberg Government today. Learn more.