What to Know in Washington: Some Democrats Balk at Austin Waiver
President-elect Joe Biden said yesterday he plans to nominate retired Army General Lloyd Austin as defense secretary, a move that would make him the first Black leader of the U.S. military if he can assuage lawmakers' concern about waiving a restriction designed to preserve civilian control of the Pentagon.
Biden praised Austin, who was the first Black general to command U.S. forces in the Middle East, as a "deeply experienced and highly decorated commander who has served with distinction in several of the Pentagon's most crucial positions."
"General Austin shares my profound belief that our nation is at its strongest when we lead not only by the example of our power, but by the power of our example," Biden said in a statement issued by his transition office.
To be eligible for the job, though, Austin would need a waiver from Congress of a law that bars military officers from leading the Defense Department within seven years of retiring. Austin retired in 2016. Some lawmakers already have said they don't support the move, and others expressed concern.
Congress approved an exemption for Jim Mattis, a retired Marine Corps general, to serve as President Donald Trump's first defense secretary. It's a move that lawmakers of both parties said at the time should be extremely rare to preserve the tradition of civilian control of the military.
Yesterday, three of the 17 Senate Democrats who voted against a waiver for Mattis — who, ultimately, was easily confirmed — said they'd also oppose one for Austin.
"I have deep respect and admiration for General Austin, but I remain opposed to granting a waiver to anyone with significant, recent military experience serving in this post because it contravenes the constitutional principle that demands civilian control of our military," Sen. Richard Blumenthal (D-Conn.), a member of the Armed Services Committee, said in a statement.
"I didn't for Mattis, and I don't think I will for him," Sen. Jon Tester (D-Mont.) told reporters, nonetheless predicting that Austin would make a great defense secretary.
Sen. Elizabeth Warren (D-Mass.), who also serves on the Armed Services panel, told CNN that she has "great respect for General Austin" but "I opposed a waiver for General Mattis, and I will oppose a waiver for General Austin."
The House — which approved the waiver for Mattis over the objections of 150 Democrats and one Republican — would also have to approve a waiver for Austin. Speaker Nancy Pelosi (D-Calif.) issued a statement praising Austin for having "led with honor and served with dignity" but didn't mention the dispute over permitting a waiver. Read more from Steven T. Dennis, Tony Capaccio and Roxana Tiron.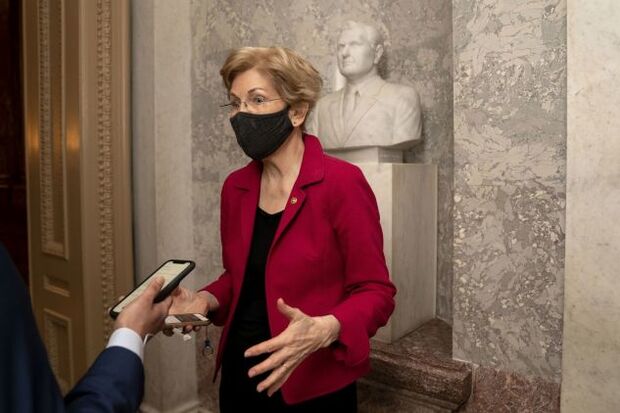 More on Biden's Cabinet
Tracking Biden's Cabinet Nominees: Biden will be naming 23 people in total to cabinet and cabinet-level positions. The president's cabinet includes the vice president, the attorney general and the leaders of the 15 executive departments: Agriculture, Commerce, Defense, Education, Energy, Health and Human Services, Homeland Security, Housing and Urban Development, Interior, Labor, State, Transportation, Treasury, and Veterans Affairs. There are also seven cabinet-level positions: White House chief of staff, Environmental Protection Agency administrator, Office of Management and Budget director, U.S Trade Representative, ambassador to the United Nations, Council of Economic Advisers chairman, and Small Business Administration administrator. Here's what Biden has assembled so far.
Biden Picks Vilsack to Reprise Role at Agriculture: Biden turned to former Iowa Gov. Tom Vilsack to reprise his Obama administration role as agriculture secretary, two people familiar with the decision said, tapping a Farm Belt politician with deep ties to rural America. Vilsack has been a proponent of international trade who criticized Trump's tariff war with China and has shown a willingness to build consensus with agricultural interests. Read more from Mike Dorning, Jennifer Jacobs, and Jennifer Epstein.
Fudge Is Biden's Pick to Lead HUD: Biden has selected Rep. Marcia Fudge (D-Ohio) to lead the Department of Housing and Urban Development, according to two people familiar with the matter. Fudge, who has served in the House since 2008, represents most of the majority-Black areas of Cleveland as well as part of Akron. If nominated, she would be one of just a few House members to leave for the Biden administration as Democrats fight to hold on to the small majority they still have in the next Congress. Naming Fudge, who is African American, to lead HUD helps Biden fulfill his vow to assemble the "most diverse cabinet anyone in American history has ever announced." As HUD secretary, Fudge would help oversee the Biden administration's response to the housing crisis created by the coronavirus, as tenants facing eviction seek rent relief and more Americans are pushed into homelessness. Read more from Jennifer Epstein.
Biden Recruiting for 'Acting' Roles at Labor: The Biden transition is pressing to identify experienced people for "acting" leadership posts at the Labor Department who could begin work on Inauguration Day, allowing the incoming administration to quickly address pandemic-related workplace emergencies. Biden's team is zeroing in on candidates for acting leaders at the Wage and Hour Division, Occupational Safety and Health Administration, Employment and Training Administration, and Office of the Solicitor, among other senior positions at DOL, four sources with knowledge of the plans said.
The emphasis on vetting contenders for acting roles, which is being handled by a transition personnel squad with help from outside groups, is part of Biden's government-wide strategy to work around the likelihood of confirmation battles with Senate Republicans, the sources said. Biden's team believes that priority issues for workers struggling during the pandemic shouldn't be held hostage to partisan differences in the Senate and the chamber's glacial confirmation process, said a source directly involved in the effort. Read more from Ben Penn.
Biden Team Likely to Maintain Sanctions: The Trump administration has imposed sanctions at a record-shattering pace of about three times a day during the president's time in office: a slew of measures targeting companies, individuals and even oil tankers tied to Iran, North Korea, China, Venezuela and Russia. Biden's team is promising a top-to-bottom review of sanctions operations, but don't expect a significant slowdown on his watch. About seven weeks before the inauguration, Biden's picks for top administration slots are making clear that economic restrictions on countries will remain an essential tool, even if they don't like everything about the way Trump used them. Read more from Nick Wadhams and Saleha Mohsin.
Happening on the Hill
White House Return Boosts Chance of Stimulus Deal: Treasury Secretary Steven Mnuchin made a surprise re-entry into talks on a 2020 pandemic-relief package with a $916 billion proposal that opened a potential new path to a year-end deal despite objections from Democrats over elements of the plan. After largely leaving the task to Senate Majority Leader Mitch McConnell (R-Ky.) since Election Day, Mnuchin pitched a $916 billion stimulus plan to Pelosi in a telephone call yesterday, more than a week after she and Senate Minority Leader Chuck Schumer (D-N.Y.) retreated from their previous insistence on a $2.4 trillion bill.
Mnuchin's offer was a joint proposal supported by McConnell and House Minority Leader Kevin McCarthy (R-Calif.), who called it "a great offer." Mnuchin said he conferred with Trump, whose support will be needed to get any deal through the Republican-controlled Senate. Read more from Erik Wasson and Laura Litvan.
Defense Bill Passed by House With Veto-Proof Majority: The House overwhelmingly advanced a crucial $740.5 billion U.S. defense policy bill despite a veto threat by Trump, who wanted it to include a provision to strip protections from social media companies. The vote yesterday was 335-78, which would be more than enough to override a veto from the president. It now goes to the Senate, where it also has broad support, for final approval before heading to Trump's desk. The bill is considered must-pass legislation because it authorizes not only billions of dollars for weapons systems, but also troop benefits. Roxana Tiron has more.
Trump's FCC Pick Simington Confirmed: The Senate yesterday confirmed Trump's nominee to the Federal Communications Commission, possibly creating a partisan deadlock that could leave the agency unable to advance parts of Biden's technology agenda. Nathan Simington, a Commerce Department official, won approval by a party-line vote of 49-46 over the opposition of Democrats. He will replace GOP commissioner Michael O'Rielly. Todd Shields and Rebecca Kern have more.
House Passes Bill to Make Court Records Free: The federal judiciary remains opposed to legislation passed by the House yesterday that would make U.S. court documents free to the general public. Last minute tweaks that would provide more time for implementation weren't enough to win support from the federal judiciary for the bill that is designed to free access to PACER, the online database for U.S. court records. Read more from Madison Alder.
Bill to Protect Antitrust Whistleblowers Passed: House lawmakers passed a bill to protect from retaliation employees who report corporate antitrust crimes, such as price-fixing, to the federal government. The chamber passed by voice vote the Criminal Antitrust Anti-Retaliation Act, which would extend whistleblower protections to private sector employees who report criminal antitrust violations to the Justice Department. It now goes to Trump's desk for his signature. Read more from Victoria Graham.
The Coronavirus Pandemic
Covid Shot Timeline May Slip: It may take a few days more than earlier thought to distribute the first vaccine authorized by the Food and Drug Administration, according to the army general leading the rollout effort. Gustave Perna said yesterday he expects shots to be administered within 96 hours, or four days, after being authorized. Previously, federal officials said they expected the shots to be shipped and administered within one or two days. "We will start to have shots in arms within 96 hours," Perna, the chief operations officer for Operation Warp Speed, said at a White House event yesterday. Read more from John Tozzi.
Vaccine-Delivery Hope Rests on 2021 Approvals: The U.S. government's plan to vaccinate most Americans by next summer rests heavily on two Covid-19 shots that U.S. regulators won't get a chance to rule on until early in 2021. AstraZeneca and Johnson & Johnson together would provide 150 million to 200 million shots in the first quarter, said Moncef Slaoui, chief scientific officer of Operation Warp Speed. That could immunize 110 million to 150 million people, if the doses are evenly split between J&J's single-dose vaccine and Astra's two-dose regimen. That's on top of vaccines from Pfizer and Moderna, from whom the U.S. has ordered enough doses for 100 million people combined. Read more from Riley Griffin.
Vaccine Distribution Hits Freight Rate Bumps: The global rollout of Covid-19 vaccines faces a logistics labyrinth as the shippers of millions of shots must navigate a global economy still grappling with soaring rates for air cargo and overstretched trucking networks. With massive immunization campaigns set to get underway early next year, a survey released yesterday by The International Air Cargo Association and Pharma.aero found 46% of the industry feels well-prepared, versus 28% in a mid-September survey. Read more from Catherine Bosley.
UPS said it has the capacity to handle both the rollout of coronavirus vaccines and an unprecedented holiday package rush this month after investments in automation, tracking technology and dry-ice production. The courier service is the primary end-to-end distributor for Pfizer's vaccine, as well as for kits to prepare the shots and dry ice shipments to keep the inoculations at extremely cold temperatures, its sales chief Kate Gutmann said in an interview. Read more from Thomas Black.
It may take a few days more than earlier thought to distribute the first vaccine given an emergency authorization by the Food and Drug Administration, according to the Army general leading the rollout effort. Gustave Perna said yesterday he expects shots to be administered within 96 hours after being authorized. Previously, U.S. officials said they hoped doses could be deployed and administered in 24 or 48 hours, John Tozzi reports.
What Else to Know Today
SCOTUS Rejects Bid to Nullify Biden's Pa. Win: The U.S. Supreme Court dealt a major defeat to Trump's efforts to overturn the election, rejecting a request by some of his allies to nullify Biden's victory in Pennsylvania. The rebuff came without explanation and without any noted dissents. It marks the first time the full high court has weighed in on efforts by Trump and his supporters to reverse Biden's win. Lawmakers led by Rep. Mike Kelly (R-Pa.) argued Pennsylvania's General Assembly exceeded its power by allowing universal mail-in voting for the 2020 election. Read more from Greg Stohr.
With a key deadline set to pass in his desperate bid to reverse the election, Trump and his supporters rallied around a lawsuit Texas filed in the U.S. Supreme Court that urges the justices to overturn the vote in four states that went for Biden. Trump tweeted praise for the "COURAGE & BRILLIANCE!" of Texas, hours after state Attorney General Ken Paxton said yesterday that he was suing Georgia, Michigan, Pennsylvania and Wisconsin and asking that they be blocked from participating in the Electoral College. In a hearing in an election challenge in Arizona later in the day, a lawyer working with former Trump campaign lawyer Sidney Powell urged the judge to rule quickly so the case could be joined to Paxton's before the Supreme Court. Read more from Erik Larson and Greg Stohr.
Fannie-Freddie at Supreme Court: The U.S. Supreme Court is poised to consider the fate of a lawsuit that could mean billions of dollars for shareholders of Fannie Mae and Freddie Mac and affect the push to end federal control of the mortgage giants. In a 90-minute argument today, the justices will consider whether investors can challenge the 2012 agreements that let the government collect more than $300 billion in profits from Fannie and Freddie. A ruling in investors' favor would give them a chance to collect a massive settlement. Read more from Greg Stohr and Joe Light.
EPA Makes It Harder to Toughen Air Pollution Standards: The Trump administration is changing the way the EPA weighs the costs and benefits of regulations meant to fight air pollution, something that will make it harder to justify tougher standards in the future. The move being announced by the EPA today could at least temporarily tie the hands of Biden's environmental regulators as they seek to strengthen pollution curbs relaxed under Trump. In particular, the more narrow cost-benefit analysis dictated by the EPA rule could limit the agency's ability to cap emissions from power plants and methane leaks at oil wells. Read more from Jennifer A. Dlouhy.
Migrant Caravans Head to U.S. Border: Biden says his priorities when he takes office next month will be the pandemic and economic recovery, but he's facing another crisis that won't wait: a wave of desperate migrants on the southern U.S. border. Two ruinous hurricanes that wrecked and flooded swathes of Central America last month have increased the number of families planning a risky journey northward. And after a year of travel bans and soaring unemployment, demand to reach the U.S. was already high. Read more from Michael McDonald and Eric Martin.
Space Race Gets a Boost From Tax Break: The world's two richest men, who committed billions of dollars of their own money to a private space race, are now eligible for an extra boost from the federal government: a tax break intended to help poor communities. Jeff Bezos and Elon Musk had competed for nearly a decade to develop engines and rockets through their privately owned space companies when the perk came their way in 2018. Their companies' sites were included among the thousands of tracts across the U.S. designated as Qualified Opportunity Zones, part of Trump's plan to use tax breaks to attract investments and jobs to distressed neighborhoods. Read more from David Kocieniewski.
U.S. Targets North Korean Coal Sales: The U.S. announced new sanctions on entities and ships it says are helping North Korea sell coal in violation of international restrictions meant to reign in Kim Jong Un's nuclear weapons program. Read more from David Wainer.
To contact the reporters on this story: Zachary Sherwood in Washington at zsherwood@bgov.com; Brandon Lee in Washington at blee@bgov.com
To contact the editors responsible for this story: Giuseppe Macri at gmacri@bgov.com; Loren Duggan at lduggan@bgov.com; Michaela Ross at mross@bgov.com