What to Know in Washington: Sinema's Record Foreshadowed Break
Bloomberg Government subscribers get the stories like this first. Act now and gain unlimited access to everything you need to know. Learn more.
Arizona Sen. Kyrsten Sinema's departure from the Democratic Party solidifies her as a pivotal centrist, a position likely to continue to put her at odds with her former party in the next Congress on taxes and ending the filibuster.
A self-styled iconoclast, Sinema has delighted in bucking Democrats as she moved from being an anti-war activist 20 years ago to a rare centrist today whose positions have raised the ire of progressives. It's made her an unpredictable, albeit indispensable vote, in an evenly controlled Senate and it won't change much next year when Democrats hold a one-seat majority.
"Kyrsten is independent; that's how she's always been," Senate Majority Leader Chuck Schumer (D-N.Y.) said in a statement. He said she had told him about her plans to leave the party and stressed she would not be losing any of her committee assignments.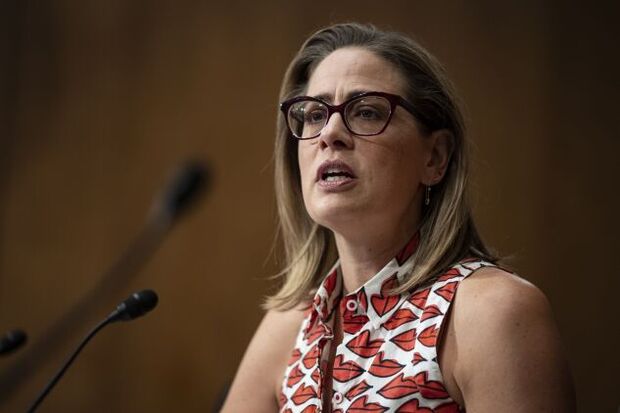 Sinema serves on the Banking, Housing and Urban Development; Commerce, Science, and Transportation; Homeland Security and Governmental Affairs; and Veterans' Affairs committees.
In an op-ed in the Arizona Republic, Sinema downplayed any possible changes to her priorities.
"Becoming an independent won't change my work in the Senate; my service to Arizona remains the same," Sinema wrote. "Arizonans who've supported my work expanding jobs and economic opportunity, or my opposition to tax hikes that would harm our economic competitiveness, should know my focus on these areas will continue."
Sinema's record ranked her 4th last year in Senate bipartisanship, according to an index developed by the Lugar Center and Georgetown University's McCourt School of Public Policy. Her middle-of-the-road record could have appeal in Arizona, one of the nation's emerging swing states where she faces a very competitive re-election in 2024.
But in recent years her moves have frustrated those in the more liberal wing of the Democratic party. Jack Fitzpatrick recaps her path to the switch.
Also Happening on the Hill
CONGRESS' SCHEDULE
The House returns at noon to take up 32 bills under expedited floor procedure.
The Senate convenes at 3 p.m. to vote on a judicial nomination.
The House Financial Services Committee confirmed that former FTX Chief Executive Officer Sam Bankman-Fried will testify at a hearing Dec. 13 on the disintegration of his crypto empire.
US prosecutors, laying the groundwork for a potential fraud case against Bankman-Fried and others involved in the collapse of cryptocurrency giant FTX, are scrutinizing how funds held by the exchange operator moved outside the US as it was hurtling toward bankruptcy, according to a person familiar with the matter. Read more.
Ex-Alameda Research CEO Caroline Ellison has hired a former SEC official who oversaw many of the regulator's biggest crypto cases as her lawyer in the federal probe into cryptocurrency exchange FTX's calamitous collapse. Read more.
Republican Rep. Tom Emmer says SEC Chair Gary Gensler must testify before Congress about the SEC's crypto oversight.
Congressional Democrats are abandoning a plan to release a government funding bill Monday, a person familiar said, after Republican lawmakers said the measure wouldn't get bipartisan support.
The fight over IRS funding has begun even before Republicans take over the House, with the GOP balking at the agency's base budget amid year-end talks to keep the government running past Friday.
Republican Reps. Cathy Rodgers, Robert Latta, H. Morgan Griffith and Gus Bilirakis send a letter to TikTok CEO Shou Zi Chew asking for a briefing on the company's efforts to ensure child safety on the platform.
States scrutinizing TikTok are expected to follow Indiana's lead in suing over the app's potential risks to young users' well-being and concerns about data-sharing with China. Read more.
It's been a tough couple weeks for BlackRock, the world's largest money manager, which endured fresh blows from Republican officials sharply critical of ESG.
Elections, Politics & Probes
Members of a House panel on Sunday discussed urging criminal prosecutions against aides and allies of former President Donald Trump for the Jan. 6 attack on the US Capitol, and adjourned without announcing any decisions.
Georgia's drama-filled elections of the past two years have thrust a new star from each party onto the national stage: Democratic US Senator Raphael Warnockand Republican Governor Brian Kemp.
Florida Governor Ron DeSantis thanked some of his South Florida donors at a closed-door meeting in Miami on Sunday, sidestepping any mention of Trump and any possible plans to run for president.
The day after Trump effectively gave up his court fight over government documents seized by the FBI from his Mar-a-Lago home, his lawyers were in a Washington courthouse amid reports the Justice Department has asked for the former president to be held in contempt in connection with the records probe.
The US Justice Department appealed the dismissal of a civil lawsuit in which it sought to force casino magnate Steve Wynn to register as a foreign agent acting for China.
Karen Bass was sworn in as Los Angeles mayor Sunday after she last month became the first female and the second Black person elected to the role.
Defense & Foreign Affairs
Treasury Secretary Janet Yellen signaled the Biden administration is prepared to continue seeking billions of dollars in aid for Ukraine as the Eastern European country battles Russia's invasion and missile attacks.
The US special envoy who helped secure WNBA star Brittney Griner's release from Russian custody said he spoke to detained American Paul Whelan and assured him "we're coming to get you."
If there were any hope President Joe Biden would undo his predecessor's divisive trade tariffs that caused upheaval in the global steel and aluminum markets, it all but evaporated Friday.
US forces killed two ISIS officials in a nighttime helicopter raid in eastern Syria that included commandos spending about three hours on the ground, a senior military official said.
China described its meeting with US envoys that included discussions on Taiwan as "in-depth and constructive," a sign Beijing and Washington are taking steps to cool tensions.
Around the Administration
PRESIDENT'S SCHEDULE
Biden and First Lady Jill Biden will join the US Marine Corps Reserve for a Toys for Tots event in Arlington shortly before 1 p.m.
Press Secretary Karine Jean-Pierre and National Security Adviser Jake Sullivan holds a press briefing at 3 p.m.
Yellen says inflation will be much lower by the end of next year, as long as there are no unanticipated shocks to the economy.
The future of the Biden administration's efforts to prohibit LGBTQ discrimination in health care is at stake after a Trump-appointed judge ruled that the Affordable Care Act defines sex narrowly.
The Biden administration, seeking to bolster an industry that carries more than two-thirds of US freight, wants to make the trucking career better for women. Trouble is, many of the female truckers now on the roads face a disproportionate amount of sexual harassment.
The Justice Department's antitrust division and the Office of the Inspector General of the Department of Health and Human Services signed a new agreement to share information and coordinate enforcement in health-care markets.
NASA's Orion spacecraft splashed down in the Pacific Ocean off the coast of Mexico on Sunday, bringing a successful end to a 25-day test flight that sent the uncrewed vehicle around the moon and back to Earth.
NASA administrator Bill Nelson says he was assured by SpaceX's president that the rocket company's work with the space agency won't suffer from Elon Musk's current focus on revamping Twitter.
To contact the reporters on this story: Brandon Lee in Washington at blee@bgov.com; Michaela Ross in Washington at mross@bgov.com
To contact the editor responsible for this story: Giuseppe Macri at gmacri@bgov.com
Stay informed with more news like this – from the largest team of reporters on Capitol Hill – subscribe to Bloomberg Government today. Learn more.