What to Know in Washington: Sinema Seeks Changes to Senate Deal
Arizona Democrat wants carried interest, corporate tax cuts
Senate approves Finland, Sweden NATO expansion
Senator Kyrsten Sinema is seeking to preserve a tax break for investment managers and narrow a levy hike on large corporations in the economic package Democrats want to pass as soon as this week, people familiar with the discussions said.
Sinema (D-Ariz.), a pivotal vote in the Senate, is asking to drop a provision from the bill that would narrow a tax break for fund managers, known as "carried interest," according to one person, who asked for anonymity because the discussions are private.
She is also pushing to narrow the 15% domestic minimum tax on financial profits, also known as the book tax, sources said of Sinema, whose vote Democrats need to pass the deal using the fast-track budget procedure to bypass Republican opposition. But changing the tax provisions risks irking Sen. Joe Manchin (D-W.Va.), who negotiated the legislation with Majority Leader Chuck Schumer (D-N.Y.). Manchin has said he is "adamant" that the carried interest change remain in the bill.
One way to make the corporate minimum tax less costly to businesses is to let companies still claim depreciation tax breaks for their investments in equipment and facilities. The levy as currently drafted doesn't allow businesses to claim those benefits. The tech and manufacturing industries would be some of the most affected from the book tax without the change. Companies such as Google and General Motors, could be subject to the tax. Read more from Laura Davison and Erik Wasson.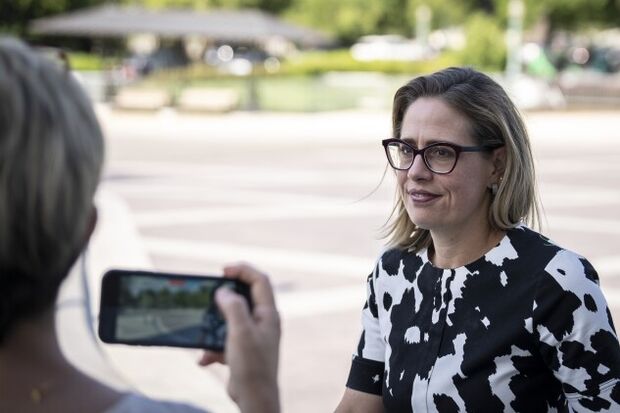 MORE ON THE LEGISLATION
A side deal between Manchin and Schumer focused on permitting overhaul doesn't specifically cite the Mountain Valley Pipeline, according to draft legislative language obtained by Bloomberg, although language to help ensure its completion is mentioned in a summary. A spokeswoman for Manchin, Sam Runyon, said the draft was "outdated and incomplete." Runyon declined to share updated text. Read more from Daniel Moore and Kellie Lunney.
Happening on the Hill
CONGRESS' SCHEDULE
The Senate meets at noon to vote on a nomination and a resolution to rescind the Biden administration's changes to the nation's environmental permitting rules.
The Senate ratified adding Sweden and Finland to NATO, a move aimed at strengthening the military alliance after Russia's invasion of Ukraine. The vote was 95-1, far exceeding the two-thirds majority required for the approval of treaties. If the NATO expansion wins approval from all current members of the alliance, Finland will join Estonia and Latvia as NATO countries that share a land border with Russia. Sen. Josh Hawley (R-Mo.) was the sole vote in opposition.
The vote comes over five months after Russian President Vladimir Putin shook the world order with his invasion of neighboring Ukraine. In response, the North Atlantic Treaty Organization has moved to offer more protection to the exposed Baltic countries along the alliance's eastern border. "Putin is strengthening the NATO alliance and nothing shows it better than the vote," Senate Majority Leader Schumer said. Read more from Diego Areas Munhoz and Nancy Ognanovich.
The Biden administration is lobbying Senate Democrats to put the brakes on a bill that would alter US policy towards Taiwan, including by designating it as a major non-NATO ally, people familiar with the matter said. It also would provide Taiwan with $4.5 billion in security aid and support its participation in international organizations. The administration is already trying to deal with increasing China friction following Speaker Nancy Pelosi's (D-Calif.) Taiwan visit, Jenny Leonard and Erik Wasson report.
Rep. Jackie Walorski and two of her staffers died in a car crash Wednesday, according to the Elkhart County Sheriff's Office. She was 58. Walorski (R-Ind.) was a five-term House lawmaker and a member of the Ways and Means Committee. She also served as ranking Republican of the House Ethics Committee. The staffers in the car with her were Emma Thomson, 28, her communications director, and Zachery Potts, 27, her district director. Read more from Emily Wilkins and Zach C. Cohen.
The Secret Service and other agencies would be required to turn in more records to government watchdogs under legislation a Senate Democrat is proposing. Sen. Chris Murphy (D-Conn.) on Wednesday announced a bill to amend the Inspector General Act of 1978 to specify that federal laws protecting privacy and presidential records cannot be used as reason to withhold records from an agency's inspector general. Read more from Ellen M. Gilmer.
Massachusetts Democrat Elizabeth Warren is circulating a letter among her Senate colleagues that would ask a key US bank regulator to withdraw legal guidance that has underpinned Wall Street's foray into crypto. Warren wants the Office of the Comptroller of the Currency to pull a series of Trump-era interpretations that paved the way for banks to offer services like crypto custody for clients. Read more from Allyson Versprille.
Lawmakers want the Pentagon to explore buying more bison to be used as meat for US troops, and some tribes are wary. The House's annual defense authorization and spending bills released this summer would direct the Pentagon to find ways to increase purchases of bison—with the goal of procuring 2 million pounds annually as a "sustainable food source." The Senate measure simply encourages the DOD to consider bison for its "nutritional value." Roxana Tiron has more.
It's not Kalpana Kotagal's track record that could derail her nomination to the US workplace civil rights agency, but rather concern over what the office could do with Democrats in charge, those who oppose her nomination say. High-profile business groups have spoken out against Kotagal, saying she has the "potential to impede economic growth and opportunity" and has spearheaded "expensive, frivolous litigation." Read more from Paige Smith and J. Edward Moreno.
The organization that oversees connecting patients who need organs with donors needs to remedy "gross mismanagement and incompetence," said Senate Finance Chairman Ron Wyden (D-Ore.). Lawmakers raised concerns about the United Network for Organ Sharing and the country's network of transplant groups, claiming that a lack of oversight has caused people to receive organs of the wrong blood type. Read more from Alex Ruoff.
House Agriculture Committee Chairman David Scott (D-Ga.) is proposing government aid for small ranchers — a measure some cattle producers are calling a "band-aid" barring policies to break up big beef. The bill H.R. 8590 would ramp up insurance subsidies for ranchers with 100 or fewer head of cattle and set up a program to try to help ensure they receive fairer prices. The bill—which Scott believes will get GOP support—comes as Congress tries to push through legislation to deal with meat industry consolidation, Maeve Sheehey reports.
Elections, Politics & Probes
The DOJ sued Peter Navarro, former White House trade adviser, claiming he's refused to provide the National Archives with emails retained on a private account he used while working for President Donald Trump. The US said Navarro used an account on the non-official service called "ProtonMail" to send and receive message that it says constitute "Presidential records." Read more from Patricia Hurtado.
The primary to watch in Tennessee today is in a district that Republican mapmakers overhauled to favor their party and prod a veteran House Democrat to retire. Nine Republicans are on the ballot in the central 5th District, where 16-term Rep. Jim Cooper (D) declined to seek re-election after the GOP-led legislature splintered populous Davidson County (Nashville) into three districts in lieu of keeping the county whole. Read more from Greg Giroux.
Rep. Peter Meijer's loss in his primary on Tuesday is the latest blow to dealmakers in the House known for reaching across the aisle and being willing to buck their party on votes when needed. Meijer (R-Mich.), a member of the bipartisan Problem Solvers Committee, is the latest of 10 Republicans who voted to impeach Donald Trump to lose in a primary in 2022. Meijer's loss in Michigan also underscores a larger trend in the House. Read more from Emily Wilkins.
Around the Administration
PRESIDENT'S SCHEDULE
Biden at 1:45 p.m. will host a roundtable with business and labor leaders to promote the Senate's climate, tax and drug pricing reconciliation bill.
A new Pentagon plan on ethically deploying artificial intelligence tools is facing criticism from AI professionals that it fails to address literacy gaps among staff or ways to monitor its effectiveness over time. The need for the plan stems from concerns that AI is prone to biases that get encoded by humans into machine learning models, that algorithms may often churn out unreliable and inadequate results, and that cases are inappropriate or discriminatory. Read more from Josh Axelrod.
The DOJ's antitrust division is leaning on legal briefs to influence competition law even when it lacks the time and resources to join private litigation as a party. In deploying statements of interest in private cases—including challenges to no-poach pacts between employers—division leader Jonathan Kanter is focusing on clarifying the law while laying the groundwork for potential future major cases, according to former DOJ staff and antitrust lawyers. Read more from Dan Papscun.
Black, Native Hawaiian, and Pacific Islander women continued to have the highest fetal mortality rates in 2020, according to a new report released Thursday by the Centers for Disease Control and Prevention's National Center for Health Statistics. Read more from Ayanna Alexander.
WHAT ELSE TO KNOW TODAY
Environmental Equity Scorecard: The White House asked the public to weigh in on an environmental justice scorecard to hold federal agencies accountable as it tries to make good on its vow for more equitable treatment of people of color and other disadvantaged communities. Read more from Dean Scott.
Energy Undersecretary: David Crane, former CEO of NRG Energy, will be nominated for Under Secretary for Infrastructure at the Energy Department, the White House announced Wednesday. The under secretary for infrastructure leads the DOE's clean energy infrastructure programs. Read more from Bobby Magill.
787 Gets Review: The Federal Aviation Administration's made an unusual show of concern about Boeing's manufacturing processes with a visit Thursday to a plant that builds the company's 787 Dreamliner. The acting administrator, Billy Nolen, plans to meet with agency safety inspectors in South Carolina. Read more from Alan Levin.
With assistance from Maeve Sheehey
To contact the reporters on this story: Brandon Lee in Washington at blee@bgov.com; Michaela Ross in Washington at mross@bgov.com
To contact the editors responsible for this story: Giuseppe Macri at gmacri@bgov.com; Loren Duggan at lduggan@bgov.com