What to Know in Washington: Sinema Says Yes on Climate, Tax Deal
Democrats move forward with plan to vote Saturday
DHS watchdog under fire over missing secret service texts
Democrats agreed on a revised version of their tax and climate bill, dropping a provision that would have narrowed a tax break for carried interest, altering a 15% minimum tax on corporations and adding a new 1% excise tax on stock buybacks.
Senator Kyrsten Sinema (D-Ariz.), a pivotal Democratic vote in the 50-50 Senate, said Thursday night she'll back the revised plan, removing one of the last hurdles for legislation carrying core components of President Joe Biden's domestic agenda.
Senate Majority Leader Chuck Schumer (D-N.Y.) said in a statement that the revised legislation will be brought to the chamber floor on Saturday, setting the bill on the way to passage with a simple majority vote.
Biden hailed the agreement, calling it "another critical step toward reducing inflation and the cost of living for America's families" and urging the Senate to pass it quickly.
Senate Democrats are still waiting, however, for the parliamentarian to scrutinize the legislation to determine whether parts of the bill meet the chamber's strict budget rules. Elements like domestic content requirements for cars eligible for electric vehicle tax credits, caps on insulin out-of-pocket costs and penalties for drug companies raising prices higher than inflation could be struck.
Schumer said he believes all 50 members of the Democratic caucus, including Sen. Joe Manchin (D-W.Va.), would support the revised bill. Schumer negotiated the previous version of the bill with Manchin.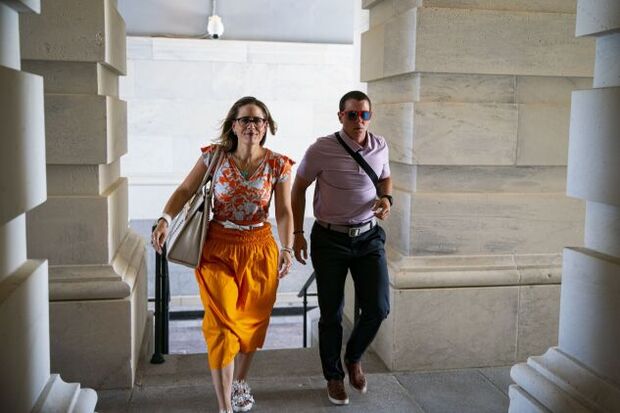 The deal struck to get Sinema on board would pare back the original 15% corporate minimum tax proposal by creating an exemption for depreciation tax deductions. This change was urged by manufacturers. The hole created by this new exemption as well as by nixing the carried interest provision would largely be made up for with the 1% excise tax on stock buybacks, according to people familiar with the talks. Read more from Erik Wasson and Laura Davison.
MORE ON THE LEGISLATION
Power, Transport Sectors: The deal's implications for greenhouse gas emissions are starting to come into view. Manchin and Schumer initially said the Inflation Reduction Act would cut US emissions about 40% below 2005 levels by 2030, and expert climate policy modelers said reaching that target was plausible. Read more from Zahra Hirji.
Rettig Praises Deal: IRS Commissioner Chuck Rettig on Thursday expressed support for the funding boost to the agency included in Democrats' reconciliation package, saying the increased funds would be "transformative" for the agency and taxpayers. The bill would provide the IRS with roughly $80 billion. Read more from Naomi Jagoda.
Local Climate: Senate Democrats highlighted state and local anti-flooding measures and other projects that pending climate legislation could bolster during a hearing on Thursday on climate-change costs. Sen.

Sherrod Brown

(D-Ohio), chairman of the Senate Banking Committee, and his Democratic colleagues weighed how communities are addressing extreme weather that's being exacerbated by climate change. Read more from Zach Bright.
Also on Lawmakers' Radars
Key Senate Democrats are weighing oversight options amid heightened concerns about how the Department of Homeland Security's watchdog is handling a probe into missing Secret Service texts. Sen. Chris Murphy (D-Conn.) Thursday said the DHS inspector general's office "wasn't doing its job" in investigating the missing records at issue in the House Jan. 6 panel's probe of the Jan. 6 attack on the US Capitol. Read more from Ellen M. Gilmer.
DOD Deleted Texts: The deletion of text messages sent by senior Pentagon officials in the Trump administration, including during last year's US Capitol attack, has prompted an internal review of Defense Department compliance with federal records policies. Deputy Defense Secretary Kathleen Hicks called in an Aug. 3 memo sent to top DOD officials for the DOD's general counsel and other officials to give her recommendations within 30 days to assess department policies and procedures for ensuring Federal Records Act compliance. Read more from Billy House.
Alex Jones' Texts: The House committee is also seeking right-wing conspiracy theorist Alex Jones' cell phone texts that were mistakenly given to a lawyer for parents of a child killed in the Sandy Hook shooting. Mark Bankston said on Thursday in a Texas courtroom that the Jan. 6 panel want the records from him, and that he'll provide them. Read more from Billy House.
A senior Democrat pushing for a new minimum tax on companies invoked fresh data showing more than 100 profitable US corporations paying an average tax rate of just 1.1% as a showcase for the initiative. The Joint Committee on Taxation looked at the profits of large corporations in 2019 before the pandemic. Its analysis found 100 to 125 corporations that reported average earnings to shareholders of some $8.9 billion, and paid an average tax rate of 1.1% on those profits. Laura Davison has more.
The Senate will vote on joining an international pact to phase-down the production and consumption of hydrofluorocarbons—super-polluting greenhouse gases widely found in refrigerators and air conditioners, according to Sen. Tom Carper (D-Del.). The vote will take place after the August recess, he said. The Kigali amendment to the Montreal Protocol was approved by Senate Foreign Relations Committee in May, Ari Natter reports.
The Senate confirmed President Biden's seven nominees to the US Sentencing Commission, fully restocking the panel and giving it the quorum needed to create guidance for the first time since 2019. Two nominees have experience as public defenders—a background Biden has prioritized in judicial nominees too. Read more from Madison Alder.
Elections, Politics & Probes
Donald Trump's lawyers are in talks with federal prosecutors over conversations the former president had with advisors and whether he'd be able to shield them from investigators of the Jan. 6 assault on the Capitol, CNN reported. It's the first indication the two sides are in direct talks as the federal probe accelerates, CNN said, citing people familiar with the matter, who the network didn't identify. Joe Schneider and Mark Niquette have more.
Texas Gov. Greg Abbott (R) told his fellow conservatives that they don't need to worry about transplants from California and New York turning the Lone Star State blue before his re-election. Abbott spoke about the state's strong job record and influx of new residents, particularly from California, at the Conservative Political Action Conference in Dallas on Thursday. He suggested many California newcomers are conservative and that liberal Texans have moved away. Shelley Hagan has more.
Orban Fits In: Hungarian Prime Minister Viktor Orban is used to being pigeon-holed as a pariah in Europe. But at CPAC in Texas, before an audience of die-hard Trump supporters, his spiel against migrants and the media was warmly embraced. "The mother is a woman, the father is a man," Orban also said, drawing a standing ovation. Read more from Mark Niqette.
Former Vice President Dick Cheney, in a campaign ad for his daughter, Liz (R-Wyo.), said that no one has posed a greater threat to the Republic than Trump. The elder Cheney, who served as vice president under Republican George W. Bush, said Trump "lost his election, and he lost big." Trump tried to steal the election "using lies and violence to keep himself in power" after voters rejected him. "He's a coward," Cheney said. Read more from Catherine Dodge.
Vice President Kamala Harris said Tuesday's Kansas vote showed most Americans agreed with Democrats on protecting access to abortion as the administration played up the issue ahead of the November midterms. It was her latest stop on a nationwide tour aimed at pushing back on the Supreme Court ruling eliminating Roe v. Wade's guaranteed right to an abortion nationwide. Read more from Jordan Fabian.
Around the Administration
PRESIDENT'S SCHEDULE
At 1 p.m. Biden plans to sign two bills to improve assigning accountability for fraud in Covid-19 small business relief programs. Small Business Administration chief Isabella Casillas Guzman will attend.
Press Secretary Karine Jean-Pierre holds a briefing at 2 p.m.
Lockheed Martin has delivered more than 800 F-35 fighter jets, but production is still marred by excessive defects and rework that risk substantial delivery delays and reduced readiness, according to the Pentagon's Defense Contract Management Agency. Tony Capaccio has the latest.
The Transportation Department announced Friday that 35 states and three territories will each get a chunk of a $172.2 million pot funded from the infrastructure law (Public Law 117-58) to spend this fiscal year on improving ferry service, Lillianna Byington reports. Washington is set to receive more than $42 million in the fiscal 2022 dollars, the most of any state. Alaska would be second, at $36 million, and New York next, with almost $18 million.
The US denounced missiles launched by China toward Taiwan, National Security Council spokesperson John Kirby said in a briefing Thursday. "We anticipated that China might take steps like this, in fact," Kirby says. "We also expect that these actions will continue and that the Chinese will continue to react in coming days." The firings by Beijing follow Speaker Nancy Pelosi's (D-Calif.) visit with Taiwan leaders, which spurred threats from China. Read more from Justin Sink.
The Taliban's apparent sheltering of al-Qaeda leader Ayman al-Zawahiri, who was killed last weekend in a US drone strike in Kabul, dealt a blow to an already politically fraught attempt to free up $3.5 billion in frozen bank funds to alleviate poverty and famine in Afghanistan. Daniel Flatley and Courtney McBride explain.
The gulf separating Tehran and Washington has grown wider since the previous round of nuclear talks in Vienna, European Union diplomats said as the latest negotiations get underway. At least two new nuclear-related issues have emerged in recent months, lengthening the list of hurdles to be cleared to six or seven, according to two Europeans officials familiar with US-Iran talks that resumed in the Austrian capital on Thursday. Read more from Jonathan Tirone.
To contact the reporters on this story: Michaela Ross in Washington at mross@bgov.com; Brandon Lee in Washington at blee@bgov.com
To contact the editors responsible for this story: Giuseppe Macri at gmacri@bgov.com; Loren Duggan at lduggan@bgov.com