What to Know in Washington: Shutdown Looms as Deadline Arrives
Congress is facing down a midnight deadline to pass a spending bill or rush through another stopgap to keep the government funded through at least the weekend while talks continue.
Several sticking points on the coronavirus aid package and spending bills have delayed an agreement. Some senators are objecting to certain provisions in the stimulus measure and may not go along with another funding extension if its needed, Sen. John Thune (R-S.D.), the chamber's No. 2 GOP leader, said yesterday.
The federal government faces the possibility of a partial weekend shutdown because of disputes, Thune said. The government is currently operating on stopgap funding that expires today. If the House and Senate need more time to process the legislation, another short-term funding bill would be needed.
Thune, who is the chief GOP vote-counter in the Senate, said some lawmakers, who he didn't name, may object to the short-term stopgap in order to push their own priorities in the bill. That would leave the government without funding, though the White House budget office has legal discretion to avoid the start of federal worker furloughs if funding is likely to pass in the near future.
"If it's for a very short amount of time on a weekend, hopefully it's not going to be something that would be all that harmful," Thune told reporters. "The preferable route is to keep the government open and get this done and get it done quickly."
Current hurdles include a Democratic request for federal funds to match 100% of FEMA payouts for pandemic-related disasters, as well as the Republican demand to end the Federal Reserve's emergency lending program by the end of the year. Talks are also hung up on aid for entertainment venues and whether the relief bill needs to extend an existing eviction moratorium if it also includes adequate funds to help renters.
House Majority Leader Steny Hoyer (D-Md.) said leaders will decide by this morning whether to bring up a stopgap bill for a vote or if completing the omnibus bill in time for midnight is still possible. Erik Wasson has the latest.
Stimulus Checks Reemerge to Further Complicate Talks: A push by some lawmakers for more robust direct payments is leaving negotiators to wrestle over how much money should be directed away from another priority: enhanced unemployment insurance.
A second round of direct payments wasn't part of the initial $908 billion bipartisan framework that helped bring another emergency deal this close to reality. But following pressure from a vocal subset of lawmakers, including the Congressional Progressive Caucus, House and Senate leadership has tentatively moved toward including direct payments. Read more from Colin Wilhelm.
Also Happening on the Hill
Mnuchin Can Extend Fed Programs, Panel Says: Democrats notched a small win in their bid to prove that there's legal authority for the Federal Reserve's emergency lending programs to extend beyond this year: Library of Congress researchers agree with them. The Congressional Research Service, a nonpartisan body, said yesterday Treasury Secretary Steven Mnuchin has the authority to extend the lending programs if he so chooses and that the Fed facilities may continue to make loans and purchase assets backstopped by the money already invested into the Fed vehicles. Read more from Laura Davison.
Water Infrastructure Disagreement Resolved Amid Spending Talks: House and Senate negotiators have overcome a speed bump that's slowed passage of a bipartisan water infrastructure package, moving the legislation toward inclusion in the year-end spending bill. House Transportation and Infrastructure Chairman Peter DeFazio (D-Ore.) and Senate Appropriations Chairman Richard Shelby (R-Ala.) agreed to tweak language related to the Harbor Maintenance Trust Fund that was authorized in the latest House-passed 2020 Water Resources Development Act, according to two aides familiar with the negotiations. Read more from Kellie Lunney.
Congress to Get Limited Vaccines: Congress will be receiving a "small number" of Pfizer vaccine doses to "to meet long-standing requirements for continuity of government operations," Attending Physician Brian P. Monahan said in a statement yesterday. Monahan said members should call his office to schedule appointments, and that once members were complete, doses would be offered to other essential staff in an order to be determined in the coming weeks. Both McConnell and Pelosi said last night they planned to receive the vaccine soon. "With confidence in the vaccine and at the direction of the Attending Physician, I plan to receive the vaccine in the next few days," Pelosi said in a statement.
GOP Georgia Senators Lose Bid to Alter Mail-in Ballot Rules: A federal judge in Georgia rejected a lawsuit by the state's two Republican senators seeking to change the mail-in ballot signature verification rules for their Jan. 5 runoff election, calling their worries about voter fraud "far too speculative." U.S. District Judge Eleanor L. Ross in Atlanta yesterday granted the state's motion to dismiss the suit brought by the Georgia Republican Party and the campaigns of Sens. David Perdue and Kelly Loeffler, whose races will determine control of the U.S. Senate. Read more from Erik Larson.
The Presidential Transition
Biden Unveils Team to Fight Climate Change: President-elect Joe Biden has selected former Michigan Gov. Jennifer Granholm (D), North Carolina environmental regulator Michael Regan and Rep. Deb Haaland (D-N.M.) to advance his climate policy and strengthen safeguards against pollution. If confirmed, Granholm would be secretary of the Energy Department, Regan would become Environmental Protection Agency administrator and Haaland secretary of the Interior Department.
The team also includes Brenda Mallory as chair of the Council on Environmental Quality, Gina McCarthy as national climate adviser and Ali Zaidi as deputy national climate adviser. "This brilliant, tested, trailblazing team will be ready on day one to confront the existential threat of climate change with a unified national response rooted in science and equity," Biden said in a statement released last night. Read more from Jennifer A. Dlouhy.
Biden Senior Aide Richmond Infected: Rep. Cedric Richmond (D-La.), who's been named one of Biden's White House aides, has tested positive for the coronavirus, becoming the first known infection inside the president-elect's senior staff. Biden was later tested after Richmond's infection was known and tested negative yesterday. Biden's transition team said the president-elect did not have "close contact," as defined by the CDC, with Richmond when they attended a campaign event together in Georgia on Tuesday. Read more from Justin Sink.
Garcetti Says He's Not Joining Biden Administration: Los Angeles Mayor Eric Garcetti said he's had discussions with Biden's transition team about a role in the new administration, but he won't be leaving his current job. "I promised you all at the beginning of this pandemic that I and your city government will never stop working for you," Garcetti said last night at a press conference. "In this, our toughest moment, that still remains true." Read more from Christopher Palmeri.
Biden to Seek Talks With Maduro Regime: Biden's advisers are preparing to negotiate with Nicolas Maduro's regime in Venezuela in an effort to end the Western Hemisphere's worst economic and humanitarian crisis, according to three people familiar with the matter. The Biden administration intends to push for free and fair elections, offering sanctions relief in return, said the people, who requested anonymity because the new team is forming. In a departure from the Trump administration, which insisted it would only negotiate the terms of Maduro's surrender, Biden's advisers aren't setting that as a precondition and are open to direct talks. Read more from Ben Bartenstein and Alex Vasquez.
Biden Suggests 'Foul Play' in Efforts to Target Son: Biden said yesterday that he believed efforts to use his son as a political cudgel amounted to "foul play" amid a federal investigation into Hunter Biden's tax matters and Republican calls for a special counsel investigation into his foreign dealings. "We have great confidence in our son," Biden said in an interview with CBS late-night host Stephen Colbert. "I'm not concerned about any accusations that have been made against him, it's used to get me. I think it's kind of foul play but — look, it is what it is." Read more from Justin Sink and Chris Strohm.
The Coronavirus Pandemic
Azar to Stay on the Job After Wife Tests Positive: Health and Human Services Secretary Alex Azar's wife, Jennifer, has tested positive for the coronavirus, but he will continue going to work and spoke maskless at a pair of events a day before her case was confirmed. Azar announced the diagnosis in a letter to staff late yesterday. He added that his wife had initially tested negative with a rapid test, which is less accurate, before results yesterday from a more-accurate PCR test showed she was positive. Azar said he won't quarantine because he's an essential worker. "I will be carrying out the duties of my office while strictly adhering to CDC guidelines for essential workers, continuing to practice social distancing, wearing a mask, and monitoring for any symptoms," he said, adding that the decision was made in consultation with Robert Redfield, the director of the Centers for Disease Control and Prevention. Read more from Josh Wingrove and Jennifer Jacobs.
Moderna Vaccine Gets FDA Panel Endorsement: Moderna's Covid-19 vaccine won backing from a panel of experts who advise federal regulators, setting the stage for its shot to be the second vaccine cleared by the U.S. Food and Drug Administration. Advisers voted 20 to 0, with one abstention, yesterday that the benefits of the vaccine outweigh any risk, delivering a key boost to efforts to ramp up the U.S. immunization campaign. The effort is initially focused on health-care workers and elder people living in long-term care centers. The FDA could grant the shot authorization as early as today. Read more from Anna Edney.
Pfizer, U.S. Wrangle Over Distribution Pace: Pfizer pushed back on claims it is experiencing problems producing its vaccine, as the company and the federal government continued to try to reach agreement that would eventually double the number of doses available for the U.S.'s vast immunization effort. Operation Warp Speed's chief scientist, Moncef Slaoui, said that the U.S. is close to a deal for another 100 million vaccine doses, but said they wouldn't arrive until the second quarter of 2021. Read more from Riley Griffin and Josh Wingrove.
Court Spurns Religious School on Covid Shutdown: The U.S. Supreme Court refused to let religious schools in Kentucky resume in-person classes, at least temporarily rejecting calls for an exemption from a shutdown order amid a surge of Covid-19 cases. Over two dissents, the justice turned away a Christian school that said Kentucky's restrictions unconstitutionally discriminate against religion, even though the rules also apply to public and secular private schools. Read more from Greg Stohr.
Greater Los Angeles Now Worst-Hit in U.S.: Greater Los Angeles is emerging as America's worst-hit metropolitan area as Covid-19 rips across California at an unprecedented rate. The past week saw San Bernardino and Los Angeles counties recording 1,415 and 1,102 average daily cases per million residents, respectively, the highest rates among counties of at least a million people, according to USAFacts, a nonprofit aggregator of government statistics used by the Centers for Disease Control and Prevention. Riverside County, also part of the Greater Los Angeles area, is the fourth-worst hit. Jonathan Levin and Christopher Palmeri have more.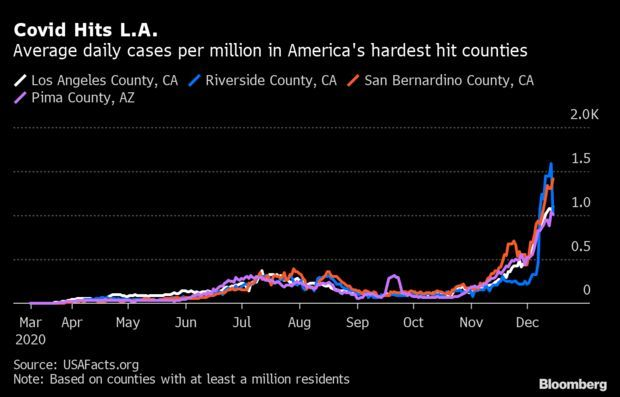 What Else to Know Today
Trump Fills Government Boards With Loyalists: Trump has appointed a slew of prominent aides, supporters and fundraisers to federal advisory boards since losing re-election, a sometimes controversial practice that indicates recognition his presidency is coming to a close. Roughly three dozen Trump allies have received appointments to federal boards and commissions in recent weeks — including some who bring no apparent expertise to the posts. Read more from Jordan Fabian.
Russia Hack Confronts Trump With Decisions: A massive hack on the federal government presents Trump with the same choice Barack Obama faced in the waning days of his tenure: whether to impose sanctions on Russia, and how severe to make them. So far, Trump has shown little willingness to impose costs. Nick Wadhams has more.
Foreign Influence Threats Prompt Changes to NIH: Biomedical researchers would have to disclose foreign collaborations and other non-monetary relationships under new changes to the National Institutes of Health's conflicts of interest policies. Jeannie Baumann has more.
Trump's Exit Should Allow Lawsuit to Proceed, Accuser Says: Trump's attempt to delay handing over documents in E. Jean Carroll's defamation lawsuit should be denied because the case won't inconvenience him once he's out of office, her lawyer said. Read more from Erik Larson.
To contact the reporters on this story: Zachary Sherwood in Washington at zsherwood@bgov.com; Brandon Lee in Washington at blee@bgov.com
To contact the editors responsible for this story: Giuseppe Macri at gmacri@bgov.com; Loren Duggan at lduggan@bgov.com; Michaela Ross at mross@bgov.com