What to Know in Washington: Shutdown Avoided Ahead of Deadline
Lawmakers sent President Joe Biden a stopgap spending measure last night, avoiding a lapse in government funding that was set to expire after midnight tonight. Republicans are learning lessons from last month's elections, and are pushing to make education a central feature of their 2022 campaigns.
Here's what Bloomberg Government is tracking for Friday.
Biden's Schedule:
The president will deliver remarks at 10:15 a.m. on the November jobs report. The median projection in a Bloomberg survey of economists are for a 546,000 increase in payrolls — which would be the most since a 1 million-plus surge in July — and for the unemployment rate to fall slightly to 4.5%. While the job market is starting to make greater strides, labor supply remains well short of demand, Molly Smith reports.
Biden will depart at 5:30 p.m. for Camp David for the weekend.
Congress Agenda:
The House canceled plans to be in session today and Monday, and will return Tuesday. The Senate is also out until Monday.
Congress Clears Stopgap Spending Bill
The Senate last night passed a stopgap spending bill to avert a U.S. government shutdown, sending the measure to Biden for his signature. The bipartisan 69-28 vote came hours after House passage of the legislation on a largely party-line basis.
The Senate vote followed day-long negotiations between Senate leaders and a group of conservative Republicans who demanded consideration of an amendment that would block Biden's Covid-19 vaccine mandates. In exchange, they agreed to not throw up procedural obstacles for the spending bill, which threatened to trigger a partial closing of the government after midnight Friday. That amendment failed, 48-50, and the Senate moved quickly to passage of the temporary government funding.
The stopgap bill funds the government until Feb. 18. That will allow Democrats to move forward on Biden's roughly $2 trillion economic agenda and to find a path to lifting the federal debt ceiling before the end of the month in the face of solid Republican opposition.
Both parties also will turn to a must-pass annual defense policy bill. Read more from Erik Wasson and Laura Litvan.
The battle over the Biden administration's mandates for coronavirus vaccines or testing also isn't over, Wasson and Litvan report. Republicans plan to try again with a resolution that would disapprove of the Occupational Safety and Health Administration vaccine mandate for private employers. This time they'll have the support of Sen.

Joe Manchin

(D-W.Va.), who voted against the amendment last night. He said after the spending bill passed that he would "strongly support" a Congressional Review Act resolution sponsored by Sen.

Mike Braun

(R-Ind.). With Manchin's support the regulation repeal measure would have the votes for Senate passage.
The Bipartisan Policy Center is preparing to release a new estimate early today that projects the debt limit payment default date will most likely arrive between Dec. 21 and Jan. 28, Nancy Ognanovich reports. "We will say that the X date will occur sometime between December 21st and January 28th," BPC Senior Vice President Bill Hoagland said in an interview. Hoagland said that while the possibility of a government shutdown is attracting more attention, failure to raise the nation's borrowing authority "is much more dangerous."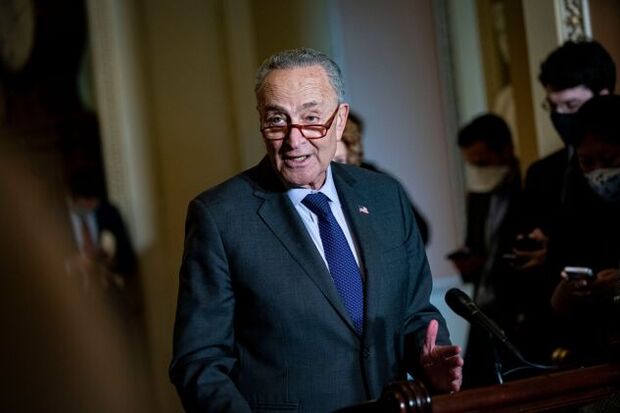 ALSO HAPPENING ON THE HILL:
A senior Democrat said the House is poised to take up legislation related to human rights in China next week, potentially including a bill that would target goods produced in the Xinjiang region where the government is allegedly holding Uyghur Muslims in forced labor camps. "I believe very strongly that we will move forward on it," House Rules Chair Jim McGovern (D-Mass.) said after leaving a meeting in Speaker Nancy Pelosi's (D-Calif.) office. "Next week is an important week for human rights — International Human Rights Day," he added, "and we think it's important to move some China legislation, hopefully much of it focused on human rights and the Uyghur Forced Labor Prevention Act, we want to see that get over the finish line in some form." Read more from Daniel Flatley.
The House can make its mark on mitigating Chinese trade practices that threaten U.S. workers by strengthening a Senate-passed bill, a top Ways and Means Committee Democrat said. Trade Subcommittee Chair Earl Blumenauer (D-Ore.) said the Senate's U.S. Innovation and Competition Act spearheaded by Majority Leader Chuck Schumer (D-N.Y.) is an ideal starting place. The bill, which the Senate passed in June, aims to boost competitiveness with China and reduce reliance on the Asian nation by better supporting federal programs around U.S. manufacturing, telecommunications, and research. "The trade provisions in that bill are inadequate and fail to rise to the current moment," Blumenauer said at a Thursday hearing. The House can improve it by addressing forced labor and expired trade provisions, he said. Read more from Megan U. Boyanton.
GOP Seizes On Hot-Button School Issues
Republicans are betting that parents' angst about educational issues ranging from the quality of curricula to mask mandates and culture wars will help them retake suburban independents in upcoming elections.
Following a string of wins on local school boards and a strong performance in the suburbs in recent gubernatorial races, Republicans say their message is resonating among parents, whose frustrations have boiled up during the coronavirus pandemic, and now include the quality of classwork, mask mandates, and transgender rights. "We're getting back the suburban vote, and education is a key issue in doing that," said Republican National Committee spokeswoman Emma Vaughn.
The messaging ties together long-standing Republican goals such as expanding charter schools and letting federal spending follow students who go to private schools with newer issues, such as giving parents advance notice of controversial books being assigned and barring transgender student athletes from playing on teams that don't align with the gender on their birth certificates.
A November poll by The Economist/YouGov showed that education trailed only jobs and the economy and health care among Americans' top priorities. Education was ahead of issues including, national security, taxes and government spending, crime, immigration and civil liberties, among others. In the same poll conducted shortly before the 2016 presidential election, education was a lower priority among voters, behind the economy, health care, social security, Medicare and terrorism. Read more from Ryan Teague Beckwith.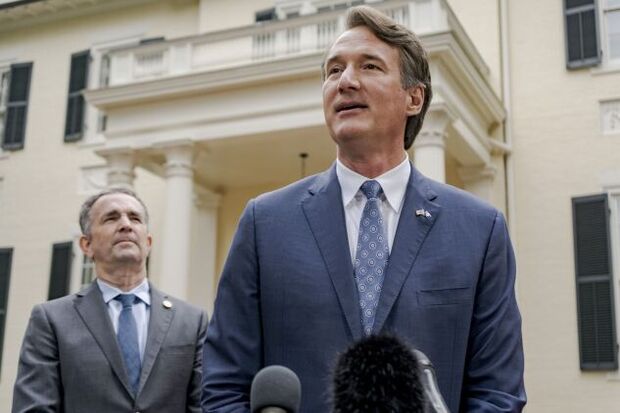 Around the Administration
Health insurers and employers are wary of the costs—and the potential for price-gouging—in Biden's plan to require private insurance to cover the full cost of at-home Covid-19 tests. Kristine Grow, spokeswoman for America's Health Insurance Plans, said in a statement that the trade group wants to ensure "that price gouging does not spread to OTC [over-the-counter] tests, that consumers are protected from higher premiums, and that clear rules and guidance allow these efforts to be implemented effectively." Read more from Sara Hansard.
The overwhelming advice from 15 vaccine experts, infectious disease doctors and public-health officials polled by Bloomberg is to not wait to get a booster shot. The rise of the new omicron variant sent vaccine makers rushing to revamp their shots in case new versions are needed. The highly mutated strain raises new questions about how well existing Covid-19 vaccines will hold up. But the experts cited a range of reasons for getting an additional dose now, including a lack of sufficient data about omicron, growing evidence about the benefits of boosters and the months that reformulated shots will likely take to become available. Read more from Angelica LaVito and Emma Court.
The Consumer Financial Protection Bureau has been a flashpoint in partisan politics and a focus of Wall Street's ire since its inception a decade ago. Now the watchdog, which was created in the wake of the 2008 financial crisis to protect Americans from fraud and other abuses, has a new target: Big Tech. Less than two months into his tenure as CFPB director, Rohit Chopra, who was formerly with the Federal Trade Commission, is laying the groundwork for greater scrutiny of Amazon, Apple, Facebook parent Meta Platforms, Google parent Alphabet, and other technology giants. The industry has been moving into consumer payments and other businesses traditionally dominated by banks and other financial-services companies. Read more from Akayla Gardner.
Negotiations between Iran and world powers over resurrecting their nuclear deal are set to adjourn today after just a week without suggestion the sides have begun to bridge their differences. Envoys are still discussing dates on when to resume talks, according to two European officials familiar with the negotiations, who asked not to be identified in line with diplomatic rules. Read more from Jonathan Tirone.
The U.S. military flew a record number of spy planes over the South China Sea in November, a Chinese think tank says, as tensions between the world's two largest economies simmer. U.S. aircraft carried out 94 sorties last month, the South China Sea Strategic Situation Probing Initiative said in a post on its verified Weibo account. That was a 25% increase from the February record, according to figures provided by the group, which has reported data on activity on the body of water since 2019, Kari Lindberg reports.
What Else We're Reading
This week's shutdown threat could mean a new era of obstruction by Republicans as they seek to take House and Senate majorities from Democrats, the Washington Post reports. Freshman Sen.

Roger Marshall

(R-Kan.), who led the effort to force a vote on vaccine mandates along with Sen.

Ted Cruz

(R-Texas) acknowledged yesterday that any shutdown would be merely symbolic, "a temporary thing" that would end once the Senate plods through some weekend procedural votes. "But, you know what, I hear from Kansans. They want to know, are Republicans fighting for them? Where's the fight?" he said. "And I'll be doggone if I'm going to get rolled on this right now without a fight." Washington Post's Mike DeBonis has more.
Katie Britt is getting quiet support from Senate Republicans in the race to succeed her former boss, Sen.

Richard Shelby

(R-Ala.), Politico reports. Five Republican senators have donated to Britt's campaign from their leadership PACs. None of them have done so yet for GOP Rep.

Mo Brooks

(R-Ala.), who former President Donald Trump endorsed in April to replace the retiring Shelby. Read more from Politico's Natalie Allison.
This week's Supreme Court argument on abortion has accelerated an urgency among Senate Democrats to alter how the court operates, fueled by anger over Republican confirmation maneuvers that have led to three new conservative justices in the past four years, the Washington Post reports. Few senators as of yet are fully endorsing ideas like mandatory retirement for the justices or expanding the number of seats on the nine-person court. But a growing faction, long hesitant to embrace structural changes, say they are now prepared to consider such moves. The Post's Seung Min Kim has more.
To contact the reporters on this story: Zachary Sherwood in Washington at zsherwood@bgov.com; Brandon Lee in Washington at blee@bgov.com
To contact the editors responsible for this story: Giuseppe Macri at gmacri@bgov.com; Loren Duggan at lduggan@bgov.com