What to Know in Washington: Senators to Meet on Economic Plans
President Joe Biden met with Senate Budget Committee Chairman Bernie Sanders (I-Vt.) yesterday as Democratic lawmakers wrangled to find consensus on legislation designed to carry most of Biden's $4 trillion longer-term economic agenda.
Sanders said negotiations had progressed over the July 4 congressional recess. He also met last night with Democrats on his committee, White House economic adviser Brian Deese and chief legislative liaison Louisa Terrell for what Sanders called a "robust" discussion, but they did not reach a deal. "We are dealing with a multi-trillion bill," Sanders said. "This is part of the process."
Sen. Chris Van Hollen (D-Md.), a Budget Committee member, said there is a "decent chance" the same group will be able to finalize a deal tonight. He said that everything remained on the table. Democrats said they are trying to come to a deal by Thursday in order to bring the budget up for potential Senate floor votes next week.
Divisions remain on the size and scope of the fast-track budget reconciliation bill intended to include a raft of social spending and tax increases, according to a person familiar with the process.
At the same time, a bipartisan group of senators who sealed a tentative deal with Biden last month on the framework for a major infrastructure package — another vital part of the administration's agenda — also has yet to nail down the details of that legislation, according to Sen. Rob Portman (R-Ohio). Sen. Jerry Moran (R-Kan.) said there would be more meetings today on the infrastructure bill. Read more from Erik Wasson and Justin Sink.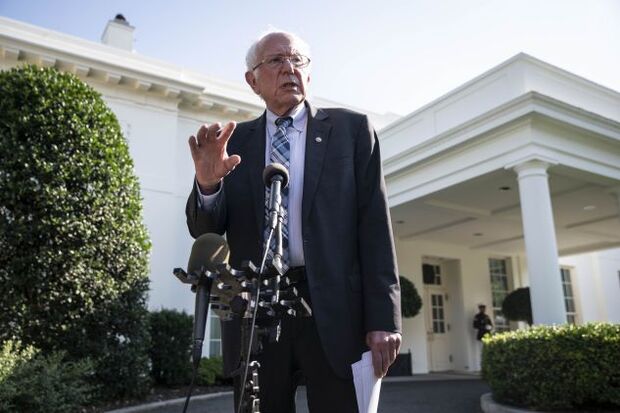 Companies Urge Congress to Go Green on Infrastructure: Dozens of energy, technology, financial and chemical companies urged Congress to make clean energy and climate spending central to any infrastructure package, citing the 'urgent imperative' to confront the economic and physical risks of climate change. Amazon, Bank of America, and American Airlines joined energy companies like Duke Energy, Edison International, and Exelon in framing climate action "as a business imperative" in a statement sent to congressional leadership. Dean Scott has more.
More than 130 mayors are also calling on congressional leadership to prioritize direct funding for a range of federal programs across government to address climate change, Kellie Lunney reports. "These programs uniquely address the mitigation, adaptation and equity needs of local governments, and how local governments support and partner with their communities. They are necessary to meet local and national climate targets," the group Climate Mayors wrote in a letter to Democratic and Republican congressional leaders. The officials included a lengthy list of grant programs and other assistance spanning the housing, transportation, energy, agriculture, water, and disaster mitigation sectors, that require attention and funding.
Happening on the Hill
Today's Agenda:
The House Appropriations Committee meets to mark up the fiscal 2022 Defense and Homeland Security appropriations bills.
The Senate plans to vote on two of Biden's nominees to the State and Labor departments.
Click here for a complete list of today's hearings and markups.
Schumer Moves Ahead on Senior Treasury Nominee: Senate Majority Leader Chuck Schumer (D-N.Y.) yesterday advanced the nomination of Nellie Liang to be the Treasury Department's new undersecretary for domestic finance, Colin Wilhelm reports. Schumer filed cloture on Liang's nomination. If confirmed, Liang would become Treasury Secretary Janet Yellen's senior adviser and policymaker, focusing on financial markets, banking, financial regulation, and the national debt.
Schumer also filed to cut off debate on Seema Nanda's nomination to serve as the U.S. Labor Department's chief legal officer, likely setting up a final vote in coming days, Ben Penn reports.
Jocelyn Samuels, a commissioner on the U.S. Equal Employment Opportunity Commission, is likely to soon receive a confirmation vote after Schumer moved to limit debate on her nomination yesterday, Paige Smith reports.
Leahy Unveils $3.7 Billion Security Package: Senate Appropriations Chairman Pat Leahy (D-Vt.) proposed a $3.7 billion emergency spending package aimed at strengthening security at the U.S. Capitol and other government buildings in the wake of the Jan. 6th riot, drawing immediate fire from one key Republican whose opposition raises questions about the legislation's fate. Leahy's figure is about twice as large as the bill passed by the House, but touches on a broader scope of issues, including ongoing costs related to the Covid-19 pandemic. Read more from Steven T. Dennis and Erik Wasson.
Senate Confirms Easterly to Cybersecurity Post: Jen Easterly was confirmed to be director of the Cybersecurity and Infrastructure Security Agency by the Senate in a voice vote yesterday, Rebecca Kern reports. Easterly is the first Senate-confirmed CISA director. Sen. Rick Scott (R-Fla.) lifted a hold he put on numerous Homeland Security Department nominees. CISA will swear in Easterly this morning, according to an agency spokesperson.
'Down Payment' on Biden Biomedical Agency: The NIH will receive less than half of what the Biden administration requested for its new big ticket entity known as ARPA-H, as a House spending panel seeks a heavier medical research boost across the board. The House Appropriations Labor-HHS-Education Subcommittee approved its 2022 spending plan by a voice vote yesterday. Read more from Jeannie Baumann.
House Panel Set to Mark Up School Desegregation Bills: The House Education and Labor Committee will mark up four bills Thursday, including two school desegregation measures passed by the House last year, Andrew Kreighbaum reports. One bill would authorize school diversity grants while another would allow for disparate impact lawsuits under Title VI of the Civil Rights Act. The committee will also mark up bills to address family violence prevention and add protections for older job applications.
Biogen Alzheimer's Drug Spurs Demand for Documents: Lawmakers probing the approval of Biogen's controversial new Alzheimer's treatment Aduhelm asked the company to turn over years of internal documents about the drug's development and the company's dealings with regulators. The request by Democratic leaders of two House committees probing the approval adds to the scrutiny of Aduhelm. Read more from John Tozzi.
Powell Faces Biden Policy Quiz: Democratic lawmakers this week will invite Federal Reserve Chair Jerome Powell to support another big round of government spending — testing him just months before Biden is expected to consider his renomination. Powell appears before the House Financial Services Committee tomorrow and Chair Maxine Waters (D-Calif.) has already praised him for cooperating with the Treasury and Congress during the pandemic. He testifies before the Senate banking panel a day later. Read more from Craig Torres.
Warren Urges DOJ, FTC to Probe Amazon for Deceit: Sen. Elizabeth Warren (D-Mass.), a staunch critic of the biggest technology companies, asked U.S. antitrust enforcers to review her findings that Amazon "seems to be actively misleading customers" who are searching for FDA-approved masks. Warren wrote a letter to Attorney General Merrick Garland, who oversees the Justice Department's antitrust division, and Lina Khan, chair of the Federal Trade Commission, which enforces consumer protection laws in addition to its antitrust mandate. Read more from Jennah Haque.
Elections & Politics
Trump-Returns Fringe Theory Puts FBI on Guard: The latest baseless prediction from conspiracy theorists on the fringes of social media is that Donald Trump will somehow be reinstated as president as soon as next month. The claims — pushed by QAnon adherents and MyPillow CEO and pitchman Mike Lindell — are enough to put FBI Director Christopher Wray and other top national security officials on alert for the risk that the former president's most ardent supporters might again resort to violence. Chris Strohm has more.
Gonzalez Triggers GOP's Wrath by Defying Trump: In a world without Trump, Rep. Anthony Gonzalez (R-Ohio) would be a rising star in the Republican Party: son of Cuban immigrants, standout wide receiver at Ohio State University, first-round draft pick of the Indianapolis Colts, graduate of Stanford's business school, and just 36 years old. He was a star—until he voted with nine other House Republicans to impeach Trump for inciting the Jan. 6 Capitol riot. Then he wasn't. Practically overnight, Gonzalez became persona non grata for many in his own party. Read more from Joshua Green.
Trump-Backed Challenger to Murkowski Raised $750,000: A Trump-backed challenger to Sen. Lisa Murkowski (R-Alaska) announced she has raised more than $750,000 in the first 94 days of her candidacy. Kelly Tshibaka, who has endorsements from Trump and the Alaska Republican Party, raised half of the money from state residents and she said 94% of her contributions were from small-dollar donors giving less than $200. Read more from Bill Allison.
Trump Says Wisconsin Impugned His Character: Trump accused Wisconsin's Democratic governor of impugning his character in a motion for legal fees stemming from the former president's failed lawsuit to reverse the result of the 2020 election. Gov. Tony Evers used "inflammatory adjectives" like "outrageous," "baseless" and "cynical" to describe Trump's lawsuit and falsely described the case as an "attempt to hijack the democratic process," Trump said in a filing late yesterday challenging the state's request. Read more from Erik Larson.
Texas Democrats' Escape Plan Has Limited Staying Power: Texas Democrats' flight out of state temporarily scuttled Republican efforts to tighten ballot access, increasing national focus on an issue that has swept GOP-led legislatures. The plan—last tried during a 2003 redistricting fight—has no good exit strategy. The escape from Austin to Washington denied Gov. Greg Abbott (R) the quorum to vote on legislation in a special session he called after Democrats walked out of the regular one in May. But Abbott can convene an unlimited number of 30-day special sessions. And two looming issues may persuade enough Democrats to return: redistricting and a measure to pay lawmakers and their staffs. Without a vote, the legislature will run out of cash at the end of the fiscal year on Aug. 31. Read more from Paul Stinson, Catarina Saraiva and Thomas Black.
Around the Administration
Biden Team Weighs Digital Trade Deal to Counter China in Asia: White House officials are discussing proposals for a digital trade agreement covering Indo-Pacific economies as the administration seeks ways to check China's influence in the region, according to people familiar with the plans. Details of the potential agreement are still being drafted, but the pact could potentially include countries such as Canada, Chile, Japan, Malaysia, Australia, New Zealand and Singapore, according to one of the people, who asked not to be identified because the process isn't public. Read more from Peter Martin, Eric Martin and Saleha Mohsin.
NYC's Adams Says Handguns Are Behind U.S. Violent Crime Wave: New York Democratic mayoral nominee Eric Adams said after a meeting with Biden that the availability of handguns is driving increases in violent crime in the U.S., and that too much attention is paid to police practices. Federal money should be directed at what he called the underlying causes of violent crime. He said he asked Biden to use funding from coronavirus relief programs to pay for jobs programs, education, and mental health services rather than increasing the size of police forces. Read more from Justin Sink and Jennifer Jacobs.
U.S. Commerce Chief Pushing to Ease Covid Travel Curbs: U.S. Commerce Secretary Gina Raimondo is pressing for the easing of Covid-19 restrictions that prevent much of the world from traveling to the country, she told Reuters in an interview, Sebastian Tong reports. Raimondo said U.S. health officials remain concerned about more outbreaks and that the lack of a reliable vaccine passport is "kind of a big hurdle." Transportation Secretary Pete Buttigieg has joined Raimondo in pushing for lifting restrictions, Reuters reports, citing sources familiar with the discussions.
DOJ Assisting Haiti in Investigation of Moise Killing: An initial assessment has been conducted in Haiti by senior U.S. officials, the Justice Department said in a statement, Laura Curtis reports. "At the request of the Haitian government, the Department of Justice, along with its U.S. government partners, is assisting the Haitian National Police in the investigation of the assassination of Haitian President Jovenel Moïse," the statement said. DOJ "will also investigate whether there were any violations of U.S. criminal law in connection with this matter."
To contact the reporters on this story: Zachary Sherwood in Washington at zsherwood@bgov.com; Giuseppe Macri in Washington at gmacri@bgov.com
To contact the editors responsible for this story: Loren Duggan at lduggan@bgov.com; Michaela Ross at mross@bgov.com