What to Know in Washington: Senators Reach Tentative Gun Deal
Framework backs state efforts for red-flag laws
Biden applauds deal, urges Congress to move fast
A bipartisan group of senators reached a tentative deal on new gun-safety legislation following last month's massacres in Texas and New York.
Senators led by Chris Murphy (D-Conn.) and John Cornyn (R-Texas) said the deal includes giving grants to states to implement "red flag" laws allowing courts to remove guns from potentially dangerous owners, and more funding for mental health services and school safety.
The agreement includes provisions to improve records available for background checks of younger gun buyers, and would close the so-called "boyfriend loophole" by ensuring that records of domestic-violence abuse convictions and domestic-violence restraining orders are included in a national system for background checks, even if an abuser still has a relationship with their victim. It also provides new penalties for criminals who illegally make straw purchases and traffic guns, or who illegally evade licensing requirements.
Significantly, 10 Republicans signed onto the framework, the number that would be needed to edge legislation past an expected filibuster in the Senate.
"Families are scared, and it is our duty to come together and get something done that will help restore their sense of safety and security in their communities," the 20 senators involved in the talks said in a statement.
President Joe Biden heralded the accord. "Obviously, it does not do everything that I think is needed, but it reflects important steps in the right direction, and would be the most significant gun safety legislation to pass Congress in decades," Biden said in a statement. "With bipartisan support, there are no excuses for delay, and no reason why it should not quickly move through the Senate and the House." Laura Litvan has more details on the deal.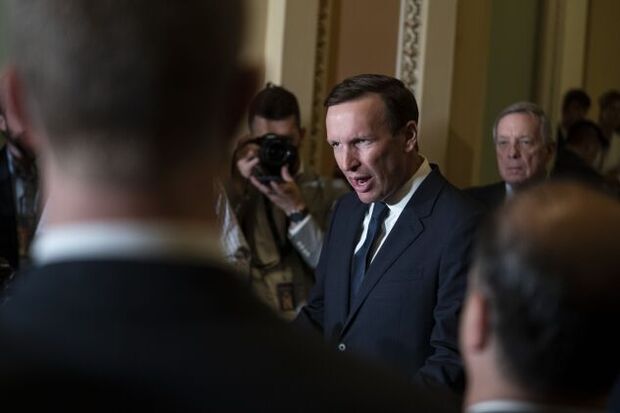 Biden said that he owns firearms, rebuffing critics of his push to pass new gun-safety laws. "I'm a gun owner. I own two shotguns," Biden told donors at a Democratic Party fundraiser in Los Angeles on Friday. "The point I'm making is the Second Amendment is not absolute," Josh Wingrove and Jordan Fabian report.
Happening on the Hill
CONGRESSIONAL SCHEDULE:
The House is back at 2 p.m. and set to clear a bill to overhaul shipping laws.
Senators are in at 3 p.m. and plan a procedural vote on a bill to expand veterans' benefits.
José Andrés urged US lawmakers to funnel aid into Ukrainian infrastructure to help the war-shattered nation more effectively, rather than spending money on food donations. "Large quantities of unwanted food are being delivered today with little regard for what the people of Ukraine can or want to eat," the star chef told lawmakers on Friday. "There is only so much dry pasta a Ukrainian family needs." Mia McCarthy recaps the hearing.
A House Committee sets out on Monday to prove Donald Trump was directly and even legally culpable in the storming of the US Capitol on Jan. 6, 2021, making the case he kept pushing his stolen-election claim knowing it wasn't true.
The 10 a.m. hearing will be the second of seven planned by the panel this month, representing an early test of whether it can keep Americans tuned in. While not a prime-time event like the committee's opening session on Thursday, which drew more than 19 million viewers, it will be seen in live coverage on NBC, ABC, CBS and CNN. Billy House previews the hearing.
Trump's 2020 campaign manager will appear as a witness Monday before the House committee investigating the attack on the US Capitol as it seeks to establish links between the rioters and the former president's inner circle or even himself. A committee aide said Sunday night the panel will also seek to show that Trump's political fund-raising apparatus used the stolen-election claim to mislead and raise millions of dollars from donors, Gregory Korte and Billy House report.
Politicians and special interests are using the Jan. 6 hearings in appeals for donations, with even Trump trying to cash in on the congressional probe of his role in the deadly US Capitol assault. Billy House and Bill Allison have more.
Elections & Politics
Trump is angling to oust two House Republicans in South Carolina's primary on Tuesday. The former president is backing challengers to Reps. Tom Rice, who voted to impeach Trump over his role in the Jan. 6, 2021 attack on the Capitol, and Nancy Mace, who Trump says is insufficiently loyal. Rice's vote 17 months ago came into sharper focus last week as the select committee that's investigating the riot opened a series of public hearings. Greg Giroux previews the race.
A top congressional ally said he expects Biden to seek a second term in 2024, while a prominent progressive Democratic lawmaker stopped short of supporting his re-election. Sen. Chris Coons (D-Del.), and Rep. Alexandria Ocasio-Cortez (D-N.Y.) were responding on Sunday to a New York Times article that cited concern among Democratic Party officials about Biden's leadership, age and ability to win if Trump ran against him. Read more from Gregory Korte.
Around the Administration
BIDEN'S AGENDA:
The president will sign into law a commission to study the creation of a national museum of Asian Pacific American history alongside Vice President Kamala Harris at 2 p.m.
Press Secretary Karine Jean-Pierre holds a briefing at 3 p.m.
Biden said he has "not yet" made a decision about visiting Saudi Arabia, but that if he went it would be to take part in meetings that go beyond energy topics and would include talks on regional security, Biden told reporters Saturday. The White House intends to announce the trip to Saudi Arabia as early as Monday, the Wall Street Journal reported on Saturday, citing two officials with knowledge of the plans. Read more from Josh Wingrove.
Biden Summit Exposes Divided Hemisphere: Biden sought to put on a show of hemispheric unity at last week's Summit of the Americas, but boycotts, bluster and lackluster pledges instead exposed the shaky state of US influence in Latin America. Read more from Josh Wingrove, Maya Averbuch, Jordan Fabian and Eric Martin.
The unveiling of the 20-country pact to manage migrants, as well as Secretary of State Antony Blinken defending not inviting Cuba, Nicaragua and Venezuela to the summit, were among the highlights from Friday's session. Juan Pablo Spinetto has more.
Biden said Ukrainian President Volodymyr Zelenskiy tuned out warnings that Russia would invade his country in the lead-up to the Feb. 24 attack. "I know a lot of people thought I was maybe exaggerating, but I knew, and we had data to sustain, he was going in off the border. There was no doubt. And Zelenskiy didn't want to hear it, nor did a lot of people," Biden said Friday. Josh Wingrove and Jordan Fabian have more.
The US sought to bolster its support in Asia this weekend by reassuring nations they don't need to join a coalition against China, drawing a stark contrast with Beijing's threats to defend its interests with military force. Peter Martin and Philip J. Heijmans examine Biden's shift from his predecessor.
US and China's defense chiefs clashed over Taiwan at the Singapore security forum in separate speeches over the weekend, Peter Martin reports. Chinese military officials assert that the Taiwan Strait isn't international waters and issued one of the country's strongest warnings yet about the risk of war over Taiwan.
Meanwhile the US and key allies say much of the strait constitutes international waters, and they routinely send naval vessels through the waterway as part of freedom of navigation exercises. In his speech Saturday, US Secretary of Defense Lloyd Austin vowed to help Asian nations push back against what he said was Chinese "bullying," describing the efforts as necessary to prevent a repeat of the Ukraine crisis in the Pacific. Read more from Martin and Alfred Cang.
Iran said an agreement with the US that could help revive the 2015 nuclear deal was "within reach," days after its decision to further restrict monitoring of atomic sites prompted warnings that the pact was almost beyond saving. Golnar Motevalli has more on the status of talks.
Biden told Democratic donors that they should expect high inflation to persist "for a while," after new data released Friday show prices rising faster than forecast, Josh Wingrove reports. "We're going to live with this inflation for a while," Biden said at a fund-raising event for Democratic Party campaigns at the home of billionaire producer and investor Haim Saban in Los Angeles.
Gasoline topped an average of $5 per gallon in the US for the first time, signaling the latest pain point for American consumers and Biden's efforts to curb inflation. Chunzi Xu has the data.
The Biden administration is facing renewed pressure to help young immigrants in precarious legal status gain access to health care. The push coincides with this week's 10th anniversary of the Deferred Action for Childhood Arrivals program, which provides deportation protection and work authorization for more than 600,000 immigrants who were brought to the US without authorization as children. DACA recipients aren't eligible for coverage under the Affordable Care Act and lack full access to Medicaid and other programs. Many lack health insurance. Ellen Gilmer has the full story.
The US will cover all emergency response costs for a massive New Mexico fire, which was set off by prescribed burn conducted by the National Forest Service. He said he supports a bill to reimburse people for losses, while adding: "We're going to have a little more trouble in the United States Senate." The declaration published Saturday covers costs for the first 90 days of the fire, according to a statement from the White House. Josh Wingrove reports.
The head of a federal safety agency that investigates major industrial accidents has submitted her resignation, according to a letter seen by Bloomberg. Katherine Lemos's departure would leave the five-person US Chemical Safety and Hazard Investigation Board with two members, though the White House said it would nominate Catherine J.K. Sandoval, a professor at California's Santa Clara University, to the board. Read more from Ari Natter.
The White House wants to make manufactured housing a much more conventional option for renters and buyers, the way that factory-built homes were decades back. As part of a new plan to tackle the housing crisis, the Biden administration announced a number of initiatives in May to expand the number of backyard flats, modular homes and single-family houses produced, packed and shipped across the US. Kriston Capps has more on the effort.
To contact the reporter on this story: Giuseppe Macri in Washington at gmacri@bgov.com
To contact the editor responsible for this story: Loren Duggan at lduggan@bgov.com