What to Know in Washington: Senators Low on Time Meet on Guns
Negotiators want action by July 4
Plan will require spending offsets
After coming together to forge a bipartisan framework to address gun violence and mass shootings, Republican and Democratic senators will go their separate ways today to gauge internal support for the proposal and discuss next steps—with time a critical factor.
The lead Republican negotiator, Sen. John Cornyn (Texas), sounded optimistic yesterday. Cornyn said releasing the principles of the deal wasn't easy and agreeing on legislative text will be "even more difficult," but that he hopes "we can complete that job in the next few days."
That would allow Senate Majority Leader Chuck Schumer (D-N.Y.) to put it on the floor next week. For his part, Schumer said it'll take more negotiating to get 60 votes, but once it's finalized, "I will put this bill on the floor quickly."
BGOV OnPoint: Gun Legislation Inches Forward in Congress
Lawmakers are under pressure to complete the process before the two-week July 4 recess, which is scheduled to begin at the end of next week. Senate Majority Whip Dick Durbin (D-Ill.) said it's dangerous to let it hang over their time away from the Hill, particularly with other issues such as a potential Supreme Court decision upending abortion rights that could divert lawmakers' attention.
"You try to seize the moment and the momentum," Durbin said. "And we have both. And so waiting runs the risk that some other critically important issue will squeeze it off the calendar."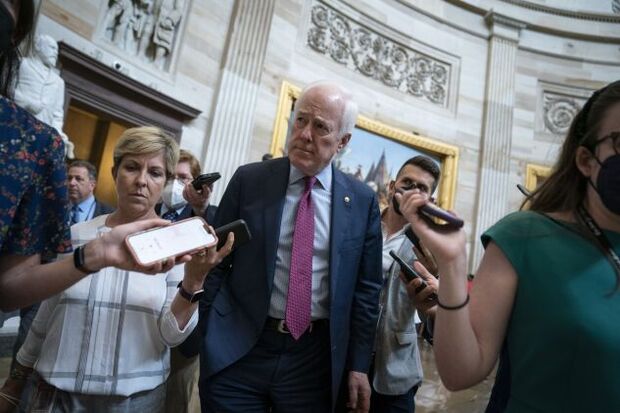 Lawmakers will have to negotiate measures to offset the cost of the Senate bipartisan deal on gun violence policies, key senators said yesterday.
Sen. Chris Murphy (D-Conn.), a key negotiator, told reporters his "intention is that it's fully paid for." Sen. Joe Manchin (D-W.Va.) told reporters "you have to pay for it." And Sen. Richard Burr (R-N.C.) said he expects there will be a conversation about offsets.
Lawmakers haven't released legislative text or an estimate of the total cost of the bill.
Happening on the Hill
CONGRESSIONAL SCHEDULE:
The Senate meets at 11 a.m. to resume consideration of a bill to expand benefits for veterans exposed to toxic substances.
House members meet at 10 a.m. with votes set on Supreme Court security and wildlife conservation bills.
The House cleared bipartisan legislation designed to alleviate supply-chain backups by preventing ocean carriers from charging inaccurate fees and unreasonably refusing space on ships. Lawmakers voted 369-42 Monday in favor of the measure, the first major overhaul to ocean-shipping rules since 1998. Read more from Lillianna Byington.
A coalition of advocates for children's mental and physical health is urging Senate Commerce Committee leadership to move forward on bipartisan legislation to make social media platforms liable for harms to minors. The committee should vote this month on the Kids Online Safety Act, more than 100 groups led by the American Psychological Association, the Eating Disorders Coalition, Fairplay, and Mental Health America said in a Tuesday letter. Read more from Andrea Vittorio.
Tampon manufacturers say they're working to replenish the supply of their products after shortages were reported on shelves across the country. On Monday, Sen. Maggie Hassan (D-N.H.) sent a letters to tampon companies asking what they plan to do to address reports of diminished supply and price gouging by third-party sellers. Read more from Ella Ceron and Daniela Sirtori-Cortina.
Elections & Politics
Republicans are pushing for victory in a special election Tuesday in Texas that may provide a foretaste of party gains in the fall. Mayra Flores, a Mexican-born Republican activist and health-care worker, faces Democrat Dan Sanchez, a former county commissioner, in the Hispanic-majority 34th District on the U.S.-Mexico border.
A Flores win would narrow the tiny Democratic advantage in the House and give the GOP a boost of confidence ahead of a Nov. 8 general election that probably will favor Republicans, given Biden's poor approval rating and the longstanding trend of the White House's party performing poorly in midterm elections. Read more from Greg Giroux.
Gun control, abortion, the economy and the legacy of former President Donald Trump dominated the first and only televised debate among four Republican candidates vying to win the GOP primary for New York governor on June 28th.
Taking an unusual format from the start, only three candidates participated in person — Rep. Lee Zeldin, businessman Harry Wilson and former Westchester County Executive Rob Astorino. Andrew Giuliani, son of former New York City Mayor Rudy Giuliani, was barred from entering the studio due to vaccine requirements. He remains unvaccinated against Covid-19 so he participated remotely. Laura Nahmias shares highlights from the debate.
A Louisiana-led coalition of 14 states may get another shot at invalidating Biden's mandate that all health-care workers get Covid vaccinations to keep their jobs, under a ruling Monday by a New Orleans federal appeals court. The three-judge appellate panel—all appointed by Republicans—threw out a Louisiana trial judge's decision from 2021 blocking Biden's health worker vaccine requirement. Read more from Laurel Brubaker Calkins.
The American Medical Association went further than it has ever gone in its reproductive health policies as the US Supreme Court nears a decision that could cede abortion rights to the states. The AMA's policymaking body voted Monday evening to adopt resolutions that oppose state efforts to criminalize abortion and other reproductive health services. The preeminent association of physicians and medical students previously had taken the position of tying its abortion-related policies to the law. Read more from Shira Stein.
Texas taxpayers are footing the bill for the state's war with Wall Street over guns. The state's municipal borrowers have been hit with as much as $532 million of extra debt costs because of a new GOP law that's led some banks to step back from Texas's bond market. That's the conclusion of a new paper by Daniel Garrett, a University of Pennsylvania professor, and Ivan Ivanov, a principal economist at the Federal Reserve. Read more from Amanda Albright and Danielle Moran.
Around the Administration
BIDEN'S AGENDA:
The president at 11 a.m. is scheduled to speak at the 29th AFL-CIO Quadrennial Constitutional Convention in Philadelphia, Pennsylvania.
Emergency rental assistance centers are abruptly closing nationwide as short-term federal aid dries up, leaving states scrambling to protect vulnerable renters facing sharp housing cost spikes. Emergency rental assistance programs, which are intended to help renters avoid eviction especially during the Covid pandemic, were vital lifelines for renters of color, low-income residents, people with disabilities, parents with children, those who may not have retirement benefits, and immigrants.Read more from Ayanna Alexander.
Pockets of Wall Street are raising the possibility that the Federal Reserve could go to extreme lengths on Wednesday in an attempt to control the hottest US inflation in four decades. While the consensus expectation for the US central bank's interest rate increase at this week's meeting is a half-percentage point, higher than expected consumer price index data last Friday has prompted higher hike estimates. Emily Graffeo, Amelia Pollard and Edward Bolingbroke have more.
Biden will travel to Saudi Arabia next month and is set to meet the country's de facto ruler, Crown Prince Mohammed Bin Salman, according to a report by NBC. Biden will visit the country from July 15 to 16, and hold meetings with officials including the Crown Prince, the network reported citing sources it did not identify, Josh Wingrove and Jordan Fabian report.
Top US and China officials discussed Taiwan, Ukraine and other security issues in Luxembourg, in the latest sign that leaders of the world's two largest economies are trying to keep high-level communications open despite simmering tensions. The talks may fuel speculation that Biden and counterpart Xi Jinping will speak again soon. Jenny Leonard recaps the talks.
With assistance from Jack Fitzpatrick
To contact the reporters on this story: Brandon Lee in Washington at blee@bgov.com; Nancy Ognanovich in Washington at nognanov@bgov.com
To contact the editors responsible for this story: Giuseppe Macri at gmacri@bgov.com; Loren Duggan at lduggan@bgov.com; Michaela Ross at mross@bgov.com