What to Know in Washington: Senators Await Ruling Before Break
August exit in the air as Democrats push for budget deal
Parliamentarian reviewing text of bill before floor action
The Senate's planned departure date next week is in question, as Democrats push to pass a tax, climate, and health care bill through the budget reconciliation process before leaving town until September.
Senate Majority Leader Chuck Schumer (N.Y.) told fellow Democrats at a caucus meeting Thursday to prepare to work through next weekend, according to Sen. Tim Kaine (D-Va.). That would cancel at least the first few days of the August recess—not that Democrats, who are enthusiastic about achieving more of President Joe Biden's agenda, were complaining.
"Congress should stay in session as long as it takes to get this bill to President Biden's desk," Sen. John Hickenlooper (D-Colo.) said.
The exact timing for passing the bill (H.R. 5376) is being driven by the factors necessary to use the extensive process, which requires only a simple majority, and by potential Covid infections, which hit the Democratic caucus again Thursday when Majority Whip Dick Durbin (Ill.) announced he'd tested positive.
The clock started on Wednesday night when Schumer submitted to chamber's parliamentarian Elizabeth MacDonough the text of the 725-page spending and deficit-reduction package, which Schumer agreed to hours earlier with Sen. Joe Manchin (D-W.Va.). MacDonough and her staff must pore over the text to ensure it comports with statutory rules that would allow Democrats to approve the legislation without the support of Republicans in the evenly divided chamber.
Democrats are still awaiting a response from MacDonough related to the previously submitted drug pricing provisions. But that process has taken weeks as Democratic staff went back-and-forth with her and GOP staff over how the legislation complies with the rules. Senators are aiming for a shorter ruling timeline on the measure's expansive new provisions. Zach C. Cohen and Emily Wilkins have more.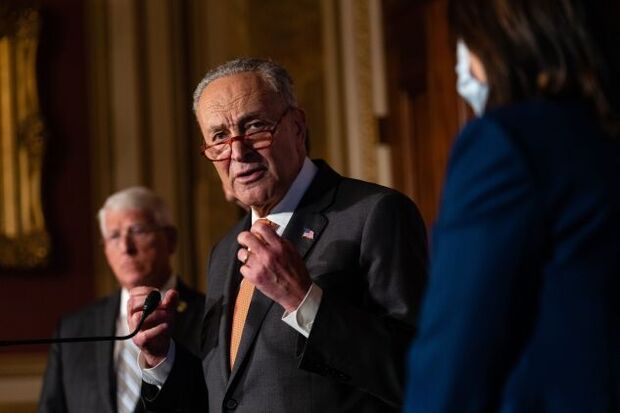 More Headlines:
Also on Lawmakers' Radars
CONGRESS' SCHEDULE
The House meets at 9 a.m. with votes planned on bills to address wildfires and protect big cats.
Three hostile foreign actors breached the federal courts document management system via "an incredibly significant and sophisticated" cyberattack more than 18 months ago, House Judiciary Chair Jerrold Nadler (D-N.Y.) said on Thursday. Nadler said his panel learned in March of "the startling breadth and scope of the courts' documents management system security failure." He added the hack had a "disturbing impact" on both civil and criminal litigation. Katrina Manson has more.
Congressional passage of the chips bill validates Big Law's decision to put lobbying muscle behind the legislation that aims to make US manufacturing more competitive against China. Covington & Burling, Arnold & Porter and Akin Gump Strauss Hauer & Feld are among firms that each collected at least six-figure payments in the first half of the year from interests promoting the bill. The firms worked for companies including Samsung and Qualcomm. Read more from Justin Wise.
Sen. Josh Hawley wants the FTC to review how Amazon will manage health data after it purchases primary care provider One Medical for $3.49 billion. The Federal Trade Commission should press Amazon.com on whether it will establish firewalls between patient data and retail customer data, Hawley (R-Mo.) said in a letter. He posited that a certain medical diagnosis could fuel targeted ads for related drugs. Andrea Vittorio has more.
Around the Administration
PRESIDENT'S SCHEDULE
Biden has no public events today. At 1:30 p.m. White House Press Secretary Karine Jean-Pierre will brief reporters.
Prosecutors at the Justice Department are preparing to fight in court to force former White House officials to testify about former President Donald Trump's conversations and actions around Jan. 6, 2021, CNN reports, citing people briefed on the matter. DOJ's preemptive move is clearest sign yet federal investigators are homing in on Trump's actions as he tried to prevent the transfer of power to Biden, CNN reports. Read more.
Secret Service Chief: Secret Service Director James Murray will delay his planned departure for a post in the private sector while the agency faces scrutiny over missing text message from the days surrounding the Jan. 6 insurrection. He'll remain indefinitely "to guide the agency through these multiple inquiries," a spokesman said. Ellen M. Gilmer has more.
Former Acting Homeland Security Secretary Chad Wolf, responding to a Washington Post report that text messages regarding him and his deputy are missing for a period leading up to the Capitol insurrection, tweeted that he had complied with all data retention laws. The Post, citing four sources that it did not same, said the texts for former Deputy Homeland Deputy Security Ken Cuccinelli were also missing, Billy House and Max Zimmerman report.
A US delegation met with senior Taliban officials in Uzbekistan to discuss efforts to unfreeze some $3.5 billion in central bank reserves as the humanitarian crisis in Afghanistan deteriorates, Philip J. Heijmans reports.
Policy experts within the Department of Education have started to study mechanisms to automatically forgive larger amounts of debt for low-income borrowers, according to two people familiar with the agency's work. Read more from Nancy Cook, Jarrell Dillard and Janet Lorin.
FDA employees could start receiving layoff warnings by September if House and Senate leaders don't reach a compromise to reauthorize the fees that help fund the agency by then, Commissioner Robert Califf said Thursday. Califf said during an Alliance for Health Policy webinar that the FDA will lack funding to pay employees and the agency's "public health mission will be injured" without new legislation to replace the user fee agreement before it expires on Sept. 30. Celine Castronuovo has more.
The FTC's challenge of Meta's acquisition of a virtual reality gaming company revives a little-used argument against Big Tech's classic acquisition playbook. Rather than only challenging the acquisition as harmful to competition now, the FTC is primarily alleging that Meta is seeking to eliminate a future competitor. Read more from Dan Papscun.
Consumers who let budgeting apps or payment platforms access their banking data shouldn't feel as "powerless" about how that information is used if a pending regulation works as planned, said the head of the Consumer Financial Protection Bureau Rohit Chopra. The bureau is working to finish a long-awaited rule on sensitive data. Read more from Evan Weinberger and Andrea Vittorio.
WHAT ELSE TO KNOW TODAY
To contact the reporters on this story: Brandon Lee in Washington at blee@bgov.com; Michaela Ross in Washington at mross@bgov.com
To contact the editors responsible for this story: Giuseppe Macri at gmacri@bgov.com; Loren Duggan at lduggan@bgov.com