What to Know in Washington: Senate Weekend Stimulus Vote Likely
The Senate enters the final stages of debating President Joe Biden's $1.9 trillion pandemic relief bill today, with passage in the chamber likely pushed off until the weekend.
Senate Majority Leader Chuck Schumer (D-N.Y.) had planned to kick off the process last night but lacked an official cost estimate on the latest version of the bill, which has been trimmed down from the House-passed measure.
In addition to stripping out a minimum-wage increase to comply with Senate rules, Biden agreed to moderate Democrats' demands for tightening eligibility for $1,400 stimulus checks, which will also affect the Congressional Budget Office's calculation of the overall price tag.
Once the CBO's numbers are in and the Senate votes to begin debate, a process starts that Republicans are threatening to drag out as long as possible to register their opposition to the massive bill.
The Senate is plowing ahead despite warnings from federal law enforcement agencies that a militia group may be plotting to attack the Capitol today, about two months after a Jan. 6 siege of the building by extremist supporters of then-President Donald Trump that led to five deaths. Read more from Erik Wasson and Laura Litvan.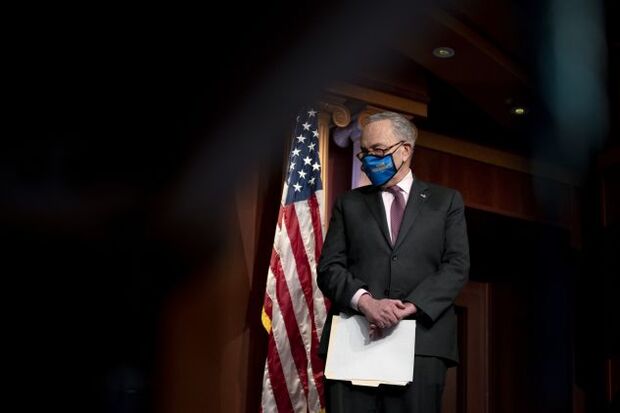 Senate Aid Bill Delays Drug Price Change: Senate Democrats would postpone by one year a proposal to let states claw back money from drugmakers, according to two people briefed on forthcoming stimulus legislation. The change is one of several that largely help hospitals, drug firms, and other health-care industry groups. The Senate version of the Covid-19 aid package would end the limit on Medicaid's drug rebate program starting in 2024, a year later than the House-passed version, the people said, Alex Ruoff reports.
Biden Suggests Obama Erred in Not Celebrating 2009 Relief: Biden said yesterday that the Obama administration paid a political price for not more openly celebrating the passage of its 2009 stimulus, suggesting he won't make the same mistake with his $1.9 trillion pandemic aid bill. President Barack Obama "was so modest" about taking a "victory lap" after he signed the bill, Biden said to House Democrats in a meeting. Jennifer Epstein and Nancy Cook have more.
Also Happening on the Hill
Warnings of Another Capitol Attack Raise Tensions: Law enforcement warnings that a militia group may be plotting to attack the U.S. Capitol today raised tensions again in Washington and helped prompt the House to cancel plans to meet for votes. "We have obtained intelligence that shows a possible plot to breach the Capitol by an identified militia group on Thursday, March 4," the U.S. Capitol Police said in a statement yesterday. "We are taking the intelligence seriously."
That alert followed a joint intelligence bulletin late Tuesday from the Homeland Security Department and the Federal Bureau of Investigation about extremists discussing carrying out attacks at the Capitol from March 4 to March 6. Melissa Smislova, a senior Homeland Security official, told two Senate committees about the threat on Wednesday. Read more from Chris Strohm, Billy House and Daniel Flatley.
DeFazio Opposes Reconciliation for Infrastructure: The top Democrat on the House's transportation committee is adamant a forthcoming infrastructure package cannot go through a process that would allow only Democrats to pass it. House Transportation and Infrastructure Chair Peter DeFazio (D-Ore.) said there "is no possible way" a planned infrastructure bill could go through the budget reconciliation process. DeFazio said he'll make his concerns clear to Biden and Transportation Secretary Pete Buttigieg during a meeting today with a bipartisan group of lawmakers on infrastructure. Read more from Emily Wilkins.
Cotton Vows to Slow Down Garland's Confirmation: Attorney General nominee Merrick Garland will have to wait a little longer to be confirmed after a Republican senator said he would refuse to expedite a final confirmation vote. Garland has enough bipartisan support to be confirmed, but Sen. Tom Cotton (R-Ark.), a potential candidate for president in 2024, complained in a series of tweets about how Garland answered questions about immigration, the death penalty, and racial equity. Read more from Steven T. Dennis.
House Passes Broad Elections Overhaul: The House passed a landmark bill yesterday to overhaul U.S. elections amid a pitched partisan battle sparked in part by false claims of fraud in the November election. The House passed the bill 220 to 210, but it is unlikely to get the 60 votes needed to overcome a filibuster in the Senate, as most Republicans oppose it. The bill would make it significantly easier to vote, limit gerrymandering of congressional districts, require third-party groups to reveal secret donors, and reform a dysfunctional election watchdog, among other changes. Read more from Ryan Teague Beckwith and Jarrell Dillard.
House Passes Police Overhaul Bill: The House yesterday passed a sweeping law-enforcement reform bill initially introduced after last year's protests over police killings of unarmed people of color. The bill was passed 220-212, but it faces little chance in the Senate, where with Republican opposition it's unlikely to get the 60 votes that would be needed to advance. The bill is named for George Floyd, a Black man who died in custody of the Minneapolis police in May. Read more from Jarrell Dillard.
Meanwhile, the search for an impartial jury in the trial of the White former police officer accused of causing Floyd's death will be daunting in a case that sparked public uproar around the world. Derek Chauvin faces second-degree murder and manslaughter charges for kneeling on Floyd's neck for several minutes before the Black man died. The trial starts Monday. Read more from Ellen M. Gilmer and Maya Earls.
23 Candidates File for Special Election in Texas: Twenty-three candidates filed to run in the May 1 special election for Texas' 6th District. Eleven Republicans, 10 Democrats, one Libertarian, and one independent qualified before the deadline yesterday to seek the Fort Worth- and Arlington-area district formerly held by the late Ron Wright (R), according to the Texas secretary of state's office. Wright died Feb. 7. Read more from Greg Giroux.
Around the Administration
Biden Turns to Ivy League for Lawyers for Policy Battles: Among the many traditions of official Washington restored in Biden's White House is its age-old reputation as a magnet for lawyers. More than half of Biden's senior staff of more than 50 have law degrees, even though most are in roles without a legal focus, according to a Bloomberg Law analysis of White House appointments as of Inauguration Day. They come from top-rated law schools—12 from Yale Law alone—and their experiences lean heavily toward many years in Washington with little in the private sector. The collective resumes highlight Biden's intention to reinstate old-school policymaking amid a global pandemic and slew of other coalescing national crises. Read more from Courtney Rozen and Jasmine Ye Han.
Biden Risks Border Crisis as Kids Fill Shelters: Biden is struggling to head off a potential humanitarian and political crisis on the U.S. southern border, where a spike in migrant crossings — particularly by unaccompanied children — threatens to overwhelm government shelters. White House officials briefed Biden earlier this week on the surge, and the administration has held multiple briefings with House and Senate lawmakers on the situation, according to congressional aides. Homeland Security officials are giving weekly updates to several Capitol Hill offices. "We'll be able to handle it, God willing," Biden said Tuesday. But asked whether the surge constituted a crisis, the president was clear: "No." Read more from Jordan Fabian, Jennifer Epstein and Shaun Courtney.
U.S. Asks for More Time on Trump Tax Decision: The Biden administration said it needed more time to decide whether to turn over Trump's tax returns to Congress. In a court filing yesterday the Treasury Department and the Justice Department said they are still weighing how to respond to a subpoena by House Democrats seeking six years of Trump's personal and business tax returns. Read more from David Yaffe-Bellany.
Vilsack Signals Increase in U.S. Food Aid: Agriculture Secretary Tom Vilsack is signaling a push to increase food assistance for the poor beyond the coronavirus's economic crisis. The standard benefits may be too low and the way they're calculated is outdated, Vilsack said. The Agriculture Department has already begun a review that could lead to more relief. During the pandemic, the maximum food-stamp benefit was raised by 15%. Mike Doring has more.
U.S. Says Mexican Drug War Failure Requires New Strategy: A top White House official told Mexican officials that major aspects of the two countries' fight against drug trafficking are not working and the U.S. is open to pursuing new strategies, according to people familiar with the message. Juan Gonzalez, senior director for the Western Hemisphere on the National Security Council, made the remarks on a call between Mexican Foreign Affairs Minister Marcelo Ebrard and Secretary of State Antony Blinken. Max de Haldevang and Eric Martin have more.
Chao Cited for Questionable Ethics by Watchdog: The Transportation Department's watchdog concluded last year that then-Secretary Elaine Chao may have violated ethics rules and requested an investigation by the Justice Department, then run by Trump appointees who declined to pursue the case. Chao attempted to include members of her family, who run a shipping line, on an official government trip in apparent violation of ethics rules, a report by the department's Inspector General found. Read more from Alan Levin.
Pentagon Weighs Response to Attack on Iraq Base: The U.S. is prepared to respond to a rocket barrage attack on an airbase hosting U.S.-led coalition forces in western Iraq that left an American contractor dead from a heart attack, the Pentagon said in a statement. Read more from Khalid Al-Ansary, Selcan Hacaoglu and Tony Capaccio.
U.S. Slams 'Repulsive' Myanmar Crackdown: The U.S. criticized Myanmar's security forces for using deadly force against anti-coup protesters as the United Nations said another 38 protesters were killed across the country on Wednesday. State Department spokesman Ned Price called the loss of life "repulsive" and reiterated that the U.S. was considering additional measures aimed at holding the military accountable. Read more from Philip J. Heijmans.
With assistance from Brandon Lee
To contact the reporter on this story: Zachary Sherwood in Washington at zsherwood@bgov.com
To contact the editors responsible for this story: Giuseppe Macri at gmacri@bgov.com; Loren Duggan at lduggan@bgov.com; Michaela Ross at mross@bgov.com