What to Know in Washington: Senate to Vote on Russian Trade, KBJ
Senators set to vote on Ketanji Brown Jackson for the Supreme Court
Schumer set up votes on stripping Russia's trade status, oil imports
The Senate will vote today on measures stripping normal trade relations with Russia and banning oil imports from the country, amending the bills and sending them back to the House for final votes.
The House passed both bills last month, but they've been bogged down in the Senate as Republicans demanded changes to their language. Senate Majority Leader Chuck Schumer (D-N.Y.) said they found agreement on the bills after "weeks of talks" with Republicans and that they have White House support.
Schumer said Putin is guilty of genocide following allegations of atrocities in Ukraine by Russian forces. "When we murder wantonly innocent civilians because of who they are—whether it be their religion, their race, or their nationality—that is genocide, and Mr. Putin is guilty of it," Schumer said yesterday, Chelsea Mes reports.
Normal trade relations with Russia and its ally Belarus would be suspended under the trade bill, which also would extend the president's authority to impose sanctions for human rights violations. The bill would subject all U.S. imports from Russia and Belarus to duty rates set under column 2 of the U.S. Harmonized Tariff Schedule, which are higher than the rates under column 1 for countries with permanent normal trade relations with the U.S. The president could also set rates higher than those in column 2 until Jan. 1, 2024. Read more in the BGOV Bill Summary.
House Majority Leader Steny Hoyer (D-Md.) told members Wednesday night the House may also vote on both measures before it adjourns until later this month.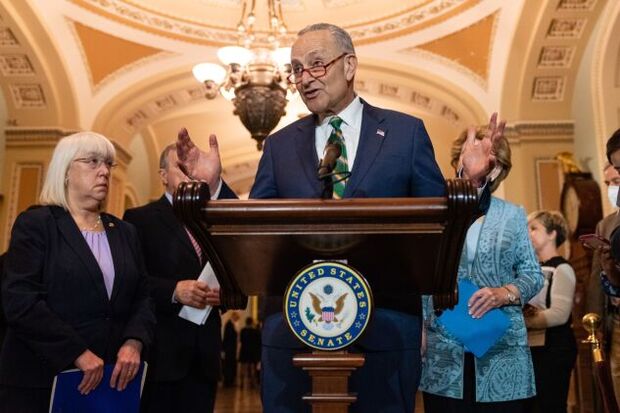 MORE ON THE WAR IN UKRAINE:
U.S. surveillance of Russia's invasion has been buttressed by two newer satellite systems built with commercial parts and on-board imagery processes, the head of the U.S.'s intelligence agency that manages the programs told the House Armed Services subcommittee. Alongside orbiting spy satellites, the new systems built using commercial technology have "enabled NATO and the entire world to see in real time the Russian military buildup prior to its invasion," National Reconnaissance Office Director Christopher Scolese in prepared remarks. Read more from Tony Capaccio.
Sanctioned Russian oligarchs and U.S. companies that pay taxes to Moscow would lose some of their American tax benefits under a new bill authored by two senators. The legislation, sponsored by Senate Finance Committee Chairman

Ron Wyden

(D-Ore.) and Sen.

Rob Portman

(R-Ohio) would deny tax credits and deductions to companies that continue to operate in Russia and Belarus, according to a draft released Thursday. Read more from Laura Davison.
Speaker Nancy Pelosi is planning to visit Taiwan after her trip to Japan this weekend, in what would be the first visit to the self-governed island by the holder of the office in a quarter of a century, Japanese broadcaster FNN reports, citing an unidentified person. The U.S. side hastily arranged the visit to show support for Taiwan amid growing military and economic pressure from Beijing and Russia's invasion of Ukraine. Read more from Samson Ellis and Cindy Wang.
Happening on the Hill
CONGRESSIONAL SCHEDULE:
The House meets at 9 a.m. to vote on a small businesses relief bill.
Senators meet at 9:30 a.m. to vote on the Russia trade and oil bills, and Ketanji Brown Jackson to join the Supreme Court.
The Senate today will vote on confirming Jackson to the Supreme Court, assuring an historic installation of the first Black woman on the high court and delivering a much-needed win for President Joe Biden and congressional Democrats. "It will be a joyous day," Schumer said in a floor speech last night. "Joyous for the Senate, joyous for the Supreme Court, joyous for America." The Senate will vote around 11 a.m. to invoke cloture, or limit debate, on the judge's nomination, and senators unanimously agreed last night to schedule her final confirmation for approximately 1:45 p.m.
Senators on Monday voted 53-47—with Republican Sens. Susan Collins (Maine), Lisa Murkowski (Alaska), and Mitt Romney (Utah) joining all 50 Democrats—to move Jackson's nomination to the floor from the deadlocked Senate Judiciary Committee. If Jackson is confirmed as expected, she'd take the bench after Justice Stephen Breyer retires at the end of the Supreme Court's term this year. Absent unanimous consent, Jackson's confirmation would have been delayed until tomorrow. But GOP Whip John Thune (S.D.) said Republicans were willing to forfeit debate time.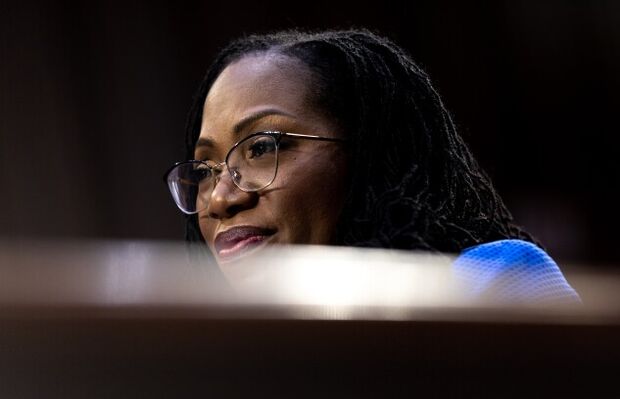 Senators are pushing ahead on a bipartisan bid to ratify a global pact to reduce powerful greenhouse gas emissions. Senate Foreign Relations Chairman Robert Menendez (D-N.J.) said that he wants to hold a committee vote "sooner rather than later" on three separate treaties, including the Kigali amendment, since they have bipartisan support. "My goal is to pass treaties, not just consider them, so I want to make sure that the votes are there," he said. Menendez added that he believed the measures fit those standards. The panel's top Republican, Jim Risch (Idaho), also said the treaties "really need to move." Read more from Kellie Lunney.
Lawmakers proposed a no-fly list for travelers who assault flight crew in response to the spike of unruly passenger incidents on planes through the pandemic. There were nearly 6,000 reports of unruly passengers last year, a major increase compared to prior years. The legislation, from Sen. Jack Reed (D-R.I.) and Rep. Eric Swalwell (D-Calif.), is aimed at banning perpetrators and deterring future attacks. "If you are going to terrorize a cabin full of innocent passengers or knock out a flight attendant's teeth, then understand this, you will forfeit your chance to fly," Reed said. Read more from Lillianna Byington.
Medicare recipients would get a $2,000 annual cap on what they pay for drugs under a bill from a Senate Democrat facing a challenging reelection fight this year. In the measure, Sen. Raphael Warnock (D-Ga.) for the second time pulled a major drug pricing provision from his party's stalled domestic spending package. Warnock also introduced a bill earlier this year to cap at $35 per month what people with insurance pay for insulin. Read more from Alex Ruoff.
A bill to increase funding for Long Covid treatment and clinics marks the latest push from lawmakers to confront chronic health problems related to the coronavirus that affect millions of Americans. The Treat Long Covid Act is a joint effort from Sen. Tammy Duckworth (D-Ill.), and Rep. Ayanna Pressley (D-Mass.). Both have been involved in efforts to bolster federal support for Long Covid research, treatment and education. Read more from Madison Muller.
Easy and early access to retirement funds is at the center of a simmering debate that was rekindled when key emergency savings proposals were left out of bipartisan legislation that passed the House overwhelmingly. The House passed the SECURE Act 2.0 (H.R. 2954) 414-5, setting the stage for the Senate to weigh the bill. It would require retirement plan sponsors to automatically enroll participants and increase the age they're required to withdraw savings. Read more from Austin R. Ramsey.
Biden plans to nominate a top aide to Speaker Pelosi and a longtime Securities and Exchange Commission aide to fill two top slots at the regulator, the White House said Wednesday. Jaime Lizarraga, a senior adviser to Pelosi, would take over for departing Democratic Commissioner Allison Herren Lee. Mark Uyeda, who has spent a big chunk of his career at the SEC and is currently on detail to the Senate Banking Committee, would fill an open Republican seat on the five-person commission. Read more from Tom Schoenberg.
Three members of Congress are criticizing Spotify and its CEO Daniel Ek for the music platform's reduced royalty payments to artists promoted on its Discovery Mode, Variety reports, citing their letter to the company. The letter from Reps. Yvette Clarke (D-N.Y.), Judy Chu (D-Calif.) and Tony Cardenas (D-Calif.) argues Spotify profits off of competing artists. The lawmakers said the practice is unfair as marginalized artists with limited access to capital need to pay to be found on Spotify. Read more from Variety.
A fox captured by the Capitol Police and animal control officers this week tested positive for rabies after it was euthanized, news organizations reported Wednesday night. The New York Times and ABC News cited a statement from District of Columbia Health officials. A number of people were bitten on or near the Capitol grounds, including Rep. Ami Bera (D-Calif.) and a reporter for Politico. Before the positive test was known, Bera, a physician, said he had received a series of rabies shots out of an abundance of caution. Read more from Chelsea Mes.
Elections, Politics & Influence
The House voted to hold two former top Trump officials in contempt of Congress for defying subpoenas from the committee investigating the insurrection at the U.S. Capitol. The 220-203 vote sends the contempt resolution against ex-White House Deputy Chief of Staff for Communications Dan Scavino and former trade adviser Peter Navarro to Pelosi for referral to the Justice Department for possible prosecution. The committee's two Republicans, Liz Cheney (R-Wyo.) and Adam Kinzinger (R-Ill.), voted with all Democrats in favor of the action. Read more from Billy House.
The White House is close to tapping Obama veteran Carlos Uriarte to fill one of Washington's most thankless jobs: the Justice Department's top liaison with Congress. Heading the DOJ's Office of Legislative Affairs is considered a high-pressured, often soul-crushing job in any administration, as lawmakers invariably complain of unanswered oversight requests while some department leaders circumvent it by coordinating with Congress on their own. Uriarte's upcoming nomination, confirmed by two people near his selection, comes after the White House had to reset its search last year. Ben Penn has more.
A Colorado Republican convention this weekend will test the strength of a candidate espousing Trump's fraud claims and influence the party's chances to upset Sen. Michael Bennet (D). As many as 4,743 delegates are scheduled to meet in Colorado Springs on Saturday to "designate" statewide candidates for multiple offices on the June 28 primary ballots. A leading Senate contender is Ron Hanks, a first-term state lawmaker who announced his candidacy in a video depicting him shooting a copy machine labeled, "Dominion Voting Machine." Read more from Kenneth P. Doyle.
Around the Administration
BIDEN'S SCHEDULE:
The president has no public events on his Thursday schedule.
Press Secretary Jen Psaki holds a daily press briefing at 1 p.m.
North Korea may be considering a test of a nuclear device to coincide with celebrations next week to mark the birthday of its state founder, the Biden administration's point man for Pyongyang said. Sung Kim, the U.S.'s special envoy for North Korea, said Pyongyang may be looking to conduct a nuclear test or missile launch in conjunction with April 15 celebrations to mark the 110th birthday of the late state founder, Kim Il Sung, Jon Herskovitz reports.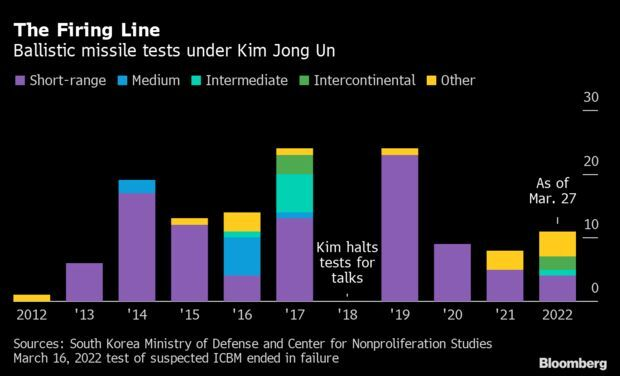 Sorting out a $2 billion patent challenge tainted with sabotage claims and shaping director review of administrative patent tribunal decisions will likely be at the top of the new Patent and Trademark Office director's to-do list, attorneys said. The Senate confirmed Winston & Strawn partner Kathi Vidal on Tuesday, meaning the agency can finally move on pressing policy issues that have been in limbo while the post remained vacant for over a year, attorneys said. Drew Hirshfeld—who performed the duties of the director while Vidal's nomination was pending—maintained the status quo at the office, Samantha Handler reports.
Health officials should be developing a consistent standard for Covid-19 vaccines as they prepare for the rapid emergence of new variants, U.S. Food and Drug Administration advisers said. Chances are roughly 20% that there will be another "omicron-like" event in the next 12 months, according to research reviewed on Wednesday by the FDA and its advisory panel on vaccines. A key portion of the spike protein that the coronavirus uses to enter cells is changing at least twice as swiftly as one common influenza strain. Read more from Fiona Rutherford and Robert Langreth.
The DOJ's claim that people recovering from opioid use disorder are legally protected under the Americans with Disabilities Act marks a critical step in lifting stigmas and encouraging them to seek treatment, addiction specialists say. People recovering from opioid use disorder and not illegally using drugs are protected from health-care, employment, and other discrimination under DOJ guidance announced Tuesday. It's part of a wider push to cut down on barriers for treatment and comes amid an all-time high for overdoses. Ian Lopez has more.
The U.S. proposed scrapping an exemption for accidental pollution releases, a step environmentalists insist is only one of many needed to close multiple emission shields for industry. The proposal removes a protection called "emergency affirmative defense" from federal operating permits, which is one way facilities could avoid legal battles if they accidentally release excess emissions during extreme weather that disrupts operations. The proposal's impact could be big for areas with large industrial facilities, according to University of Houston law professor Victor Flatt. Read more from Jennifer Hijazi.
Texas Gov. Greg Abbott said the state would take unprecedented measures to combat illegal immigration, including plans to charter buses that would take released migrants from the border to Washington. The state will also step up safety inspections of vehicles coming from Mexico, and expand enforcement at various points along the Rio Grande. Abbott said additional measures would be announced next week. Abbott, a Republican, said the enhanced measures were needed to combat a jump in migration that is expected to further increase next month when Biden ends the Title 42 authority. Read more from Shelly Hagan.
Treasury Secretary Janet Yellen will on Thursday outline a set of broad principles that she believes should guide the creation of a new framework for regulating digital assets, seeking to encourage innovation while protecting consumers, investors and financial stability. "Our regulatory frameworks should be designed to support responsible innovation while managing risks — especially those that could disrupt the financial system and economy," Yellen said in excerpts of a speech she's scheduled to deliver starting at 10:30 a.m. at an event organized by American University in Washington. Read more from Christopher Condon.
To contact the reporters on this story: Giuseppe Macri in Washington at gmacri@bgov.com; Brandon Lee in Washington at blee@bgov.com
To contact the editors responsible for this story: Loren Duggan at lduggan@bgov.com; Michaela Ross at mross@bgov.com