What to Know in Washington: Senate Sets Votes on Biden's Agenda
President Joe Biden's big plans for the U.S. economy are on the verge of passing their first major legislative tests in the Senate, leaving their future to intra-party struggles between Democratic progressives and moderates.
A broad group of Democratic and Republican senators is prepared to place a bipartisan stamp of approval on a cornerstone of the Biden agenda — a $550 billion infrastructure program — in a vote scheduled to begin late this morning.
The remainder of Biden's economic agenda is encompassed in a $3.5 trillion budget resolution the Senate is scheduled to consider next. It allows Democrats to bypass Republicans to expand child care, health coverage and education benefits and address climate change, paid for by raising taxes on the wealthy and corporations.
The vote on that could drag out late into the night or even into tomorrow morning as Republicans propose multiple amendments to force Democrats into taking politically fraught votes. But both parties expect Democrats will prevail on the simple majority vote required.
With Speaker Nancy Pelosi (D-Calif.) declaring she won't permit a vote on the infrastructure package until the Senate follows the budget blueprint with legislation delivering on its promises, the fate of the entire agenda depends on maintaining unity among all 50 senators who caucus with Democrats and the party's thin majority in the House. Pelosi can lose only three Democratic votes and still prevail against unified Republican opposition.
Ideological tensions flared anew yesterday. Six House Democratic moderates wrote Pelosi pressing her to allow a vote on the infrastructure package rather than waiting for the Senate to send over a second bill enacting the rest of the agenda. They also raised concerns about the Senate budget plan's spending levels and tax increases, as well as its effect on already rising inflation, the national debt, and the ability to respond to future COVID emergencies. Read more from Mike Dorning, Steven T. Dennis and Billy House.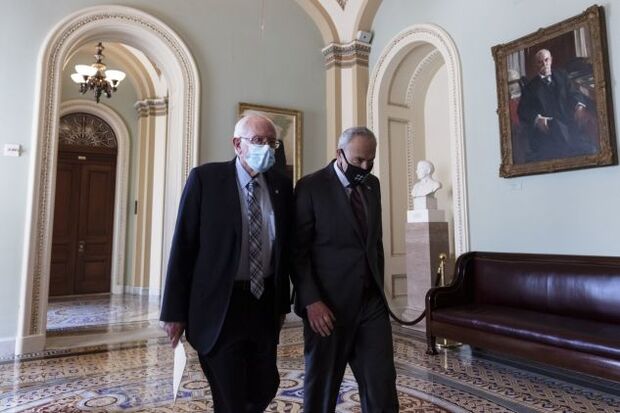 Crypto Lobbyists Falter in Fix for Tax Rules: Cryptocurrency lobbyists were caught ill-equipped in one of the first legislative battles for their nascent industry, despite a Herculean push that impressed Washington insiders with its intensity. The industry was unable to win a change to crypto tax reporting rules in the infrastructure bill yesterday, leaving intact language for broad oversight of virtual currencies in the legislation that's poised to pass the Senate.
The amendment, from sponsors including Sens. Cynthia Lummis (R-Wyo) and Mark Warner (D-Va.), would have walked back new tax reporting requirements for crypto firms. It was designed to address concerns from the cryptocurrency industry that the bill would require entities — like miners and software developers — to report tax data to the Internal Revenue Service that they didn't have access to. The last-minute amendment required unanimous consent all 100 senators, but Sen. Richard Shelby (R-Ala.) objected. Read more from Joe Light and Laura Davison.
Happening on the Hill
Today's Agenda: The Senate plans to vote this morning on the bipartisan infrastructure package.
Click here for a complete list of today's hearings and markups.
Tax Break on Union Dues Added: Senate Democrats are forging ahead with budgetary plans to create tax incentives for union membership and penalties for employers that violate workers' union rights, three sources involved in the process said. Majority Leader Chuck Schumer (D-N.Y.) unveiled instructions yesterday that the $3.5 trillion budget package would fund "pro-worker incentives" and "labor enforcement," without providing details, Ben Penn, Ian Kullgren, and Andrew Kreighbaum report.
Lawmakers Fight to Revive SALT Tax Break: A major push by a group of U.S. lawmakers to secure an expansion of the federal deduction for state and local taxes — which yesterday won inclusion in the critical budget plan — owes much to a pair of onetime roommates in the nation's capital. One, Rep. Tom Suozzi (D-N.Y.), has the nickname "Mr. SALT," and the other, Rep. Josh Gottheimer (D-N.J.), is co-chief of a sometime influential bipartisan House group known as the Problem Solvers. Together, they've helped to gather a caucus of 33 representatives battling to remove or raise the $10,000 cap on SALT deductions imposed in the 2017 Republican tax-cut package. Success at getting that included in final legislation this fall would offer relief to middle and higher-income residents in higher-tax states such as New York and New Jersey. Read more from Laura Davison.
Senate Pair Seeks to Widen Net of Tax Avoiders: Sens. Elizabeth Warren (D-Mass.) and Angus King (I-Maine) unveiled legislation they hope to include in the budget package that would capture taxes from over 1,000 big U.S. companies that report high profits but may have little taxable income, ensnaring a larger group than Biden has proposed, but at a lower rate. The senators' bill would levy a 7% percent tax on book profits for firms with earnings of $100 million or more. Colin Wilhelm has more.
Around the Administration
Today's Agenda: Biden returns to Washington from Delaware today. The president is scheduled to receive a briefing at the White House at 3:45 p.m. from Federal Emergency Management Agency Administrator Deanne Criswell, Homeland Security Department personnel, and the Covid-19 response team on how the pandemic is affecting hurricane preparedness.
Dead Americans Get Millions in Checks: Long before the Treasury Department sent $1.4 billion in stimulus checks to dead people last year, the U.S. government struggled to keep track of the deceased. Dead farmers received about $22 million in crop subsidies over five years. The Federal Emergency Management Agency sent Hurricane Sandy disaster benefits to 45 people who died before the agency received their assistance applications. The Agriculture Department incorrectly paid $35 million in rural housing rental assistance because it didn't know whether tenants passed away.
The misfires often aren't human error. They result from a decades-long battle between state, local, and federal officials about who should have access to a portion of the Social Security Administration's records on deceased Americans. Read more from Courtney Rozen.
Delta Strains Hospitals Across U.S.: Hospitals across the U.S. were parceling out beds for Covid patients yesterday, hunting for doctors and nurses as the delta variant sweeps coast to coast. The disease is outstripping any mitigation measures. In a few states, the unvaccinated are entering intensive care at rates matching the winter wave. The vaccinated are coming to realize that a sweet summer of release may have been a fantasy, as they again calculate the risks of working, seeing relatives and circulating in society. Read more from Angelica LaVito, Jonathan Levin and Francesca Maglione.
White House Vetting Prelogar as Solicitor General: The White House is vetting acting Solicitor General Elizabeth Prelogar to be nominated for the job on a permanent basis, according to two former SG's office attorneys. Prelogar, an appellate lawyer, served as the Justice Department's fourth ranked attorney on an acting basis, arguing two cases before the justices in that role last term. Prelogar has support within the DOJ, including from Attorney General Merrick Garland. Kimberly Strawbridge Robinson has more.
Texas Judge Blocks Obamacare LGBTQ Anti-Bias Rule: A federal district court judge in Texas permanently blocked the Department of Health and Human Services from forcing certain Christian medical providers and seven states to provide or pay for gender transition-related care and abortions. Judge Reed O'Connor, of the U.S. District Court for the Northern District of Texas, issued a permanent injunction yesterday. Read more from Lydia Wheeler.
Duck Hunters Fuss Over Repeal of License-Stamp Rule: Duck hunters in the U.S. have been required for decades to buy a stamp portraying the fowl and affix it to their hunting licenses with the proceeds being used for conservation. The Trump administration added a requirement that the art on the $25 duck stamp contain some element to reflect hunting. That had artists chafing at the idea of showing shotgun shells alongside canvasbacks and buffleheads. Now the Biden administration has proposed dropping the obligatory hunting theme — sparking anger among some hunters. Read more from Todd Shields.
To contact the reporters on this story: Zachary Sherwood in Washington at zsherwood@bgov.com; Brandon Lee in Washington at blee@bgov.com
To contact the editors responsible for this story: Giuseppe Macri at gmacri@bgov.com; Loren Duggan at lduggan@bgov.com; Michaela Ross at mross@bgov.com