What to Know in Washington: Senate Set for Vote Today on Barrett
Bloomberg Government subscribers get the stories like this first. Act now and gain unlimited access to everything you need to know. Learn more.
Amy Coney Barrett is on the cusp of confirmation, with the Senate ready to vote tonight to elevate her to the Supreme Court a week before the presidential election and create a 6-3 conservative majority on the court.
The stage was set yesterday when the Senate, mostly along party lines, broke a Democratic filibuster and left her swift elevation all but certain. Barrett is President Donald Trump's choice to replace the liberal Justice Ruth Bader Ginsburg, who died of cancer on Sept. 18.
In a final piece of controversy after weeks of partisan acrimony over the confirmation, Vice President Mike Pence plans to preside over today's vote in his role as the Senate's presiding officer, even after the coronavirus pierced his inner circle. Three of Pence's top aides or advisers have tested positive for the coronavirus.
Senate Minority Leader Chuck Schumer (D-N.Y.) yesterday warned colleagues to take extra precautions against what he called the "carelessness" exhibited by Pence's decision. He said that aides to a Republican senator, who he didn't identify, also have tested positive for Covid-19.
Yesterday's vote followed delaying tactics by Democratic opponents and demonstrated that Barrett, 48, has the backing she needs to be be seated on the court.
Senate Majority Leader Mitch McConnell (R-Ky.), speaking on the Senate floor yesterday, called Barrett "a stellar nominee in every single respect" who will have a lasting impact.
"We made an important contribution to the future of this country," he said. "A lot of what we've done over the last four years will be undone sooner or later by the next election. They won't be able to do much about this for a long time to come."
Democrats and two Republicans — Susan Collins (Maine) and Lisa Murkowski (Alaska) — voted yesterday against allowing Barrett's nomination to advance to today's final vote. Both said earlier the vacancy should be filled by the next president, whether it's Trump or Democrat Joe Biden.
Collins said she'll vote against Barrett's confirmation. "To be clear, my vote does not reflect any conclusion that I have reached about Judge Barrett's qualifications to serve on the Supreme Court," Collins said in a statement. "What I have concentrated on is being fair and consistent, and I do not think it is fair nor consistent to have a Senate confirmation vote prior to the election."
Murkowski announced Saturday she would support confirmation in today's vote because Barrett, in her opinion, is qualified for the job. "While I oppose the process that has led us to this point, I do not hold it against her," Murkowski said in a floor speech on Saturday.
White House officials were exploring the possibility of holding an outdoor event to swear in Barrett as soon as late tonight following the final Senate confirmation vote, according to a person familiar with the matter who spoke on condition of anonymity because the plans were still in the works. Read more from Laura Litvan.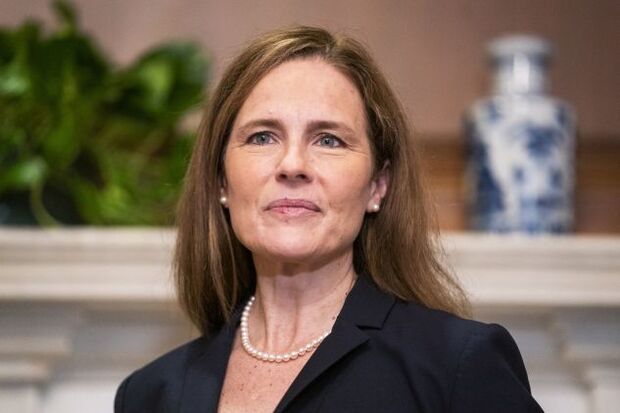 What to Watch in Congress
On the Floor: The Senate remained in session overnight and is due to vote tonight on Barrett's confirmation. The House is out of session this week, but meets tomorrow at 10 a.m. for a pro forma session.
BGOV's Races to Watch Election Webinar: Join Bloomberg Government on Thursday at 1 p.m. for an election webinar on Nov. 3's biggest House and Senate races to watch. Bloomberg Government senior reporter Greg Giroux will discuss the current state of Congress, the evolving landscape in Washington, and more. Register here.
Pelosi Awaits Mnuchin Virus Offer Today: The three months of squabbling over a new round of virus relief moved no closer to a resolution over the weekend, all but extinguishing the prospects of a stimulus bill being written, voted on, and signed into law by Trump before the election. Speaker Nancy Pelosi (D-Calif.) said she's waiting for another counteroffer today from Treasury Secretary Steven Mnuchin, as she and White House Chief of Staff Mark Meadows accused each other of "moving the goalposts" in negotiations.
Much of the weekend was devoted to work by congressional committees with the goal of writing legislation, but aides in both parties said little progress was made despite the pledges from both sides that they want to quickly deliver $1,200 stimulus payments to most Americans along with aid to struggling businesses.
The Senate is set to leave Washington after voting on the confirmation of Barrett, and the House is already out. Both chambers could be called back for a vote with 24 hours notice, though that scenario is unlikely in the last week of campaigning before the national election. Read more from Erik Wasson, Billy House and Laura Litvan.
Facebook, Twitter Chiefs to Testify Nov. 17: The CEOs of Facebook and Twitter have agreed to testify on Nov. 17 before a Senate panel looking into restrictions their companies put on an article about Hunter Biden. The Judiciary Committee last week authorized subpoenas for both Facebook's Mark Zuckerberg and Twitter's chief, Jack Dorsey. The committee announced Friday they would appear voluntarily. Republican senators and the Trump administration pressured the companies and other tech giants over allegations of biased against conservatives, John Harney and Ben Brody report.
Meanwhile, Facebook's Zuckerberg and Twitter's Dorsey are scheduled to appear before the Senate Commerce, Science and Transportation Committee on Wednesday — along with Alphabet CEO Sundar Pichai — to discuss their protection from legal liability for user content under Section 230 of the Communications Decency Act. Conservatives say the law enables the companies to silence their views.
Race for the White House
Trump Shadowed by Virus in Final Swing: Trump enters the final week before Election Day with a surge in U.S. coronavirus cases and another White House outbreak threatening efforts to reverse his political fortunes with a string of barnstorming rallies. Trump started the weekend on a strong note, with campaign aides believing his improved performance in the final debate against Democratic nominee Joe Biden could provide a boost among voters still making up their minds. But once again, coronavirus intervened.
On Saturday night came news that several people in Pence's inner circle contracted the potentially deadly virus. Those testing positive included Pence's longtime political adviser, Marty Obst, and the vice president's chief of staff, Marc Short. Another member of Pence's staff has also been diagnosed with the virus in recent days, according to people familiar with the matter. Pence was mostly untouched by the coronavirus cases that swept through the White House in the past month, infecting Trump, the first lady, their teenage son, and several top aides. In a twist, Pence also happens to lead the White House coronavirus task force. Read more from Justin Sink.
Trump's Narrowing Path Goes Through Obama Country: Trump is hoping to repeat his upset victory over Hillary Clinton with an electoral map that looks like 2016. His problem is that the map is looking a lot more like it's 2008. With Barack Obama at the top of the ticket, the Joe Biden of 2008 was elected vice president with votes from women, a record number of Black voters as well as White voters in the economically suffering industrial Midwest and fast-changing states in the West and South. Clinton wasn't able to recreate the so-called Obama Coalition four years ago. Now, Biden's path to victory could look remarkably similar to 2008. Read more from Gregory Korte, Reade Pickert, Jeremy C.F. Lin, Jackie Gu and Paul Murray.
Latino Vote Matters More Than Ever Before: Trump and Biden are spending more time and attention on Latino voters in 2020 and with good reason: For the first time, Latinos outnumber African Americans among eligible U.S. voters, and a large turnout could make them the most influential voting bloc in the country. But it's not just their numbers. They are participating in early- and absentee voting at rates 2.5 times their participation in the 2016 election and states with heavy Latino populations—Arizona, Nevada, Texas, and Florida—are all key battlegrounds. Read more from Gregory Korte, Maria Elena Vizcaino, and Brenna Goth.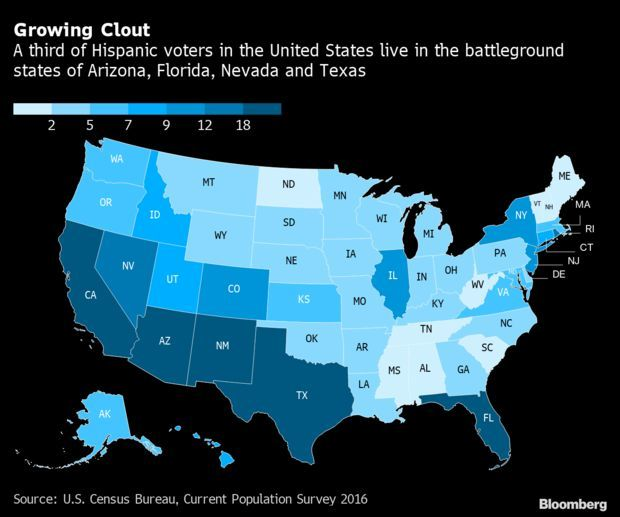 Ocasio-Cortez Says Young Voters Will Vote Biden: Rep. Alexandria Ocasio-Cortez (D-N.Y.) said young people today are "realistic and pragmatic" with their votes, and they will support Biden even if they don't regard him as a perfect candidate. "Young people right now have a very disciplined activist mindset, and they're not here with the intent of voting for their favorite person or voting for someone that they think is perfect as president," she told CNN's "State of the Union." Read more from Yueqi Yang.
Biden, Trump Neck and Neck in Another Texas Poll: Biden is essentially tied with Trump in Texas, which hasn't backed a Democratic presidential candidate since 1976. Just over a week until the election, a poll by the Dallas Morning News/UT Tyler found Biden ahead of Trump by 2 percentage points among registered voters, 46% to 44%, and by a margin of 3 percentage points among all likely voters, 48% to 45%. Both results are within the margins of error. This marks the third poll in a week showing Biden running even with Trump in a traditionally red stronghold. Read more from Emma Kinery.
Campaigns Weigh Lawyers for Possible SCOTUS Bout: The Trump and Biden campaigns will have short lists of Supreme Court litigators to choose from if the election prompts a Bush v. Gore style legal dispute, court watchers say. William Consovoy, a conservative elections lawyer whose star is rising on the Trump team, and former Obama-era Solicitor General Donald Verrilli Jr., are among the leading contenders. Sam Skolnik has more.
Trump Sues in Nevada for Ballot Counting: Trump's campaign filed a new election lawsuit in Nevada on Friday, starting a fresh battle over ballots in the swing state less than two weeks before the election. The campaign and the Nevada Republican Party claim that a Clark County official running the contest in the state's most populous area refuses to allow full observation of the ballot-counting process as required under state law. Read more from Erik Larson.
Trump's Rural Edge Shrinks: The major margin of support among rural voters that helped Trump secure victory four years ago is looking less firm in 2020 with the possibility of tilting the outcomes in swing states. Biden is nowhere near winning the rural areas of the country, where roads are lined with Trump-Pence lawn signs and campaign flags fluttering on trucks. But Trump's 28 percentage point margin among rural voters in 2016 exit polls has shrunk to a 15 point lead (56% to 41%) among rural likely voters in a Survey USA poll taken Oct. 16-19, the most recent poll where the breakdown is available. Other polls have shown similar drops. Read more from Mike Dorning.
Biden Dismisses Hunter Attacks as 'Smear Campaign': Joe Biden dismissed Republican questions about his son Hunter Biden's business entanglements as a "smear campaign" and suggested the possibility that the release of documents allegedly belonging to the younger Biden was part of a Russian disinformation campaign. "When you put the combination of Russia, Giuliani, the president, together — it's just what it is," Biden said, referring to Trump's lawyer Rudy Giuliani. "It's a smear campaign because he has nothing he wants to talk about. What is he running on?" the Democratic presidential nominee said in an interview on CBS's "60 Minutes." Read more from Jennifer Epstein.
Politics & Policy
Biden Win Would Mean FCC Pivot: A Biden victory could usher in an abrupt change in the nation's telecommunications policy, restoring so-called net neutrality regulation and shifting the Republican drive to rein in social media outlets, among other things. "Democrats are more comfortable with an activist role," Cowen analyst Paul Gallant said in an interview.
Biden hasn't talked much about the FCC during the campaign, but his party's platform is specific. It calls for restoring net neutrality rules put in place under then-President Barack Obama, when Biden served as vice president, and taking a harder line on telecommunications mergers. Democratic commissioners on the FCC already objected to the agency's steps to strip social media companies of liability protections for user content in response to alleged favoritism for liberal points of view. Read more from Todd Shields.
Wall Street's Best Blue Wave Defense Is Trump Holdovers: Wall Street executives fretting that Democrats will sweep the White House and Congress can take comfort — some of the Trump era's most bank-friendly regulators might stick around no matter how the election goes. The possible holdovers, who occupy powerful jobs at the Federal Reserve and other agencies, have months or even years left on their terms. Because they work at independent watchdogs that are supposed to be insulated from politics, they can resist pressure to step down, and a President Biden would have almost no legal recourse to remove them.
From the Fed to the Federal Deposit Insurance Corp. to the overseer of Fannie Mae and Freddie Mac, these officials could at least temporarily block their fellow regulators from pursuing policy goals of Sen. Elizabeth Warren (D-Mass.) and other progressives, whose wish lists include re-instituting tough financial rules that have been eased during Trump's presidency and facilitating more lending to lower-income borrowers. Federal agencies would be key to accomplishing such changes should partisan gridlock continue on Capitol Hill. Read more from Jesse Hamilton, Joe Light and Ben Bain.
Cannabis Could Become Legal in More States: Major changes to drug policies are on the ballot in half a dozen states where voters are being asked to legalize marijuana or decriminalize "magic mushrooms." Four states are considering joining the 11 that already allow recreational cannabis, while Mississippi and South Dakota could add to the 33 states with medical pot programs. Backers of an Oregon measure want the state to be the first in the U.S. to approve the medical use of psilocybin, better known as "magic mushrooms." Read more from Brenna Goth.
What Else to Know Today
White House Claims on Farm Trade Progress Questioned: The Trump administration says China has met 71% of its farm product purchases under their Phase One trade deal. Whether that's the most accurate way to measure the progress is still up for debate. The U.S. said last week that China had purchased $23 billion in American farming products this year, but that amount includes products that have shipped and also those sold but not yet exported. Read more from Mike Dorning and Isis Almeida.
Trump Loses Bid to Kill Solar-Tariff Loophole: A U.S. trade court on Saturday temporarily blocked the Trump administration's latest bid to end a loophole it granted on two-sided solar panels. The order comes weeks after Trump moved to eliminate a tariff exemption for the two-sided, or bifacial, panels. Prior to that proclamation, the government tried for more than a full year to revoke the exemption, only to get repeatedly thwarted by the trade court. Read more from Brian Eckhouse.
Armenia, Azerbaijan Agree to Ceasefire, State Department Says: Armenia and Azerbaijan agreed to a U.S.-brokered cease-fire in their five-week conflict over a disputed region, the State Department said yesterday, after their foreign ministers met Saturday with Deputy Secretary of State Stephen Biegun, according to a joint statement. But previous truces negotiated between the two sides have fallen apart, and the latest announcement came just hours after Azerbaijan's president, Ilham Aliyev, said he wouldn't accept an unconditional cease-fire. Read more from Jennifer Jacobs and Zulfugar Agayev.
Africa Talks on Ethiopia Dam Resume: The African Union announced the resumption of talks it's brokering to resolve a long-running dispute over Ethiopia's construction of a mega-dam, which has affronted neighboring Egypt and Sudan. The announcement comes days after Trump suggested Egypt could end up destroying the multi-billion dollar dam. Read more from David Malingha.
To contact the reporters on this story: Zachary Sherwood in Washington at zsherwood@bgov.com; Brandon Lee in Washington at blee@bgov.com
To contact the editors responsible for this story: Giuseppe Macri at gmacri@bgov.com; Loren Duggan at lduggan@bgov.com; Michaela Ross at mross@bgov.com
Stay informed with more news like this – from the largest team of reporters on Capitol Hill – subscribe to Bloomberg Government today. Learn more.