What to Know in Washington: Senate Seeks Endgame on China Bill
Bloomberg Government subscribers get the stories like this first. Act now and gain unlimited access to everything you need to know. Learn more.
The Senate is nearing the finish line for a package of legislation totaling well over $200 billion that's designed to strengthen U.S. competitiveness against a rising China, with a vote as early as today.
The bill, which would authorize $190 billion for measures including increased federal research and development spending along with $52 billion in emergency outlays for domestic semiconductor manufacturing, faces at least one more proposed amendment, following a raft of changes last month.
The Senate will vote today on an amendment from Sen. John Cornyn (R-Texas) that would strip out language requiring companies to pay the prevailing wage to employees or contractors building or working in semiconductor manufacturing plants. "I think we're locked in and hopefully get it done by close of business tomorrow," Cornyn told reporters yesterday. "Right now we are very exposed to vulnerable supply chains for critical semiconductors."
Cornyn has said he expects to lose that vote, but will still back the overall bill given its importance.
That could tee up final passage as early as today. The course in the House isn't clear, with Democratic leadership there not yet laying out a course of action beyond the House Science Committee considering its own plan for revamping the National Science Foundation. Read more from Daniel Flately.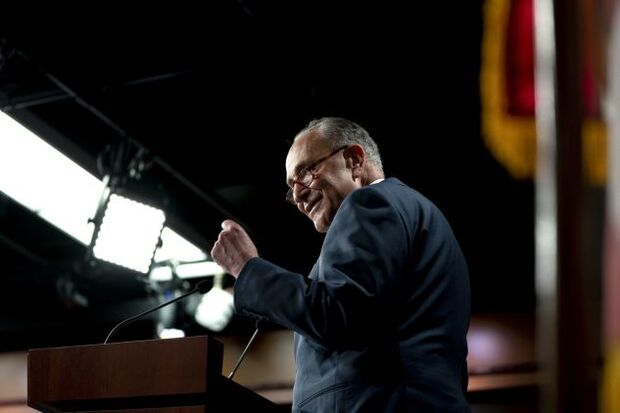 Happening on the Hill
Today's agenda:
The Senate plans to vote on two judicial nominations for U.S. district courts before resuming consideration of the China competition bill.
Senate Majority Leader

Chuck Schumer

(D-N.Y.) plans a vote later today on whether the chamber will take up legislation to close the gender wage gap. All 50 senators who caucus with Democrats have signed on as co-sponsors to the Paycheck Fairness Act, but the bill needs support from at least 10 Republicans to make it to the floor for a vote. The legislation would bar employers from using wage history to set workers' salaries and prohibit retaliation against employees who discuss pay, among other measures, Andrew Kreighbaum reports.
Click here for a complete list of today's hearings and markups.
Schumer, Pelosi Face Pressure as Infrastructure Talks Stall: Democratic congressional leaders face a narrowing path to move forward on President Joe Biden's $4 trillion economic agenda without Republican support as negotiations with the GOP are at risk of stalling. Biden is scheduled to talk again with the main Republican negotiator on the infrastructure portion of his plan, Sen. Shelley Moore Capito (R-W.Va.) today, the day before he leaves on a scheduled week-long trip to Europe to meet with other world leaders. After several rounds of discussions the two sides remain far apart and Capito said she won't be bringing a new counteroffer to the table.
Schumer and Speaker Nancy Pelosi (D-Calif.), working with the slimmest of margins in the House and Senate, had been striving to pass Biden's jobs and infrastructure proposal before Congress leaves for an August recess. But time is rapidly running out for putting together and passing a bill by that deadline. And Democrats, including Schumer, have been wary of getting bogged down in months of negotiations, as they were in 2009 on the Affordable Care Act. Read more from Steven T. Dennis and Laura Litvan.
Pipeline Cybersecurity Solutions Suffer From Oversight Divide: Concerns about cybersecurity jurisdiction over critical infrastructure pose a potential hurdle for congressional efforts to set stronger oversight after recent hacks against Colonial Pipeline and JBS, with lawmakers set to delve into one of the breaches in hearings this week. At least five congressional committees oversee similar pipeline cybersecurity issues at departments including Homeland Security and Energy, leading to tensions and delays in the effort to advance unified cybersecurity legislation that requires the sign-off of the various panels. Read more from Rebecca Kern.
Coalition Pushes Congress to Retain Oil Tax Breaks: Conservative groups, led by Americans for Tax Reform, urged against plans to eliminate oil industry tax deductions, saying the change would eliminate jobs and hike energy costs. In a letter to congressional leaders, they singled out a deduction of intangible drilling costs, which allows oil and gas companies to immediately deduct some expenses, such as labor, site preparation and repairs. "It is a legitimate cost recovery mechanism that should be made permanent throughout the tax code," they said, Jennifer A. Dlouhy reports.
Politics & Influence
Multiple Global Websites Shown as Offline: Multiple websites are experiencing outages today including the New York Times, Amazon Web Services, and Reddit with Fastly, a CDN provider, being cited as the reason for the outage, Luke McGrath reports. New York Times website shows following error: "Fastly error: unknown."
Viriginia Gubernatorial Primary: Virginian Democrats will chose today their nominee for governor to face off against Republican Glenn Youngkin in November. Among the five candidates, former Gov. Terry McAuliffe—who served from 2014-2018—is the leader in both polling and fundraising, Emily Wilkins reports. A Roanoke College Poll found McAuliffe as the clear leader of the field, with about 49% of respondents who planned to or already have voted for him. The candidate with next highest support, at 11%, is Jennifer Carroll Foy, a former member of the Virginia House of Delegates. A state senator for Richmond, Jennifer McClellan, polled at 9%. If either is were to become governor, she would be the first Black woman to do so in Virginia.
New Jersey GOP Gubernatorial Primary: New Jersey voters today will select the GOP gubernatorial nominee to run against incumbent Democratic Gov. Phil Murphy, Emily Wilkins reports. Four candidates are in the running for the nomination. The frontrunner is Jack Ciattarelli, a former state assemblyman who has tried to find a balance between ardent supporters of former President Donald Trump and other conservatives.
Biden Strategist Joins Lobby Firm: Digital campaign strategist Rebecca Christopher has joined lobbying and public affairs firm Invariant, Megan R. Wilson reports. She has worked previously for clients including Biden's presidential campaign, and served on Mike Bloomberg's 2020 bid for president, managing national email content and strategy. Before that she worked for Purpose, a social impact marketing firm, where her clients included the Women's March Global Network, March of Dimes, Discovery and Sesame Workshop. Bloomberg is the founder and majority owner of Bloomberg Government's parent company.
Biden Officials Back Trump on Rape Accuser's Suit: The Biden administration is supporting Trump's position that he qualified as a government employee under a law that would let him to dodge a defamation suit by E. Jean Carroll, the New York advice columnist who claims he raped her two decades ago. Late yesterday, Justice Department lawyers submitted a filing to a federal appeals court adopting essentially the same position the department staked out while Trump was still in office — that presidents are covered by the Westfall Act of 1988, which protects government workers from being personally sued for actions related to their official duties. Read more from Peter Blumberg.
Around the Administration
Biden Unveils Supply-Chain Plan to Boost Medicine, Chip Output: Biden released a multi-pronged strategy to secure critical supply chains in products ranging from medicines to microchips, and is also weighing a potential trade probe that could result in U.S. tariffs on certain magnet imports, officials said.
The administration will establish a supply-chain disruptions task force to address near-term bottlenecks that can affect the economic recovery. Secretary of Commerce Gina Raimondo, together with her transportation and agriculture counterparts Pete Buttigieg and Tom Vilsack, will lead the team that will focus on supply-demand mismatches in areas like homebuilding and construction, semiconductors, transportation, agriculture and food, administration officials told reporters. Read more from Jenny Leonard.
Biden, Johnson to Rally G-7 for Vaccine Push After U.S. Hoarding: Biden's first overseas trip as president will focus on bolstering the availability of Western coronavirus vaccines abroad — a bid to both counter China and calm tensions with allies who've been at odds with the U.S. over its hoarding of shots and intellectual property rights.
Biden departs tomorrow for the Group of Seven summit in the U.K., leaving the U.S., where the pandemic is receding, to discuss how the world's richest democracies can help the rest of the world snuff out the virus. Both Biden and U.K. Prime Minister Boris Johnson aim to rally the G-7 behind a plan to make more shots available to low-income countries. Biden and Johnson will meet for the first time on Thursday, before the G-7. Read more from Josh Wingrove.
With assistance from Brandon Lee, Emily Wilkins, and Andrew Kreighbaum
To contact the reporter on this story: Giuseppe Macri in Washington at gmacri@bgov.com
To contact the editors responsible for this story: Giuseppe Macri at zsherwood@bgov.com; Loren Duggan at lduggan@bgov.com; Michaela Ross at mross@bgov.com
Stay informed with more news like this – from the largest team of reporters on Capitol Hill – subscribe to Bloomberg Government today. Learn more.