What to Know in Washington: Senate Ruling May Boost Biden Plan
The prospects for President Joe Biden's economic agenda could be enhanced by a ruling from the Senate parliamentarian that opens the door to passing multiple additional bills this year without any Republican support.
A spokesman for Senate Majority Leader Chuck Schumer (D-N.Y.) said yesterday that Parliamentarian Elizabeth MacDonough has ruled Democrats could enact another reconciliation package by revising the budget blueprint the Democratic Congress adopted earlier this year.
The ruling "allows Democrats additional tools to improve the lives of Americans if Republican obstruction continues," said the spokesman, Justin Goodman.
Goodman said no decisions have been made on how to move Biden's agenda, but called the decision nonetheless "an important step forward" and "that this key pathway is available to Democrats if needed."
Senate Finance Chairman Ron Wyden (D-Ore.) praised the ruling. "The American people want bold action to address our country's many challenges, and Democrats now have more options to overcome Republican obstruction and get things done," he said in a statement last night.
Biden's $1.9 trillion coronavirus relief package passed using the budget reconciliation process, which bypasses the 60-vote rule required to pass most legislation in the Senate. Read more from Steven T. Dennis.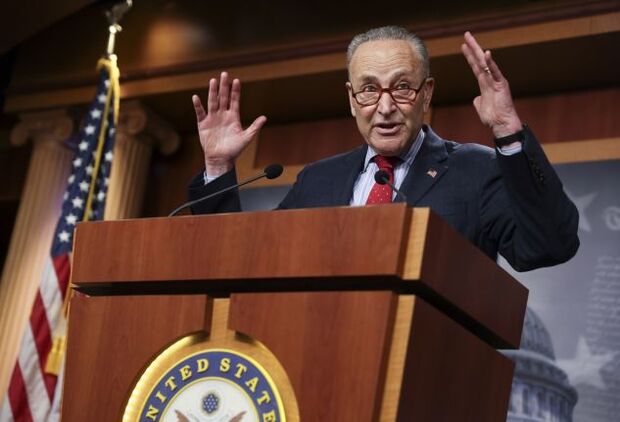 Wyden, White House Global Tax Plans Differ Over Fate of 2017 Law: Top Senate Democrats have the same broad goals as Biden in their plan to overhaul the way multinationals are taxed—they want to reboot the international tax system to encourage companies to keep jobs and investment in the U.S.
The Democrats' plan released yesterday and Biden's corporate tax proposals last week will help raise revenue for the administration's sweeping $2.25 trillion infrastructure plan. Both mark a sea change from the 2017 tax law, which dramatically lowered corporate tax rates and eased rules in the name of making U.S. companies more competitive globally, but which both Biden and Senate Democrats say has given incentives for companies to ship jobs overseas.
But the plan proposed by Wyden and Sens. Sherrod Brown (D-Ohio) and Mark Warner (D-Va.) doesn't call for an increase in the corporate tax rate, as Biden's proposal does. The Senate plan would also retain in altered form some provisions of the 2017 law that Biden apparently wants to scrap. Read more from Michael Rapoport.
Biden Tax Plan Seen Hitting Technology, Pharmaceutical Companies: The tax plan Biden laid out last week will likely hit technology and pharmaceutical companies particularly hard, although the challenge for legislators will be to minimize loopholes that could diminish the impact, tax experts said. Much of the most valuable assets at pharmaceutical and tech companies is intellectual property, like patents and algorithms — intangibles that make it easier for them to structure global operations in a way to minimize tax costs. Sectors like retail or agriculture have lots of physical assets that can't easily be moved to lower-tax countries.
Both Republicans and Democrats have sought to bolster the U.S. tax take from companies' overseas operations, and President Donald Trump's 2017 overhaul had measures to do that. Biden's plan takes a tougher approach, with a 21% minimum tax on foreign profits and a 15% minimum levy on profits reported on financial statements. It limits companies from using credits for research and development costs and deductions for paying employees in stock. The provisions — part of the administration's plan to finance a $2.25 trillion infrastructure package — mean that tech and pharmaceutical companies could lose many of the tax-planning tools that allowed them to pay low rates for years. Read more from Laura Davison.
Around the Administration
AstraZeneca Gets Biden Help Finding New Plant: Biden's administration is working with AstraZeneca to find new manufacturing capacity in the U.S. after the company agreed to abandon a Baltimore Covid-19 vaccine plant that will focus exclusively on making doses for Johnson & Johnson. The talks are the latest development after an error at the Emergent BioSolutions facility — in which ingredients for the two companies' vaccines were mixed up — led to a batch of 15 million doses worth of drug substance being spoiled. Read more from Josh Wingrove and Jordan Fabian.
Nuclear Talks Between Iran, World Powers Begin: Iran and world powers began their most serious attempt yet to resurrect a troubled nuclear deal, with negotiators from the U.S. and Islamic Republic gathered at the same venue for the first time since Donald Trump sent the accord into freefall in 2018. Diplomats arrived at Vienna's Hotel Imperial today for the talks, which may extend through the end of the week if progress is made, according to two officials involved. Iranian and U.S. negotiators aren't expected to speak directly, reflecting the deep distrust they will have to overcome. Read more from Jonathan Tirone, Golnar Motevalli and Arsalan Shahla.
John Kerry To Push India on Net Zero Target Ahead of Global Meet: U.S. climate envoy John Kerry is in New Delhi this week to push Prime Minister Narendra Modi's government to boost its climate ambitions as it considers announcing a net zero target ahead of a virtual summit later this month. The visit comes ahead of a meeting of leaders from 40 nations organized by Biden that will run from April 22-23 aimed at galvanizing efforts to commit to more ambitious climate change mitigation targets, at a time of rising pressure on nations to consider net-zero greenhouse gas emissions targets after China announced its plan last year. Read more from Archana Chaudhary.
Kerry met in India today with Russian Foreign Minister Sergei Lavrov to discuss climate issues, a person familiar with the talks said. The brief talks in New Delhi came as the U.S. is seeking the participation of the leaders of Russia and China, along with dozens of others, in the global summit on climate change later this month. So far, the Kremlin hasn't said whether President Vladimir Putin will attend. Read more from Ilya Arkhipov.
Biden Likely to Name Evercore's Bianchi as Trade Deputy: Biden is likely to name longtime aide and Obama administration veteran Sarah Bianchi as deputy U.S. trade representative, according to people familiar with the matter. Bianchi is a senior managing director at Evercore ISI International and has previously worked for BlackRock and Airbnb. She is also chair on the advisory board of the Biden Institute at the University of Delaware. A decision isn't final and Bianchi is still being vetted, the people said. Read more from Mary Anne Pazanowski.
Powell Has Wall Street Trying to Forecast Black Unemployment: To get an idea of what Jerome Powell's Federal Reserve will do next, Wall Street economists are having to try their hand at forecasting new variables — like the Black unemployment rate. That shift in focus could itself contribute to the outcome that the Fed chair says he wants: an economic expansion reaching corners of the labor force that have been slower to recover in the past. Read more from Matthew Boesler.
What Else to Know
DeLauro Calls for Supplemental After Capitol Attack: House Appropriations Chair Rosa DeLauro (D-Conn.) said her committee has reviewed security failures since Jan. 6 and has come to the conclusion that "we must improve intelligence collection and review, bolster the capacity and training of the Capitol Police, and make physical security improvements to the Capitol Complex."
"When Congress returns to Washington, we will act to ensure the safety of the Capitol and everyone who works there," she said, but didn't list a dollar amount of planned spending, Max Zimmerman reports.
Trump Urges Court to Throw Out Congressional Subpoena to Mazars: Former President Donald Trump urged a judge to throw out a Congressional subpoena for his financial records, calling it unconstitutional and unenforceable. The former president asked a federal judge in Washington yesterday for summary judgment — a ruling in his favor without a trial — in a House Oversight lawsuit seeking an order to force Mazars USA, Trump's accounting firm, to turn over the documents. Read more from Joe Schneider.
Knee on Floyd's Neck Was Excessive Force, Police Chief Says: Kneeling on George Floyd's neck for nine minutes "absolutely" violated Minneapolis police policy on using force, department Chief Medaria Arradondo testified. Derek Chauvin and other police officers who subdued Floyd used excessive force and failed to provide medical assistance as required by department policies, Arradondo said in testimony at Chauvin's trial. Read more from Adam M. Taylor and Ayanna Alexander.
MLB to Relocate All-Star Game to Denver From Atlanta: Major League Baseball will relocate its All-Star Game to Coors Field in Denver after saying it would not hold the event in Atlanta due to recently passed legislation tightening voting rules in Georgia, the Associated Press reported, citing an unidentified person. Read more from Max Zimmerman.
To contact the reporter on this story: Giuseppe Macri in Washington at gmacri@bgov.com
To contact the editors responsible for this story: Michaela Ross at mross@bgov.com; Heather Rothman at hrothman@bgov.com