What to Know in Washington: Senate Republicans Ready Relief Plan
Bloomberg Government subscribers get the stories like this first. Act now and gain unlimited access to everything you need to know. Learn more.
Senate Republicans plan to unveil their plan next week, which would continue providing unemployment insurance subsidies, tax incentives for employers to avoid layoffs and encourage rehiring, and a new round of checks and direct payments sent by the IRS.
Additional funds for testing and healthcare are also likely to be included, though Republicans may keep the initial line items low to keep the overall price tag under $1 trillion.
The proposal will resemble much of the historically large aid package passed in March (Public Law 116-136). But it isn't likely to include a new round of direct aid to state and local governments, or the full $600 per week unemployment subsidy provided by that law, according to multiple sources familiar with internal deliberations of Senate Republicans. Also notably absent from the expected proposal is a payroll tax cut.
Democrats have made aid to local governments and unemployment subsidies major priorities for the next stimulus phase.
Senate Majority Leader Mitch McConnell (R-Ky.) is a gatekeeper for what ends up in the proposal, and Senate committees and their leaders, such as Finance Committee Chairman Chuck Grassley (R-Iowa), are providing input. "A number of tax relief proposals will be part of the discussion," Finance Committee spokesperson Michael Zona said in a statement yesterday. Read more from Colin Wilhelm.
McConnell wants to give federal courts jurisdiction over liability claims arising from coronavirus infections to limit the legal exposure of businesses, schools and other organizations as they reopen, according to a summary of legislation he plans to offer. McConnell and Sen. John Cornyn (R-Texas) are working on a measure to include in the package.
The proposal, which would extend through 2024, would move to federal courts medical liability claims against caregivers that arise from care provided for the virus by licensed health care facilities and medical workers. Like employers generally, they could only be successfully sued if they engaged in gross negligence and intentional misconduct. Read more from Laura Litvan.
Virus Relief Set to Vanish in Series of Fiscal Cliffs: The U.S. faces an urgent set of decisions on whether to extend history's biggest rescue effort — or let parts of it lapse.
The government approved more than $2 trillion of extra spending after the coronavirus brought swaths of industry and commerce to a sudden halt. Some measures targeted those who took the biggest hit, like the unemployed and small business. Others were across-the-board, reaching every corner of the economy.
But these programs are due to run out in the coming weeks and months. Each expiration date will test the still-fragile U.S. recovery — unless policy makers opt to keep crisis supports in place. These kind of cutoff dates, when past decisions dictate a big change in net government spending unless further action is taken, are sometimes known as "fiscal cliffs." They have a history of roiling markets, as politicians take the debate to the brink. Ben Holland and Laura Davison track some of the looming deadlines, and the numbers involved.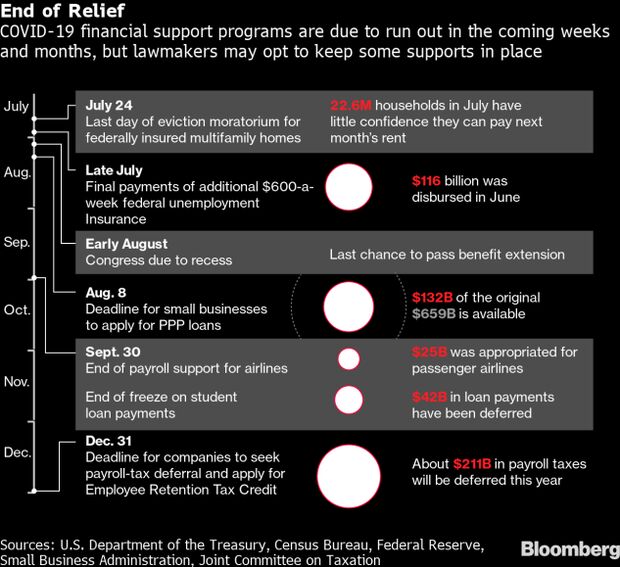 The Coronavirus Pandemic
New Lockdowns Threatened: Yesterday public officials across the U.S. warned they will wield lockdowns again if people don't immediately act to halt the resurgent coronavirus. The mayors of Houston, Los Angeles and Miami have floated the prospect, along with a top adviser to the governor of Texas. Yesterday, in the absence of a national strategy, state and local officials kept pushing familiar — and thus far ineffective — preventive measures, but many said they are running out of soft options.
Texas posted its worst day of fatalities, 129, and recorded more than 10,000 new cases for a third-straight day. Florida posted a record 156 new deaths. Read more from Bloomberg News.
Georgia Governor Sues Atlanta Mayor Over Mask Battle: Georgia Gov. Brian Kemp (R) sued the mayor of Atlanta to stop her from enforcing a city mandate that people wear masks in public given a spike in coronavirus infections. Kemp said in a statement yesterday that he filed the lawsuit to force Mayor Keisha Lance Bottoms to comply with his executive order blocking Atlanta and at least 14 other local governments across the state from requiring residents to wear face coverings. Read more from Robert Burnson.
Kemp's edict expressly voiding coronavirus mask orders by local governments capped a week of turmoil in a state once touted as proof that reopening in a pandemic could work. For six weeks, Georgia had been a model, especially for those eager to end shutdowns. Among the last U.S. states to lock down, Georgia in April was first to widely reopen, after just three weeks. Critics said the state misrepresented its data to justify the move, and they predicted disaster. It didn't happen: Covid-19 case numbers bumped along, neither rising nor falling significantly. Pandemic skeptics crowed. That ended last month. Read more from Margaret Newkirk.
Childhood Covid-19 Infections Mount: As the school year draws near, children and teens represent a ballooning percentage of Covid-19 cases in the U.S. as the youngest Americans increasingly venture outside their homes and are able to get tested. While the Centers for Disease Control and Prevention has long maintained on its website that those younger than 18 make up only 2% of cases, state data paints a much less rosy picture. California and Mississippi, for instance, are recording rates nearing 10% of overall cases. Florida has found that about a third of all children tested there are infected. Read more from Anna Edney.
Meadows Calls Fauci's 1918 Comparison 'Irresponsible': President Donald Trump's chief of staff criticized Anthony Fauci for comparing the current coronavirus outbreak to the 1918 flu pandemic, after reprimanding another top White House adviser for publicly attacking Fauci, the nation's top infectious disease expert. "He suggested that this virus was worse than, or as bad as, the 1918 flu epidemic," Mark Meadows said during a Fox News interview yesterday. "I can tell you that not only is that false, it's irresponsible to suggest so."
Fauci said Tuesday at an event sponsored by Georgetown University that the coronavirus is a "pandemic of historic proportions" and "when history looks back on it, will be comparable to what we saw in 1918," when influenza killed tens of millions of people worldwide. Covid-19 has so far killed more than 588,000 people worldwide, and more than 138,000 in the U.S., according to statistics compiled by Bloomberg. Read more from Jordan Fabian.
CDC Extends No-Sail Order for Cruises: The Centers for Disease Control and Prevention has extended its "no-sail order" for cruise ships through the end of September, preventing vessels from sailing in U.S. waters out of concerns over Covid-19. The extension is the second for an order that dates back to March 14 and was issued after a series of coronavirus outbreaks on cruises. Read more from Jonathan Levin.
Drug Hoarding Stirs Calls for Accessible Data: Protecting existing patients in the next rush to buy up a promising Covid-19 treatment may require a national database of drug supplies and more reporting standards to stop hoarding. The fractured federal response to the coronavirus has pitted facilities against each other for medications and supplies, according to supply chain specialists, doctors, and policy analysts. Read more from Jacquie Lee.
Elections, Politics & Influence
Democrats' Fundraising Continues Flowing: House Democrats running for re-election in the most politically competitive districts intensified their fundraising advantage over Republican challengers in the second quarter, as the pandemic complicated campaign operations for both parties. The 29 Democrats seeking new terms in districts Trump won in 2016 had a median of $3 million in cash on hand on June 30, according to campaign-finance reports filed this week to the Federal Election Commission analyzed by Bloomberg Government. Greg Giroux and Emily Wilkins have more.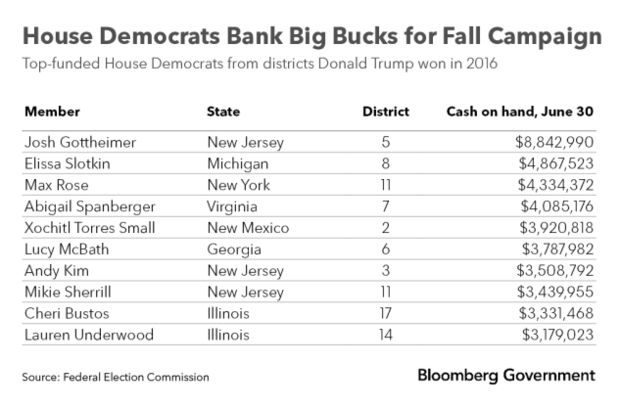 Lobbyists Bundle $2.4 Million for Trump: Lobbyists bundled $2.4 million for Trump and the GOP from April through June, bringing the total that they have raised to over $10 million since the start of 2019, according to Federal Election Commission records. That includes money raised for the Republican National Committee and Trump Victory. Trump and his Republican Party pulled in $266 million total through the second quarter, according to the campaign. Megan R. Wilson has more.
Wisconsin GOP Lame Duck Move Survives: Wisconsin Democrats can't revive their challenge to the Republican-controlled legislature's enactment of two laws after the 2018 elections reducing the powers of the governor-elect, a Democrat, as the case raises nonjusticiable political questions, the Seventh Circuit decided. While Gov. Scott Walker (R) was still in office, the legislature passed the two laws stripping Gov.-elect Tony Evers (D) of various authority, and vesting authority in legislative committees that would remain under Republican control. Read more from Brian Flood.
Bolton Asks Judge to Throw Out Profit Suit: Trump's former National Security Adviser John Bolton asked a judge to throw out a government lawsuit seeking to seize profits from the sale of his tell-all memoir on the grounds that it illegally spills classified information.The Justice Department is ignoring "core constitutional principles" by seeking to punish the former top Trump administration official "for publishing speech that is embarrassing to the president," Bolton said in the filing late yesterday in federal court in Washington. Read more from Erik Larson.
What Else to Know Today
Amazon, Apple Hire Prominent Critic: Fiona Scott Morton is widely recognized as a top antitrust expert, known for her warnings that American tech giants are stifling competition and innovation. Yet Scott Morton, a Yale University economist and former Justice Department official, is also advising two of the biggest names in tech — Amazon and Apple — as they confront federal antitrust investigations. She didn't disclose those relationships in papers she recently co-authored outlining how the U.S. could bring antitrust cases against Google and Facebook. Read more from David McLaughlin.
Twitter Says Hackers Targeted 130 People: Twitter revealed hackers targeted just 130 accounts during the cyber-attack this week that compromised some of the world's most recognizable people, though no passwords were stolen. The U.S. company said the still-unknown perpetrators had gained control of a subset of those accounts and were able to send tweets. Twitter has blocked data downloads from affected accounts as its investigation continues, it said on its online support page. Read more from Kurt Wagner.
Barr Urged to Ban TikTok: More than 20 House lawmakers wrote to Attorney General William Barr calling for a national ban on the popular social media platform TikTok, saying the app represents a security and privacy threat to anyone who has it on their smartphone. The U.S. "should not trust TikTok or any other Chinese-affiliated social media websites or apps to protect Americans' data, privacy, or security," the lawmakers said, Victoria Hodges reports.
DOD Service to Match Vendors, Investors: A "dating service" for the defense industry will be rolled out by the Pentagon in the coming months according to the military's acquisitions leader, after an earlier attempt to match companies with venture capitalists stumbled last year. The department has been working on a system to connect investors with companies that need cash to build new technologies such as drones since May 2019, when it introduced the "Trusted Capital Marketplace." Read more from Travis J. Tritten.
Federal Register Dinged for Printing Rules: The Government Accountability Office has determined the Office of the Federal Register, a sub-agency within the National Archives and Records Administration, violated a spending law in publishing documents during the 2019 partial federal government shutdown. The decision is a rebuke to the Department of Justice, which adopted a policy change midway through the shutdown to get around the Antideficiency Act, a law enacted in 1884 that bars federal agencies from spending in advance of a congressional appropriation. Read more from Cheryl Bolen.
NEPA Changes Imperil Communities of Color: Low-income Black and Latino communities will be pummeled by the Trump administration's changes to the nation's permitting rules for U.S. infrastructure projects, environmental justice leaders across the nation said. These communities rely heavily on the National Environmental Policy Act to push back against gas pipelines, highways, power plants, and other projects that have historically polluted communities of color more than affluent White neighborhoods, the leaders argue. Read more from Stpehen Lee, Ellen M. Gilmer and Kellie Lunney.
Solar Projects Relied on Rule That's Changing: A landmark, decades-old law that's been key to the growth of renewable energy in the U.S. is getting a major overhaul, threatening to cut demand for solar projects. Federal regulators this week imposed new limits on which energy projects fall under the Public Utility Regulatory Policies Act that helped spur a generation of solar and wind farms across the country. More than 30% of solar facilities online today benefit from the law. Stephen Cunningham and Christopher Martin have more.
To contact the reporters on this story: Zachary Sherwood in Washington at zsherwood@bgov.com; Brandon Lee in Washington at blee@bgov.com
To contact the editors responsible for this story: Giuseppe Macri at gmacri@bgov.com; Loren Duggan at lduggan@bgov.com; Michaela Ross at mross@bgov.com
Stay informed with more news like this – from the largest team of reporters on Capitol Hill – subscribe to Bloomberg Government today. Learn more.