What to Know in Washington: Senate Poised to Pass Infrastructure
The Senate is heading toward passage this week of the $550 billion infrastructure bill that would provide the biggest infusion of federal spending on public works in decades and mark a major milestone for President Joe Biden's economic agenda.
The Democratic and Republican senators who negotiated the plan spent the weekend haggling over last-minute details and combing through the 2,702-page bill text before submitting it to the full Senate last night. Majority Leader Chuck Schumer (D-N.Y.) said it would pass "in a matter of days."
"In the end, the bipartisan group of senators have produced a bill that will dedicate substantial resources to prepare, maintain and upgrade our nation's critical infrastructure," Schumer said.
The legislation, finished after weeks of negotiations, would ultimately touch Americans across the country, with broad subsidies for roads they drive on, water they drink and the electrical grid powering their homes and businesses. The mammoth bill is packed with benefits for numerous industries and regions.
"Every senator can look at bridges and roads and need for more broadband, waterways in their states, seaports airports, and see the benefits, the very concrete benefits, no pun intended, of this legislation," Sen. Susan Collins (Maine), one of the GOP negotiators, said yesterday on CNN's "State of the Union" program.
It includes about $110 billion in new spending for roads and bridges, $73 billion of power grid upgrades, $66 billion for rail and Amtrak, and $65 billion for broadband expansion. It also provides $55 billion for clean drinking water and $39 billion for transit. Read more from Laura Litvan and Steven T. Dennis.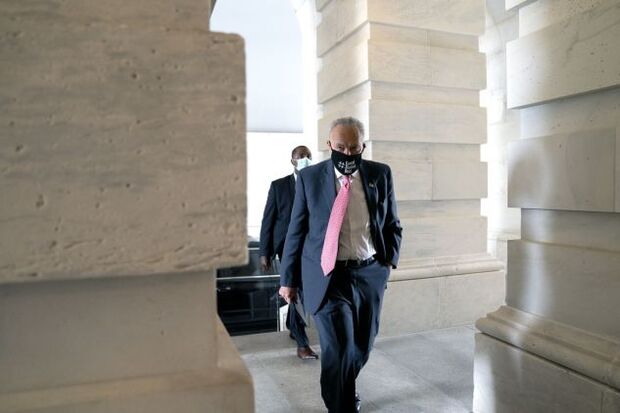 Transit Boosted in Infrastructure Deal: Funding for public transportation would see a boost from levels set by Congress in the last highway law under the bipartisan infrastructure legislation.
The final text of the 2,702-page measure would authorize:
$13.4 billion in fiscal 2022 from the Highway Trust Fund's mass transit account, increasing to $14.6 billion in fiscal 2026 — a bump from the $10.2 billion authorized for fiscal 2020 under the FAST Act;
$3 billion each year from the general fund for Capital Investment Grants, an increase from the $2.3 billion annual authorization from fiscal 2016 through 2020; and
$206 million in grants for buses for each of the next five years, compared with $90.5 million annually for fiscal 2016 through 2020. At least 25% of the money would be directed to projects related to the acquisition of low- or no-emission buses.
The measure would also provide supplemental funding, including about $10.3 billion for transit infrastructure grants, $8 billion for Capital Investment Grants, and nearly $1.8 billion for accessibility upgrades. Lillianna Byington has more on transit funds in the measure.
Billions for Climate Fight: The bill leaves out many of the sweeping measures to fight global warming sought by the White House and environmentalists, but it nonetheless provides for billions of dollars in spending on climate programs. There's $21.5 billion to create a new Office of Clean Energy Demonstrations within the Energy Department to research carbon capture, hydrogen power and other technologies. Another $16 billion is included for the department to spend on energy efficiency and renewable energy. Billions more in aid would go to climate resiliency projects and combating wildfires.
Biden's call to include $174 billion for electric vehicle initiatives was left out of the bill, though it does include at least $7.5 billion for chargers. Read more from Ari Natter.
Cyber Funding: The bill includes $21 million for the Office of the National Cyber Director. It would also create a $20 million fund for federal, state, local and tribal entities as well as private entities to seek reimbursement and technical assistance following significant cyber incidents. Rebecca Kern has more.
Happening on the Hill
Today's Agenda:
The Senate will continue work on the bipartisan infrastructure package.
The House meets tomorrow at 10 a.m. The chamber is scheduled for a district work period until Aug. 30.
Click here for a complete list of today's hearings and markups.
Pelosi Asks Admin to Extend Eviction Moratorium: Speaker Nancy Pelosi (D-Calif.) said the Biden administration should extend the eviction moratorium through Oct. 18, in a letter also signed by other House Democratic leaders. "On Thursday, the President asked Congress to pass an extension of the eviction moratorium. Sadly, it is clear that the Senate is not able to do so, and any legislation in the House, therefore, will not be sufficient to extend the moratorium," the lawmakers wrote. "Action is needed, and it must come from the Administration. That is why House leadership is calling on the Administration to immediately extend the moratorium."
Pelosi earlier said the Centers For Disease Control and Prevention has the power to extend the eviction moratorium, and in the letter Democrats reiterated calls for CDC to take action. Read more from Patrick McHale and Derek Wallbank.
With the end of the federal eviction moratorium at hand in the U.S., researchers fear a rush of evictions will hit unvaccinated communities hard, potentially exacerbating a new pandemic wave. Evictions touch households beyond those who receive an order to vacate. Evicted people often double-up, moving in with friends or family, or going to shelters. These make for more crowding and creating more exposure opportunities. Read more from Kriston Capps, Marie Patine, and Jeremy Diamond.
Debt Ceiling Suspension Ends With Next Steps Unclear: The U.S. debt ceiling officially became operative again yesterday after a two-year suspension, with lawmakers in Washington yet to outline how they'll avoid a potential default later this year. The debt limit — the total amount that the federal government is authorized to borrow — was set at $22 trillion in 2019. It will adjust to the current level of debt — which had risen to $28.5 trillion as of the end of June — when the suspension ends, putting pressure on Congress to find a solution that will allow the government to keep borrowing. Read more from Katia Dmitrieva.
Senate Confirms Pick to Lead Immigration Services: The Senate on Friday confirmed by a 47-34 vote former Citizenship and Immigration Services chief counsel Ur Mendoza Jaddou as the agency's director. The U.S. Chamber of Commerce joined with immigrant rights groups and a union representing USCIS employees in endorsing the Biden nominee ahead of the vote. The California-born Jaddou is the daughter of Mexican and Iraqi immigrants. Read more from Lydia O'Neal.
Grassley Bill Aims to Slow DOJ's Pushback on Whistleblower Suits: Whistleblowers hoping to expose fraud by drug companies and federal contractors sometimes see the Justice Department push to dismiss their cases without explaining why. A bill introduced July 22 by Sen. Chuck Grassley (R-Iowa) to amend the False Claims Act would make it harder for the DOJ to end a whistleblower's FCA case when federal prosecutors say it is meritless, wasteful, or contrary to federal policy. Read more from Daniel Seiden.
Politics & Influence
Trump Raised $50.5 Million in Six Months: Former President Donald Trump's political committees raised $50.5 million in the first half of the year, and ended June with $101.9 million in the bank, their latest filings with the Federal Election Commission show. His post-office political finances also benefited from the $31 million he raised last year after losing the 2020 election, when he claimed he needed money to contest the results. But Trump's campaign spent just a fraction of it. Bill Allison and Mark Niquette has more.
Trump Endorsement Power Faces Test in Ohio: Trump's power as Republican kingmaker will face another test tomorrow as a large cast of candidates vie to be the party's choice for an open congressional seat in Ohio. Trump has endorsed Mike Carey, a coal industry consultant and former lobbyist who's one of 11 primary hopefuls to replace Rep. Steve Stivers in Ohio's 15th District. But Stivers, who resigned in May to become Ohio Chamber of Commerce president and chief executive, is supporting state Rep. Jeff LaRe. And Sen. Rand Paul (R-Ky.) is backing former state Rep. Ron Hood, making it harder for Trump's hand-picked choice to emerge as the front-runner. Read more from Mark Niquette.
Around the Administration
Today's Agenda: Biden will speak from the executive residence at 6:45 p.m. at a virtual reception for the Democratic National Committee.
Biden's Delta Struggles Loom Over Agenda: Biden is struggling with a surge in coronavirus cases, an impending wave of evictions and spikes in consumer prices that have left the White House looking unprepared—and threaten to undermine months of more sure-handed work on the pandemic.
Biden surprised Congress last Thursday with a last-minute plea to extend a federal evictions ban, mere days before the moratorium's expiration, leaving lawmakers little time to act. Federal authorities last week recommended that Americans resume wearing masks in indoor public places to curb the delta variant's rapid spread, an outbreak telegraphed a month ago when cases started climbing in under-vaccinated parts of the South and Midwest. Biden implored vaccine holdouts to get the shot, even offering them $100 and warning federal workers they'd have to wear masks, socially distance and restrict their travel if they refuse.
The moves reinforced the impression that the Biden administration was somehow caught off-guard by delta, after the president had previously won high marks in opinion surveys for his handling of the pandemic. Read more from Jordan Fabian.
Biden Sues Texas to Block Migrant Transport Ban: The Biden administration sued Texas to block Gov. Greg Abbott's (R) order allowing troopers to stop vehicles suspected of transporting migrants and sending them back to the border or U.S. immigration processing stations. The Justice Department asked a judge to declare the order invalid. The order will "severely disrupt" the U.S. government's efforts to carry out its responsibilities, the DOJ said in a report to a Texas federal court. Robert Burnson has more.
China Seeks Talks With U.S. on IPOs: China's securities regulator called for talks with its American counterpart after the SEC halted the initial public offerings of Chinese companies. The China Securities Regulatory Commission is seeking to step up communication with the SEC to find a suitable resolution, it said in a statement yesterday, after the U.S. regulator said it would suspend any Chinese IPOs until companies improved their risk disclosures. Read more.
Biden has pledged an era of "extreme competition" with China. For the U.S., that means being able to challenge Beijing for the commanding heights of global commerce, to shape the rules around trade and technology, and—if push comes to shove—to fight and win a war with the world's second largest economy. The question is how to steer the behemoth U.S. military to focus on a new region and different threats. Read more from Peter Martin and Roxana Tiron.
North Korea Threatens Week-Old Detente: Kim Jong Un's sister warned that upcoming U.S.-South Korea military drills could jeopardize talks with Seoul, raising doubts about a diplomatic breakthrough less than a week after both sides announced a resumption of communications. Kim Yo Jong said yesterday the plan to hold annual allied exercises this month "seriously undermines" efforts to restore ties, according to the official Korean Central News Agency. Read more from Peter Pae.
U.S. Vows Response for Attack on Oil Tanker: The U.S. blamed Iran for a deadly drone attack on an Israel-linked tanker, warning of an "appropriate response" to the incident last week in a major waterway for global oil shipments. Read more from Arsalan Shahla.
To contact the reporters on this story: Zachary Sherwood in Washington at zsherwood@bgov.com; Brandon Lee in Washington at blee@bgov.com
To contact the editors responsible for this story: Giuseppe Macri at gmacri@bgov.com; Loren Duggan at lduggan@bgov.com; Michaela Ross at mross@bgov.com