What to Know in Washington: Senate Passes CR, Looks to Omnibus
Bloomberg Government subscribers get the stories like this first. Act now and gain unlimited access to everything you need to know. Learn more.
The Senate on Thursday night passed a one-week government funding bill intended to avert a Saturday shutdown, sending the measure to President Joe Biden for his signature.
The 71 to 19 vote on the stopgap bill followed House passage of the measure on Wednesday night.
The bill gives negotiators another week to hash out agreements on specific funding levels for federal agencies and programs in the roughly $1.7 trillion fiscal 2023 spending package.
"For the last two years, the 117th Congress has not had a single government shutdown. Not one. Not even for a day," Senate Majority Leader Chuck Schumer said. "I hope we don't start now, just as we approach the finish line. Recent history shows that those who risk shutdowns with hopes of scoring political points ultimately lose in the end."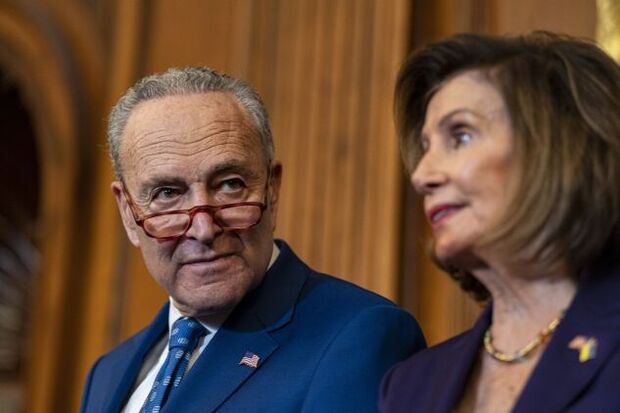 The Senate rejected two Republican amendments. One would have cut funding for the Internal Revenue Service and another would have extended the stopgap to March 10.
Democrats and Senate Republicans earlier this week struck a deal on an outline for the omnibus appropriations bill. That measure will fund defense activities at roughly $858 billion, a $76 billion increase from current levels. An impasse over spending for domestic agencies was broken when Democrats agreed to limit increases in domestic spending to those Biden requested.
House Republican leaders decided not to participate in the negotiations. Kevin McCarthy, the chamber's GOP leader, has urged Congress to delay action on the bills until Republicans take over the House on Jan. 3.
"I hope they are able to produce text of a bipartisan government funding bill that can pass the Senate before our hard deadline next Thursday," Senate Republican leader Mitch McConnell said on the Senate floor. "Otherwise, I will support pivoting next week to a short-term continuing resolution into the new year."
Lawmakers are also negotiating what remaining bills could be attached the the final must-pass spending package before the current Congress adjourns. Erik Wasson looks ahead to the next Friday's funding deadline.
Congressional negotiators agreed to top-line funding allocations for each of the 12 annual spending bills, a person familiar said, a key step that allows lawmakers to write an omnibus bill to avoid a government shutdown, Jack Fitzpatrick reports.
The top Democrats and Republicans on congressional committees dealing with foreign affairs are pressing to include money to shore up Taiwan's defenses and aid Ukraine in a year-end government funding package. Roxana Tiron has more.
Also Happening on the Hill
CONGRESS' SCHEDULE
The House is recessed until Wednesday.
Senators convene Monday.
The Senate is sending the annual defense authorization bill Biden with $45 billion more than the president sought, and a repeal of the Pentagon's Covid-19 vaccine mandate after Republican pressure to undo the policy.
Senators from both sides of the aisle rejected Joe Manchin's (D-W.Va.) plan to speed up the federal permitting process for energy projects, opposing efforts to add the measure to a must-pass defense policy bill.
Rep. Joe Morelle will be nominated to be the ranking member of the House Administration Committee for the next two years, incoming House Minority Leader Hakeem Jeffries announced Thursday.
House Minority Leader Kevin McCarthy (R-Calif.) called on Pelosi to schedule a vote on legislation that would ban TikTok from being used on government devices, in a tweet.
Sen. Ron Wyden (D-Ore.) is urging the Federal Trade Commission to investigate whether a digital security company misled consumers by reportedly selling Americans' web browsing data to a Department of Defense-funded research project.
A last-ditch effort to craft a broad immigration deal this year has sputtered to a halt but is poised to be revived next year.
A bipartisan group of senators has reached a tentative agreement on a cocaine sentencing provision and intend to attach it to a must-pass government funding bill, according to a person familiar with the negotiations.
Elections, Politics & Probes
Pelosi and Schumer said Biden should run for reelection in 2024, even as some Democrats are urging the party to elevate a younger generation of leaders.
A group of House Republicans has reestablished the Main Street Caucus for the first time in four years, with the goal of bringing a pragmatic voice to a conference that has become increasingly dominated by conservatives suspicious of compromise.
Dara Lindenbaum has been chosen as chair of the Federal Election Commission and Sean J. Cooksey as vice chair for 2023, according to a Thursday news release.
Trade groups that represent Meta Platforms and Alphabet's Google said they asked the US Supreme Court to overturn a Texas law that would sharply restrict the editorial discretion of social media companies.
Around the Administration
PRESIDENT'S SCHEDULE
Biden at noon will participate in a town hall with veterans to discuss the impact of the PACT Act in New Castle, Delaware.
Biden says the US will keep supplying Ukraine the weapons it needs to fight Russia for "as long as it takes." Honoring that pledge is forcing the Pentagon and its NATO counterparts to change the way they do business.
A salvo of Russian missiles knocked out power across Ukraine as President Vladimir Putin's forces continued their campaign of attacking infrastructure.
A Texas federal judge on Thursday ruled for a second time that the US Department of Homeland Security can't end a Trump administration program that forced asylum seekers to wait outside the country while their claims are resolved.
The US supports restricting Russia's rights at the UN Security Council, White House Press Secretary Karine Jean-Pierre says in response to a reporter's question.
Just weeks before Biden's planned visit to Mexico, talks on the neighbors' biggest trade dispute have stalled due to the departures of negotiators from the Latin American nation's side and its reluctance to make concessions, according to people familiar with the matter.
A new IRS office will be devoted to overseeing the agency's implementation of the 2022 tax-and-climate law, according to an IRS financial report released Thursday.
Confidential data of about 112,000 taxpayers inadvertently published by the IRS over the summer was mistakenly republished in late November and remained online until early December, the IRS disclosed Thursday.
Lawmakers and a government watchdog are calling on the Biden administration to resume collecting information that tracks whether agencies are complying with requirements to update their technology.
The US National Labor Relations Board's general counsel office has determined for the first time that the National Collegiate Athletic Association is violating the law by failing to treat student basketball and football players as employees, opening a potential path to let them unionize.
America's biggest basic-income program is taking a whack from inflation.
To contact the reporters on this story: Brandon Lee in Washington at blee@bgov.com; Michaela Ross in Washington at mross@bgov.com
To contact the editor responsible for this story: Giuseppe Macri at gmacri@bgov.com
Stay informed with more news like this – from the largest team of reporters on Capitol Hill – subscribe to Bloomberg Government today. Learn more.