What to Know in Washington: Senate Panel to Probe Trump's DOJ
Committee to investigate claims DOJ targeted Trump critics
Twitter whistleblower testifies before Senate panel today
The chairman of the Senate Judiciary Committee vowed to investigate allegations in a new book that President Donald Trump's Justice Department demanded that critics of the president be prosecuted.
"These reported claims indicate astonishing and unacceptable deviations from the department's mission to pursue impartial justice, which requires that its prosecutorial decisions be free from political influence," Sen. Dick Durbin (D-Ill.) wrote in a letter Monday to Attorney General Merrick Garland, asking for information regarding the allegations.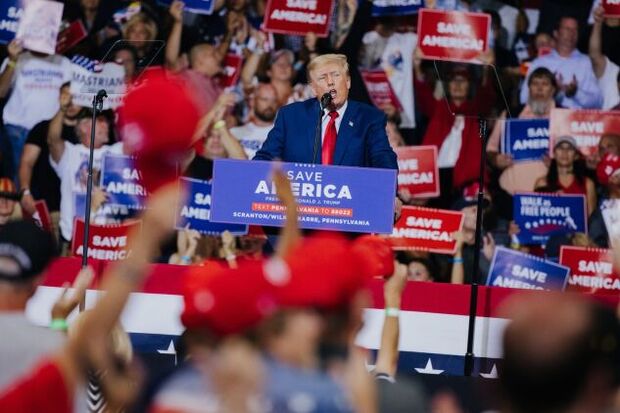 Durbin's concerns center around the book "Holding the Line" by Geoffrey Berman, the former US attorney for the Southern District of New York, whose ouster two years ago raised questions about political interference in a set of investigations into Trump, his companies and people close to him.
"If accurate, Mr. Berman's claims indicate multiple instances of political interference in the department's investigative and prosecutorial decisions," Durbin said. "The Senate Judiciary Committee will investigate these episodes."
Berman stepped down in June 2020 during an acrimonious, and public, confrontation with then-Attorney General William Barr. At the time, Berman said he stepped down only after being told that a trusted deputy would succeed him and "in light of Attorney General Barr's decision to respect the normal operation of law."
The Justice Department confirmed that it had received Durbin's letter but declined further comment. Barr, on Monday night, declined to comment on the book, which is scheduled to be published Tuesday.
A Senate panel investigation would add to the list of legal challenges facing the former president. The Justice Department has subpoenaed dozens of campaign operatives and allies of Trump as part of a broad effort to collect information related to the plot to overturn the 2020 presidential election, according to people familiar with the matter. Read the latest from John Harney and Chris Strohm.
Happening on the Hill
CONGRESS' AGENDA:
The House is in at 2 p.m. to consider bills that require two-thirds support for passage.
Senators meets at 10 a.m. with plans to consider more judicial nominee votes.
Twitter whistleblower Peiter Zatko's first public appearance since his explosive allegations against the social media giant couldn't be more awkwardly timed for the company that billionaire Elon Musk no longer wants to buy.
The leaders of the Senate Judiciary Committee sent a detailed list of questions to Twitter on Monday night, hours before the committee will hear testimony from Zatko, who has accused the company of failing to adequately protect data on its users.
Sen. Joe Manchin (D-W.Va.) is enlisting the help of energy-industry executives to marshal Republican support for his plan to speed up the process of getting federal approvals for energy projects, according to people familiar with the matter.
Sen. Lindsey Graham (R-S.C.) plans to introduce legislation to restrict abortion nationally, as the politically explosive debate is emerging as one of the central issues in the midterm election campaign.
The Senate confirmed Salvador Mendoza Jr. to a seat on the US Court of Appeals for the Ninth Circuit.
Elections & Politics
President Joe Biden warned Democratic donors of the high stakes in the midterm elections this November, predicting "a really difficult two years" if Republicans retake the House and the Senate.
Biden is trying to capitalize on a sudden spate of positive economic news to turn Democrats' biggest political liability into an unlikely election-year selling point.
New Hampshire, the first state to hold a presidential primary, is the last this year to hold consequential Senate and House primaries before the Nov. 8 general election.
Trump and the US Department of Justice agree that Judge Raymond J. Dearie would be a suitable choice for an outside special master to review more than 11,000 documents taken from Trump's Mar-a-Lago home last month as part of an investigation into his handling of government records.
The Justice Department has subpoenaed dozens of campaign operatives and allies of Trump as part of a broad effort to collect information related to the plot to overturn the 2020 presidential election, according to people familiar with the matter.
A federal judge rejected former Trump White House aide Peter Navarro's push to obtain records that he claims might show he's being unfairly prosecuted for failing to respond to House Jan. 6 committee subpoenas.
If Pennsylvania courts don't kill the state's participation in a regional cap-and-trade program, the November gubernatorial election could do it in.
US Supreme Court Justice Elena Kagan warned that disregarding precedent can undermine judicial legitimacy in the latest comments by a justice speaking out about the court's recent blockbuster term and the criticism it generated.
Railroad Strike Looms
Biden and Cabinet officials on Monday were in touch with freight-rail companies and unions in an effort to avert a crippling strike by thousands of workers, according to a White House official.
Congress would act to avert a national freight railway strike which could have a devastating effect on the US economy in the weeks leading up to the midterm elections, House Majority Leader Steny Hoyer (D-Md.) said.
Amtrak is preemptively canceling trips on three of its long-distance routes that operate on freight rail-owned tracks and adjusting schedules on other routes due to a possible strike by two of the country's largest rail unions.
Around the Administration
BIDEN'S SCHEDULE:
The president hosts a celebration of Democrats' passage of the Inflation Reduction Act at the White House at 3 p.m.
Press Secretary Karine Jean-Pierre holds a briefing at 1:35 p.m.
The nation's top patent court and another federal appeals court are at loggerheads over a batch of cases involving the intersection of intellectual property and antitrust law—a rare example of a circuit clash the Federal Circuit was established to prevent.
SEC Chair Gary Gensler said he's examining concerns that companies have raised about reporting their indirect greenhouse gas emissions as the agency finalizes a plan to require climate disclosures.
Senior US and Mexican officials expressed optimism after a round of meetings in Mexico City that they can resolve a dispute over President Andres Manuel Lopez Obrador's energy policies, though neither side gave a timetable for when that might happen.
A long-running civil lawsuit by the Department of Justice against one of the biggest promoters of land transactions that the IRS considers to be abusive tax shelters is being halted through mid-October because of settlement talks, according to a court filing Monday.
A nearly $400 million contract to provide FBI employees with relocation services that was split three ways is now up in the air, after a Wisconsin company successfully challenged the agency's rationale for its award decision before the US Government Accountability Office.
To contact the reporter on this story: Giuseppe Macri in Washington at gmacri@bgov.com