What to Know in Washington: Senate Nears Russia Sanctions Deal
Lawmakers negotiating measure to pre-empt Ukraine invasion
Top judiciary panel senators to meet Biden on Supreme Court pick
Senators negotiating a sanctions package intended to deter a Russian invasion of Ukraine said they're optimistic they'll resolve lingering disagreements and strike a deal this week.
"We're hopefully finalizing a couple of elements that we have to get agreement on and we can move forward," Foreign Relations Chairman Bob Menendez (D-N.J.) said last night.
Sen. Chris Murphy (D-Conn.), a member of the committee, said the goal was to have something finalized "in the next day or so" as the two parties hash out whether to levy "pre-invasion sanctions" that would hit Russia before President Vladimir Putin orders any actual incursion into Ukraine. Murphy said he agreed with President Joe Biden's position that sanctions should be contingent upon an invasion so they could serve as a deterrent. But the senator said he understood Republicans' desire to sanction Russia now as it flexes its muscles along the Ukrainian border. Putin has said he has no plans to invade.
"I think there's a way to split the baby and rightly acknowledge that Putin has already crossed a significant line that deserves some consequence," Murphy said. "This is all about getting a bipartisan deal." Read more from Daniel Flatley.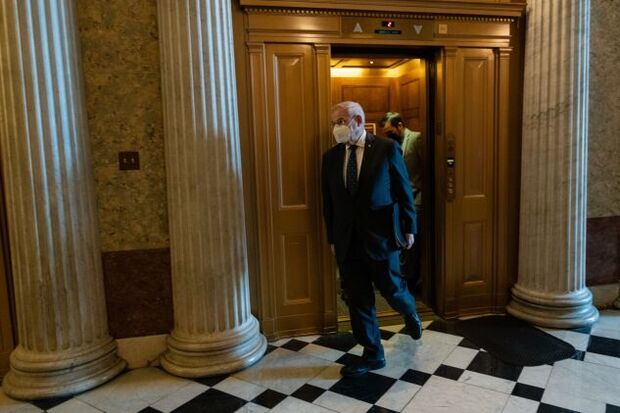 Russia delivered an unspecified document to the U.S. but has yet to send its formal response to U.S. and NATO papers addressing Moscow's demands to redraw Europe's security architecture, according to Kremlin spokesman Dmitry Peskov. Read the latest updates from Bloomberg News.
ALSO HAPPENING ON THE HILL:
Today's Agenda: The House returns at 2 p.m. to consider 11 measures. The Senate meets at 10 a.m. to vote on a judicial nominee. Click here for a complete list of today's hearings and markups.
Biden would create a smoother path for a Supreme Court nominee and potentially draw Republican votes if he taps a sitting judge, Senate Judiciary Chair

Dick Durbin

(D-Ill.) said yesterday. "Historically, that's been the standard," Durbin, who is also the chamber's Democratic whip, said. "There's nothing spelled out in the Constitution that requires it, but it certainly makes the argument more credible." Elena Kagan, who was the U.S. solicitor general before her confirmation in 2010, is the only justice who didn't have experience as a judge before being nominated. Read more from Laura Litvan.
A group of progressive Democratic senators called for the IMF to create over $2 trillion in more reserves to help developing nations cope with the pandemic. Sens.

Elizabeth Warren

(D-Mass.),

Bernie Sanders

(I-Vt.), and

Ron Wyden

(D-Ore.) wrote to Senate leadership asking for support in the issuance of 1.5 trillion in IMF reserve assets, called special drawing rights, according to a letter seen by Bloomberg News. That's equivalent to $2.1 trillion. That would come in addition to $650 billion in reserves created by the IMF last August. Read more from Eric Martin.
Ex-employees of the Washington Football Team will meet with a House panel to discuss allegations of workplace misconduct. Employees of the Washington Football Team for several decades "were subjected to sexual harassment, verbal abuse, and other misconduct," Chair

Carolyn Maloney

(D-N.Y.) wrote in a statement yesterday, adding that the National Football League "went to great lengths to prevent the truth about this toxic work environment from coming to light." The roundtable discussion, set for Thursday, will help lawmakers determine if legislation is needed, Maloney said. Read more from Norah Mulinda.
Trump Attack Puts Focus on ECA Effort
Senators' efforts to overhaul the law governing Congress's role in certifying an election has received new attention after former President Donald Trump attacked Mike Pence for refusing to overturn the 2020 election. Trump said in a statement Sunday that the effort to revise the law shows that Pence, then the vice president, did have the authority to overturn the election during the congressional counting of the Electoral College votes — a claim disputed by even Trump's allies on Capitol Hill. Trump also criticized Sen. Susan Collins (R-Maine) who has led the effort to overhaul the law.
"To me, President Trump's comments underscore the need for us to revise the Electoral Count Act because they demonstrated the confusion in the law and the fact that it is ambiguous," Collins told reporters at the Capitol. "I think the 12th Amendment's pretty clear, but the Electoral Count Act, which was written in 1887, clearly needs to be revised." The Collins-led effort comes after a Democrat-only push to overhaul election laws stalled in the Senate earlier this month. Read more from Steven T. Dennis.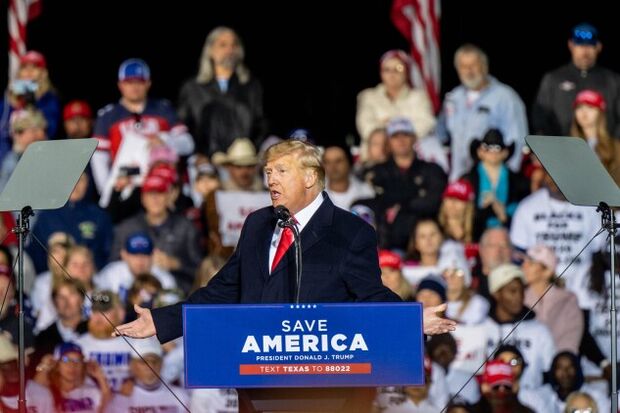 Pence's chief of staff appeared last week before the House select committee investigating the Jan. 6 riot at the Capitol, CNN reports. Marc Short has been seen as a potentially crucial witness as the committee investigates efforts by Trump and his allies to try to convince Pence not to certify the presidential election result. Short had previously supplied a limited number of documents that were subpoenaed by the committee, one source told CNN.
New York Attorney General Letitia James said Trump's call for his supporters to protest against prosecutors was "unethical" and "dangerous." In a statement yesterday, James, who is probing Trump's real estate empire, criticized the former president for remarks he made about her and other prosecutors at a rally in Texas on Saturday. He said the prosecutors are "vicious, horrible people" and called for "the biggest protest we have ever had" if they "do anything wrong or illegal." Read more from Erik Larson.
Trump's political committees raised $51 million in the second half of the year, and ended December with $122 million in the bank, according to their latest filings with the Federal Election Commission. Trump raised the money for Save America, his main political vehicle, through a joint fundraising committee that also collects money for his former presidential campaign. Trump converted his campaign to a political action committee in January 2021. The fundraising haul is unprecedented for a former president, and shows the loyalty of his army of small-dollar donors, those who give less than $200. Read more from Bill Allison and Mark Niquette.
The passionate closing argument for voting rights legislation that Sen. Raphael Warnock (D-Ga.) delivered on the Senate floor in January was only the latest high-profile moment for a lawmaker who skipped the usual first year spent under the radar. The senator's high visibility in Congress and aggressive fundraising—he said he'd report pulling in nearly $10 million in the last three months of 2021—are part of Democrats' strategy to position him for re-election less than two years after his special-election win helped give the party control of the chamber. Read more from Nancy Ognanovich.
Mehmet Oz reported raising almost $5.9 million in his first month in the Republican race for the U.S. Senate in Pennsylvania, but most of it came from money he loaned to his campaign. Oz, who hosted the "Dr. Oz" television show until he ended it to run for office, announced his candidacy on Nov. 30. His initial campaign finance report filed with the Federal Election Commission of activity through Dec. 31 showed $5.2 million in loans to the campaign and almost $670,000 in contributions. Read more from Mark Niquette and Bill Allison.
Rep. Lucy McBath led Rep. Carolyn Bourdeaux by 9 percentage points in a poll of their redistricting-forced Democratic primary conducted by the progressive think tank Data for Progress, Emily Wilkins reports. While Bourdeaux currently represents far more of Georgia's redrawn 7th District than McBath, the new area leans more Democratic and is more diverse. Voters who identified as liberal preferred McBath by 14 points, and Black voters were more than twice as likely to say they'd vote for McBath than Bourdeaux. The poll of more than 400 likely Democratic primary voters found 22% are undecided. The primary is May 24.
Around the Administration
Biden's Schedule:
Biden and Vice President Kamala Harris will meet at the White House at 1:45 p.m. with Senate Judiciary Chairman Durbin and ranking member

Chuck Grassley

(R-Iowa) to discuss the Supreme Court vacancy.
White House Press Secretary Jen Psaki will hold a press conference at 1:30 p.m.
One of Biden's top climate officials said she's determined to fulfill the president's sweeping pledge to tackle pollution facing disadvantaged communities, despite the loss of one of her chief aides and a mounting infrastructure to-do list. Brenda Mallory, chair of the White House Council on Environmental Quality, is charged with steering the administration's upcoming $1.7 trillion infrastructure spending spree on projects that improve environmental disparities for the marginalized, known as environmental justice. But the White House has yet to fully lay out what that will mean in practice. Courtney Rozen has more.
Organizations representing health professionals and seniors are urging the White House to require that health-care workers get Covid-19 booster shots. They say the government's mandate needs to be updated in order to keep patients and staff safe, as the omicron variant continues to overwhelm hospitals. When the Centers for Medicare & Medicaid Services published its vaccine rule in early November, researchers had yet to discover omicron. Groups like the Society for Healthcare Epidemiology of America and the AARP now say the U.S. needs to update its rules accordingly. Read more from Allie Reed.
Biden is facing a pressing foreign policy issue with Kim Jong Un. Last month the North Korean leader conducted more weapons tests than he did all last year, including Sunday's launch of an intermediate-range ballistic missile for the first time since 2017. That effectively ended a halt to long-range missile tests put in place before his first summit in 2018 with Donald Trump, signaling Kim is preparing to soon fire an intercontinental ballistic missile that can reach across the U.S., from Los Angeles to the District of Columbia. Read more from Jon Herskovitz and Jeong-Ho Lee.
A federal judge overseeing the Justice Department's hate-crimes case against the three White men convicted of murdering Ahmaud Arbery rejected plea deals struck by two of the killers, saying she didn't want to be locked into the 30-year sentences in the agreements. At a hearing in Brunswick, Ga., U.S. District Judge Lisa G. Wood said Travis McMichael and his father, Greg, have until Feb. 4 to decide whether to follow through with their plan to plead guilty to federal hate crimes charges or go to trial. Both men and a neighbor were convicted of murder in state court last month. Read more from Erik Larson.
The U.S. antitrust review of Microsoft's proposed acquisition of Activision Blizzard will be handled by the Federal Trade Commission, according to a person familiar with the matter, putting the deal in the hands of an agency that has vowed more aggressive policing of deals. The FTC will oversee the investigation into whether the takeover will harm competition, instead of the Justice Department, said the person, who wasn't authorized to speak publicly about the review. The two agencies share responsibility for antitrust reviews of mergers and often reach agreements about which one will investigate a deal. Read more from David McLaughlin.
To contact the reporters on this story: Giuseppe Macri in Washington at gmacri@bgov.com; Brandon Lee in Washington at blee@bgov.com
To contact the editors responsible for this story: Giuseppe Macri at zsherwood@bgov.com; Loren Duggan at lduggan@bgov.com; Michaela Ross at mross@bgov.com