What to Know in Washington: Senate Locks in Final Trial Vote (1)
The Senate sent the months-long impeachment inquiry into President Donald Trump to its final stages with a vote to acquit the president set for Wednesday, after Republicans defeated Democrats' efforts to call new witnesses.
Senators will hear closing arguments Monday from lawyers for both sides, then will have two days for debate before voting at 4 p.m. Wednesday — pushing the votes past Trump's State of the Union address on Tuesday evening.
Moderate Sen. Lisa Murkowski (R-Alaska) voted against calling witnesses yesterday after being viewed as one of four in her party who might give Democrats enough support to force the Senate to call former National Security Adviser John Bolton and perhaps others.
She said the House had sent over a "flawed" impeachment and that she was "frustrated and angry at all sides." After Sens. Susan Collins (R-Maine) and Mitt Romney (R-Utah) decided to vote yes, Murkowski said the possibility that her vote would lead to a 50-50 tie weighed "heavy" on her.
Chief Justice John Roberts said, when queried yesterday by Democrats, that Senate rules require a motion to fail on a tie vote and that he wouldn't cast a vote to change that result. Read more from Billy House, Daniel Flatley, Laura Litvan and Steven T. Dennis.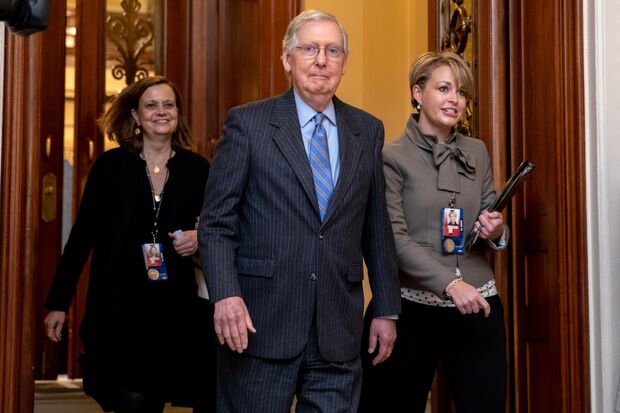 TRUMP PROTECTED BY REPUBLICANS: Republican senators protected Trump — and each other — from confronting fresh evidence in the president's impeachment trial by adopting arguments from his lawyers about why the trial had run its course.
The vote against seeking new documents and testimony was a razor-thin 49-51, and came only after a handful of wavering Republicans took some rhetorical leaps to avoid prolonging the election-year trial. The vacillating lawmakers lined up behind various, sometimes competing rationales for blocking witnesses and opposing conviction offered to them by the president's team as it evolved over the course of the trial. Trump's lawyers had argued the House had failed to prove Trump did anything wrong, but even if they had, his actions were not impeachable and should be decided by voters in November. Above all, they warned senators that seeking new evidence would lead to weeks or months of delays and set a precedent that would tie the Senate in knots. Read more from Steven T. Dennis.
DEMOCRATS PROMISE MORE PROBES: Trump's scrutiny by Congress won't end with his expected acquittal in the Senate. House Democrats have a list of inquiries they plan to pursue when the impeachment saga is over.
"The investigations and oversight will continue," said Rep. Carolyn Maloney (D-N.Y.), head of the House Oversight and Reform Committee. "We've got several cases."
Democratic-led committees in the House will keep seeking a wide range of evidence and testimony as they look into Trump's administration, his policies and his businesses and finances. They also plan to keep a focus on his conduct in dealing with Ukraine. In addition, there are multiple court cases running on separate tracks seeking access to his tax returns, testimony from former White House officials and financial records to show whether the president is unlawfully profiting from foreign governments. Three of the cases will be considered by the U.S. Supreme Court in the spring. Read more from Billy House.
Senate's Post-Trial Agenda
Senate Republicans are preparing to follow the rancorous impeachment trial with a more bipartisan election year agenda that addresses energy and transportation investments as well as rising health care concerns. Those items are the focus of a three-prong strategy that Senate Majority Leader Mitch McConnell (R-Ky.) has developed in recent weeks even as the trial consumed most of the chamber's attention.
"He's going to focus on a group of energy measures that are being put together in committee, a highway reauthorization bill, and a package of health care measures that have to be done before May 22," Sen. Rob Portman (R-Ohio) said. Sen. Roy Blunt (R-Mo.), head of the Republican Policy Committee, said the short list of bills McConnell developed during meetings with GOP chairmen are bipartisan and therefore have a good chance of being passed over the next few months. As these measures will require 60 votes to advance in the Senate, Republicans will need some Democratic support.
The White House backs McConnell's three-pronged focus and is working with the Senate Republicans on the details of the legislation, a senior administration official said. An immediate focus is how to finance the $287 billion, five-year surface transportation bill the leader wants on the floor soon, the official said. He said the White House wants a multiyear bill to avoid having to have a simple extension of programs when they expire Sept. 30. Read more from Nancy Ognanovich.
Elections & Politics
DEMOCRATS RALLY ON SURGE OF ANTI-TRUMP ENERGY: New data shows that the surge of Democratic activism around the country in 2020 has already eclipsed the record level of the midterm elections two years ago — and is still growing. While some Democrats worried that grassroots energy might taper off nationally after the party's success in 2018, organizers say the exact opposite is happening as it gears up for the 2020 presidential nominating process, which kicks off Monday in Iowa.
Nationwide, the number of Democrats signing up to canvass, for phone banks, host gatherings or train as precinct captains for presidential hopefuls has eclipsed 2018's record-setting pace, according to data from MobilizeAmerica, an organizing platform used by all the major candidates, the Iowa Democratic Party, and many outside groups. Read more from Joshua Green and Tyler Pager.
BIDEN LEADS NATIONALLY IN NEW POLL: More than a quarter of Democratic voters are supporting Joe Biden, according to a national survey from Investor's Business Daily. The former vice president had 26% of support of those polled, followed by Sen. Bernie Sanders (I-Vt.) at 19% and Sen. Elizabeth Warren (D-Mass.) at 13%. Former New York Mayor Michael Bloomberg is at 8%, statistically tied with former South Bend Mayor Pete Buttigieg who had 7%. Read more from Ryan Teague Beckwith.
Michael Bloomberg is the majority owner of Bloomberg Government's parent company.
BIDEN AIMS FOR STRONG FINISH IN IOWA: Biden's campaign suggested yesterday it expects a protracted fight for the Democratic nomination as the race for the state's first-in-the-nation caucuses entered its final weekend.
Muddied or close results in the first few contests paired with multiple candidates who have signaled plans to stay in the race indefinitely drag the nominating contest deep into the year, and Biden's camp argued yesterday that it's ready for the fight. "The VP remains in a strong position to perform well in the first four states and on Super Tuesday, but we're also planning for an extended process into the summer," campaign manager Greg Schultz said in a memo to Biden supporters, hinting that the campaign expects Sanders will stay in the race at least until the end of the primary calendar, even if he doesn't have a delegate advantage. Read more from Jennifer Epstein.
BIDEN OUTSPENT BY OPPONENTS: Biden's campaign spent $23.3 million in the fourth quarter, according to his latest report with the Federal Election Commission, significantly less than his biggest competitors for the Democratic nomination. Biden is being outspent in early contests by better-funded campaigns. Sanders spent $49.7 million in the same period, more than twice as much, while Buttigieg's outlays were more than $34 million and Warren's were $33.7 million. Read more from Bill Allison.
IOWA CITY PAPER ENDORSES KLOBUCHAR: The Iowa City Press-Citizen yesterday endorsed Sen. Amy Klobuchar (D-Minn.) for president, saying she "has the capacity to unify our country." In an unsigned editorial, the 14,000-circulation newspaper in Iowa's fifth-largest city cites the Minnesota senator's track record in elections in her home state, saying she has the "ability to appeal across urban, rural and progressive, moderate divides." While noting that some have criticized her as a "moderate incrementalist," the paper praises her 100-day plan to use executive orders to move ahead on climate change, gun safety and family separation. Read more from Ryan Teague Beckwith.
WARREN ENDORSED BY PROMINENT IOWA COUPLE: Warren yesterday locked in a major endorsement from an influential couple in Iowa politics. Former Iowa Democratic Party Chairwoman Sue Dvorsky and her husband, former state Senator Bob Dvorsky, announced they were endorsing Warren for president in a statement to the Des Moines Register. "This woman has integrity. She has grit. And she has a plan," Sue Dvorsky said in the statement. "And she's solutions-oriented." Read more from Misyrlena Egkolfopoulou.
TRUMP TESTS RE-ELECTION GROUND GAME IN IOWA: Trump's campaign is putting on a show of strength in Iowa this week, rehearsing tactics it hopes will carry the president to re-election in a state he won by a wide margin in 2016. As the Democrats prepare for their first presidential nominating contest on Monday, the Trump campaign is keeping a packed schedule that is more typical of the closing arguments of a campaign. The aim is to test a years-in-the-making strategy to streamline efforts between the campaign, the Republican National Committee and state and local offices. The strategy could also serve as a template for key battleground states such as Pennsylvania and Michigan that Trump narrowly won in 2016. Read more from Mario Parker.
What Else to Know Today
U.S. TO QUARANTINE AMERICANS: The U.S. declared a public health emergency in response to the coronavirus outbreak in China, ordering as long as a 14-day quarantine of citizens returning from the province at the center of the outbreak and denying entry to some foreigners displaying symptoms. In addition, flights to the U.S. from China will be restricted to seven airports. American carriers are already significantly cutting travel to and from the country.
Those actions, announced yesterday by Trump's newly formed virus task force, will begin tomorrow. Under the temporary emergency measure, U.S. citizens who have been in Hubei province in the last two weeks will be subject to the quarantine, Health and Human Services Secretary Alex Azar said. Citizens returning from elsewhere in China will be subject to screening, and have to self-quarantine for two weeks while being monitored. Foreign nationals who have been in China recently, and who display symptoms, will be denied entry to the U.S., Azar said.
Earlier yesterday, the State Department said it will help U.S. citizens in Wuhan leave China, according to an official familiar with the matter, amid broad cancellations of flights from the country by private carriers and travel restrictions in the city. Cases have now soared to 10,000 globally. Bloomberg News is tracking outbreak developments.
U.S. MULLS GLOBAL PARCEL FEE CHANGE: Trump signed an executive order yesterday designed to combat the flow of foreign counterfeit goods sold on e-commerce platforms like the websites of Amazon, eBay and Walmart. As part of the program, the Department of Homeland Security will examine whether the U.S. government is collecting enough fees to cover the cost of processing and inspecting parcels entering the U.S. Read more from Justin Sink.
OBAMACARE WORK-AROUND REJECTED: A health insurance venture that threatened to erode Obamacare and had the backing of seven Republican state attorneys general has been rejected by the Labor Department. The proposal, from an obscure company in Georgia that was the subject of a Bloomberg News article last month, won the support of states including Georgia and Louisiana, whose attorney general personally pitched it last year to senior White House officials. Among those pushing for the plan was a Washington lobbying firm whose senior adviser is Corey Lewandowski, Trump's onetime campaign manager. Read more from David Glovin.
TIKTOK HIRES TECH TRADE GROUP CHIEF: TikTok has tapped the head of a top lobbying group for internet companies to lead its Washington policy operations as it confronts mounting pressure in Washington over its ties to China. Michael Beckerman, the current president of the Internet Association, will be in charge of government relations for the popular music-video app, according to a company spokeswoman. TikTok, which is owned by Beijing-based ByteDance, has been grappling with mounting questions from U.S. policymakers over whether it poses a national security risk. TikTok has been expanding its Washington policy staff as it seeks to persuade U.S. regulators that it is really an American company, Bloomberg has reported. Read more from Naomi Nix, Ben Brody and Kurt Wagner.
JAPANESE SHIP AVOIDING TRUMP CONFLICT: The centerpiece of Japan's response to U.S. calls for a Middle East security coalition—a single warship—set sail over the weekend on a mission that highlights just how few U.S. allies have signed up. The Maritime Self-Defense Force destroyer Takanami, as well as two patrol planes, are taking part in what Prime Minister Shinzo Abe's government has said will be a yearlong intelligence-gathering deployment to shield vital oil shipments from the region. But Japan has made sure that those assets will be operating independently from the U.S. and staying away from potential flashpoints in the Persian Gulf. Read more from Jon Herskovitz.
CLARENCE THOMAS IN THE SPOTLIGHT: A newly released Clarence Thomas documentary nudges the Supreme Court justice further into the public spotlight, a place where few of his colleagues past and present have ventured. "Created Equal: Clarence Thomas in His Own Words" traces his rise from a childhood in rural segregated Georgia to a seat on the highest court in the land. It covers a "complex and often painful life," according to the film's website. Thomas' enigmatic persona at the Supreme Court—he's known for saying virtually nothing at oral arguments for over the past decade and a half—gives little window into his reportedly friendly and gracious personality. Read more from Kimberly Strawbridge Robinson.