What to Know in Washington: Senate GOP Faces a Stimulus Dilemma
Republicans will likely block Democrats' attempts to have the Senate follow the House in boosting stimulus payments for most Americans to $2,000, even though President Donald Trump backs the bigger checks.
Forty-four House Republicans joined 231 Democrats yesterday to pass a bill increasing the payments from the $600 in the pandemic relief legislation Trump signed on Sunday. His surprise demand last week for bigger payments put Republicans in a bind after they resisted anything higher than $600 during the drawn out negotiations on the original bill. Democrats were quick to use that as a pressure point.
"The House and the President are in agreement: we must deliver $2,000 checks to American families struggling this Holiday Season," House Speaker Nancy Pelosi (D-Calif.) said in a tweet, calling on the Senate to pass the higher payments. The bill cleared the House on a 275 to 134 vote, reaching the two-thirds majority needed for the expedited procedure.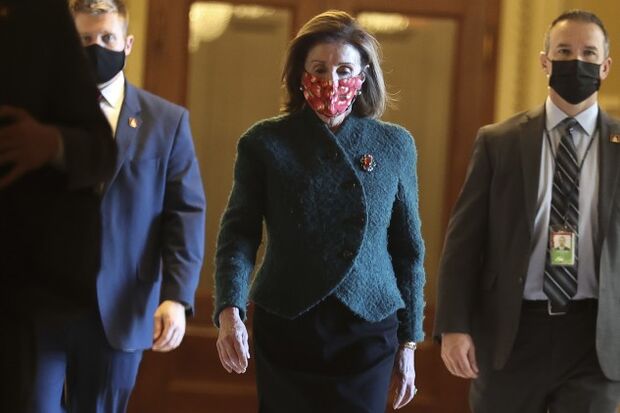 Senate Majority Leader Mitch McConnell (R-Ky.) hasn't said whether the Senate would take up the House bill, attempt to vote on a different one that would also increase direct payments or simply ignore the issue. Senate Minority Leader Chuck Schumer (D-N.Y.) said he'll seek unanimous consent to pass the House bill today.
But the move is expected to draw an objection from a Republican, effectively shutting down the effort. Sen. Pat Toomey (R-Pa.) said on Sunday he would vote against $2,000 checks, and Sen. Ron Johnson (R-Wis.) blocked an attempt to bolster the payments to $1,200 when the pandemic relief legislation was being debated
Much depends on whether the president moves on from the issue or uses it to attack Senate Republicans. He has expressed anger at McConnell and other GOP leaders for failing to back his quixotic attempt to overturn the election results. Now that the $2,000 checks issue is in the Senate, Trump could use Twitter to draw continued attention to it and try to pressure Republicans to take action on the bill.
Trump started down that path early this morning. "Give the people $2000, not $600," he tweeted. "They have suffered enough!"
McConnell is expected to speak about the issue when he opens the Senate for debate this afternoon. The Senate would likely need unanimous consent to vote on both a defense bill veto override and the $2,000 checks legislation before this session of Congress expires on Sunday. Getting that agreement is unlikely.
That may leave it to the administration of President-elect Joe Biden, who has said he'll seek an additional stimulus shortly after being inaugurated on Jan. 20. Yet whether he'll have latitude to get additional aid through Congress will depend on the outcome of runoff elections in Georgia on Jan. 5. If Republicans hold on to just one of those seats, McConnell would remain majority leader and continue to control the Senate agenda. Erik Wasson has more.
$600 Payments Going Out This Week: The Treasury Department plans to start issuing $600 direct payments from a pandemic relief bill Trump signed on Sunday beginning this week, an official said. But it was unclear how many Americans would receive payments before the new year, and the official gave no further details. Read more from Jennifer Jacobs.
Judiciary Gets No Relief in Latest Package: The federal judiciary got none of the $37 million in new emergency aid it requested from Congress to help manage pandemic-related priorities and received less than what it requested in appropriations to fund operations for the rest of the current fiscal year. Read more from Madison Alder.
What to Watch Today
The House is next scheduled to meet in a pro forma session on Thursday.
The Senate is set to meet at noon today.
Senate Majority Leader Mitch McConnell (R-Ky.) is expected to ask for unanimous consent to vote to override Trump's veto of the $740.5 billion defense bill (H.R. 6395), after the House last night passed its own override of the president's effort, Roxana Tiron reports.
If the Senate follows suit as expected in the waning days of Trump's presidency, it will be the first time one of Trump's vetoes has been surmounted.
Still, the final vote may be delayed until as late as Jan. 3 if some senators insist on running out the legislative process.
Sen. Bernie Sanders (I-Vt.), for example, said in an interview with Politico he plans to block the override vote until the Senate votes on the measure to increase the amount Americans will receive in direct stimulus checks.
The House vote to override Trump's veto of the defense measure was 322-87, handily exceeding the two-thirds threshold needed, with support coming from majorities of both Democrats and Republicans. The 212 Democrats and one independent voting to override Trump were joined by 109 Republicans.
Voting to override Trump's veto reflects a widening rift between the president and some congressional Republicans, who stood by him through previous conflicts, as his influence ebbs. Rep. Mo Brooks of Alabama, a Republican ally of the president, said he voted to override the veto "because of the high probability that we are going to get a much worse bill for national security a month from now," a reference to Biden's approaching inauguration. Read more from Roxana Tiron and Erik Wasson.
Also Happening on the Hill:
The Presidential Transition
Biden's Racial Justice Agenda—Go Solo and Reverse Trump's: Biden has vowed to reverse Trump's policies on racial justice issues after the killing of George Floyd and the coronavirus pandemic intensified the political spotlight on those issues. But to do that, the incoming administration will need to find ways to act independently of Capitol Hill, with Biden unlikely to secure passage of major legislation.
One high-profile item is lifting Trump's restrictions on consent decrees—court-ordered agreements between local law enforcement departments and the Justice Department to improve police practices. Critics said the Trump administration's move has halted efforts at systemic police reform, and Biden, in his campaign platform, said he would again use consent decrees and pattern-or-practice probes "to root out unconstitutional or unlawful policing."
While Biden has several options for independent action, his moves will be closely watched by allies who are pressuring him to act quickly to undo Trump's policies on race. Read more from Ayanna Alexander, Andrew Kreighbaum, and Paige Smith.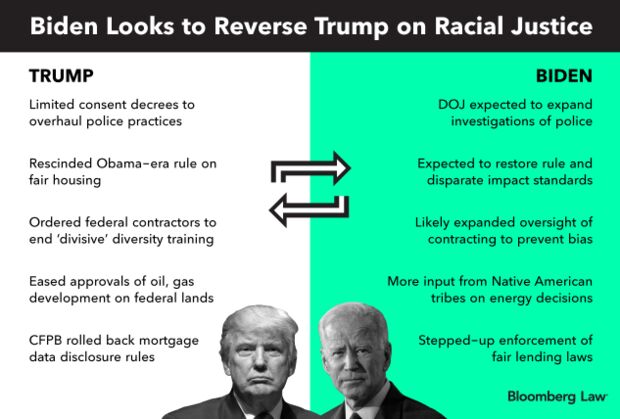 Biden Cites 'Obstruction' in National Security Transition: Biden accused loyalists to Trump at national security offices of throwing up roadblocks to a smooth presidential transition and warned that adversaries may take advantage of the situation without better cooperation from Trump. "We need to make sure nothing is lost in the hand-off between administrations," said Biden after a meeting with his national security advisers. "Right now we just aren't getting all the information that we need from the outgoing administration in key national security areas. It's nothing short, in my view, of irresponsibility."
Biden singled out political appointees at the Defense Department and Office of Management and Budget for "obstruction," and called on them to bring him up to speed on force posture and budgeting "in order to avoid any window of confusion or catch-up that our adversaries may try to exploit." Acting Secretary of Defense Christopher Miller said the department had responded to 188 requests for information from the Biden team. Emma Kinery and Gregory Korte have more.
Biden Tasks New Digital Team With Outreach: Biden announced members of the incoming White House digital team assigned to both engage the public and to develop partnerships to extend the president-elect's reach "beyond his own social platforms." The team will be led by Rob Flaherty who served as digital director for the campaign and currently holds the role for the transition team. Read more from Emma Kinery.
Relief Bill Opens Rush for Renewables on Federal Land: Biden's ambitious climate agenda got a shot in the arm with the stimulus package, environmental attorneys say, especially with provisions to open up wide swaths of federal land to renewable energy development. The bill, which Trump signed into law on Sunday, requires by 2025 an increase of at least five times the amount of solar, wind and geothermal energy production currently produced on federal land. Read more from Bobby Magill.
Kim Jong Un Gets More Volatile as Biden Enters Office: Trump's effort to cut North Korea's economy off from the world worked. But it also may have accelerated Kim Jong Un's efforts to build a military less reliant on foreign support. The Pyongyang now awaiting Biden in the Oval Office is more dangerous and self-reliant, possessing at least three different intercontinental ballistic missiles capable of carrying nuclear warheads to a U.S. city. And Kim has over the last two years test-launched a range of new rockets to threaten allied forces closer to home. Read more from Jon Herskovitz.
Elections & Politics
Gohmert Sues Pence Over Competing Electors: Rep. Louie Gohmert (R-Texas) is suing Vice President Mike Pence in the latest long-shot effort to reverse Biden's victory over Trump. Gohmert in the lawsuit seeks a court order forcing the vice president to acknowledge what Gohmert claims is Pence's power to dismiss states' chosen Democratic electors, and to instead select competing slates of GOP electors on Jan. 6, the day both chambers of Congress meet jointly to certify states' electoral votes. Read more from Erik Larson.
Trump Supporter Lin Wood's Georgia Suit Tossed: A federal judge tossed an "astonishingly speculative" lawsuit brought by a high profile supporter of Trump who claimed Georgia's Jan. 5 runoff election is being undermined by lax rules for mailed-in ballots on top of a vast voting-machine conspiracy. Attorney Lin Wood's claims are "too generalized" and not backed by any evidence of harm, U.S. District Judge Timothy Batten in Atlanta said in tossing out the lawsuit. Read more from Erik Larson.
The Coronavirus Pandemic
Biden Will Invoke Defense Production Act for Vaccines: Biden plans to invoke the Defense Production Act to boost production of coronavirus vaccines, CNBC reports, citing an interview with Celine Gounder, a member of the president-elect's coronavirus advisory team. The New York Times reported last week that as part of a deal for 100 million vaccine doses, the Trump administration agreed to invoke the Defense Production Act to help Pfizer get better access to about nine products it needs to make its vaccine. Read more from CNBC.
Weekend Airport Screenings Most Since March: Saturday and Sunday marked the busiest weekend for U.S. air travel since mid-March, with 2.41 million passengers passing through Transportation Security Administration checkpoints. While the Centers for Disease Control and Prevention has acknowledged the "stressful and isolating" times brought on by Covid-19, it advised people to celebrate virtually or with members of their own household in order to slow the spread of the virus. Read more from Nancy Moran.
Virus Surge Sidelines Needed Health Workers: Covid-19 hospitalizations in the U.S. reached new highs this week, testing the nation's health-care workforce even as the disease sidelines medical workers. Over 118,000 people have been in hospitals with Covid-19 on average over the past seven days. That's a record high, data from the Covid Tracking Project show. While record admissions strain emergency rooms and intensive-care units, the crisis also squeezes smaller clinics, too. Read more from John Tozzi.
Underused Covid Therapy Gets Boost in Nursing Homes: A promising but underused Covid-19 therapy is heading to more high-risk nursing home patients under a new initiative bringing together home infusion providers and long-term care pharmacists. The new Health and Human Services Department effort is dubbed "SPEED," or "Special Projects for Equitable and Efficient Distribution." It's designed to help states and local governments identify and provide monoclonal antibody therapies to Covid-19 patients in non-hospital settings. Read more from Tony Pugh.
LA Vaccine Recipients Offered Digital Record: Vaccine recipients in Los Angeles County, a major virus hot spot, will be offered a digital record that will help ensure they get a second shot and could eventually be used to gain access to concert venues or airline flights. The offering is being provided starting this week through a partnership with Healthvana. Read more from Emma Court.
New York Moves to Extend Evictions, Foreclosures Pause: New York residents suffering financial hardships due to the coronavirus pandemic will be protected from evictions and foreclosures until May 1 under legislation passed by state lawmakers and signed by Gov. Andrew Cuomo (D) yesterday. Read more from Keshia Clukey.
Watchdog Reports Fewer Indictments During Pandemic at DOL: The union watchdog office at the Department of Labor secured fewer indictments in 2020 due to the Covid-19 pandemic, according to a year-end report released yesterday. The office fell short of its goal of 80 indictments and 80 convictions because courts were closed for about three months during the pandemic, officials said in the report. Read more from Ian Kullgren.
The Outgoing White House
Trump Signs 'Emergency Learning' Scholarship Order: Trump signed an executive order to provide "emergency learning" scholarships for children who otherwise can't access in-person learning during the coronavirus pandemic. The order directs the Health and Human Services secretary to allow funds available through the Community Services Block Grant program to be used for scholarships—including tuition and fees—for a private or parochial school, homeschool or learning-pod costs, special education, or tutoring, Catherine Larkin reports.
Trump had earlier this year proposed ending the grant program in his fiscal 2021 budget request. Biden's nominee to head the Department of Education, Miguel Cardona, has advocated for schools to reopen during the pandemic, and is likely to be pressed on the pace of reopening during his Senate confirmation hearings.
Drug Payment Tether to Foreign Rates Blocked Twice: A federal judge in California halted a Trump administration rule tying domestic drug reimbursement to foreign prices, adding more fuel to legal disputes trying to squelch the plan entirely. The temporary injunction "is granted based on the government's failure to complete the notice and comment procedures required by the Administrative Procedure Act," said Judge Vince Chhabria of the U.S. District Court for the Northern District of California. Read more from Jacquie Lee.
Drone-Crowded Skies Get Closer With New Rules: Commercial drone use for deliveries and services cleared a major hurdle in the U.S. with new rules allowing the devices to fly in populated areas for the first time and requirements for tracking them to tackle safety and security fears. All but the smallest drones will have to broadcast a radio signal with a digital license plate and a flight location under new Federal Aviation Administration regulations, the FAA said in a news release. Read more from Alan Levin.
U.S. Says Saudi Bank to Remit $653,000 Over Sanctions: The Treasury Department said the National Commercial Bank of Jeddah in Saudi Arabia will remit $653,347 to settle its potential civil liability over apparent violations of Syria and Sudan-related sanctions. The Treasury said in a statement that between Nov. 7, 2011 and Aug. 28, 2014, the NCB processed 13 U.S. dollar transactions of $6 million benefiting Sudanese or Syrian counter-parties, Max Reyes reports.
U.S. Seeks More Affirmative Action Rule Feedback: Federal contractors will have additional time to offer feedback on a Labor Department initiative that would require them to verify they have an affirmative action plan in place, after a paucity of public comments were submitted in response to an initial request in September. Read more from Paige Smith.
IRS Extends Policy Allowing Digital Signatures on Forms: The Internal Revenue Service will continue accepting electronic signatures on several tax forms, including those used to report estate and gift taxes, through June. The IRS yesterday said extending that policy will help quell worries over securing handwritten signatures during the pandemic, Allyson Versprille reports.
Trucking Gets Emissions Testing Relief Under EPA Rule: The testing regime that heavy-duty trucking companies face for carbon dioxide emissions is being streamlined under a final rule that the EPA issued yesterday. The amendments, which are largely technical, are meant to add flexibility and improve the accuracy of test results, according to the Environmental Protection Agency. Read more from Stephen Lee.
With assistance from Erik Wasson (Bloomberg News)
To contact the reporters on this story: Brandon Lee in Washington at blee@bgov.com; Michaela Ross in Washington at mross@bgov.com; Roxana Tiron in Washington at rtiron@bgov.com
To contact the editors responsible for this story: Giuseppe Macri at gmacri@bgov.com; Zachary Sherwood at zsherwood@bgov.com