What to Know in Washington: Senate GOP Balks at Jan. 6 Panel
Senate Minority Leader Mitch McConnell (R-Ky.) dismissed bipartisan efforts to establish an independent panel to investigate the Jan. 6 Capitol insurrection, setting up a showdown with Democrats that could reverberate in next year's midterms.
McConnell accused Democrats of trying to drag out a debate about former President Donald Trump's role that day as they try to hold control of both chambers of Congress in 2022.
"They would like to continue to litigate the former president into the future," McConnell said yesterday. "We think the American people, going forward, and in the fall of '22, ought to focus on what this administration is doing to the country, and what the clear choice is that we have made to oppose most of these initiatives."
McConnell's dismissal of the commission as "a purely political exercise" came as a group of Republicans, led by Sen. Susan Collins (Maine), were trying to tweak the House-passed version of a bill to establish the inquiry to gain GOP support.
Senate Majority Leader Chuck Schumer (D-N.Y.) last night night set up a procedural vote that could take place as soon as this week. "We have to get it passed," he said on the Senate floor. "Each member of the Senate is going to have to stand up and decide: Are you on the side of truth and accountability, or are you on the side of Donald Trump and the big lie?"
If Republicans end up blocking the measure from moving forward, it would be the first use of a filibuster to derail legislation since President Joe Biden took office. Read more from Steven T. Dennis.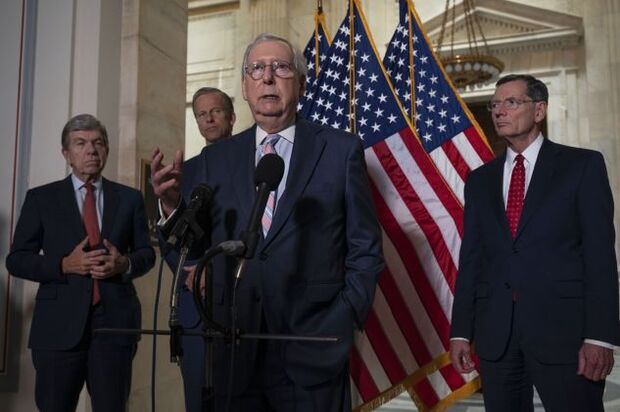 Trump Acolytes Push Trumpism: Allies of Donald Trump have built an ecosystem of think tanks, fund-raising outfits and professional development organizations designed to push his populist agenda for years to come whether or not the former president ever seeks office again. With Trump-like branding, a number of the groups are named after his America First philosophy and serve to challenge the conservative orthodoxy of groups like the Heritage Foundation or the American Enterprise Institute whose ideas have guided generations of Republican politicians. Read more from Bill Allison.
Happening on the Hill
Today's Agenda:
The Senate will continue consideration of broad legislation that aims to help the U.S. compete with China. The chamber will consider amendments to the measure today, with a vote on final passage as soon as tomorrow.
Click here for a complete list of today's hearings and markups.
Roads Bill Set for Vote as Groups Lament 'Status Quo': A bipartisan bill to fund highways, roads, and bridges set to be considered later today perpetuates the U.S. transportation system's entrenched safety, sustainability, and inequality problems, advocacy groups say. The $303.5 billion highway bill that the Senate Environment and Public Works Committee is scheduled to mark up would boost funding by 34% compared with the last long-term surface transportation law. The bipartisan bill is not without its detractors, though. Read more from Lillianna Byington.
Bank CEOs Set to Testify: JPMorgan Chase, Bank of America and their largest rivals are preparing to tell lawmakers they've stepped up efforts to bank under-served communities, ahead of scrutiny into their lending to Americans facing hard times during the pandemic. "We took steps to make sure those in need, including those without access to traditional banking services, received each round of stimulus payments quickly," JPMorgan CEO Jamie Dimon said. The bank also delayed payments and extended forbearance options on mortgage and other accounts, and funded more than 400,000 loans to small businesses, according to remarks prepared for his appearance alongside other banking CEOs before Congress today and tomorrow. Read more from Sonali Basak.
Bipartisan Training Benefits Bill Unveiled: The amount of tax-free educational assistance employers can offer for worker training would be boosted to $12,000 for the next two years in a measure unveiled yesterday by Sen. Maggie Hassan (D-N.H.). Currently, U.S. employers can pay up to $5,250 for educational programs without being taxed on benefits. The measure would also cover costs like technology for worker training programs, Andrew Kreighbaum reports.
Around the Administration
Biden Says Nord Stream Sanctions Were Moot: Biden says he backed off from new U.S. sanctions against the Nord Stream 2 pipeline project because it's nearly completed, and the penalties would have hurt relations with Europe. "It's almost completely finished," Biden told reporters yesterday. "To go ahead and impose sanctions now, I think is counter-productive in terms of our European relations." Read more from Jennifer Jacobs and Jennifer Epstein.
Biden Says He Hopes for Swift Deal on Police Bill: Biden said he hopes for a swift deal on legislation to overhaul U.S. law enforcement after he met with members of George Floyd's family on the anniversary of his killing by Minneapolis police. Talks on Capitol Hill to make police more accountable for injuries and deaths they cause are progressing, but lawmakers failed to meet Biden's goal of sending him a bill to sign yesterday. Read more from Jennifer Epstein, Jennifer Jacobs, and Laura Litvan.
Meanwhile, Biden plans to visit Tulsa, Okla., next Tuesday to commemorate the 100-year anniversary of a race massacre that destroyed one of the most prosperous Black neighborhoods in the nation's history. The massacre that killed up to 300 people is one of the worst episodes of racist violence in U.S. history, but for decades, it was little known outside Oklahoma. Mario Parker has more.
Biden Urged to Replace Quarles: With months left on their current terms, Federal Reserve vice chairs Randal Quarles and Richard Clarida were reminded yesterday that their time in office could be drawing short. Quarles's tenure as the Fed's top banking supervisor expires Oct. 13 while Clarida's term ends Jan. 31, a few weeks before Chair Jerome Powell's own tenure at the helm is up. Read more from Craig Torres and Matthew Boesler.
Biden Wants to Fix Housing: With a possible eviction crisis looming and home prices spiraling further out of reach for many buyers, the Biden administration is pushing for the biggest federal housing investment in decades—one that's also designed to advance goals on climate and racial equity. This includes the $213 billion his administration has proposed to "produce, preserve and retrofit" more than 2 million homes as part of its sprawling infrastructure package, as well as a raft of social spending that will increase the amount of money Americans have to keep roofs over their heads. Read more from Noah Buhayar and Olivia Rockeman.
Critics Urge White House to Ditch OSHA Virus Rule: Republican lawmakers and business groups are increasing pressure on the Biden administration to abandon efforts to develop an emergency workplace safety rule for Covid-19, calling a nationwide rulemaking unjustified given the vaccination campaign's steady progress. The latest resistance to the Occupational Safety and Health Administration's emergency temporary standard comes as the White House's formal review of the rule is now in its fifth week, a far longer period of analysis than worker advocates had anticipated. Read more from Bruce Rolfsen.
Transgender Youth Care Stirs Federal-State Clash: Action by the Biden administration to protect LGBT individuals from discrimination in health care pits the federal government against states passing laws that prohibit gender-affirming care, such as puberty blockers, for transgender minors. Arkansas and Tennessee have recently passed such laws. Meanwhile, the Department of Health and Human Services said it would resume enforcing protections for LGBT Americans in health care, reversing a ban put in place by the Trump administration. This puts the states' laws in direct conflict with federal law, attorneys say. Read more from Shira Stein.
Barr Said to Delay Legal Career Move Till After Book: Former Attorney General William Barr won't decide the next move in his legal career until he finishes writing a book, a person familiar with the matter said. Barr has done some ad hoc advising on private equity matters in the last few months and has feelers out regarding any future work, the person told Bloomberg Law. Read more from Sam Skolnik.
With assistance from Andrew Kreighbaum
To contact the reporters on this story: Giuseppe Macri in Washington at gmacri@bgov.com; Brandon Lee in Washington at blee@bgov.com
To contact the editors responsible for this story: Zachary Sherwood at zsherwood@bgov.com; Loren Duggan at lduggan@bgov.com; Michaela Ross at mross@bgov.com