What to Know in Washington: Senate Democrats Eye the 'Basics'
Bloomberg Government subscribers get the stories like this first. Act now and gain unlimited access to everything you need to know. Learn more.
Senate Democrats are lowering expectations for the new legislative session and foresee an agenda likely to reflect essential work under a divided Congress — a stark contrast to the ambitious legislation Democrats pursued under unified government.
The Senate is four weeks into the new Congress with only two votes taken and no committees organized — a dim prelude to a split-Congress scenario that last began in early 2019 with a 35-day government shutdown, but ended with bipartisan deals on less-contentious items like defense policy, conservation measures, veterans' aid, and Covid recovery.
"It's a new era of divided government where both parties will have to demonstrate they can work together to solve our nation's problems," Majority Leader Chuck Schumer (D-N.Y.) said at the start of the chamber's first full week of 2023, saying little of Democrats' agenda items.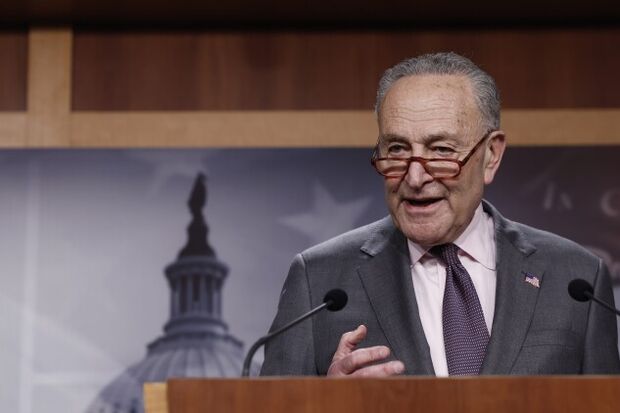 Schumer said the next few weeks are likely to be dominated by discussions aimed at avoiding a catastrophic default of payments on federal government debt, as the conservative wing of the new House Republican majority mulls a strategy to exact spending cuts from Democrats in exchange for a deal on the debt.
Senate Minority Leader Mitch McConnell (R-Ky.) agreed Democrats are returning to the Senate's "basic duties" — like taking up the 12 appropriations bills and the National Defense Authorization Act for fiscal 2024 — but warned those should be done "before the last minute." McConnell expressed no support for deep cuts in spending programs or a default to force them, but said what's needed is "more bipartisanship and more regular order." Read more from Nancy Ognanovich.
Meanwhile, House Republican leaders' plans to push through key items of their legislative agenda dealing with crime, immigration and abortion have run into opposition from members demanding more vetting of the issues.
Majority Leader Steve Scalise (R-La.) teed up a dozen bills he deemed "ready-to-go" with the House rules package (H. Res. 5) that the chamber adopted earlier this month.
But both party centrists and conservatives have raised red flags about the bills, arguing that they should first go through the committee process where changes could be debated and voted on.
The slow start underscores the difficulty GOP leaders face implementing their priorities with a slim majority where a handful of members can stymie any measure. It also shows the difficulty the party has in living up to a commitment by Speaker Kevin McCarthy (R-Calif. ) that measures receive a full airing before coming to the floor. Emily Wilkins has more.
Happening on the Hill
CONGRESS' SCHEDULE
The House meets at noon today to consider five bills under suspension of the rules.
The Senate meets at 3 p.m. with no votes locked in.
President Joe Biden agreed to meet McCarthy on Feb. 1 to discuss raising the debt ceiling and avoiding a US default.
Meanwhile, a group of two dozen Republican senators warned Biden that they won't support a debt ceiling increase without "structural" changes to US spending, a shot across the bow as the parties stake out their positions. Read more
House Republicans are threatening to challenge Democrat Ilhan Omar's (D-Minn.) seat on the House Foreign Affairs Committee as soon as this week, lining up a potential floor fight McCarthy risks losing.
Omar expressed confidence that she'll keep her seat on the panel, saying allegations she is antisemitic are part of efforts by political foes to smear her. Read more
Schumer (D-N.Y.) is eyeing a June vote on legislation to protect children online, according to sources familiar with the discussions.
TikTok CEO Shou Zi Chew will testify before the House Energy and Commerce Committee on the company's privacy policies, the app's impact on children and the company's relationship with the Communist Party in China, Chair Cathy McMorris Rodgers (R-Wash.) said in a statement.
Space contractors have successfully launched more than a dozen commercial spaceflights in the last three years, though the industy's infancy has lawmakers weighing continuing to shield the firms from regulation.
The largest US manufacturing industry group called on leaders of Congress' top tax-writing panels to "act without delay" and restore popular tax breaks in areas like research and development.
Republicans plan to keep the spotlight on Labor Secretary Marty Walsh's participation in collective bargaining fights, arguing it may be a breach of ethics rules that require the government to remain impartial.
China called on McCarthy not to visit Taiwan, raising the specter of a repeat of the showdown last year when his predecessor, Nancy Pelosi (D-Calif.), made her own trip to the democratically run island.
Elections, Politics & Influence
Biden's expected re-election bid will thrust his wife, Jill Biden, further into the public eye, as the White House deploys the self-described introvert to help win over women.
The Federal Election Commission is asking a man who says he's not responsible for handling Representative George Santos's (R-N.Y.) campaign funds why the agency has received paperwork saying otherwise.
Ronna McDaniel won a fourth term as Republican National Committee chair on Friday, a status quo choice by party faithful even after a series of stinging election defeats with Donald Trump as the GOP standard-bearer.
Fox News affiliates lost their bid Friday for heightened legal protections against a $1.6 billion defamation lawsuit brought by Dominion Voting Systems over the network's alleged role in spreading false conspiracy theories about the 2020 election.
Trump has ended his long-running legal fight with two congressional committees over access to his financial records now that Republicans have a House majority.
Trump said he is "more committed" than ever to his bid to retake the presidency, as he sought to re-energize voters in the early primary states of New Hampshire and South Carolina.
Still, Trump has run headlong into some of the biggest challenges he'll face in his comeback bid — fading enthusiasm among Republicans looking to move on from the former president and rising rivals for the GOP nomination. Read more
On Twitter, Elon Musk is a right-leaning, irreverent firebrand. In Washington, he's a smooth political operator who knows his way around power.
Around the Administration
BIDEN'S AGENDA
Biden at 2:45 p.m. will speak in Baltimore, Maryland on the bipartisan infrastructure law's funding for the city's Baltimore and Potomac Tunnel.
Biden arrives at the White House at 4:05 p.m.
Biden today will help kick off a project to replace a 150-year-old rail tunnel in Baltimore that is seen as among the worst bottlenecks slowing train traffic on the Northeast Corridor.
Outgoing White House Chief of Staff Ron Klain says his last day in the role is Feb. 8, in an interview on MSNBC.
Biden said he was "outraged and deeply pained" after watching video released Friday night of the fatal beating of Tyre Nichols at the hands of police officers in Memphis, Tennessee.
Biden stressed an iron-clad commitment to Israel's security on a call with the country's Prime Minister Benjamin Netanyahu, following an attack on a synagogue in Jerusalem that killed seven people.
Meanwhile, Iran said one of its ammunition depots was attacked in a drone strike that's stirred Middle East tensions as US Secretary of State

Antony Blinken

heads to Israel. Read more
During a visit to Poland and Germany scheduled to coincide with International Holocaust Remembrance day on Jan. 27, Second Gentleman Doug Emhoff said governments around the world must take immediate action to fight rising antisemitism.
Emhoff's emotional visit to Auschwitz-Birkenau marked something of a triumph for Jewish Americans: one of their own representing the US at the epicenter of the Nazi genocide that tried — but failed — to wipe out their people. Read more
To contact the reporters on this story: Michaela Ross in Washington at mross@bgov.com; Brandon Lee in Washington at blee@bgov.com
Stay informed with more news like this – from the largest team of reporters on Capitol Hill – subscribe to Bloomberg Government today. Learn more.